You'll never run out of things to do with kids in Singapore with our list of 101 kids' activities from indoor children's activities to fun things to do with kids outdoors. Bonus: many of these family activities are FREE!
We are always on the lookout for fun kids' activities in Singapore. Check out our ultimate list of children's activities, free things to do with the whole family outdoors and indoor kids' activities in Singapore in our mega roundup of over 101 kids' activity ideas. Plan a fun family day out with obstacle courses, water play activities, go-karting and outdoor playgrounds. When it's raining or too hot outside there are plenty of indoor activities for little kids and even teens, like visits to the aquarium, kid-friendly museums, indoor playgrounds and art galleries! Plus don't miss our kid-friendly cafe roundup so you can plan a fun meal after your activity!
Read more: Ultimate Guide to Summer in Singapore
↓ Scroll down to see the ultimate list of 101 kids' activities in Singapore
Jump to:
Outdoor Activities for Kids
Indoor Activities for Kids
What's On This Weekend
Here are 101 kids' activities in Singapore:
Outdoor Kids Activities in Singapore
1. See the Animals at the Singapore Zoo!
The Singapore Zoo still tops our Singapore must-do kids' activity list and makes a fun family day out with its well-planned walking trails, beautifully kept gardens, and free-roaming animals (oppressive bars and small cages are kept to a minimum). Kids love feeding the animals from rhinos to elephants (book these early!). Plus the water park with slides and sprinklers is a wonderful spot for kids to cool off after all that walking. 
2. Visit Singapore Botanic Gardens (FREE!)
Taking a stroll around Singapore Botanic Gardens the UNESCO World Heritage Park is a great activity for kids in Singapore. Look for turtles in Symphony Lake, have a play at the COMO Adventure Grove playground (pictured above) or roll down the giant hill in Palm Valley. You aren't allowed to cycle in this park but you can give those legs a good stretch, admire the beautiful plants and see if you can spot any wildlife!
         Read More: Family-friendly Guide to Singapore Botanic Gardens 
3. Splash at Gardens by the Bay's Waterpark (FREE!)
It's practically always hot and humid in Singapore which means every day is a good water park play day! Cool off at the Far East Organization Children's Garden at Gardens by the Bay. Here you'll find water fountains (bring swimmers!) for toddlers and big kids and an adventure playground with treehouses, rope walks, and a 130m nature trail. (NB: The park is closed every Monday).
       Read more: Kid-friendly Guide to Gardens by the Bay & Water Play
4. Have a Beach Day at Sentosa (FREE!)
Take the kids to the beach where they can cool off in the sea and build sandcastles in the sand. Find a beach near you with our list of all the best beaches in Singapore. Pack a mat and a picnic or if you want shade choose between the various beach clubs – Coastes is a fave as kids can play in the sand and sea and Ola Beach Club is great for older kids thanks to all the water sports. Tanjong Beach Club has volleyball and a pool so makes for a fun family day out.
5. Visit Jacob Ballas Children's Garden (FREE!)
Take the kids to Jacob Ballas Children's Garden within Singapore Botanic Gardens (you can only enter if you're with kids!) and you'll find a treehouse with slides, a sandpit, mini-maze, zip line and climbing structures plus a kid-friendly cafe on site for refuelling. Just remember — this kids' activity is closed on Mondays!
6. Family Activity in Singapore: Bird Paradise 
Bird Paradise Singapore has finally opened in Mandai Wildlife Reserve and makes for a fun family outing. This amazing new bird park with walk-through aviaries is home to 3,500 birds across 400 species from loris to pelicans, penguins, flamingos, emus, and cassowaries. Here's a look at what to expect from bird feeding highlights to shows and playgrounds!
7. Thrill-seeking Family Activity: Megazip Adventure Park
Looking for a kids' activity in Singapore that the older ones will enjoy too? Teens love this MegaZip Adventure Park, in Sentosa, home to the Megazip – the 75-metre high, 450-metre long, 50 km/ph flying fox guaranteed to give thrillseekers a ride.
8. Sporty Kids' Activity: Inflatable Water Park Hydrodash
HydroDash is that immense inflatable obstacle course floating in the sea just off Palawan Beach on Sentosa. Looking for things to do with kids in Singapore that the whole family will also enjoy? This family activity ticks the box! The inflatable water playground comprises floating platforms to balance on along with steep slides to climb up and slide down as you navigate the slippery obstacle course. 
9. Kayaking Activity with the Kids
Have you taken the kids kayaking? We reckon water sports make a great kids' activity in Singapore! The Water Sports Centre at the Singapore Sports Hub at Kallang offers kayak rental from $12 for two hours (best to book ahead as they are popular!). For newbies, book a lesson with certified instructors on the Kayak Orientation Programme (great for 9-year-olds+). If you are lucky you might even spot the family of otters who call the Kallang Basin home.
Read More: Ultimate Guide to Adventure Sports for Kids in Singapore
10. Obstacle Course Kids' Activity at Forest Adventure
Head to beautiful Bedok Reservoir and marvel at your mini monkeys in action as they navigate the suspended obstacle course at Forest Adventure. This is such a fun activity to do with kids and adults alike – it makes a great bonding activity as you help each other navigate the course – and the views are just stunning. Don't miss the zip line across the water! Watch our video of kids climbing the ropes here.
11. Cruise to St John's Island for a Beachside Picnic
St John's Island and Lazarus Island are just a short boat ride away and make a fun family day trip for beach lounging (but be warned: there's not much shade). Plan this family activity with this family-friendly guide – you can even get the boat over from Sentosa now! Or get your little adventurers on a nature hunt to seek out dolphins, reptiles and migratory birds! Read more here.
12. Playgrounds at Lakeside Garden, Jurong (FREE!)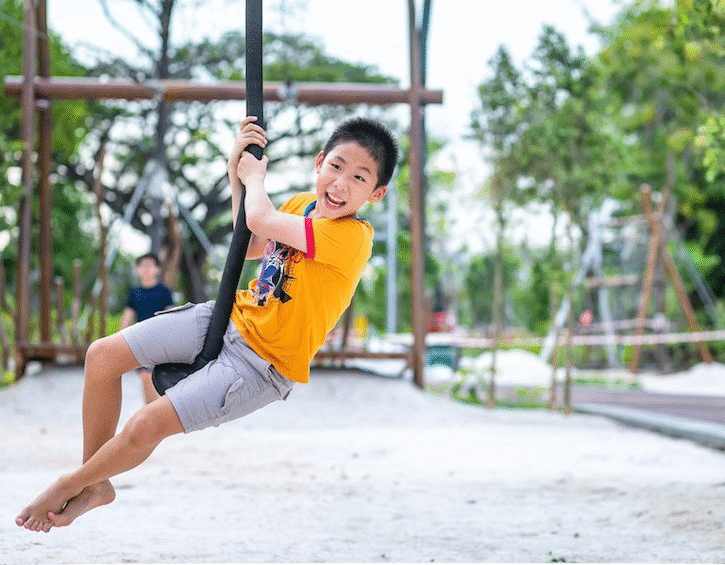 Pack the sun hats and head to Lakeside Garden in Jurong for this free kids' playground of animal-inspired play areas (zip lines, dens, swings, slides, mini trampolines and rope courses). Bring swimmers and cool off at the Clusia Cove water play area afterwards – a super fun free day out for kiddos!
13. Head to Hay Goat Dairies (FREE!)
Get a chance to get up close and friendly with the goats in the only goat farm in Singapore Hay Goat Dairies. Taking a tour of the farm makes for a fun free family activity – you can even view the goats being milked. Remember to purchase hay to feed the goats and you can take home some fresh goat milk. Read all about this and other farms in Singapore here.
14. See the Largest Bronze Sculpture in the World 
Take the kids to see the largest bronze sculpture in the world Love The Last March at Gardens by the Bay by artists Gillie and Marc. The sculpture features a procession of 45 of the world's most endangered species marching together, led by a great mountain gorilla. Visitors can download the app and scan the QR code to bring the sculpture to life as well as learn more about each animal. Read our family guide to Gardens by the Bay.
15. Take the Kids to See SG's Street Art (FREE!)
Plan your art walk route around Singapore with our super comprehensive street art guide and you'll find the kids are excited to spot the next piece of street art (many of which are done by our fave artist Yip Yew Chong) while getting some culture and physical activity in all in one!
16. Cycle Bishan-Ang Mo Kio Park to Spot Nature (FREE!)
One of our favourite spots to bring the kids out is Bishan-Ang Mo Kio Park. This lush green park has a wonderful mix of nature, cycling paths and fun playgrounds along the way. A fun family activity is cycling alongside the river that's 3km long and seeing if you can spot any herons or kingfishers. Read all about our best cycling routes and get the free downloadable map of Bishan here.
17.  See Dinosaurs at Jurassic Mile (FREE!)
Jurassic Mile is Singapore's largest permanent outdoor display of 20 different life-sized dinosaurs (one dinosaur is 5 metres tall!). This one-kilometre dino-themed cycling and jogging track along the 3.5km Changi Airport Connector path links the Jewel Changi Airport to East Coast Park and the Park Connector Network (PCN). It's free to enter but do take scooters or bikes as it is quite a walk for little legs. Find out more here.
18. Enjoy the Slides at Admiralty Park Playground (FREE!)
Spending a morning at Admiralty Park with all the different slides on offer is a fab activity to do with kids in Singapore. Go early as it gets hot and busy! This free playground is perfect for kids of all ages (we spotted teens having loads of fun here too). There's a zip line and swings but mainly lots and lots (27 in fact) of different slides! And it's all free!
19. Take the Kids Crocodile Spotting in Singapore
Yes, Singapore is home to plenty of wild crocs. Bring your binoculars and plenty of water and head over to Sungei Buloh with a treasure hunt checklist – makes it more fun for kids to tick when they spot something: snakes, monitor lizards, birds, monkeys, butterflies, dragonflies and if you are lucky, crocodiles! A fun family day out! Watch our video on Sungei Buloh here.
20. Catch a Bumboat to Pulau Ubin
The boat ride to Pulau Ubin itself is a lot of fun, then when you get to Pulau Ubin hire bikes and ride around the island, exploring the few original villages that still remain. Have lunch and a refreshing coconut at one of the local seafood restaurants. You could even camp in Pulau Ubin with some planning! A very fun family activity for the weekend.
Read more: 10 Best Kid-Friendly Cycling Routes & Bike Trails in Singapore
21. Have a Go on the Skyline Luge Sentosa
Craving a little weekend thrill? You're going to love whizzing down the outdoor tracks at the Luge in Sentosa! The experience kicks off with the Skyride, a four-seater chairlift with stunning views of Singapore's skyline and the sea. Once you're in the driver's seat, let gravity do the hard work as you zoom around hairpin corners, through tunnels and down slopes, and even speed into an exciting forest that lights up once the sun sets. The Skyline Luge is a huge hit with visitors, so it's best to make an online booking.
22. Explore the Battle Box & Fort Canning Park
A great family activity for history buffs. After taking in the history of the underground bunker at Fort Canning Park, walk through the park and look for other World War 2 artefacts. Looking for free things to do nearby? Check out Jubilee playground for slides, swings and more.
Read more: Jubilee playground (and where to get coffee nearby)! 
23. Hike with the Kids at Bukit Timah Nature Reserve (FREE!)
Boost your kids' sense of accomplishment as you summit Bukit Timah Hill (it's Singapore's highest peak and quite a number of steps, so better for older kids unless you don't mind carrying the little ones halfway). Just don't feed the monkeys (and keep snacks hidden)!
24. Take the Kids to Universal Studios Singapore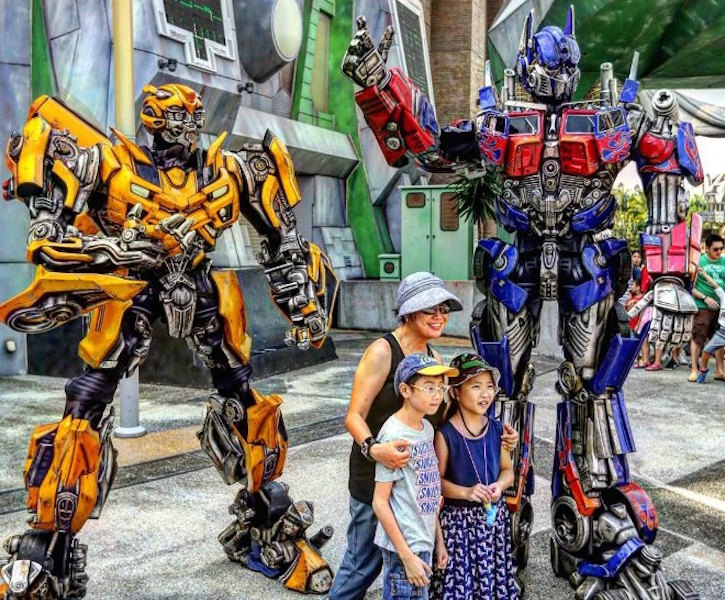 The Transformers Ride and the Battlestar Galactica ride at Universal Studios Singapore are firm favourites with older kids, but there are some fun rides for young'uns too – the Sesame Street Spaghetti Space Chase plus the shows are popular with kids. If you're looking for a kids' activity in Singapore that will keep you busy all day long – a family trip to this theme park could work! 
25. Cool off at one of Singapore's Water Parks
This kids' activity is great for our sweaty climate! You can find crazy slides, bucket dunking and massive amounts of fun, all from as little as $8 (or free for little ones!). Check out our list of the best waterparks in town! Don't fancy splashing out the cash to cool off? No problem! Check out the Best FREE wet play areas in Singapore here!
26. Adventurous Kids' Activity: Spot Wild Animals
Singapore may be a sparkling city but let's not forget there once was jungle everywhere and plenty of wild animals still live in this city! We have spotted wild crocodiles, monitor lizards, hornbills and our favourites –  otters – which are such a delight to watch. Oh and there are snakes, too. Read here for the best places to look for these animals in the wild.
27. Take the Kids for a Hike Around MacRitchie (FREE!)
Walking around MacRitchie Reservoir is a fun physical activity to do with kids in Singapore. Bring water and watch out for monkeys.
Read more: Team Sassy Mama's fave parks in Singapore
28. Explore Kids' Nature Playgarden at HortPark (FREE!)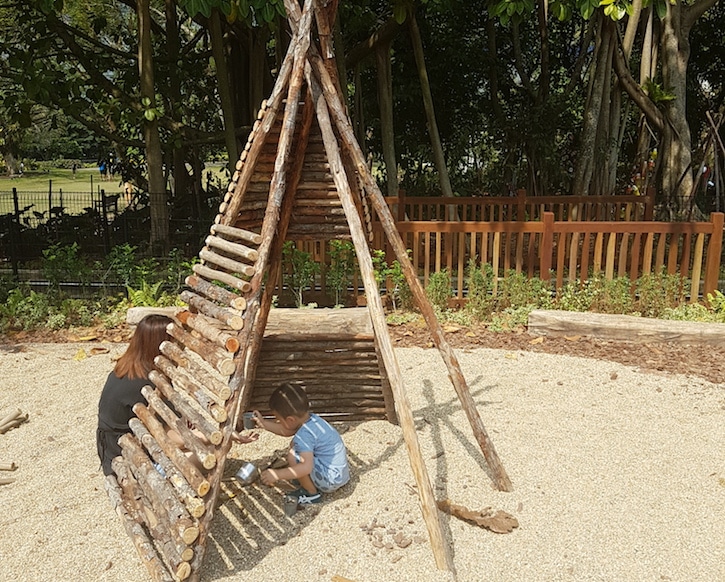 Bring hats (as it is not very covered) and go early to avoid the hottest part of the day. At Nature Playgarden at HortPark kids' activities include unstructured play and a chance to let their imagination run wild (while getting their hands dirty) amongst nature. This free park offers nine different play features built with natural materials. Further into HortPark there's a herb garden, playground and lovely paths to stroll.
 Watch: Exploring the new Jacob Ballas extension here!
29. Organise a Beach Clean-up (FREE!)
There are regular beach clean-ups held by Trash Hero (check their Facebook), or get your own party together, bring your own gloves and a big bag and educate the kids about reducing plastic as you choose a patch of the island to clean up with the kids. A great worthwhile family activity.
30. Scoot or Bike along Robertson Quay (FREE!)
Scoot or cycle along Rob Quay, stopping off to grab a coffee at Common Man Coffee Roasters. If you're here for lunch check out some of the kid-friendly restaurants in the area (some have healthy kids' meals, others are right near playgrounds). And of course, snap a pic for the 'gram on Alkaff Bridge.
   Read more: Best kid-friendly restaurants in Singapore with play areas
31. Ride the Playground 'Train' (FREE!)
The train playground in Tiong Bahru makes for a fun kids' activity and when the kids have had enough of the "choo choo train playground," head to the Wet Market to gorge on pau at Tiong Bahru Pau (or grab a croissant at Tiong Bahru Bakery).
Read more: Guide to Tiong Bahru
32. Family Activity: Bike Around East Coast Park
Check out the Cyclist Park at East Coast Park featuring obstacle courses and bumpy hill courses. Then grab something to eat nearby, splash in the sea and build sandcastles before heading to the Marine Cove playground.  
 Read more: Guide to East Coast Park: Things to Do, Bike Rentals & Restaurants
33. Take a Spin on the Singapore Flyer
Check out the stunning views from the Singapore Flyer. Watch the sun set over Singapore and take in the city lights (you can even have a sky-high cocktail here).
34. Sail the Singapore River
Pick up a water taxi in front of the Grand Copthorne Waterfront Hotel at Robertson Quay and get off at the Promenade in front of the Singapore Flyer. Bring the scooters so the kids can scoot all the way back to Clarke Quay for a well-earned drink (for all of you!).
35. Go Wakeboarding in Singapore: Sporty Kids' Activity 
Sporty kids as young as six and teens alike will love Singapore's first and only cable-ski Singapore Wake Park. Get pulled along East Coast lagoon by suspended motorised cables – instructors are on hand to help. Read our guide to all the places to learn to wakeboard in Singapore here.
36. Check out the Live Turtle & Tortoise Museum
Feed the slow moving turtles at Live Turtle and Tortoise Museum and marvel all things turtle at only $10 per ticket. Click here for tips on how to encourage your kids' interest in nature and animals!
37. Fun Kids' Activity Go Rock Hunting (FREE!)
Are you a rock hunter? This is a fun free activity for kids in Singapore. Paint rocks, sign them, then hide them around Singapore (Rob Quay and West Coast Park are good areas). If you find another rock, you get to keep it (first snap a pic of it and post to the Facebook group to thank whoever hid it for you!).
Read more: How to get your kids started with Rock Hunting in Singapore.
 38. Wander Super-cool Kampong Glam (FREE!)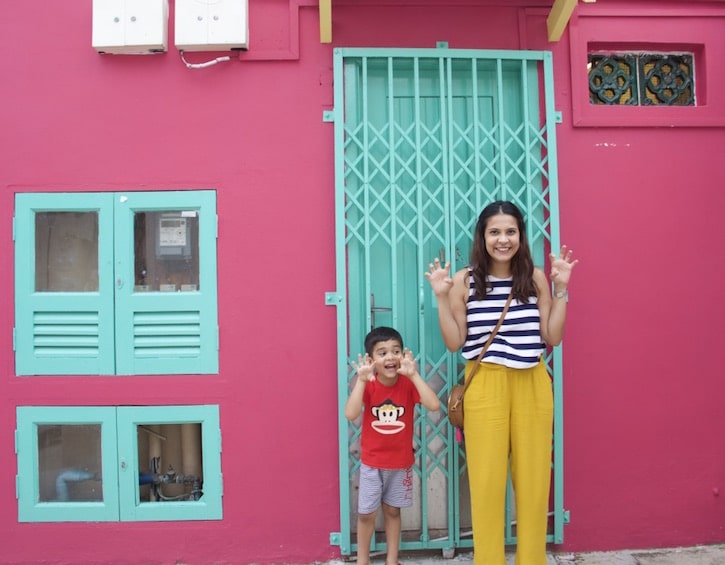 Head to Kampong Glam for boutique browsing in Haji Lane to your heart's content! Reward your little walkers with a treat from one of the cafes in the neighbourhood. Click here for the rundown on SG's best independent boutique shopping!
39. See How Veggies are Grown at Bollywood Veggies
At Bollywood Veggies you can join a rice planting activity or just stroll around the 10-acre farm admiring the cocoa trees, pandan and myriad of edible plants. Enjoy a meal in the on-site restaurant, Poison Ivy Bistro whilst you're there.
40. Visit The Arena @ Keat Hong Playground (FREE!)
Is there a medal for a city with the best free playgrounds? Seriously our little red dot is a contender! Choa Chu Kang Playground, also known as The Arena @ Keat Hong, makes waves for its three amazing outdoor playgrounds in one sprawling space. With a stunning treehouse-like tower, massive slides, pirate ship play equipment and swings, there's something fun for children of all ages in each of the three playgrounds. 
41. Eat Ice Cream the Singapore Way
That is, between a slice of rainbow-coloured bread! Find this treat being sold by the Ice Cream Uncles on Orchard Road – probably the only "street food" left in Singapore.
42. Thrill-seeking Kids' Activity: Zorbing!
Yes, you can actually do zorbing in Singapore! There is land zorbing where you can roll down hills in a massive ball (you can do this at your private residence if you happen to have the space, or if not at their grounds near Holland Village). There is also water zorbing if you have a condo pool or private pool! A super fun activity for kids of all ages.
43. Saturday Kids' Activity: Visit a Fire Station (FREE!)
Head to the Central Fire Station (or your local fire station) on a Saturday morning and let the tinies learn about firefighting (and maybe even take a ride on a fire truck!). A fun and educational kids' activity in Singapore – plus entry is free! 
44. Fly a Kite at Marina Barrage! (FREE!)
Head over to the lovely green patch called Marina Barrage and get those kites out! Flying kites is a fun free kids' activity that the whole family will enjoy. Bring the swimsuits for little ones so they can jump around in the (very small decorative) water fountains nearby afterwards.
      Read more: Ultimate Guide to East Coast Park: Things to Do, Bike Rentals & Restaurants
45. Take the Kids to See the Giants (FREE!)
Take the kids to Sentosa and look for Little Lyn, Reef the Chief, Curious Sue, and Dreamer Dee – collectively known as the Explorers of Sentosa! ⁠The family of four giant sculptures were made using reclaimed wood, by internationally renowned Copenhagen-based recycling artist Thomas Dambo. ⁠The sculptures are free to view and situated along Palawan Beach till 2024.
47. Treat the Kids on a Trishaw Ride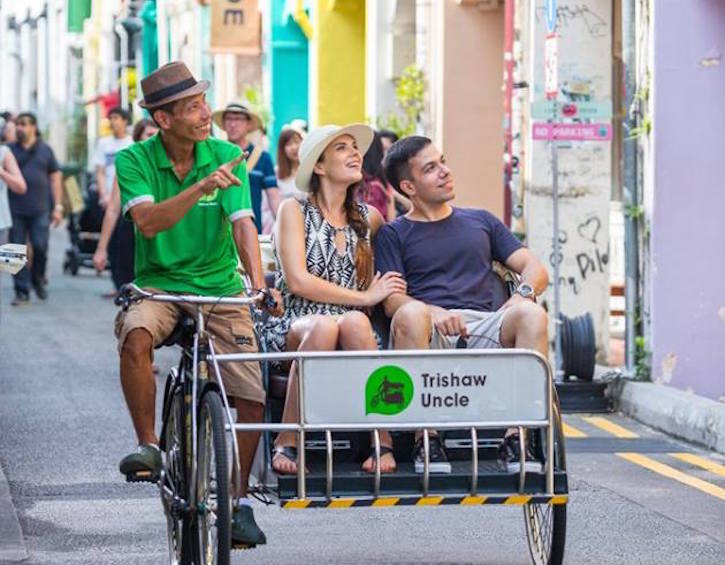 All the better if your trishaw has flashing lights and blaring music! Click here for more information on Trishaw Uncle tour routes and timings. This family activity is a fun one to do if you are new to Singapore. 
47. Visit Macabre Haw Par Villa
Haw Par Villa, built in 1937 by the Tiger Balm founders as a kind of religious theme park, is home to more than 1,000 vivid statues and tableaux that are at turns terrifying, enchanting, and hilarious. This one comes with a warning – it is very graphic and so this activity is not really recommended for young kids (but older teens and horror-seeking adults might find a visit an eye-opening activity and there are areas that are beautiful if you avoid the 10 courts of hell!)
48. Explore Singapore's Parks (FREE!)
We round up our fave parks here, from the best parks to fly a kite, to parks that offer herb gardens and treehouses to explore — all for free, of course. Download our free nature scavenger hunt printable to get the kids excited about exploring nature!
 49. Go Longkang Fishing
Ever tried longkang fishing? This fun kids' activity in Singapore is where you can try catch fish in a large open pond with a little hand-held net – and you get to keep the fish you catch! Check Qian Hu Fish Farm or Hai Bin Prawning at Punggol or if you are after proper fishing for older kids try D'Best Recreation where you can fish with a rod in the Sure Catch zone.
50. Take the Kids to Explore Coney Island
Coney Island has rugged beaches (nothing like the expansive sandy beaches of Palawan or Siloso but still fun). Explore this stunningly green forested island on foot or by bike along the 2.5 km Coney Island Park Connector around the Serangoon Reservoir (but beware: some paths on Coney Island itself can be shingly and loose). This family activity is hit with birdwatchers (so pack binoculars), you might spot one of 80 species of birds on Coney Island Park, including the resident male Baya Weavers, Oriental Magpies, or flocks of parakeets.
            Read more: Ultimate Guide to Nursing Rooms in Singapore
51. Go Karting Kids' Activity in Singapore
Older kids from 9 years old can zoom at The Karting Arena which has a 500 metre electric karting circuit with loops and hairpin bends. There's also an ATV trail riding facility in Kranji (the first of its kind in Singapore) called Mud Krank. Read up on all the places to go karting in Singapore here.
52. Take the Kids to Pasir Ris Park Playground
Kids of all ages will love exploring Pasir Ris Park's huge free adventure playground. Burn that last bit of energy by riding bikes around the gardens (the wide flat paths are fantastic for beginner cyclists!). There are fishing and kite-flying activities, too!
53. Head to a Public Pool with Slides!
Take the kids to a public swimming pool with slides and some even have lazy rivers and other fun from just $1.50 per adult (less for kids!). There are six swimming pools at Our Tampines Hub from a Jacuzzi and a cute garden-themed kids wading pool with water fountains, water spray guns and a mini waterfall while SAFRA Yishun has an inviting pool with a fun pirate-themed slide for kids. A fun family day out!
54. Walk the Southern Ridges (FREE!)
See how far your kids can trot by tackling the 10km Southern Ridges which connect Kent Ridge Park with Mount Faber Park and Labrador Nature Reserve. This family hiking activity includes the Henderson Waves — the highest pedestrian bridge in Singapore.
55. Play for Free at West Coast Park (FREE!)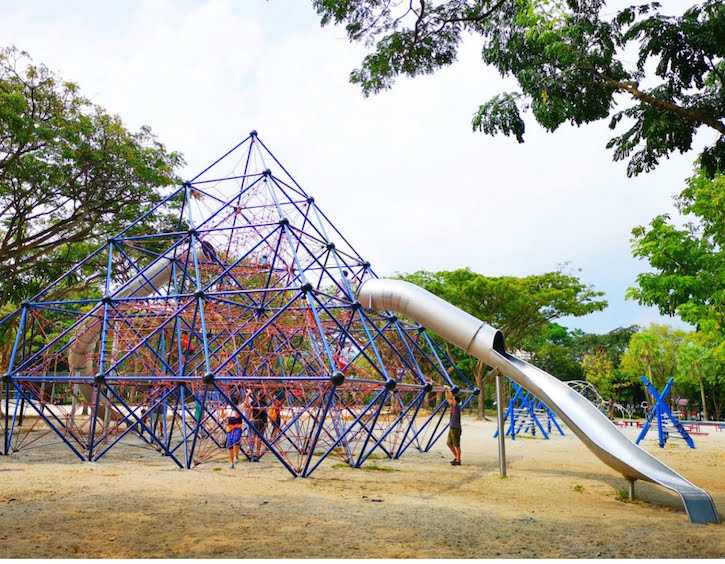 West Coast Park is one of our favourite adventure playgrounds with eight play zones, space for scooting and cycling, grass for flying kites, go-karting for the big kids and even a sea breeze to keep everyone cool!
56. Play Pirates at the Sembawang Playground (FREE!)
Take your little pirates to play on the "battleship" playground at Sembawang Park. The beach nearby was very thin (and quite littered) when we last checked so don't count on any sea action here.
57. Try Prawning
This popular local family activity involves patiently fishing for prawns! Kids love this as it is easy to manage (easier than fishing with a rod). D'Best Fishing offers prawning in a small air con room (great for if it's midday and hot outside or raining), Hai Bin in Punggol offers prawning too! Or check out our latest fish farm longkang guide for Qian Hu Fish Farm.
58. Play Tourist: Book a Duck Tour of Singapore
See the city and take a thrill ride at the same time with a Duck Tour of Singapore. A fun family activity to do with visitors to Singapore or when the grandparents are in town. 
59. Check out River Wonders
River Wonders is stroller friendly, mostly covered and takes you on a journey to admire different animals from dugongs to monkeys. The free-ranging monkey enclosure is a highlight and it's fun going on the river ride. 
60. Experience a Cable Car Ride
Make it a family day trip! Take the cable car to Mount Faber, and have lunch at Arbora Hilltop Garden and Bistro at the top of Mount Faber. The views up there are stunning and walking over to Faber Point and Henderson Waves (or even all the way over to Hort Park) is a great way to make a whole afternoon of it.
61. Wander the Neighbourhood of Joo Chiat (FREE!)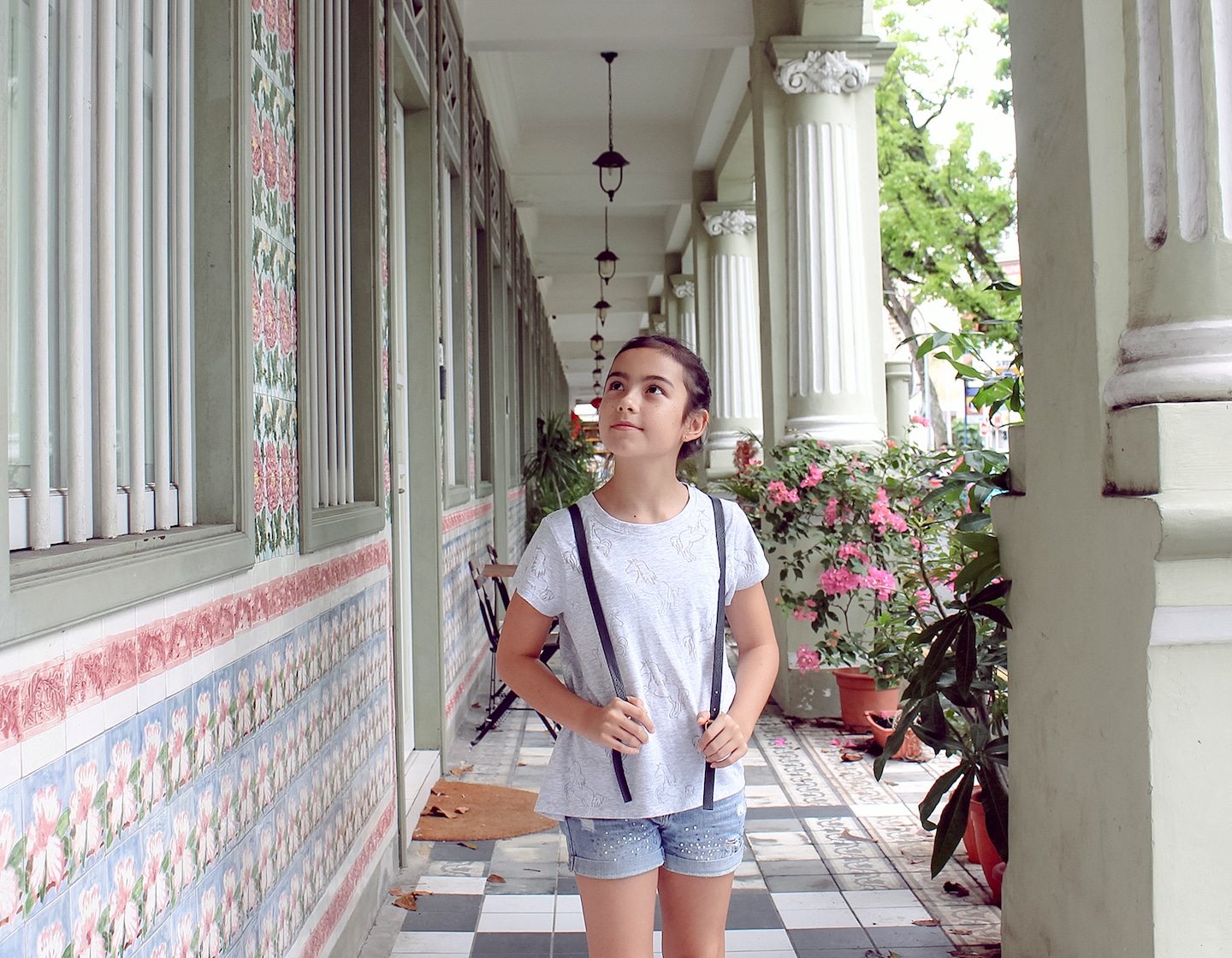 Joo Chiat is where you'll find the famous pastel Peranakan shophouses on Koon Seng Road, along with a number of beautiful temples – perfect for memorable snaps of the kids against pretty backdrops.
62. Take the Kids to Seletar (FREE!)
Take the kids to Seletar – there's a water playground, nature trails, and lots of great cafes and restaurants – Wheeler's Estate restaurant is right next to the free outdoor playground so your kids can play in your view while you enjoy a meal or drink dining alfresco.
63. Visit Fort Siloso (FREE!)
A must-do activity for history buffs, Fort Siloso was the site of the Japanese surrender to the British in WWII. You'll find military paraphernalia and weapons, the remains of fortified tunnels, and wax figures of Japanese and British soldiers. Go on the Fort Siloso Skywalk – another free thing to do in Singapore while you are there. This 181 meters-long trail provides a scenic treetop trek en route to Fort Siloso – 11 stories above the ground!
64. Check out Imbiah Trail and Bridge (FREE!)
Imbiah Trail & Sentosa Nature Discovery is a 2.3km nature trail featuring interactive exhibits, sculptures and a lookout point, along with different flora and fauna along the route. The Imbiah Bridge (also a free activity) is a 25m elevated boardwalk that links the Nature Discovery Trail to the Imbiah forest.
65. Take the Kids for a Pony Ride
Take the little ones (as small as 3 years old) for a short pony ride at Gallop Stable – there's one at both Horse City and Pasir Ris, and rides are $10.
66. Watch the Sunset with the Kiddos
Did you know there's a working lighthouse in Singapore? Raffles Marina Lighthouse and its pier is one of the best places to catch the sunset in Singapore. As a fully-functioning lighthouse, the Raffles Marina Lighthouse will flash its lights every 10 seconds which is fun for the kids to experience. Check out more places to watch the sunset or sunrise in Singapore here.
67. Take the Kids on a Picnic
When was the last time you had a picnic? The next time the sun's out, consider packing your favourite snacks and drinks and enjoy a picnic with the family! Here are some of our favourite picnic places in Singapore.
68. Admire the Light & Sound Show (FREE!)
Indoor Kids Activities in Singapore
69. Family Activity: Indoor Playground Superpark
SuperPark is great for all ages, but older kids will get to truly enjoy all the fun heart-pumping kids' activities around this super (and massive) indoor playground at Suntec City Mall! There are two levels of unlimited activities, including popular ball games as well as Archery, Skate & Scoot, Augmented Climbing, SuperClimb and Tube Slide, amongst others. Kids love the pedal carts and it's probably one of the few playgrounds where parents can play with their kids in. Read all about SuperPark here.
70. Educational Kids' Activities at Science Centre Singapore
Older kids will have fun making discoveries about electricity and fun optical illusions at the Science Centre Singapore. It's jam-packed full of permanent exhibitions from "Know your Poo" to the famous Fire Tornado Show. Each exhibition is interactive and provides super hands-on activities for kids as well as more text-heavy info for a deeper understanding of the topic for the older ones. There's also a Tinkering Studio for free hands-on activities for kids. Then head outside to the adjacent splash pad for a fun water-play activity. We love this indoor edutainment place so much we wrote a whole guide on Science Centre here!
71. Take the Kids to KidsSTOP
KidsSTOP is an interactive STEAM-focused playspace for kids that's part of Science Centre Singapore (but with a separate ticketing price and building). Kids can spend a whole day having fun with all the STEAM activities – there are tonnes of buttons to push, a suspended obstacle course to climb, workshops and a dinosaur pit to dig in. Read our full guide on KidsSTOP here!
72. Check Out Singapore's Tallest Indoor Slide (FREE!)
Have you taken the kids to experience the 12-metre four-storey Slide@T3, Singapore's tallest indoor slide? Simply download the Changi App and sign up for your free membership to get 10 free rides per day. Zoom down the tubular slide from Level 1 to B3 over and over again! This activity is best for older kids due to the minimum height requirements.
73. Visit an Indoor Playground
If it's too hot to contemplate going outside or if it's raining, pop into an indoor playground like Kiztopia which is great for young kids through to 8-year-olds. See our video of Singapore's best indoor playgrounds here.
74. Visit Singapore's Largest Buddhist Temple (FREE!)
Marvel at Kong Meng San Phor Kark See Temple (conveniently close to Bishan Park!) and take photos of the kids in the grounds with the mini stone statues. Or take a tour of the beautiful Buddha Tooth Relic Temple and Museum. Don't forget to cover your shoulders and knees! Then head across the street for lunch at Maxwell Hawker Centre.
75. Spend the Day at the Aquarium
Head over to the S.E.A Aquarium and gaze at sharks, learn about jellyfish, touch some marine creatures in the touch pond, and then sit back and watch the aquarium through spectacular floor-to-ceiling glass windows. A fun educational family day out.
76. Take the Kids to the Asian Civilisations Museum (FREE!)
The Asian Civilisations Museum (ACM) combines a stellar location and a truly in-depth exploration of Asia's rich cultural heritage along with fab family-friendly programmes 'ACM Adventures' that focus on art, craft, and movement.
77. Bounce Galore at Bouncy Paradise
Burn off some energy at Bouncy Paradise featuring a huge interconnected bouncy castle platform with a multitude of rainbow slides, trampolines, ball pits big enough to swim in plus obstacle courses, climbing walls, a flying fox and more!
78. Cool off at the Cloud Forest and Flower Dome
Head to Cloud Forest, the indoor, climate-controlled conservatory within Gardens by the Bay to marvel at the beautiful rare flora and fauna and the indoor waterfall (used to be the tallest indoor waterfall in the world until Jewel's indoor waterfall vortex came along). Note that there's an extra admission cost. Find full details on all the Gardens by the Bay attractions in our family guide.
79. Family Activity: Visit Jewel at Changi Airport
Nope, we still haven't gotten bored of spending long hours at Jewel at Changi Airport bewitched by that stunning indoor vortex waterfall, shopping, eating at fab jewel restaurants and playing at Canopy Park (on Level 5) where there are slides, hedge mazes, entertaining mirror mazes and enormous bouncing nets. Read here for ticket prices and what to expect at Jewel, Canopy at Changi Airport.
80. Get Trampolining: Kids' Activity to Burn off Energy
Get your bounce on at fab indoor trampoline parks all over Singapore. If you are going with little ones look out for special timings where only small kids get to bounce.
81. Thrill-seeking Kids' Activity: Skydive Indoors!
Get the thrills of skydiving without mum and dad getting grey hairs with fright at iFly Singapore! Older kids will love this activity on the Sentosa Beachfront. Make sure they're ready for this — it's not for the sensitive, it gets loud and windy in there!
82. Let Kids Eat with Their Hands from a Banana Leaf!
If it's not usually your culture to eat with your hands, the kids will be delighted to try this experience! Take the kids to The Banana Leaf Apolo Restaurant for delicious Southern Indian signatures like fish head curry and rice which is served on a banana leaf and eaten with your hands. They've got Northern staples, too. Read up on what to order at Indian restos for kids here.
83. Cultural Kids' Activity: Visit Children's Museum Singapore
84. Chow Down on Dim Sum
Dim sum is one of those cuisines that kids often adore. We love heading to China Town during Mid-Autumn Festival or Chinese New Year to see all the decorations and colourful lanterns. How many restaurants from our dim sum guide have you tried?
85. Family Activity: Take the Kids Bowling
There are lots of kid-friendly bowling alleys in town, some with bumpers on the lanes to help kids with their aim and some have special 5-hole balls and ramps to help younger kids slide that heavy bowling ball down the lane.
86. Learn About Singapore's Civil Defence (FREE!)
Visit the Civil Defence Heritage Gallery to see gorgeous vintage fire trucks (great for vehicle-loving kiddos!) and learn more about Singapore's civil defence history. This free kids' activity is closed on Mondays.
87. Roll on into HiRoller
Teens and older kids will have a blast at the largest indoor roller skating rink in Singapore HiRoller.
88. Take the Kids to National Museum Singapore
Discover the nation's history at the interactive National Museum of Singapore. Sign the kids up for an interactive tour to keep them entertained and check if there are any special kids activities, arts and crafts sessions or workshops on.
89. Take the Kids to a Wet Market (FREE!)
Kids will get to see everything from live frogs to weird and wonderful fruits and veg. Read our guide to Singapore's wet markets, but make sure you get there early, as most stalls close by noon.
90. Have a Staycation!
Pack a bag and get the kids to do the same (young kids find this activity fun can you imagine!) and head over to a hotel in Singapore for the night for a fun different experience. Read all about staycations in Singapore here.
91. Take the Kids Rock Climbing
Check out our roundup of rock climbing centres for kids – some are indoor with themed walls or augmented reality areas, others feature outdoor climbing walls for adrenaline junkies. Kids as young as two can get involved in this family activity but this is also a super idea for teens.
92. See How SG Has Developed at The URA Centre (FREE!)
A family trip to The URA Centre makes for a fascinating activity for kids with its bird's eye view of large-scale architectural models and a look at the history behind Singapore's urban renewal.
93. Give Back to the Less Fortunate (FREE!)
We all know how lucky we are to live in safe, beautiful Singapore, but it's also worth reminding our kiddos of their good fortune (while also fostering gratitude and reducing entitlement). Check out our roundup of all the places kids can volunteer in Singapore!
94. Take the Kids to ArtScience Museum
Take the kids to FutureWorld at the ArtScience Museum. One of our fave permanent exhibitions, this highly interactive experience makes a fun excursion for toddlers, big kids, and even snap-happy IG addicts. On Fridays kids enter free with paying adults!
95. Catch a Kid-friendly Flick
We love all the child-friendly movie options in Singapore. Tickets to the cinema are pretty reasonable so this makes a good option for a rainy day activity with the family. Plump for Gold Class with comfy sofa seats and restaurant-style food (and wine!) served to you but once you try this, beware it's hard to go back to 'regular' cinema seats! See how to score free cinema tickets for kids here!
96. Marvel at the Lee Kong Chian Natural History Museum
Whether your kids love dinosaurs or butterflies, they're bound to be amazed by this extensive natural history collection at Lee Kong Chian Natural History Museum, which actually originated with Stamford Raffles himself! A fun educational family activity!
97. Visit the Air Force Museum (FREE)
The Air Force Museum is filled with interactive exhibits, 3D models, and – best of all – super cool multi-player flight simulators – this free museum is a big hit with aspiring pilots.
98. Wintry Kids' Activity: Take the Kids Ice Skating
There are two real ice skating rinks in Singapore – Kallang Leisure Park on the East Coast and JCube in Jurong (until August 2023 when it closes!).  The Rink hosts special dance evenings every Friday and Saturday night with tunes and flashing disco lights.
99. Get a Mama-Child Mani-Pedi
It's fun to bond with older kids while having a mani-pedi. We've even rounded up the most kid-friendly nail salons that specialise in kids' nail services!
100. Check out Van Gogh: The Immersive Experience
Explore Vincent van Gogh's most iconic works in this new interactive exhibition Van Gogh: The Immersive Experience. The exhibition in Singapore brings 300 of Van Gogh's masterpieces to life through cutting-edge digital projections. Travel back in time to the 19th century through some of Vincent van Gogh's most iconic drawings and paintings, alongside floor-to-ceiling, wall-to-wall large-scale digital projection works. End in Q3 2023.  
101. Take the Kids for a Spot of Afternoon Tea
Whew! If you've made it all the way to the bottom of our list of kids' activities in Singapore, clearly it's time to recharge. Singapore is filled with wonderful afternoon tea buffets. Click here to see all our top picks for afternoon tea in Singapore!
Read More: Check out our fave brunches in Singapore here!
Looking for ideas of what to do this weekend with the family? Every week in our Weekend Planner we bring you an updated post on weekend events in Singapore, as well as ideas on things to do with the kiddos.
Did we miss your favourite kids' activities in Singapore? Email us pronto at sassy@sassymamasg.com
You might be interested:
Lead image Adventour