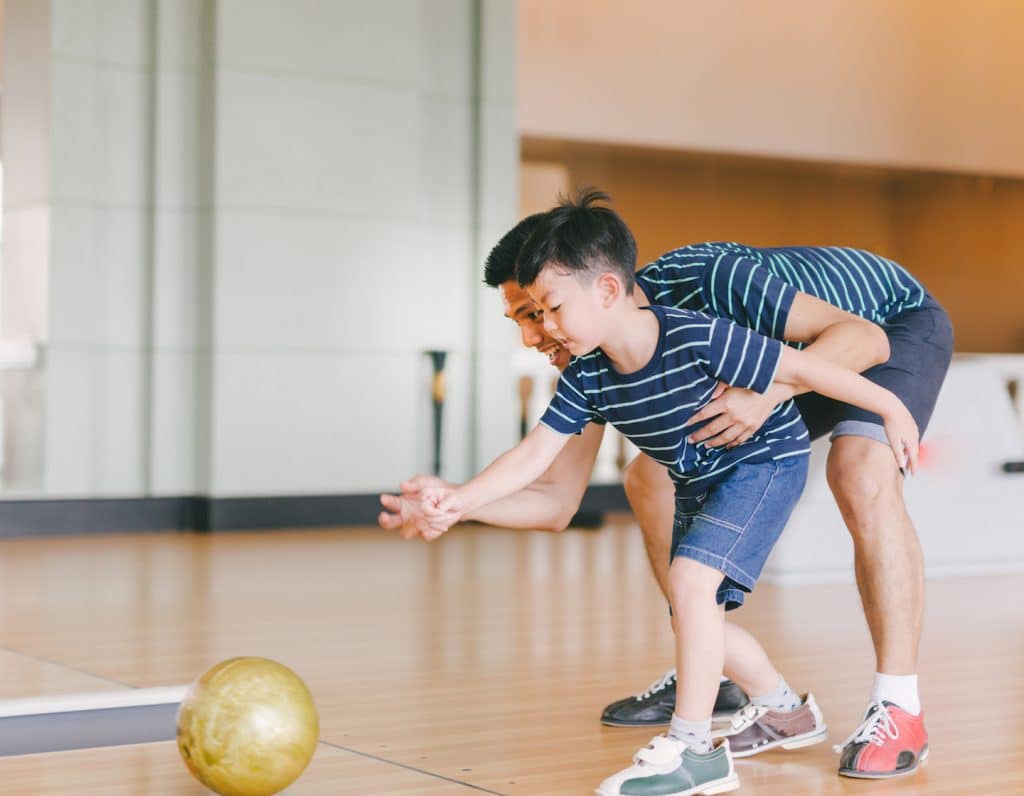 Looking for a fun, family activity to bond over? Why not hit up these places for a spot of bowling in Singapore with the kids?
If it's too hot or too rainy for an exciting time in an outdoor park or playground, then why not consider bowling in Singapore with the kids instead? Older kids will love the independence of having their own bowling lane, but it's also a fun activity for little ones as young as age 3. Wondering how that works? Some spots offer fam-friendly bowling in Singapore thanks to bowling alleys with side bumpers for kids, ramps as well as children's bowling shoes. But before you pack the kids and head down for a spot of fun, consider these tips first:
Book ahead to reserve a bowling lane with side bumpers for very small kids
If the bowling alley doesn't have shoes small enough for your child to rent (usually around $1.50/pair) they will allow kids to wear their own shoes – just make sure these are covered like trainers (no flip flops, open-toed sandals or Crocs). You must wear socks when renting bowling shoes.
Many places offering bowling in Singapore have party packages for those looking to celebrate birthdays without the mess at home!
If you're already well-versed in all things bowling, then check out these awesome kid-friendly places to go bowling in Singapore!
          Read more: 101 Things to Do with Kids in Singapore
Where to go bowling in Singapore:
1. Forte Bowl
Forte Bowl offers ten-pin bowling by day with its 20 Brunswick bowling lanes, ultraviolet light effects, and pure entertainment. This bowling centre in Singapore also integrates training facilities into its entertainment amenities, along with touchscreen consoles, and the latest automatic scoring software.

Forte Bowl, JForté Sportainment Centre, 50 Hougang Avenue 1, Singapore 538885, Tel: (+65) 6289 2121, www.jfortesports.com.sg
---
2. The Fun Empire
Want to try a little cosmic bowling in Singapore? Hit up The Fun Empire for a friendly competition, complete with captivating neon lights! While this isn't a bowling alley per se, the facilitators here are trained to help you master your bowling skills, and can organise a cosmic bowling event for your child's next birthday party. They use weighted bowling balls to knock down pins, which makes it a fun way for the kiddos to practise their skill and accuracy while perfecting their stance.

The Fun Empire, www.thefunempire.com/bowling
---
3. K Bowling Club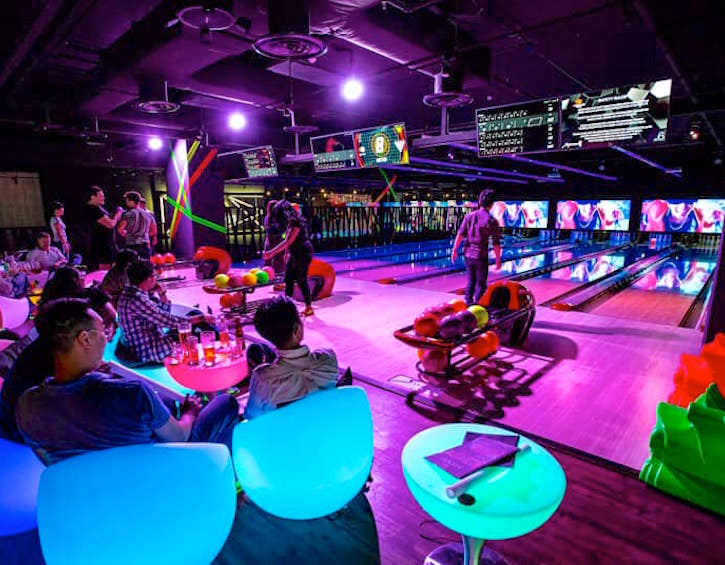 This cosmic-themed bowling alley with neon lights is one to earmark for adults (a team-building outing maybe) or for older teens. K Bowling has some of the pricier bowling in Singapore at $11 to $17 per game but it does sport fun extras like arcade games, dart machines and private karaoke booths!

K Bowling Club, 313@Somerset, #03-27, 313 Orchard Road , Tel: (+65) 6737 5313, www.kbowlingclub.com
---
4. Kallang Bowl
Kallang Bowl is popular for bowling in Singapore so definitely book your slot ahead of time. Lots of swish features include 22 bowling lanes, side bumpers to help kids bowl (be sure to book ahead as there are only 3 lanes with these side bumpers), lighter bowling balls, and bowling shoes in children's sizes. Kallang Bowl is one of the priciest places for bowling in Singapore, from $28 per lane/hour through to $50 per lane/hour on weekends after 2pm. Read our full review here.

Kallang Bowl, #02-22, 5 Stadium Walk, Singapore 397693, Tel: (+65) 6345 0545, www.leisurepark.com.sg/entertainment
---
5. Orchid Bowl
First time taking the kids bowling in Singapore? Orchid Bowl has the essential side bumpers for kids to bowl (otherwise that ball ends up in the gutter more often than not!) and these bumpers can be programmed to only come up when it's the kids' turn to bowl. Orchid Bowl stands out from other bowling alleys in Singapore thanks to the Dragon Ramps (there are only 4 pieces available on a first come first serve basis). These plastic dragon-shaped ramps allow kids to slide their ball down so it has more chance to roll straight down the bowling alley and knock some pins down (and it also means kids don't have to swing the ball which is heavy for little fingers!). Orchid Bowl offers smaller five-pound bowling balls for little kids. The rates here provide you with some of the cheapest bowling in Singapore, starting from as low as $2.40 per person.

Orchid Bowl, 1 Orchid Club Road Orchid Country Club #02-37 Singapore 769162, Tel: (+65) 6759 4448, www.orchidclub.com/orchid-bowl
---
6. Planet Bowl
This family-oriented bowling alley in Singapore has plenty for you and the kids to bond over. In addition to your regular bowling activities, Planet Bowl also organises bowling leagues and can host team-bonding events. Be sure to check out their events calendar for fun, fam-friendly bowling events!

Planet Bowl, Civil Service Club, 60 Tessensohn Road, Singapore 217664, Tel: (+65) 6391 5693, www.csc.sg/planetbowl
---
7. Singapore Bowling
Singapore Bowling has a top-notch bowling alley with 38 bowling lanes. This spot is actually the bowling centre of choice for the National bowlers – expect it to be pretty snazzy! There are 6 lanes for bowling with kids with bumpers and ramps (book ahead).

Singapore Bowling, #04-01, Temasek Club, 131 Rifle Range Road, Singapore 588406, www.temasekclub.org.sg/sports/singapore-bowling
---
8. SuperBowl

At SAFRA bowling alley, SuperBowl there are bumper lanes for kiddos and lighter balls too so little ones can carry them with ease. With bowling alleys dotted all over Singapore, bowling with kids has never been easier!

SuperBowl, multiple locations, www.superbowl.com.sg
---
9. Westwood Bowl
Looking for a deal? One of the cheapest bowling alleys in Singapore is at Westwood Bowl at the Civil Service Club in Bukit Batok. Prices start as low as $2.60 if you hit the bowling alley on weekdays from 9:30am to 2pm. Additionally, there are 12 bowling lanes with bumper lanes for little kids and smaller bowling balls.

Westwood Bowl, Civil Service Club, 91 Bukit Batok West Ave 2, Singapore, Tel: (+65) 6513 7490, www.csc.sg/westwoodbowl
Lead image from Getty Images. Updated in September 2022