Our Sassy Mama Unfiltered Podcast is here! Tune in to our new parenting podcast where we talk all things family and parenting with cool mamas and dads in Singapore
OMG, we've got our very own podcast! Join our Sassy Mama Editor, Syazana Hishamuddin as she chats with parents in Singapore about all things family and parenting – everyone has a story to tell, so plug in, get cosy and join us! Check back as we keep this page updated with all our latest episodes, plus subscribe to our newsletter and follow us on Facebook and Instagram to get notified when an episode drops! You can also find Sassy Mama Unfiltered on Spotify, Stitcher, Apple Podcasts and Google Podcasts.
Got a suggestion? Email us at sassy@sassymamasg.com, we'd love to hear from you!
Nepo Babies: My Kids Know They Have to Work Harder Than Everyone Else in The Room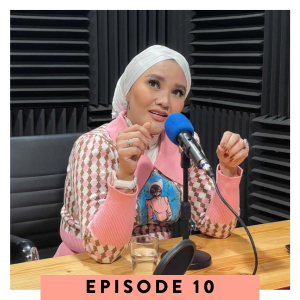 Mama of four, beauty entrepreneur and former actress Norfasarie makes sure her kids know that opportunities are not guaranteed without hard work! In this episode she talks about navigating life with kids in the public eye, parenting a tween with a physical disability and how she almost didn't go through with carrying 'surprise' baby #4.
*TW: Mention of abortion.*
---
I Tried All Kinds of Treatments to Get Pregnant
In this episode we chat with mama and entrepreneur Amy Bell (founder of The Meat Club!) about her fertility journey, eventful births and her experience seeking professional help for her maternal mental health.
---
My Teen is on TikTok & I'm OK with it
Do you have a Gen Z teen with an Instagram profile that barely looks active? Hundreds of followers, but maybe only two visible posts at a time? There's a reason for that. In this episode we chat with entrepreneur, social media maven and mama of three Sabina Munshi and get enlightened on teens' social media habits, from quirky engagement tactics to multi-platform presences (Instagram, TikTok, WhatsApp, Telegram etc) and how online gaming is often a form of social media too. Plus, Sabina shares how she manages her kids' screen time and the best way to pull them away from their devices – her advice may surprise you!
---
This 2nd Pregnancy Has Turned Me Into a B*tch!
"I'm one of those annoying people that really enjoyed my first pregnancy with my daughter Thea, but this time round I'm just always angry!" Real-life 'Disney princess' and mama influencer Brie Benfell opens up about expecting #2 with a toddler in tow – made tougher thanks to catching Covid-19, and very little outside/family help. She also shares her experience with toxic positivity during the height of the pandemic, how she values all her close relationships so much more now and how she actually came to Singapore not as a trailing spouse. Brie and Syaz also share their labour stories!
---
My Husband Was My Confinement Nanny When We Had Baby #3
T
hink confinement after giving birth is all faff and no function? So did artist and mama-of-three Gracie Chai, before she felt the literal chill of cold wind that smacked her into abiding by traditional confinement rules and practices! In this episode, Syaz, Gracie and Beate (Managing Editor of Sassy Mama) chat about their confinement and postpartum experiences, including how it's possible without a confinement nanny, why it's important to wear socks and gloves despite the Singapore heat, and how to get your husband to take the reigns on managing your confinement.
---
Eco-friendly Cloth Diapers: What Do You Do with The Poop?!
In celebration of Earth Day, we chat with Atikah Kamsani, admin of the Cloth Diapering Singapore Facebook group on all things cloth diapering (turns out it's really not as hard as you think!) and a method called 'elimination communication', which is known to start kids on their potty training journey from as young as 18 months old. These eco-friendly diapering methods not only means you're doing your part to reduce waste and save the environment, but they offer huge cost-saving benefits! That said, we're all for choice and it's not this way or the highway – Syaz and Atikah chat about how they struggled to get on board with cloth diapering before finding a groove that works for them (and yes, it still involves some disposable diapers).
---
My First Job in Singapore was a N*de Photoshoot
Andrea Claire wants people to stop slapping a filter on everything! We chat with her about why some of us should really quit those beautifying filters, how she started her makeup and hairstyling career (her long list of celeb clients include Natalie Imbruglia, Seal and Liv Lo), her first makeup and hairstyling gig when she landed in Singapore (spoiler alert: it was shooting nudes), and how she openly watches sex-positive shows with her tween without getting totally grossed out.
---
Contracting Covid-19 Actually Made Me Feel Like Beyoncé
The early days of Covid-19 were filled with fear and uncertainty – and this mama lived through it by being one of the first people in Singapore to contract the virus. We chat with entrepreneur and celebrity makeup artist Katt Ibrahim about her experience in quarantine (she recalls being wheeled into the isolation ward felt "kind of like a pop diva getting VIP treatment backstage"), how she was separated from her two young kids during the ordeal, the divorce she went through afterwards, how she continued to take charge of a successful bridal house through it all and some insight on whether she's ready to start 'getting back out there' in the dating world again.
---
Growing Up Minority and Raising My Biracial Child in Singapore

Can we really raise our kids to be #wokeaf? Are there steps we can take to ensure they're in a diverse, inclusive environment? We chat with writer and social media maven Faz Gaffa about juggling motherhood and the many different forms of work she takes on, raising her biracial son in a multicultural society, and the mental health advocacy she's taken on by building My Safe Sphere after her father's sudden passing.
---
My Ex-husband (and Co-parent) & I Are Really Good Friends
Could you imagine being so friendly with your ex that you'd sit down for dinner with their new partner, together with yours too? Class 95 DJ and single mama of two Sophie Gollifer tells us all about the groundbreaking co-parenting podcast she recorded with her ex-husband (without killing each other!), what it's like sharing custody of their two girls and dating as a single mama in Singapore.
---
Who Are We & What Do We Have in Store?
Ever wondered who's behind Sassy Mama? We spill all the tea! Here we also tell you all about Sassy Mama Unfiltered, our new podcast series where we chat with inspiring parents in Singapore about anything, everything and all things parenting.