Looking for personalised baby gifts or gorgeous newborn gift sets for that special arrival? Here are some of the sweetest (and most useful!) baby gifts in Singapore to say congrats with!
Baby gifts can range from gorgeously boxed newborn essentials sets to baby hampers filled with toys and teethers, while personalised baby gifts with bub's name embroidered are always a hit too. While baby shops are filled with ideas, how do you narrow down a beautiful present that will be super useful for parents and much loved by baby? We check out some fun ideas for newborn baby gifts as well as presents to say congrats with that are really for mama instead!
Sweetest Newborn Baby Gifts in Singapore:
Curated baby toy gift boxes from Kaiby Box
Stumped on baby gift ideas? Kaiby Box gets rave reviews on Google for their baby gifts and we can see why! They stock a lovely range of gorgeous baby gift hampers, with more than just baby clothes and diapers. Their gift hampers are filled with a variety of pretty yet functional baby toys that are sure to impress! The toys in these baby gift boxes are carefully curated and unique; each one is designed to help little ones achieve their developmental milestones and relieve new mums and dads by taking all the guesswork out of the baby's learning journey. And if you have a better idea of what the new parents need, the baby gift box is fully customisable so you can mix and match the best baby toys and items for mama! There's even a Name Embroidery option for the Kaiby Bear and Kaiby Name Blocks. Kaiby Box has fast and free 2-day delivery on its baby gift boxes with same-day delivery.

Kaiby Box, www.kaibybox.com
---
Personalised boxed baby gifts from RAPH&REMY
If you are after a gorgeous baby gift all boxed up beautifully, hit up the premium baby gifting brand, RAPH&REMY for their stylish, sustainable bamboo baby essentials, baby gifts and newborn gift sets. We love how everything from their blankies to snuggly plushies come in pastel colours and can be personalised for that extra touch. RAPH&REMY uses only high-quality materials chosen both for the baby's comfort in this tropical climate as well as their low environmental impact because they believe that doing good for your family shouldn't come at the expense of Mother Earth. The silky soft and sustainable bamboo textiles are OEKO-TEX100 certified, so you can be assured they are free from harmful chemicals and perfect for newborn skin. Did we mention they also have a kids' range for 2-5-year-olds? RAPH&REMY's flagship store on Neil Road is the perfect one-stop shop for all things baby gifting, plus they also ship worldwide from Singapore so you can gift to friends abroad.

RAPH&REMY, 33 Neil Road, Singapore 088820, www.raphandremy.com
---
Organic wear baby gift sets from Little Fawns
Get ready for cuteness overload! This all-natural snuggly essentials clothing baby gift set from local brand Little Fawns includes an organic ribbed short-sleeve romper, organic ribbed sleeveless shorts romper, ribbed zip-up footed sleepsuit, their most popular organic cotton bibs, organic snuggly comforter (which can be personalised!) and a ring leaf teether for those itchy gums. This baby gift set comes beautifully packaged in the signature Little Fawns earthy gift box with a complimentary handwritten gift card where you can write a sweet personal message – perfect for gifting! We also love that for every baby gift set purchased, a portion of the sale goes to the Children's Cancer Foundation (CCF).

Little Fawns, www.littlefawns.co
---
Pampering gift boxes for mums from Arlou & Rose
Pregnancy or the arrival of a new baby is a wonderful time to be cherished and many new moms will receive gifts for the baby. However, Arlou & Rose believes in celebrating mums and they aim to make expectant and new mums feel extra special with pretty curated gift boxes. Whether you want a box to pamper mum, comfort her post-delivery, aid with breastfeeding, a baby shower present or to welcome a new baby, Arlou & Rose has just the gift box for you. Made with absolute quality, and crafted style, their unique pregnancy and baby gift boxes mean you can spoil yourself or your mama friends with gifts they need during pregnancy and the postpartum recovery period. Arlou & Rose's beautifully packaged gifts are available for free delivery islandwide.

Arlou & Rose, www.arlouandrose.com
---
Diaper & baby wipe samples from Bubsmamy
Diapers and baby wipes are two of the most important things a new mum needs when baby arrives, but wouldn't it be nice if you can pre-test brands before buying your preferred one in bulk? BubsMamy has the perfect gift for both baby and parents! They offer two kits– The Perfect Diaper Kit comes with up to eight different diaper samples from brands such as Huggies, Mamypoko, Pee-Ka-Poo, and Rascal and Friends plus a diaper evaluation card to rank your favourite nappies, while the Perfect Wipe Kit includes skin-friendly baby wipes from Oldam, Our Button Nose, Tooshypuff, Infanity and Cloversoft Bamboo Baby Wipes. These trial kits let mum test and try before stocking up! Want to try both? Get the Perfect Complete Kit, which includes diaper and baby wipe samples. Best of all, this newborn kit comes in an innovative mailer box you can turn into high-contrast flashcards for your newborn.

Use promo code SASSYMAMA to get 10% off on normal-priced items!

www.bubsmamy.com
---
Premium bamboo essentials for gifting from House of Holly
House of Holly offers a unique collection of sustainable premium bamboo essentials that cater to newborn babies, toddlers, and children. All their apparel and accessories are both elegant and comfortable at the same time. The local brand draws its inspiration from their family of Corgis: Holly, Day, and Summer. How cute! Most of their prints are digitally hand drawn, taking time to come to life on beautiful swaddles, bamboo crib sheets, onesies, dresses and blankets. Check them out for luxurious baby gifts that are sure to impress! Some of their bestselling items include the premium baby and kids' gift sets which includes the signature Toile de Jouy prints that are classy, timeless, and elegant. Shop online, or head to their next pop-up at Isetan Scotts from 24 February to 9 March 2023 and Takashimaya, in March and May 2023.

Quote SASSYHOLLY10 for 10% off storewide with a minimum spend of $50!
Promo code cannot be used in conjunction with other promotions. Limited to 1 per user.

House of Holly, www.houseofholly.com.sg
---
Treasured baby gift: allergy-free lovey Nuzzling Nana
The perfect gift for Year of the Rabbit babies! Nuzzlings' signature product, the Nuzzle Nana, is the healthier baby comforter soft toy bunny with a removable WipeClean stuffing pouch, making it so easy to wash and dry. It also doesn't shed fluff, making it friendly for sensitive noses! The Nuzzle Nana comes in soothing colours and features Baby-Scent-Locker bunny ears of the perfect length for little hands to fiddle with, allowing it to function as your baby's lovey over time (you'll get bonus points for choosing a gift that bub loves and keeps for many years to come!). When you buy this as a baby gift it's packaged in a complimentary reusable silicone pouch to stay fresh and delivered in a gorgeous gold star-sprinkled box – making it a lovely gift for the recipient to receive! Choose to add on name embroidery by picking from a delightful range of high-quality threads, and your little one's Nuzzle Nana will be 110% magical.

Quote SASSYFREEGIFTCARD to redeem a free premium gift card (worth $6.90) when you spend a minimum of $49.90! Add the 'Sending So Much Love' premium gift card to your cart and enter the promo code to redeem the card for free. Limited to 1 redemption per order, and a total of 100 redemptions only. Offer not stackable.

Nuzzlings, nuzzlings.sg
---
Personalised baby sets from Label of Love Studio
Label of Love Studio's personalised baby gift boxes and baby hampers are chockfull of designer rompers, clothing, baby shoes, diaper cakes and baby bedding sets with pillows, a bolster, blanket and beansprout pillows. Our favourites are the gorgeous bedding sets, which are printed with eco-friendly ink and made from premium fabrics. The soft, smooth textures won't irritate baby's skin either. Everything is designed locally and printed exclusively, and the wide selection of designs means you'll easily find a style you like – think stars and galaxies, princes and princesses and even cute zodiac animals. Label of Love Studio comes up with new designs yearly, too! You can build your own baby box or newborn hamper from scratch too!

Use promo code SASSYMAMA to get 10% off storewide!

www.labeloflovestudio.com/pages/personalised-baby-gifts
---
Baby gifts for bonding: bedtime storybooks
New parents will soon realise the joy of having a good bedtime routine. Bath, milk, story, bed! Having some great bedtime storybooks to read to baby is key. Some favourites include Margaret Wise-Brown's classic Goodnight Moon and Rod Campbell's Dear Zoo, which is also available as a pop-up book – a super fun baby gift!
Read more: Baby Gear: Your Downloadable Baby Checklist
---
Baby gifts to record memories: milestone cards
Milestone cards are another fun way to help parents document all of their baby's first milestones. The first smile, the first week, the first time they said "mama", the first time they walked. Gift one of these baby sets and you can be sure you'll be remembered every time mum or dad gets these Milestone cards out and snaps a pic of their growing baby! Looking for a local twist? MummyBearAndMe does personalised Baby Milestone Cards with baby's name, 'Born in Singapore' and a 'Welcome to the World' card.
---
Functional baby gifts
Looking to help out with a big-ticket item as a baby gift? How about something really useful like a stroller or breast pump, or something for the baby's nursery, like an air purifier or white noise machine?
---
Educational baby gifts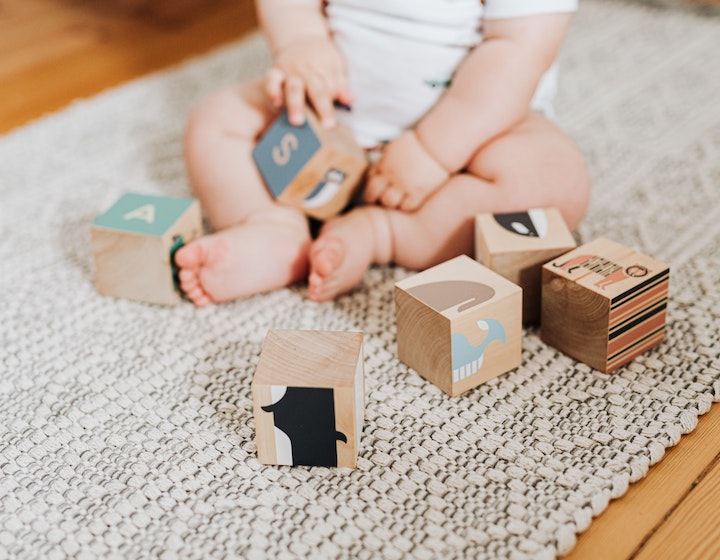 Stimulating toys make a great baby gift – whether it's a pram toy that can be clipped onto the pram so there's no chance of dropping it, a black and white patterned toy for brain development, or sensory toys like a rattle, activity balls and blocks. Find out where to buy some here!
---
Baby clothes or accessories in larger sizes
Can we just say how broody looking at baby clothes makes us! Those little booties! Those teeny tiny rompers! Safe to say that buying a baby gift of gorgeous baby clothing will be much appreciated – just make sure you consider the size (ask ahead to see what sizing parents are low on). Often newborns live in plain soft onesies so if you have your eye on a gorgeous "big boy" shirt and pants or an adorable frilly dress, get it in a much larger size, say 6 to 12 months, so there's more chance of them wearing it! Here are some top baby stores to shop from.
---
Baby hampers
Maybe you don't know the parents that well and you just don't know what newborn gift to choose? Baby hampers are a brilliant way to say congrats, especially as you can have these newborn hampers delivered to the door at the click of a button! Noel Gifts, MyBabyGift and Children of Luna do baby hampers with baby gifts, toys and essentials, while Far East Flora does newborn hampers with baby clothes, flowers and other gifts too. Mums will always appreciate a beautiful bouquet so check out this roundup of florists in Singapore for flower deliveries or how about a bundle of lactation goodies from one of these lactation bakes brands?
---
Read more: Watch How to Create the Perfect Nursery
This post contains paid partnership content.
Lead image by Little Fawns