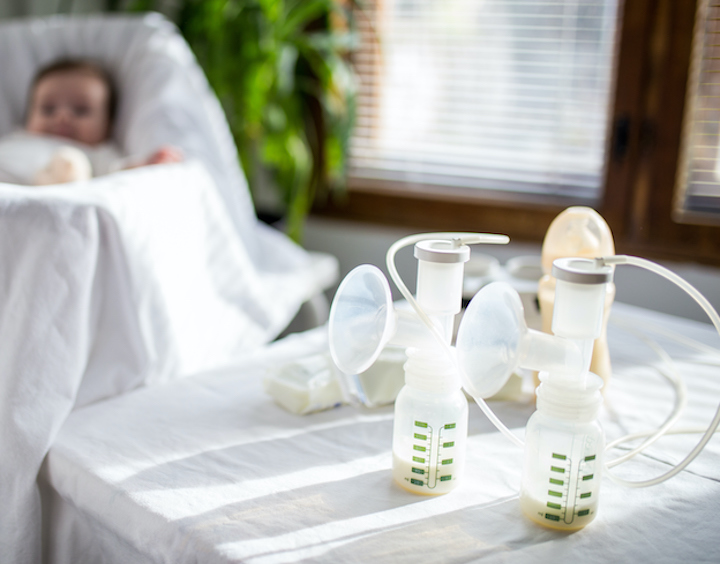 Looking for the best breast pumps in Singapore? Here's a handy guide for breastfeeding mamas, including discounts and promos just for you!
Buying a breast pump is a big decision when you're breastfeeding – it can aid in increasing your milk supply, will be a big help if you're returning to work after maternity leave, and can be a lifesaver for exclusively pumping mamas! So which breast pump should you choose?
Things to consider when choosing a breast pump that's best for you:

Is your breast pump heavy?
Do you need a breast pump that's easy to take on a commute, or does weight not matter if you'll only be pumping at home?
Is your breast pump loud?
Some breast pumps are quieter than others, so it's worth reading the reviews to see what other mamas have to say about its sound.
Can you pump hands-free?
Most older breast pump models will require a hands-free pumping bra, but there are also some nifty new breast pumps that are so discreet that you can pump under your shirt while out in public!
How much does it cost?
Are you willing to spend more on a convenient, ticks-all-boxes model, or can you compromise on some of the functions for affordability?
We've listed out the best breast pumps nursing mamas can find in Singapore, plus tried-and-tested Sassy Mama faves!
Read our comprehensive guide to all things breastfeeding here!
Guide to Best Breast Pumps in Singapore:
Cimilre S6 Plus Breast Pump
The Cimilre S6 Plus is one of the smallest and most efficient portal hospital grade breast pumps in Singapore – super quiet and lightweight at just 850g. The brand hails from Korea and has been around for some 20 years, founded by Uzin Medicare who are also the brains behind popular breast pump brand, Spectra. The Cimilre S6 Plus is a Rechargeable hospital-grade double electric breast pump with hands free breast shields that can fit under a regular nursing or wireless bra. The memory function is great for saving your preferred settings so you can immediately start your pumping sessions without spending extra time readjusting the modes. We especially like the soft night light which helps navigate pumping in the dark!

Breast pump price: $269. Trials available!
Available on the Cimilre website

---
Elvie Electric Breast Pump
The Elvie Electric Breast Pump is the world's first silent wearable breast pump – it fits in your bra with no need for tubes or wires – making it perfect for pumping at work or on-the-go. While it isn't a hospital-grade breast pump, the Elvie is hassle-free, contains just five parts to clean and can still help you express a good amount of breast milk. All you need to do is place the pump in your nursing bra, turn it on and press play on the pump or in the free Elvie app to start pumping. The breast pump will automatically switch from Stimulation to Expression mode and will stop pumping when the bottle is full. You can choose the best fit for you with two breast shield size options and seven intensity settings for greater comfort and choice.

Breast pump price: From $439
Available on PramFox
       Read more: I Fed My Baby Donated Breast Milk From 27 Donors 
---
Baby Express BE Mini Electric Breast Pump
The Baby Express BE Mini Electric Breast Pump is one of the most affordable wireless and tubeless breast pumps available. It's light, small, portable and closed-system, and is so easy to take everywhere you go. Just charge it before you leave the house and you can enjoy pumping anywhere with no wires or tubes needed. It's a great on-the-go mama must-have without compromising on quality and power. Some of its features include a low noise level, a 1-button on/off switch and a nipple correction mode to help correct flat or inverted nipples for a more comfortable pumping experience. One thing to note, is that you can only use this breast pump to pump one breast at a time – but it's a small price to pay for how compact and convenient it is for when you're out and about.

Enjoy 10% off with promo code sassy10, no minimum purchase amount required!
Breast pump price: $79.90
Available on Baby Express
---
Freemie Liberty Mobile Hands Free Breast Pump
With more than 100 pump settings to choose from, the Freemie Liberty Mobile Hands Free Breast Pump is stronger (hospital-grade!) and more versatile than most breast pumps. Unlike a regular breast pump, the Freemie Liberty collects milk in their own hands-free Freemie cups. This wearable breast pump is worn in the bra for discreet, hands-free pumping anywhere that's also practical (each cup collects up to 230ml of milk) and hygienically separated from the electronic pump motor. The detachable belt clip allows mobile on-the-go pumping – you could even be pumping at the table while having lunch with girlfriends and they would be none the wiser.
Breast pump price: $129
Available on Amazon.sg
---
Medela Swing Maxi Breast Pump
Medela is one of the pioneers in the breast pump market, innovating efficient and high quality hospital-grade breast pumps for decades. The Medela Swing Maxi Breast Pump is one of their newer models, made more convenient and affordable than its predecessors (the Medela Freestyle and Medela Pump In Style). But that doesn't mean it doesn't get the job done! This portable breast pump is battery-operated (no power plug needed!), allows for double expression, has nine vacuum adjustments to choose from and has minimal parts.
Breast pump price: $329
Available on Pupsik
---
Spectra S1+ Breast Pump
Spectra is a trusted brand of breast pumps that's internationally renowned. The Spectra S1+ is a rechargeable hospital-grade breast pump that's easy to transport while being highly effective in expressing breastmilk. Highlights include the massage function to stimulate milk ducts before pumping, and the ability to do away with pesky cables if you're pumping outside your home. Often you have to choose between these three key features, but the Spectra S1+ has it all.
Breast pump price: $399
PS. There's also the new Spectra Dual S that's currently getting rave reviews from lactation consultants worldwide! Check it out if you're a mama who needs to pump several times throughout the day.
Available on Amazon.sg
---
Philips Avent Electric Breast Pump
Philips Avent is one of the most renowned brands in the baby gear market, with award-winning products such as baby bottles, breast milk storage solutions and breast pumps! They've created a range of single and double electric rechargeable breast pumps with a focus on improving your milk flow. Featuring the Natural Motion Technology for quicker milk flow, Philips Avent Breast Pumps can help you produce more milk in less time while delivering the best and most comfortable pumping experience.
Breast pump price: $399
Read more about the Philips Avent Electric Breast Pump here!
---
Tommee Tippee Double Electric Breast Pump
The Tommee Tippee Double Electric Breast Pump features an innovative switching expression technology that allows you to choose between pumping from both sides or a single side. This mimics your baby's latch-on rhythm and simulates a natural feed, making it easier to trigger milk release thus delivering a natural and comfortable pumping experience. You have the option to choose between five massage and nine express modes to stimulate milk flow and express breast milk in a way that's most comfortable for you. With the pump's ergonomic body, along with the weight being approximately two mobile phones, mamas can hold the pump comfortably in their hands for long periods.

Breast pump price: $299
Available on Not Too Big
---
Hegen PCTO Double Electric Breast Pump
Hegen may be famous for their aesthetically pleasing milk bottles (not to mention their gorgeous gift boxes), but did you know they also make their own breast pump? Plus it boasts hospital-grade suction strength. You can use it as both a single or double pump (and even switch from electric to manual pumping easily) to express and store breast milk directly into the Hegen milk storage containers, minimising the transfer of your precious liquid gold. The compact breast pump fits nicely into any bag and allows hassle-free charging with a USB charging port. The minimal and easily removable parts also make cleaning super easy.
Breast pump price: $495
Available on Hegen
---
LoveAmme Breast Pumps
LoveAmme is a homegrown brand with their very own certified hospital-grade breast pump. The LoveAmme TailorMade Pro is great for pumping while you're out and about thanks to the in-built rechargeable battery. It can be easily recharged using any USB power option, including power banks! Need something more compact for your outings? Their MadeToTravel Double Breast Pump is easy to use and fits in your handbag (featherlight at just 224g).

Breast pump price range: $349 – $399
Read more about LoveAmme's fab gadgets here!
---
Manual Breast Pump Vs. Electric
Manual breast pumps are often inexpensive and great for collecting letdown on one side while latching your baby on the other. Or simply collect milk when you feel the letdown coming! They're also useful for relieving engorgement in a pinch. These are huge lifesavers in the early newborn days and can help to slowly build a breastmilk stash in your freezer for emergencies.
Manual Breast Pumps to check out:
Read our comprehensive guide to all things breastfeeding here!
This post contains some paid partnership content. This article was first published in July 2021 and was updated in July 2023