Looking for some cultural fun? These are the best museums for kids in Singapore – many have awesome interactive kid-friendly exhibitions and some are even free to enter!
Looking to raise your tot as a culture vulture? Singapore's the perfect place to do so, simply because we have dozens of museums for kids! And since the school holidays are just around the corner, why not round up your kids and take them out to the best kid-friendly museum exhibitions in 2021? There's something for every age group, from toddlers to teens. And if you'd rather make it a full day, then check out our guide to the best museum + kid-friendly lunch combos, too!
         Read more: The Best Libraries for Kids in Singapore
Jump to:
The Artground
ArtScience Museum
Asian Civilisations Museum 
Gardens by the Bay
Indian Heritage Centre
Malay Heritage Centre
Singapore Chinese Cultural Centre
National Gallery Singapore
National Library Building
National Museum Singapore
Science Centre Singapore
Sun Yat Sen Nanyang Memorial Hall
Madame Tussauds
Lee Kong Chian Natural History Museum
Trick Eye Museum
Singapore City Gallery at Urban Redevelopment Authority Centre

1. ArtScience Museum
The ArtScience Museum is a gorgeous museum for kids in Singapore that houses plenty of exhibitions throughout the year that inspire creativity and wonder. Due to venue capacity limits and timed entry to exhibitions, guests are encouraged to pre-purchase their tickets online prior to their visit.
Peer into the future and explore how our world might change over the next 200 years in a major exhibition developed by ArtScience Museum. This immersive and experiential exhibition is a journey into imaginary future worlds, featuring over two dozen artists, architects, filmmakers, writers and theatre companies from Singapore and around the world. Unfolding over five Acts (echoing the structure of the Bicentennial Exhibition!), 2219: Futures Imagined places visitors in scenarios that explore how our future lives may be impacted by climate change and loss of the planet's biodiversity. The show provides a space for visitors to consider the global context that Singapore is part of, and how larger environmental forces will impact our home.
When: Ongoing
How much: $16 (adults); $12 (children)
Created in collaboration with the Japanese art and technology collective teamLab, FutureWorld is billed as "Singapore's largest digital playground". This fantastic exhibit is an interactive exploration of the "intersection between art, science, technology and culture". There are light installations to marvel at, a giant slide to whizz down, drawing activities where you can color with special crayons, scan your creation, and watch it appear on a live screen and more. Click to read about this mama's personal experience at the exhibit.
When: Permanent exhibition
How much: $16 (adults); $12 (children)

If you're looking to educate the little ones on living a greener, plastic-free lifestyle, taking them to see National Geographic's Planet or Plastic? photography exhibition will be a good start. The exhibition shines a spotlight on the fragility of the natural environment as a result of the global plastic waste crisis. Featuring 70 powerful images from photographers around the world, Planet or Plastic? tells the story behind plastic from its invention just over a century ago to its mass consumption today. The exhibition helps to raise awareness of society's dependence on plastic by visually depicting the global plastic waste crisis and amplifying the voices of the innovative communities who are working on solutions to this urgent problem. Planet or Plastic? provides actionable steps visitors can take in their lives to responsibly reduce, reuse, recycle, and refuse products with single-use plastic. At the culmination of the exhibition, visitors are encouraged to make a pledge to reduce their own consumption of single-use plastic
When: 12 September 2020 – 25 April 2021
How much: $16 (adults); $12 (children)

The Force is strong at ArtScience Museum with the new STAR WARS™ Identities exhibition. This marks the final stop of the exhibition's global tour. Developed and produced by Montreal's X3 Productions in collaboration with Lucasfilm Ltd., the exhibition presents close to 200 original items from the extensive Lucas Museum of Narrative Art archive to explore the science of identity through the characters of Star Wars. Click here for all the deets!
When: 30 January – 13 June 2021
How much: from $20 (concessions); $25 (adults)
ArtScience Museum, Marina Bay Sands, 10 Bayfront Avenue, Singapore 018956, www.marinabaysands.com/museum

2. Asian Civilisations Museum

The Asian Civilisations Museum is home to over 1,300 artifacts, presented across 11 galleries and spanning over 14,000m2 . Excellent at providing learning opportunities for both younger and older children, ACM features age appropriate activities, gallery-based story telling sessions and hands-on workshops, as well as a continually updated range of exhibitions. Keep an eye on their Let's Learn About…" series, which introduces a new topic every month specifically for kids.
How much: Free for Singaporeans & Permanent Residents. Adults $8, Concession $4, Children (6 and below) free
Asian Civilisations Museum 1 Empress Place, Singapore 179555, www.acm.org.sg
3. The Artground
Not really a museum for kids but more of an art space, The Artground aims to provide positive arts experiences for children 0 to 12. Part indoor playground, part interactive theatre space, on weekends it offers heaps of movement and dance workshops along with arts and craft activities. There is a range of programmes available each weekend, but pre-booking is essential. Click here to make your booking for an experiential play session at The Artground.
How much: FREE to enter the playspace but special programmes are ticketed.
The Artground, Goodman Arts Centre, 90 Goodman Road, Block J #01-40, Singapore 439053, www.theartground.com.sg

4. Gardens by the Bay
Gardens by the Bay is everyone's favourite futuristic garden (and an excellent place to escape the heat!). Obviously it's not a museum but there are different exhibits to explore with kids.

Get a taste of luxury travel from the 1900s at the Once Upon a Time on the Orient Express pop-up exhibition. Spearheaded by the Arab World Institute, the exhibition will present stunning objects and documents that detail the centuries-old history of the Orient Express train. Click here to read more!
When: 12 December 2020 – 13 June 2021
How much: From $25

Missing out on sakura season in Japan this year because of Covid-19? That's alright because you'll get to experience magnificent cherry blossoms right here in Singapore at Gardens by the Bay. To make it even more exciting, Japan's most popular kitty cat is making an appearance, too! Click here for all the deets!
When: From 1 March 2021
How much: Admission charges to the Flower Dome apply.
Gardens by the Bay is a popular spot for otter-sightings, so it's fitting that local collective El Masnou is turning the area into an otter-worldly experience for little ones! Otah & Friends is an immersive fantasy world that shines a light on the otter. Click here for all the deets!
When: 15 December 2020 – 4 April 2021
How much: $15 per person OR $12 per person for groups of 5
Gardens by the Bay, 18 Marina Gardens Drive, Singapore 018953, www.gardensbythebay.com.sg


5. Indian Heritage Centre
Opened in 2015, the Indian Heritage Centre houses five permanent galleries, a museum shop as well as programming and activity spaces.
The galleries at this museum for kids in Singapore present, through artefact and interactive displays, the history of interactions between South and Southeast Asia. The exhibition depicts the experiences of the Indian community in both Singapore and Malaya during the colonial period, and highlights the contributions of the Indian and South Asian communities to Singapore's nation-building efforts.
When: Permanent exhibition
How much: Free for Singaporeans, PRs and kids under 6; $6 (standard adult); $4 (kids)
Indian Heritage Centre, 5 Campbell Lane, Singapore 209924, www.indianheritage.org.sg

6. Malay Heritage Centre
From its location in the heart of Kampong Glam, the Malay Heritage Centre provides a range of cultural exposure and learning opportunities for visitors of all ages and backgrounds. From batik workshops to traditional music and puppetry performances, there's plenty of hands-on fun for kiddos.
There are six permanent galleries spread over the two levels of the Malay Heritage Centre, showcasing stories and artefacts from both Singapore's national collection as well as contributions from the community. The artefacts support The Malay Heritage Centre's focus on Kampong Gelam's historical significance as a thriving port town prior to Raffles' arrival in 1819 and serve as evidence of the increasingly urban and cosmopolitan nature of Singapore Malay society. The first Istana Kampong Gelam was a traditional timber structure built on stilts, and in honour of the Istana's original layout, visitors will commence their tour of the permanent galleries from the upper level and end their visit on the ground level. In the traditional layout, the upper level is called the panggung which serves as the main living and sleeping quarters of the house, while the kolong at the ground level is typically used as storage, work or service areas, and even as a children's play area.
How much: Free for Singaporeans, PRs and kids under 6; $6 for adults; $4 for kids
Malay Heritage Centre, 85 Sultan Gate, Singapore 198501, www.malayheritage.org.sg

7. Singapore Chinese Cultural Centre
Head to the Singapore Chinese Cultural Centre and discover local Chinese culture through engaging exhibitions and performances at this museum for kids in Singapore!

Did you know? While the Zhongyuan Festival falls on the 15th day of the seventh lunar month, it is observed for the whole month in Singapore as it is believed that the gates of hell are opened and spirits are free to wander during this period. Learn about the Zhongyuan Festival and more, at this SINGAPO人 exhibition which highlights Chinese Singaporean culture from food to music, as well as language and festivals. Learn how Chinese culture in Singapore has evolved in a way quite unlike other communities around the world, and come discover (and rediscover) what it means to be a 'Chinese Singapo人' today.
When: Permanent exhibition
How much: Free.
Discover the cultural icons that defined Singapore in its yesteryear. Through the Eyes of a Child: Art by Quek Hong Shin details memories from Singapore's past when coconut trees and attap houses shaped the landscape, and children played in the back-alleys of Chinatown. There are 14 artworks in the collection; some are from his popular books – The Amazing Sarong, The Incredible Basket, The Brilliant Oil Lamp and The Marvellous Sugee Cake –  and new illustrations created just for this showcase.
When: 2 April – 31 August 2021
How much: Free.
Calligraphy artist Malik Mazlan and haiku poet Dave Tai are adding new perspectives to canvases created from their old drafts, old projects and personal belongings to create the items on display in this travelling exhibition. The aim is to showcase their exploration of recycling waste-paper to form new art works, and to underline the longevity of the written word. After the exhibition ends its run at the Singapore Chinese Cultural Centre, it will head to the heartlands to be showcased at nine different public libraries.
When: 12 April 2021 – 31 January 2022
How much: Free
Singapore Chinese Cultural Centre, 1 Straits Boulevard, Singapore, 018906, www.singaporeccc.org.sg
8. National Gallery Singapore
National Gallery Singapore is home to the largest public collection of Singaporean and Southeast Asian art in the region.
Within the National Gallery , the Keppel Centre for Art Education is a space for kids where they can let their creativity run loose. Kids will get to try DIY experiments with established artists, explore different art tutorials and more. Click here to see upcoming workshops.
When: Ongoing
How much: Free
This museum exhibition comprises a series of safe and engaging interactive activity stations for children, inspired by beloved Singaporean artist Georgette Chen's artwork Tropical Fruits. Children aged 6 to 12 will get to explore the fascinating world of tropical fruit that Georgette Chen discovered when she left China and moved to Southeast Asia and learn more about how artists are inspired by their sensorial experiences – what they see and feel. Draw fruits and compose still life drawings, and engage in sensorial play in the curious audio area, where kids can listen to the sounds various fruits might make. In addition, there is also a life-sized Rambutan Room, where augmented reality kinetic games await.
When: 19 September 2020 – 28 March 2021
How much: Free
In conjunction with the Singapore Bicentennial commemoration in 2019, National Gallery Singapore presents City Hall: If Walls Could Talk. Through an immersive multimedia experience, the exhibition tells the lesser-known stories of pivotal moments that occurred within the walls of this grand dame across its history, such as the swearing-in of the nation's first President and the unveiling of the national flag and anthem in 1959. Held in the heart of the building at City Hall Chamber, visitors will get a front row seat in witnessing these defining events, which come alive through the innovative use of augmented interactive content paired with rich storytelling.
When: 1 September 2019 – 29 August 2021
How much: Admission is free for Singaporeans, PRs and kids under 6; $20 (standard admission); $15 (children aged 7-12)
Explore the history and development of Singapore's constitution from Singapore's founding as a British settlement in 1819 to its emergence as a sovereign republic in 1965. The exhibition features rare constitutional documents from the collections of the National Archives of Singapore and National Library, Singapore. The documents capture key moments in Singapore's constitutional history and also throw light on milestones in the island-nation's history. You can then head to the children's section of the library to discover books for kids!
When: From now until 18 October 2021
How much: Admission is free for Singaporeans and PRs, but please proceed to the B1 ticketing for an admission sticker.
National Gallery Singapore, 1 St. Andrew's Road, Singapore 178957, www.nationalgallery.sg
9. National Library Building
Read between the lines and develop information and media literacy skills at the National Library's latest permanent exhibition, The News Gallery: Beyond Headlines. Divided into five zones, the exhibition, which features original copies of Singapore's earliest newspapers and a fun, fake news-busting game for the whole family, encourages library patrons to consider the perspectives and influences that lie behind news stories. Drawing from the National Library Board's rich collection of over 120 Singapore newspaper titles published since the 1820s, The News Gallery's interactive exhibits will be refreshed from time to time. The permanent display at level 11 of the National Library Building is now open to the public.
When: Permanent exhibition
How much: Free.
National Library Building, 100 Victoria St, Singapore 188064, www.nlb.gov.sg/VisitUs/NationalLibraryBuilding
10. National Museum of Singapore
The National Museum of Singapore is the oldest museum in Singapore (it dates back to 1887). It delivers Singapore's history through a massive permanent exhibition that older kids (5 yrs +) will enjoy walking around. The Singapore History Gallery chronicles Singapore's journey from 700 years ago; kids can walk past the wooden ship, tinker with old fashioned phones, and marvel at the tank. Older kids will enjoy the multi-sensory experiences like the touch-screen displays, and smelling pods. The museum's central location also makes it great for a post-museum run-around at Fort Canning Park.

An Old New World explores the colonial interests and the local perspective of events that took place in the 200 years leading up to the establishment of the British East India Company trading settlement in Singapore, in 1819. Visitors will begin their journey by being transported back in time to experience a multimedia show titled "Meeting of the Worlds", which dramatises the arrival of the first fleet of the English and Dutch East India Companies in Aceh in the 17th century. Keep an eye out for storytelling sessions, craft and spice workshops, and as a marketplace inspired by the Banten Market of the 17th century.
When: Permanent exhibition
How much: Free admission for Singaporeans, Permanent Residents and visitors aged 6 years and below

An interactive digital art installation by teamLab, Story of the Forest transforms 69 drawings from the William Farquhar Collection of Natural History Drawings into three-dimensional animations. These artworks display the country's colonial past, various histories and more.
When: Permanent exhibition
How much: Free admission for Singaporeans, Permanent Residents and visitors aged 6 years and below

This gallery offers insight on the experiences of growing up in Singapore during the 1950s and 1960s through familiar social spaces where children would have spent most of their time – a great way for kiddos to see what childhood was like in the past! In kampongs (Malay for "villages"), schools and popular entertainment values, children found friendships and experienced an emerging local identity. Through personal anecdotes and interactive installations, relive the gotong royong (Malay for "community") spirit that laid the foundation of a multi-racial Singapore and girded its post-war generation as they forged their dreams and aspirations.
When: Permanent exhibition
How much: Free admission for Singaporeans, Permanent Residents and visitors aged 6 years and below
National Museum of Singapore, 93 Stamford Road, Singapore 178897, www.nationalmuseum.sg

11. Science Centre Singapore
Science Centre Singapore is one of our favourite edutainment centres in Singapore! With interactive, hands-on exhibits that are perfect for both younger and older children spread across 14 galleries there's enough here to keep all members of the family busy. There are more than 24 different exhibitions to see and experience.
The Omni-Theatre is S.E Asia's only 8K 3D digital IMAX dome theatre, with a five-storey high screen that immerses you into the action that you are viewing on screen. Head over to the Omni-theatre at Science Centre Singapore to watch the current screening of Superpower Dogs. Pre-book a show here
This exhibit explores different phobias from the fear of being buried alive to monsters under the bed – it can be a little scary for smaller kids so best to go with tweens or older kids who can take a fright or two!
When: Permanent exhibition
How much: Included in Science Centre entry price, FREE off peak for residents, peak times $4/8 child, $6/12 adult.
This exhibition inside Science Centre Singapore is separately ticketed but it is a real highlight. The start of the exhibition focuses on explaining the life cycle of a butterfly and kids will enjoy stamping the trail card along each stage. But the real joy is when you get to the butterfly enclosure and are surrounded by so many species of butterflies that may land on your shoulder or flutter around your head. Magnifying glasses are set up on some of the feeding stations for kids to take a closer look at these pretty creatures.
When: Permanent exhibition
How much: $10
The Science Centre's newest permanent exhibition, Future Makers, celebrates the valuable contribution that engineers have made to shape our lives. It explores day-to-day innovations as well as complex engineering marvels that have shaped and changed lives. Aimed at young adults, guests visiting Future Makers can catch a glimpse of the modern engineering world, get hands-on with the interactive exhibits and problem-solve their way through an escape room.
When: Permanent exhibition
How much: Included in Science Centre entry price, FREE off peak for residents, peak times $4/8 child, $6/12 adult.
Know Your Poo is a seriously fun exhibition that touches on the topics of human waste, toilets and sanitation. As you wind your way through the exhibition, you will discover how and why we need to poo. You also learn about the history and evolution of sanitation and toilets. The exhibition also highlights the urgent issue of the global divide. It then shows how engineering solutions might answer some of these challenges. Know Your Poo serves as a reminder that we all need to pay attention to the importance of providing good sanitation and practising good habits in order to safeguard our health and be a better society.
When: Permanent exhibition
How much: Included in Science Centre entry price, FREE off peak for residents, peak times $4/8 child, $6/12 adult.

Get the ULTIMATE PASS: Science Centre Singapore has rolled out a special bundle which offers up to 30% savings and exclusive access to four gated attractions (per 3 hour session on the same day) for Science Centre Singapore, Omni-Theatre, Butterflies Up-Close and Laser Maze challenge.
Science Centre Singapore, National University of Singapore, 2 Conservatory Drive, Singapore 117377, www.science.edu.sg
       Read our Ultimate Guide to Science Centre here!
12. Sun Yat Sen Nanyang Memorial Hall
The Sun Yat Sen Nanyang Memorial Hall is a national monument and heritage institution managed under the National Heritage Board. The refurbished museum, which is extremely kid-friendly, traces Dr. Sun's revolutionary activities in Southeast Asia, the contributions of the Singapore Chinese to the 1911 Revolution, as well as the impact of the revolution on Singapore and the Chinese community in Singapore. There is a range of programmes available all year round, many of which are suitable for children at school-going ages. Not only are there travelling exhibitions, this museum also offers cultural events, youth activities and even student docent training. Click here for a full list.
When: Ongoing
How much: Prices vary for different events.
Sun Yat Sen Nanyang Memorial Hall, 12 Tai Gin Road, Singapore 327874, Tel: (+65) 6256 7377, www.sysnmh.org.sg

13. Singapore City Gallery at the Urban Redevelopment Authority Centre
You'll need to make an appointment to check out the Singapore City Gallery exhibit, but it's worth it! The Singapore City Gallery showcases Singapore's dramatic transformation over the past 50 years, through 40 interactive and immersive exhibits that detail the planning challenges and the innovative solutions that tackle them. Kids will love getting a bird's eye view of large-scale architectural models – can they find their condo or home?
When: Ongoing
The URA Centre, 45 Maxwell Road, Singapore 069118. Open by appointment only, www.ura.gov.sg/Corporate/Singapore-City-Gallery
14. Trick Eye Museum
Trick Eye Museum is where you'll have a blast taking lots of pictures that trick your eyes! Trick Eye Museum is all about optical illusions – there are six themed zones to explore. We love that you won't find "do not touch"signs such as in the museum – visitors can freely touch and interact with all the displayed exhibits!
How much: 20% off when you book online: Adults $21.25, Children $17
Trick Eye Museum, 26 Sentosa Gateway, Resorts World Sentosa, Singapore 098138, www.trickeye.com
15. Lee Kong Chian Natural History Museum
Lee Kong Chian Natural History Museum is one of our fave kid-friendly museums in Singapore with over 2,000 natural history specimens on display with 15 different thematic zones from plants and amphibians to mammals including a sperm whale which was salvage from when it was found dead off Jurong Island in 2015. Want to see a dinosaur? The permanent exhibit sees three 80% complete diplodocid sauropod fossils to gape at as well as tonnes of other animals and birds. Upstairs is a heritage gallery which includes some of the specimens that were displayed at the old Raffles Museum. This museum is best for older kids.
How much: Singapore Resident Rate – Adult: $16; Child: $9; Standard Rate – Adult: $21; Child: $13
Lee Kong Chian Natural History Museum, 2 Conservatory Drive, Singapore 117377, www.lkcnhm.nus.edu.sg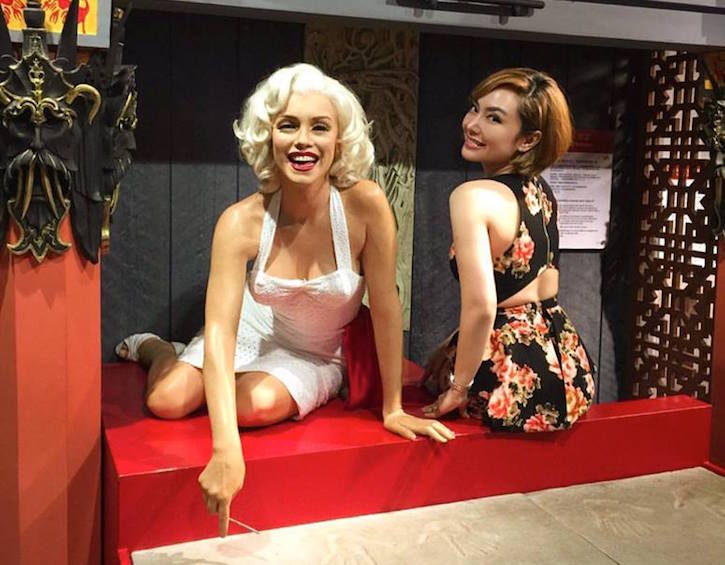 16. Madame Tussauds
Madame Tussauds, is where kids can explore the life size wax exhibits and multi-media displays at the Images of Singapore Museum on Sentosa. Designed to immerse families in our little red dot's culture and history, kids can watch the multi-screen theatre presentations (and maybe even learn a thing or two). Bring the camera along too and get ready to take pictures amongst the wax exhibitions
How much: Full experience tickets include Images of Singapore LIVE, Spirit of Singapore boat ride and Madame Tussauds Singapore. Adult $29, Children (3 – 12 years) $19 when you book online!.
Madame Tussauds, Sentosa, 40 Imbiah Road, Singapore 099700