Children's Museum Singapore (CMSG) invites all kiddos under 12 for an interactive learning experience with a new exhibition dedicated to Prime Minister Lee Kuan Yew, a garden maze, a ship with berths and a free-to-explore play pod for toddlers!
Children's Museum Singapore (CMSG) – formerly Singapore Philatelic Museum – is the first museum dedicated to children 12 years and below. Built on the vision of creating a place of wonder and joyful learning for children to learn about Singapore and the world, Children's Museum Singapore believes in the power of play and provides opportunities for little ones to explore and engage with Singapore and the world around them.
If you're looking for a creative way to teach your kids about Singapore's history, Children's Museum Singapore is the answer. With engaging exhibitions and safe spaces for kids to roam, explore, and play, there is no better way to get your kids excited about history. Young toddlers can explore the Play Pod – a fun area for free play – while older kids can travel back in time to learn about why our forefathers came to Singapore. Plus there's a brand new exhibition from 19 August 2023 – 14 January 2024 called LKY100 – The Boy Who Became Prime Minister where kids can get an insight into Mr Lee's personality through murals and artefacts on display at the exhibition in CMSG's Discovery Room.
Children's Museum Singapore (CMSG) – here's what's in store:
Level 1 at the Children's Museum Singapore (CMSG)
A Voyage Back in Time 
Little ones can embark on a time-travelling voyage with Captain and WonderBot to explore how Singapore came to be. Unlike most museums, kids are free to touch anything and everything within their reach. From picking up the fruits and vegetables to climbing into the barber's chair, nothing is out of bounds.
The Hidden Chamber, an immersive show on a projector screen, is where Captain will open his secret stash of treasure and share stories about the origins of each object.
A highlight for kids will be the mini boat, crocodile (don't feed him!) and the ship where kids can crouch down into the berths or tuck themselves into a hammock in the cabins! Along this time-travelling journey, the kids will get to experience sailing through stormy weather and eventually disembark at the port of Singapore to unleash their exploratory instincts at Ahoy Singapore!
As you wander through the streets of old in Singapore at The Marketplace, your kids will get to explore the bustling shophouses, handle shop products, pump old-fashioned water pumps, learn about different spices, listen to stories of shopkeepers, and try heritage trades like acting as a street barber or traditional letter writer.
Little ones will be captivated by the colourful sights and busy sounds of the old Singapore streets.
The path will eventually lead you to the present day, where the kids can design their own stamps in the neighbourhood post office. They can even write a letter and deliver their message across the room through a message tunnel – watch their little faces light up with excitement as the message capsule zips through the tunnel!
Level 2 of the Children's Museum Singapore (CMSG)
Imagine A Garden 
This a-maze-ing exhibition is lined with beautiful paper sculptures featuring birds, flowers, and more by Colombian artist Diana Beltran Herrera. A multi-sensory exhibit, it allows kids to hear birds chirping, smell flowers, and even touch an ancient fossil! Learn about the different types of birds and flowers that are scattered across our sunny island and Southeast Asia. For those who love games, How Fast Can You Fly is a multimedia game where the kids can pretend to be spotted wood owls on the hunt for their favourite prey. By flapping their arms to help the owl fly, this interactive game perfectly combines a child's love of games with physical activity.
Happy Birthday! 
In our multi-racial society, there are so many different ways to celebrate the same occasion. Here, kids (and adults) can learn about how different communities in Singapore celebrate birthdays, welcome a newborn, choose a gift, and more. Curious kids who are always playing around in the kitchen can learn how to prepare popular birthday dishes from each community, take a whiff of delicious birthday cakes, and learn about birth rituals in an interactive way.
Play Pod
If you have active toddlers, this is the place for you. The Play Pod is a safe space for children aged 2 to 4 to run around, crawl through tunnels, pick play-pretend produce, and explore the delicious treats that nature has to offer. They can even run their own food cart and "cook" meals for you.
Events at the Children's Museum Singapore
Children's Museum Singapore will have a lineup of educational and engaging workshops for families like art & craft activities, parent-child dances or even a LEGO workshop to unleash your creativity. Be sure to check their website for an updated list of upcoming events that you can attend with your kids.
---
Special CMSG Exhibition: LKY100 – The Boy Who Became Prime Minister
What were Mr Lee Kuan Yew's growing up years like, and what did he have to overcome to become a man who helped transform Singapore into the remarkable nation it is today? What are some of the values he espoused? In commemoration of founding Prime Minister Mr Lee's birth centenary, Children's Museum Singapore (CMSG) launches LKY100 – The Boy Who Became Prime Minister, an exhibition that traces his life through Singapore's pre-war, post-war and independence years.
Gain some insight into Mr Lee's personality through murals and artefacts on display at the exhibition in CMSG's Discovery Room, including one of Mr Lee's tennis rackets, illustrating his penchant for sports and an active lifestyle from a young age. Look out for activities for kids like the I Can Be a Little Innovator glue-making activity, which demonstrates Mr Lee's spirit of innovation and entrepreneurship during World War II when he started a business manufacturing tapioca-based glue in order to earn extra income.
When: 19 August 2023 – 14 January 2024
How much: Exhibition is included in CMSG ticket entry. Glue-making workshop is 16 September & 21 October 11am-12pm and 2pm-3pm (for kids 4-6 yrs old). $15 per child with 1 free accompanying parent.
---
How to get to the Children's Museum Singapore (CMSG)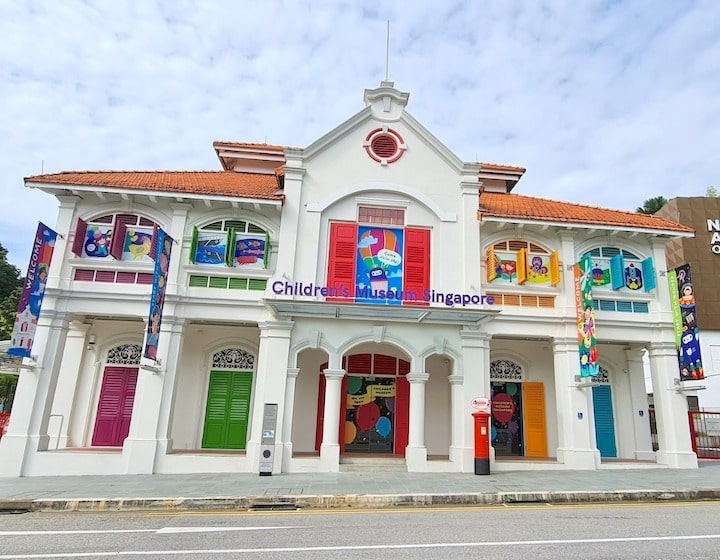 By train: The Children's Museum Singapore is an 8-minute walk from City Hall MRT Station.
By bus: Alight at any of these bus stops – Old Hill Street Police Station, Grand Park City Hall, Armenian Church, or After City Hall Station Exit B.
By car: Park at the Registry of Marriages (ROM), Peranakan Museum, Grand Park City Hall, Capitol Piazza, Peninsula Excelsior Hotel or Funan Mall.
Where to eat near the Children's Museum Singapore
To protect the exhibits and keep the museum clean, food and drinks (except water) are not allowed in the Children's Museum Singapore. However, Children's Museum Singapore is only a 5-minute walk from shopping malls like Funan Mall, Peninsula Shopping Centre, and Capitol Singapore, where you will find a variety of delicious options for hungry little tummies.
How much are tickets to Children's Museum Singapore?
Tickets for the Children's Museum Singapore are free for Singaporeans and PRs (pink and blue NRIC only).
Admission fees apply for tourists and all other foreign residents (other coloured NRIC cards): $10 per child and $15 per adult.
Walk-ins are not recommended so, book your tickets online in advance to secure your spot!
As the Children's Museum Singapore is a children's museum you may only enter as an adult if you come with a child.
Book tickets here!
CMSG Sassy Mama Tips:
Visits to the Children's Museum Singapore are limited timeslots: 9am; 11am; 2pm; 4pm entry timings only.
Bring water bottles. Water coolers are available at Level 1 for refills.
There is one nursing room available on Level 1.
Children's Museum Singapore (CMSG): All the Deets
Opening Hours: Tuesday – Sunday (closed on Monday), closed daily 12:45p – 2pm for cleaning. 
Where: Children's Museum Singapore, 23-B Coleman Street, Singapore 179807, www.nhb.gov.sg/childrensmuseum
---
Want other SG spots where kids can learn and play? Keep scrolling for a few awesome ideas!

Lead image credit: Children's Museum Singapore