Looking for activities to entertain the kids with during the September and October school holidays? Here are our top picks for family activities and things to do with kids!
Do you have the September local school holidays or the October international school holidays planned? If you haven't booked a holiday camp, there's still time. We've got lots of other ideas to help you entertain the kids, whether at home or out and about in town. And watch out for updates, as we'll keep adding to this list as we discover more fun activities and events during the September and October school holidays!
Things to do with the kids during the September/October school holidays in Singapore:
1. Check Out a Free Playground (FREE!)
We're lucky to live on an island filled with fab parks not to mention tons of indoor playgrounds perfect for when the weather gets too hot (or rainy). There's nothing like watching your kids soar on a swing or beam with pride after climbing to the top of a climbing frame! Find a new free playground to take the kids to during the school holidays (like the iconic Dragon Playground at Toa Payoh in the lead picture) – check out our guide to our fave outdoor playgrounds here.
---
2. Visit New Beach Club: The Palawan @ Sentosa
---
3.Win prizes at SuperPark's Super Games Spectacular
Massive indoor playground SuperPark keeps kids of all ages entertained for hours! There are 20 sports-centric activities spread out over two levels. Kids can challenge themselves with obstacle walls, bounce on trampolines, zoom down zip wires and slides, have a go on pedal cars, skate, scoot and shoot hoops at the street basketball section. Littlies will love the Kids' Gym, with a soft play obstacle course, a small climbing wall and the signature Sliding Mountain. During the September school holidays, SuperPark invites you and your family to join in with the supersized fun at their Super Games Spectacular and stand a chance to win exciting prizes including a staycation! Buy tickets as usual and have fun playing at seven game stations with your kids. Score as many points as possible within a set time period and upload your points onto a web app. Then snap a photo with the Superpark crew (they are easy to spot as they're always wearing purple) and upload with their hashtag #SpGamesSpectacular for bonus points.


Redeem Milo and Frozt popsicles when you finish, plus, stand a chance to win exciting prizes including a staycation worth $1,120 if you make it to the top of the leaderboard!
Super Games Spectacular: 1 – 17 September, 9am – 1pm, 3 Temasek Boulevard, Suntec City Mall, #02-477 (North Wing), tickets from $33.90, special event bundle for 4 pax at $128. Get tickets.
Read all about the best indoor playgrounds here.
---
4. Check out some kids' theatre shows
Do your kids love magic? Book seats for Cosentino, where you'll get to experience mind-boggling stage illusions, street magic and even death-defying escapes! Or take the kids to the Singapore Symphony Orchestra and Dandi Productions' retelling of Little Red Riding Hood. Plus fans of Julia Donaldson get excited because The Smeds & The Smoos come to life on stage with plenty of music and laughs for the whole family! Read all about the upcoming kids' theatre shows here.
---
5. Volunteer with Your kids
Yes, even little kids can do community work! We've rounded up different charities in Singapore with volunteering programmes to suit every interest. The school holidays are the perfect time to teach the kids the importance of giving back.
---
6. Head to the Museums
With no shortage of kid-friendly museums in Singapore, there's something for every age group, and kids will get to learn plenty while having fun! A top favourite would be the Lee Kong Chian Natural History Museum, which has towering dinosaur fossils and many amazing zoological specimens you won't believe aren't artificial models but are actually real. We also love the Future World exhibition (with stunning light projections and fun installations such as an interactive slide, it's practically an indoor playground in its own right!). If you're looking to immerse more in culture, heritage or art, check out our list of Museums for Kids in Singapore!
---
7. Book a Staycation for the Holidays
Not going abroad for the school hols? No worries you can still get some holiday vibes in town! We just updated our guide to staycations in Singapore with a special note of any family deals. Some of these hotels have superb kids' clubs with pirate ships and slides, amazing pools with waterslides and more! Read this for all the best hotel deals, including 1-for-1 deals and second room at 50% off!
---
8. See Goats at Hay Dairies Goat Farm (FREE!)
We love taking the kiddos to see the friendly goats at the only goat farm in Singapore, Hay Dairies Goat Farm! Visitors can see how the animal farm operates and take a tour around the premises. Try to visit between the hours of 9am and 10:30am so that the kids have an opportunity to view the goat milking session at the milking parlour. Buy some alfalfa hay to feed the goats. To top it off, you can buy fresh goat milk to take home (available in two flavours, original and chocolate) or sign up for home delivery. It's free to enter but note it's closed on Tuesdays.
Read More: Animal farms in SG
---
9. Go Kayaking
The Water Sports Centre at the Singapore Sports Hub at Kallang offers kids' kayak rental from $8 for two hours (best to book ahead as they are popular!). For newbies, book a lesson with certified instructors on the Kayak Orientation Programme $30 for adults and $24 for children (great for 9 year-olds+). If you are lucky you might even spot the family of otters who call the Kallang Basin home. Read all about kayaking with kids here.
---
10. Visit Hydrodash
HydroDash is that immense inflatable obstacle course with floating platforms and steep slides floating in the sea just off Palawan Beach on Sentosa. This water park is heaven for thrill-seekers and water babies alike (although there's a minimum age of 5 years to enter). Climb up, balance, jump and slide into the sea! Check out all the deets for this inflatable water playground in our guide to Hydrodash here.
---
11. Go on a Hike
Have some spare time to do something fun with the kiddos over the September holidays? Take the kids on a kid-friendly hike at these parks around town!
---
12. Have a Picnic
When was the last time you had a picnic? The next time the sun's out, consider packing your favourite snacks and drinks and enjoy a picnic with the family! Need some recommendations for a gorgeous picnic spot? We've rounded up all our favourite picnic places, and even noted which ones have on-site access to picnic food provisions.
---
13. Splash around at a water park (FREE!)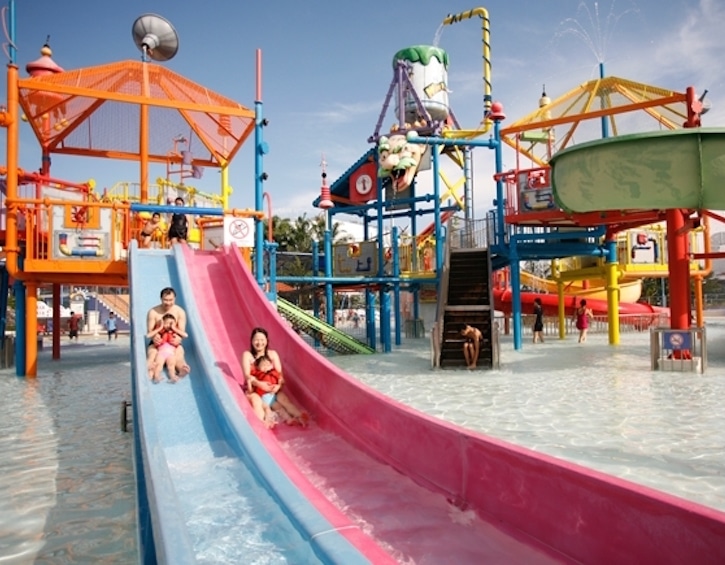 There are so many great outdoor and indoor water play options for kids to splash around in. These water parks are all about high-energy fun (many aren't deep enough to swim in – for that head to our article on swimming pools). Some have water slides, fountains, lazy rivers, wave pools and more, and many of these are free! Here is our comprehensive list of water parks in Singapore.
---
14. Visit a Trampoline Park
If you're looking for something that will let your kids burn off all their excess energy during the September/October school holidays, then why not check out a trampoline park in Singapore? All you'll need to do is make an online booking and get a good pair of grip socks (some parks even retail these for cheap!) and you're all set to get bouncing.
---
15. Free Kids' Activities to Try at Home
From painting to making slime and getting your hands dirty in soil, try these at-home activities to give your kiddos hours of fun!
---
16. Encourage the Kids to Read
Nurture your child into a little bookworm! Head to the best kid-friendly libraries in town from the Punggol Regional Library which has two floors dedicated to kids (puppets, activity stations, toys and books galore) to the Tampines Library which boasts the first library with a kid's indoor playground!
---
17. Try Rock Climbing
Rock climbing and bouldering (which is a form of climbing without ropes) is a great way to help kids build their strength and dexterity! We've rounded up all the best places to go rock climbing in Singapore; if you need a recommendation, we're particularly fond of Climb Central Novena – it's great for kids.
---
18. Train for POSB Kids PAssion Run or Standard Chartered Kids Dash
The POSB PAssion Run for Kids happens on 5 November so why not sign up now and get training with your kids during the September school holidays? There are Competitive races (800m Kids 7 & 8 Years; 1.2km Kids 9 to 12 Years; 5km Adults and 10km Adults) as well as Team Competitive races and even a fun Non-Competitive 3.5km Family Walk. Early-bird registrations are open from now till 31 August 2023 from $25 Click here for more info.
If you have a young energetic catch and or tag player underfoot at home – there's a fun run with some cool gifts for the young uns. The Standard Chartered Singapore Marathon (SCSM) marks its return this year. The three-day festival will host the International Elite Race, the Singapore National Championships and the popular Kids Dash from 1 to 3 December 2023. Sign kids up for the Kids Dash on 1 December at 7pm where parents can run with their kiddos — it's a 650m route along the iconic F1 Pit Building. Participants get an event t-shirt, a neck fan, and a surprise goody bag, not to mention bragging rights! Register here from $38.
---
19. Go Bowling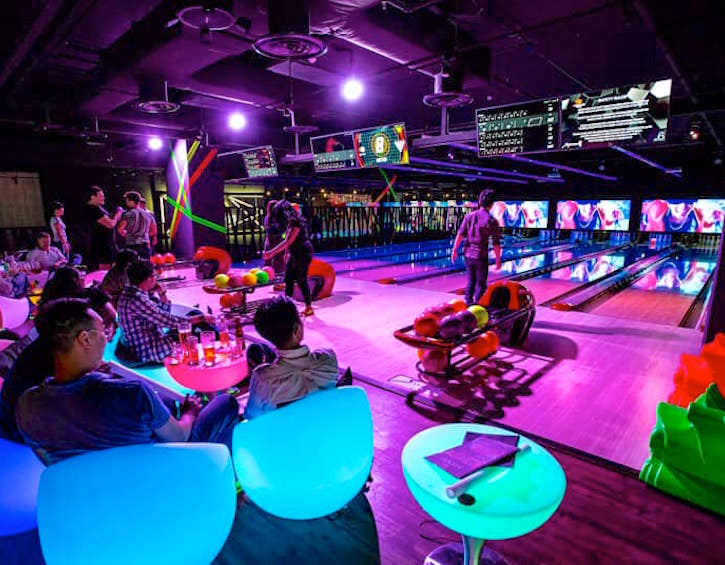 Ever taken the kids bowling? It's a super fun activity come rain or shine. Go bowling at these kid-friendly bowling alleys in Singapore!
---
20. Listen to a Podcast
If you want to keep kids occupied but are desperate to get their little eyes away from screens for a while, why not set them up in a cosy nook and ask them to just try listening for a while? Podcasts can also be pleasant to play in the background while your kiddos colour or play with clay. Click here as we round up the best podcasts for kids of all ages, including news, storytelling, science and music!
---
Need more ideas for the Sept/Oct school holidays?
Sign the kids up for a holiday camp or choose from over 100 fun activities to try with kids in Singapore. Or simply let the kids get bored (here's why that's so important) and come up with their own creative ideas of what to do during the holidays.
Keep checking back as we share more September & October Holiday fun!