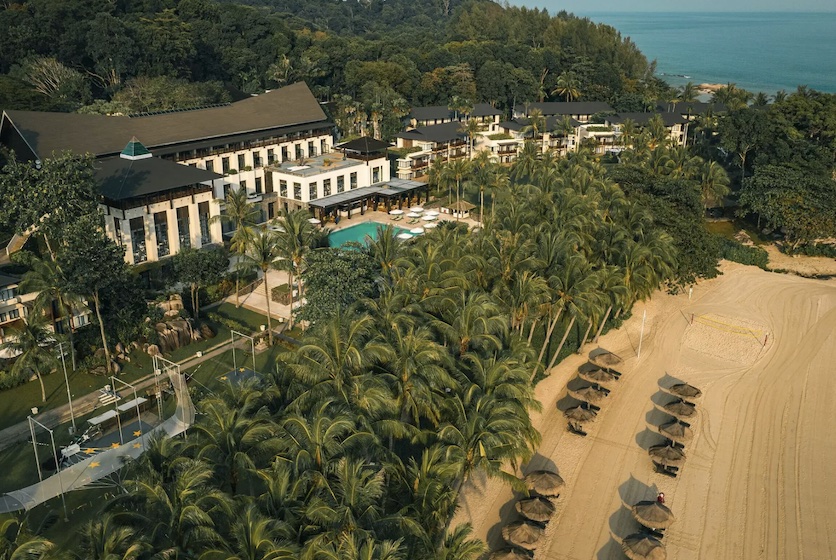 Travelling from Singapore to Bintan Island just takes an hour or so, making it one of our fave quick getaways with the family! Here's our guide to family-friendly Bintan hotels and activities for kids
There's so much to love about Bintan Island! This beach holiday destination is just a ferry ride away from Singapore, promising beautiful family villas and resorts, dreamy beaches, affordable eats (including seafood galore) and kid-friendly activities. If you're debating a flight-free trip to the beach, keep reading to know more…
Jump to:
How to Get to Bintan from Singapore
Where to Stay in Bintan
What to Do on Bintan Island
Where to Eat on Bintan Island
Weather on Bintan Island
What documents/info will you need to travel from Singapore to Bintan?
Passport must be valid for 6 months at time of travel.
Proof of vaccination: Vaccinated minimum 2 doses, at least 14 days before date of departure. Exemption for travellers under 18 travelling with fully vaccinated adults, and for those with Certified Medical Ineligibility of vaccination (required to present doctor's memo to certify medically ineligibility status).
Visa Requirement (For Non-Indonesian Citizens): 9 countries are eligible for Free Visa and 86 countries for Visa on Arrival. More information here. All other nationalities not listed need to get an online visa.
---
How to Get to Bintan from Singapore
Bintan can be reached by ferry boat in just under an hour. You catch the ferry from the terminal in Tanah Merah (not too far from Changi). Click here for an updated ferry schedule.
Ferry fares to Bintan range between $53 to $58 (one-way) or $80 to $102 (round-trip). Note that you can also upgrade to Emerald Class, which will get you a larger, more comfortable seat, complimentary refreshments, priority baggage handling, and – best of all – expedited immigration clearance so you can basically walk right off the boat upon arrival without having to queue up. There is also an exclusive executive lounge on both ends with drinks, Wi-Fi and reading materials. The Emerald Class Lounge also offers the only baby changing table at Tanah Merah Ferry Terminal. Click here for updated ferry fares.
As Bintan is a popular babymoon destination, it's worth noting that you'll need a doctor's note if you travel while pregnant, just as you would for flying. They generally recommend against visiting past eight months (or 36 weeks) due to limited medical facilities on the island. Bintan is visa-free for most nationalities (click here for the exact list).
Read more: Easy Island Breaks from Singapore – no flights required!
---
Where to Stay in Bintan
One of the things we love most about Bintan is its huge range of accommodation; there's everything from rustic beach bungalows to luxe pool villas and modern apartments (perfect for families!). On average you can expect to pay about $100-$200 per night for most accommodations; the most basic digs can cost as little as $50, while the high-end resorts could be anywhere from $350-$500 depending on the day. We round up some of the best hotels and resorts to stay in while you're visiting Bintan Island.
---
The Residence Bintan
Rates: from $200 per night
Looking for huuuuge rooms that have their own beachfront? Then you should consider The Residence Bintan."This family-friendly resort welcomed us like royalty. Our room was nicely set up with a tent filled with colourful cushions and fluffy soft toys. There is so much to keep the kids entertained here from climbing the low element obstacle course, to driving an ATV through big puddles of mud (yes, the kids get to ride on their own!), a boat ride along the Sebung River to see Mangroves, fireflies and the fishermen village. The Residence Bintan boasts a mini farm on the resort itself, with chickens (their eggs served in-house for breakfast), a beekeeping garden (honey used in the pool bar cocktails), rabbits and an ecosystem where they teach children how to use compost from the food waste from the restaurants to fertilize the garden. Guests can cycle around the resort, there are swings, playgrounds and a game of giant chess near the Kakatu Children's club where you can leave your children under 12 years old (under 3 years old must be accompanied by an adult) to do fun activities such as Tie-Dye and Tote-bag Batik Painting. There are kids' cooking classes and a Kid's Spa, daily scheduled activities all chaperoned by friendly staff while you enjoy a massage, have a yoga lesson or work out in the gym. Bliss!" Serene, mum of 3, Sassy Mama.
Do note that it's an hour's drive from Bintan ferry terminal, but once you get here – it's so worth it!

The Residence Bintan by Cenizaro Hotels & Resorts, Kampung Galang Batang, RT.005/RW.003, Gn. Kijang, Kec. Gn. Kijang, Kabupaten Bintan, Kepulauan Riau 29153
---
Banyan Tree Bintan
Rates: from $484 per night
A great option if you're planning a babymoon in Lagoi, Banyan Tree Bintan has a phenomenal spa with a tranquil seafront setting that's just unlike anything you'll find in Singapore. The Banyan Tree offers luxe pool villa accommodation – just about all of it with lovely water views – although there are limited 2-bedroom options (and you'll pay dearly for them). In short, it's great for a weekend away as a couple or with a baby, but might not be ideal with older kiddos. The vibe is "rustic luxury"; kids will feel more comfortable at the Angsana next door – the two resorts share a beach and there's a Kids Club, too.

www.banyantree.com/en/indonesia/bintan
---
Bintan Spa Villa Beach Resort
Rates: from $117 per night
This 33-room resort in Bintan has a spa, karaoke room, spa and swimming pool plus two outdoor spa pools if all you want to do is lounge in the resort and relax. The kids will have plenty of fun, too, thanks to the movie screenings at night, pool and foosball tables. Seafood lovers will enjoy the alfresco dining at their beachfront restaurant, which serves up generous portions of fresh seafood alongside local, Chinese and Western dishes.

www.bintanspavilla.com
---
Cassia Bintan
Rates: from $104 per night
Cassia Bintan shares a gorgeous beach with the Banyan Tree and Angsana hotels but has its own modern beach club vibe. There are a variety of room types, including two-storey apartments complete with kitchenettes. The staff is very friendly and go out of their way to entertain the kids throughout the day. There is a foosball table in the lobby and staff from the Kids' Club (located next door at the Angsana) show up on the beach in the afternoon to plan beach activities.

www.cassia.com
---
Club Med Bintan

Rates: from $740 for two nights
Club Med Bintan Island is a great option for families who want adventure, relaxation and views all in one. The mini club keeps kids aged 4 to 10 busy with things like circus school, dance classes and archery. Older kids can do windsurfing, snorkelling and play video games in the Junior Club, too. There is a good beach and also two big pools. And it's all-inclusive, so there are no surprises when the bill comes!

www.clubmed.com.sg/r/bintan-island/y?departure_city=SIN1
---
Kamuela Villas
Rates: from $158/night
This resort with private pool villas is perfect for a weekend family getaway! Each villa is well-kitted out with comfortable beds, a private pool and bathtub. Kamuela Villas is located very near Plaza Lagoi so it's easy to pop over to the beach, shops and restaurants.

www.kamuelavillas.com
---
Natra Bintan, a Tribute Portfolio Resort (Formerly known as Canopi Bintan)
Rates: from $221 per night
Natra Bintan is an idyllic glamping retreat that sits along Crystal Lagoon and is perfect for groups and families. The grounds of this Lagoi hotel are peppered with safari-inspired tents that have private patios with garden or lagoon views (don't even get us started on the comfy king-sized beds). When you're not tucking into delicious food and cocktails, you can arrange for a barbecue on your tent's patio, go swimming or jet skiing in the lagoon, and take a guided kayak tour through the mangroves.

www.marriott.com
---
Nirwana Gardens Resort Bintan
Rates: from $135 per night
This is actually just one of five lodging accommodations on the Nirwana Gardens property, which ranges from rustic beach chalets at Lagoi's Mayang Sari and Nirwana Beach Club to multi-bedroom villas like the Indra Maya Villa (great for families and big groups!). Nirwana Resort Hotel, which is also in Lagoi Bintan offers the most traditional hotel setup. The hotel grounds are beautiful with a large green lawn for running around, a playground, beach volleyball and pétanque courts, and plenty of hammocks and lounge chairs for all. There's even a bowling alley! The pool is large and overlooks the sea while the beach is stunning with white sand, clear water. The hotel does have a Kids Club for children ages 4 years and up that is open daily from 9am to 5pm. There are many activities in the daily schedule such as arts & crafts, cooking, horse feeding, archery, and games. Special teen activities are also available for kids aged 11 to 15, including horseback riding, kayaking and snorkelling

www.nirwanagardens.com
---
Pantai Indah Lagoi Bintan
Rates: from $460/night
Over 100 villas are spread across the sprawling grounds of the recently refurbished Pantai Indah Lagoi Bintan, with its own private beach. "We booked a two-bedroom villa for four adults and one child at Pantai Indah and can't recommend it enough! The resort is huge with rows and rows of villas, but each one is so well positioned that it feels private enough. Each room had an open-air en suite with its own bathtub and a sheltered outdoor shower that makes it feel like you're taking a bath amidst the great outdoors. The private pool was quite large, with a cabana and lounge chairs where we even managed to do some stargazing at night. We found the rates quite value for money for its size and the inclusion of breakfast for five. The room service menu is the same as the on-site restaurant (which overlooks the beach), offering local specialties and some western options. There's also the option of booking a private barbecue dinner by the beach – we did this on the first night and it was delicious. All the food was prepared by the chef and cooked right next to us. The private beach is tranquil, but only had high tide at noon when we were there in May so we couldn't do any swimming. It was perfect for sand play and finding sea creatures though! There's ATV riding and archery at the resort. The resort is also very wheelchair-friendly." – Syaz, mama of two, Sassy Mama

www.pantaiindahlagoibintan.com
---
The Sanchaya

Rates: from $633/night
This stunning hotel in Lagoi is one of the more luxurious options, for an indulgent weekend or golf getaway. You'll have access to a personal butler, handsome private villas and an experience to remember. Click here to read our review about getaways at The Sanchaya Bintan!

www.thesanchaya.com
---
What to Do on Bintan Island
If you're keen to step outside of #resortlife and get a taste of Indonesia, there is much to be explored outside of the manicured property that is Bintan Resorts. As soon as you exit the border of the resort area, you will feel like you are actually in Indonesia with tiny warungs along the road, chickens and goats roaming freely, temples, a beautiful mosque, and lots of small farms. You can arrange various excursions and activities through Bintan Tours.
Chill Cove @ Treasure Bay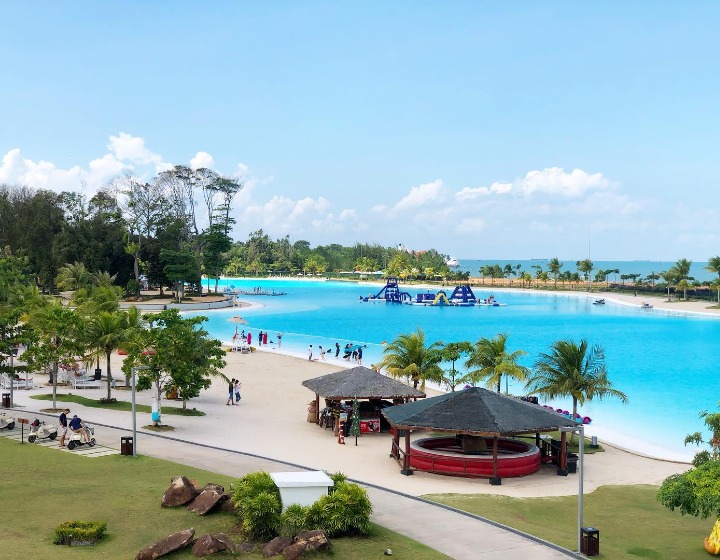 Chill Cove @ Treasure Bay is an attraction park with so many activities, you won't know what to do first! You pay an entrance fee that gives you access to the Crystal Lagoon, where you can lounge around and take a swim and then add on from a huge list of both land and water activities. Some fun things to try include ATV riding (mini ones available for kids 4+), water slides, rent a solar powered-boat, see-through kayak, stand up board or paddleboat, wakeboarding, and if you stay to watch the sunset, you can end the day by lighting a wishing sky lantern. This is a great cue for the kids that the day is over because they surely won't want to leave.

www.treasurebaybintan.com
---
Culture & Heritage Tours
Bintan Resorts has a range of tours that will take you to various attractions on the East Coast to see a large indoor Buddha, a temple tucked inside a Banyan Tree, a fishing village on stilts, and a Catholic pilgrimage site called Grotto Santa Maria. We recommend using their Tour Services to find all the hidden spots.

www.bintan-resorts.com
---
Golf
Bintan has several terrific golf courses, all available at cheaper rates than what you're likely to find in Singapore. All the golf courses are happy to arrange one-off day trip packages that include ferry tickets and transfers, too. Ria Bintan is a 27-hole Championship course designed by Gary Player with a spectacular oceanfront setting. And Laguna Bintan is an 18-hole course originally designed by Greg Norman and revamped in 2016.
---
Gurun Pasir Busung
For a really unique experience and some fantastic photo opportunities to confuse your friends, Gurun Pasir Busung is the perfect spot. This former sand mining site was left deserted after sand extraction was prohibited and now resembles an exotic desert sandscape. There are also naturally formed lakes that have collected rainwater and combined with unique minerals from the ground, form the most unusual coloured water that needs no Insta filter to impress!
---
Turtle Conservation
Many of the hotels run turtle conservation programmes, collecting the eggs of the Green and Hawksbill turtles and burying them in a hatchery to protect them from poachers and natural predators. Eggs are monitored until they hatch (approximately 60 days), and the baby turtles are released back into the sea. The middle of the year is generally the best time to see this, and you can check with the individual hotels on the expected hatching and release dates and times.
---
Plaza Lagoi
Plaza Lagoi is an outdoor shopping mall by the sea that comes alive on weekends (it's very quiet during the week with only a handful of shops open). There is the public Lagoi Beach where you can rent chairs for a small fee or sign up for water and land activities including paddleboards, jet skis, banana boats, and ATV bikes. There are frequent pop-up events, markets and performances in the common spaces during celebration days such as Chinese New Year. Restaurants include Chek Bakar's for delicious local food (complete with fresh coconuts and seafood) and Warung Yeah!
---
Safari Lagoi Eco Farm
When you live in a city with one of the world's best zoos, it's easy to dismiss other animal parks while travelling in the region, but the Bintan Safari Lagoi Eco Farm is well worth a visit! It is a working farm, an animal sanctuary, and an environmental conservation centre. It's a beautiful setting to stroll through with your family, learn about sustainable farming, and get up close to elephants, birds, monkeys, bunnies and tons of other animals. They even have a Komodo dragon! Most are rescued from the illegal pet trade or exotic meat markets or are being rehabilitated after an illness or injury. You can walk around on your own or take a guided tour. Entry is about $12 per ticket.
---
Trikora Coast
Along the East Coast are elaborate floating fish platforms called kelongs that resemble something out of the film Waterworld. Fishermen spend all night out at sea collecting their catch with large nets below and during the day these structures are docked along the coast where you can get a great view of their intricate wooden structures. These beaches are loved by locals who visit with their families on weekends and rent out small thatched huts to picnic and spend the day.
---
Where to Eat on Bintan Island
Expect to do a lot of chilling out on the beach or at the pool, and take most of your meals within your hotel (there aren't too many standalone restaurants), but if you're willing to venture out of your resort and a little off the beaten track, you'll find plenty of local delights (and even a picturesque spot or two to snap a pic for the 'gram). Here's where to eat (and what's good to eat) around Bintan Island!
Pujasera
The Kota Sebung township is a local food haven, and a must-visit spot Pujasera Food Centre, which is famous for its Lamak Basamo nasi padang (rice and mixed dishes). The dishes are laid out in individual plates, and you're only charged for what you eat. Pujasera also has loads of little provision shops where you can pick up souvenirs, daily necessities, snacks, local SIM cards and more. There's even a spa here that's highly recommended to Bintan Resorts guests for massages.
---
Tanjung Pinang
Hunt for local snacks such as otak-otak (grilled fish paste flavoured with spices) and goreng pisang keju (cheese banana fritters). Tanjung Pinang also has several night markets – Rimba Jaya, Akau Potong Lembu and Melayu Square – for cheap eats that won't disappoint.
---
Teluk Bakau Bay View Seafood Restaurant
Enjoy a local seafood lunch at Teluk Bakau Bay View Seafood Restaurant including black pepper crab, prawns, squid and the local favourite, Gong Gong (sea snails). They also have mixed vegetables, fried rice and chicken dishes that were more kid-friendly. The kids will enjoy playing on the sand and checking out the big tanks of live crab and lobster.
---
Kelong Apung Enjoy
This kelong restaurant is a lovely spot overlooking the sea with a menu boasting all the local seafood favourites. Expect fresh local seafood at great prices (and big portions!). You can even see the fish and shellfish under the bridge leading to the restaurant – so after you've placed your order, it's all freshly caught and cooked on the spot!
---
Weather on Bintan Island
Bintan weather is similar to what you'd find in Singapore: hot and sunny all year round, with increased thunderstorms around November to January. Due to choppy seas and decreased visibility, some resorts don't offer water sports like SCUBA diving and snorkelling at this time of year. Box jellyfish are also an occasional threat in the water (and you may spot the occasional oil tanker ship off in the distance).
Stoke your wanderlust with more exciting travel reads!
Lead image by Club Med Bintan