Fancy drinks or dinner at a restaurant with a view? Here's our pick of rooftop restaurants and bars in Singapore for wining and dining in style
Call us biased, but we think Singapore offers some of the best skyline views in the world (all the better to watch those fireworks)! Bars like Ce La Vi and Lavo at Marina Bay Sands's rooftop are often the go-to for sunset drinks with amazing city views, but what about when you want a different outlook? Smoke & Mirrors has unrivalled views of the Padang, Dusk Restaurant & Bar affords sunset views from Mount Faber while rooftop bars like LeveL33, Lantern Bar and VUE offer a different experience that is equally stunning. So head over to one of Singapore's best rooftop bars or sky-high restaurants when you want to enjoy an evening admiring the stunning views!
Read More: Where to Celebrate NYE: Parties & Dinners
Scroll on for all the best rooftop restaurants and bars in Singapore!
Las Palmas: rooftop bar with infinity pool
Las Palmas is one of the newest rooftop bars in Singapore, located on level 33 of Courtyard by Marriott Singapore Novena offering panoramic views of the cityscape. Step into Palm Springs-inspired paradise – think sorbet palettes, pastel terrazzo finishings, and pale pink lounge chairs beside the rooftop infinity pool. A rose quartz bar counter sets the scene and is helmed by award-winning Head Bartender, Ron Aransay, and Executive Chef, John Chye, who brings with him more than two decades' worth of culinary experience. Sip on refreshing cocktails influenced by downtown LA and tuck into an all-day menu of classic Americana, Mexican and Southern Californian dishes from smokey bourbon-barbecued baby back ribs, to juicy Angus beef brisket and cheesy tacos, all with an Asian twist. Pro tip: You can rent the pool cabanas for 3 consecutive hours of rooftop lounging poolside with a minimum spend of $150. Rooftop bar Las Palmas is open Tuesday-Friday, from 5pm-1am; Saturday and Sunday: 11am – 1am.

Las Palmas, Courtyard by Marriott Singapore Novena, 99 Irrawaddy Road, Singapore 329568
---
1-Altitude Coast: rooftop pool bar in Sentosa
1-Altitude Coast on the roof of The Outpost Hotel in Sentosa is made up of an adults-only infinity pool and casual dining restaurant Sol & Ora. This day-to-night 'beach club' is Sentosa's first adults-only rooftop restaurant! It overlooks Village Hotel Sentosa right next to it and Palawan Beach.

1-Altitude Coast, The Outpost Hotel, 10 Artillery Avenue, Level 7, Sentosa Island, Singapore 099951
---
Artemis Grill: rooftop bar & restaurant with CBD views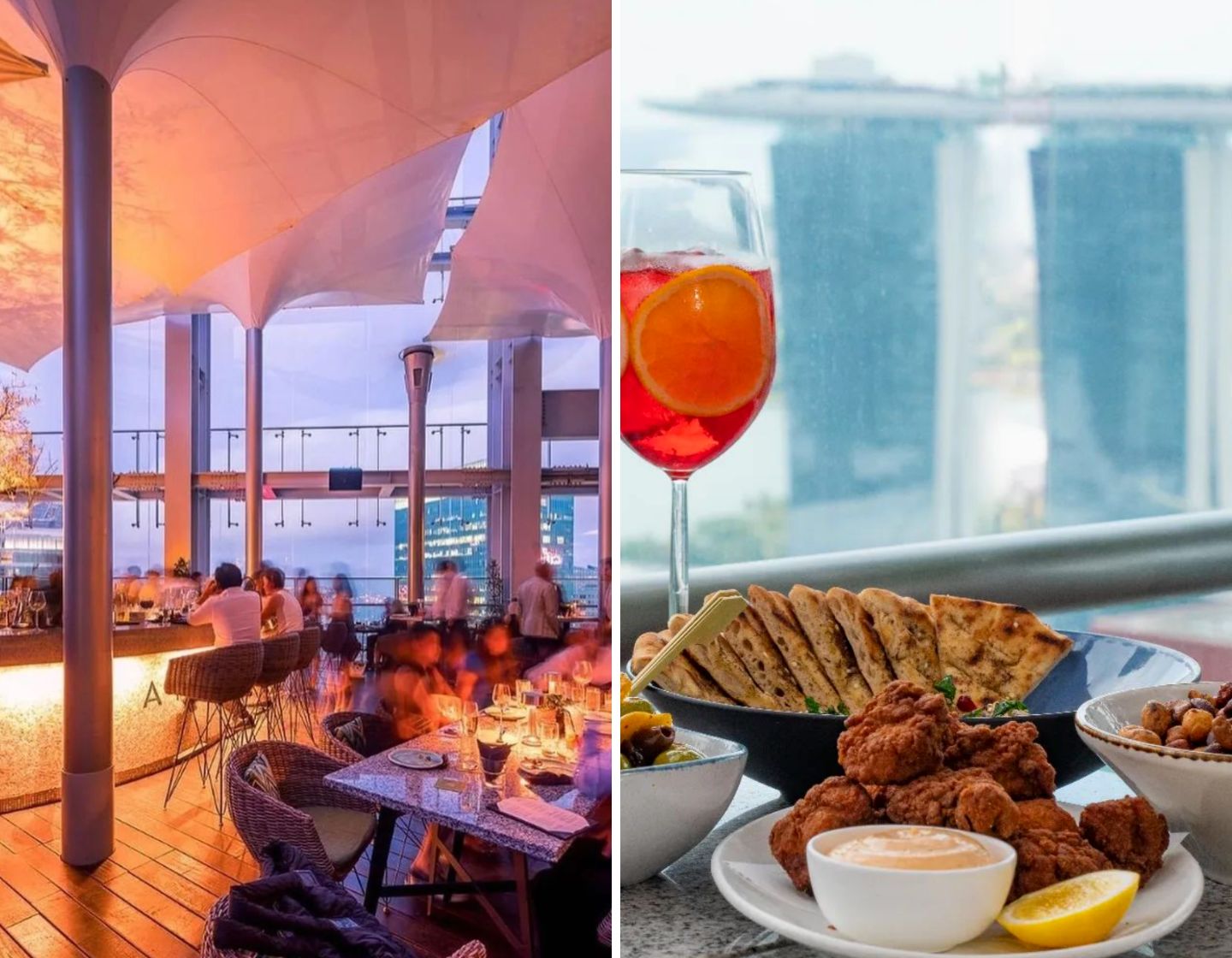 Artemis Grill is a rooftop bar and restaurant on the top of the CapitaGreen building, with views of the CBD and beyond. Have a drink in the outdoor "Sky Forest" rooftop bar that's great for after-work drinks. For dinner, head indoors to the main restaurant for Mediterranean-inspired cuisine using sustainably sourced fish and seafood, hormone-free meats and locally sourced vegetables for an upmarket dining experience.

Artemis Grill, Level 40, CapitaGreen Rooftop, 138 Market Street, Singapore 048946
Read More:  Our Fave Alfresco Restaurants in Singapore
---
Atico Lounge: rooftop bar & restaurant on Orchard
Atico Lounge by 1-Group is right up there 56 storeys above ION Orchard with unrivalled views across the city. Head here for evening cocktails with stellar views. There are three concepts under one roof at 1-Atico (Spanish for "Penthouse"): FIRE, FLNT and Atico Lounge. FIRE is a rooftop restaurant on the 55th floor and is where you'll find authentic Argentinian wood-fired Asado dining, while at FLNT, look forward to a Japanese-Peruvian sumiyaki bar experience housed in a chic and luxurious rooftop space, with dramatic city views and lush natural lights flooding in from the lofty windows.

1-ATICO, ION Orchard, 2 Orchard Turn, Level 56, Singapore 238801
---
CÉ LA VI: rooftop bar at Marina Bay Sands
Probably one of the most iconic rooftop bars in town, CÉ LA VI offers stunning 360-degree views of Singapore from the top of Marina Bay Sands with both alfresco and indoor dining. Make a point to pitch up for sunset cocktails (though be warned you will need to pay to enter if not dining — redeemable against drink). This very upmarket rooftop restaurant offers Modern Asian cuisine by award-winning chefs.

CÉ LA VI, SkyPark at Marina Bay Sands, Tower 3, 1 Bayfront Avenue Singapore 018971
---
Dusk Restaurant & Bar: Mount Faber rooftop bar
A rooftop bar and restaurant that affords a different view? Heads over to Dusk Restaurant & Bar perched on Faber Peak! Make a real occasion of your evening and head over by cable car (if you are there in the day for lunch – this arrival will thrill the kids!). Dusk Restaurant & Bar has panoramic views of the sea and Sentosa Island and makes a great spot for sunset drinks or dinner.

Dusk Restaurant & Bar, Faber Peak Singapore, Level 2, 109 Mount Faber Road, 099203
---
Eclipse: rooftop restaurant in Chinatown
Eclipse by chef Samuel Quan is a restaurant with a view located in the Yue Hwa Building in Chinatown. We love the luxe interiors of this rooftop restaurant, with a menu featuring timeless Asian and European classics.

Eclipse, 70 Eu Tong Sen Street, Yue Hwa Building, #06-01, Singapore 059805
---
Kaarla: rooftop restaurant and bar on 51st floor
1-Group's signature restaurant, Kaarla Restaurant and Bar serves Coastal Australian cuisine, right outside the world's highest rooftop farm 1-Arden Food Forest (open to the public to view). Expect to be blown away by the views from the 51st floor. Aussie Chef Paul Fietchner oversees the cooking – mostly done on a custom-built wood-fired grill and oven. At lunch, there's a set menu at $52 for 2 courses and $67 for 3 courses.

Kaarla, 88 Market St, #51-02, CapitaSpring 048948
---
Lantern Bar: stunning rooftop views
Lantern Bar at the Fullerton Bay Hotel offers a low-level rooftop view (complete with fabulous pool) that is worth a visit for its different angle to admire the beautiful Marina Bay waterfront and the Singapore skyline. This rooftop bar is a popular spot so advance dining reservations are recommended.

Lantern Bar, Fullerton Bay Hotel, 80 Collyer Quay, Singapore 049326
---
LAVO: rooftop restaurant at Marina Bay Sands
LAVO is one of the must-visit rooftop restaurants at MBS. This rooftop restaurant is 57 floors up on top of Marina Bay Sands so expect pretty views of Gardens by the Bay and the Singapore River while you enjoy one of their famous champagne brunches, high tea or dinner! On the menu; Italian-American dishes like chicken parmigiana and its signature Lavo one-pound meatball topped with a sinful mountain of ricotta cheese.

LAVO Italian Restaurant And Rooftop Bar, Marina Bay Sands Tower 1, 10 Bayfront Ave, Singapore 018956
---
Levant
Levant is located at the rooftop of ST Signature hotel in Tanjong Pagar, with panoramic 360-degree views of the Singapore skyline. Mediterranean food is the name of the game here, together with crafted cocktails, a cool vibe and great music!

Levant, 32 Tras Street, Level 4 ST Signature, Singapore 078972
---
Smoke and Mirrors: glitzy rooftop bar with Padang views
Perched at the National Gallery on top of the Old Supreme Court Building, Smoke and Mirrors is a glitzy rooftop bar with breathtaking views of the city from the Padang to the Bay. Cocktails here are top-notch too and there's also a light bites bar menu for nibbles. Alfresco outdoor tables with the best rooftop views are assigned based on availability and weather conditions.

Smoke and Mirrors, #06-01 National Gallery Singapore, 1 St Andrews Rd, Singapore 178957
---
665F: restaurant with a view
The steak restaurant 665°F is perched on level 38 of the Andaz Singapore, right behind the Gotham building where Atlas Bar is. This rooftop restaurant is surprisingly intimate with an open kitchen as well as windows with a view. Opt for the private room if you are in a group for the best rooftop views. Meat is the main name of the game at 665°F: order the Dry-aged, grass-fed Irish Ribeye chargrilled in the Pira oven, which creates the flavour, aroma, and juiciness unique to an open-fire barbecue.

665°F, Andaz Singapore, 5 Fraser Street, Singapore, 189354
---
Mr Stork: rooftop bar on level 39
Before you get to level 38 of the Andaz for your rooftop restaurant date, make a stop at the stunning rooftop bar, Mr Stork on Level 39 of Andaz Singapore hotel where you'll be rewarded with killer 360-degree views across Singapore (unless you are snuggled up in one of their cute teepee tents on offer). Reservations for this popular rooftop bar are recommended.

Mr Stork, Andaz Singapore, 5 Fraser Street, Singapore, 189354
---
SKAI Restaurant & Bar: rooftop bar on the 70th floor
Rooftop restaurant and bar SKAI is on the 70th floor of Swissôtel The Stamford so need we say more? Floor-to-ceiling windows complete the scene and you'll not be able to stop yourself gazing out onto Singapore's stunning skyline. The rooftop restaurant has a great buzzy atmosphere and the dining is tip top, too – think Josper-grilled steaks and seafood with a Japanese influence. Desserts are equally stunning: try the Araguani Chocolate, made with 72% chocolate, Pedro Ximénez and Dulce de Leche.

SKAI, Level 70,  Swissôtel The Stamford,  2  Stamford Rd,  Singapore  178882
---
LeVeL33: rooftop bar level 33 of Marina Bay Financial Centre
LeVeL33, as its name suggests, is a rooftop bar on the 33rd level of Marina Bay Financial Centre, and offers one of the best panoramic views of Marina Bay Sands in town. It's a popular spot with the corporate crowd working in MBFC, too. There's a small outdoor terrace (best to book ahead for a spot) and an air-conditioned indoor dining area. Level33 is also the world's highest urban craft microbrewery, with beers made on site! On the dining menu: contemporary European cuisine (with suggested beer pairings).

LeVeL33, 8 Marina Boulevard #33-01 Marina Bay Financial Centre Tower 1, 8 Marina Boulevard
---
Kinki: MBS views and happy hour drinks
Japanese restaurant Kinki is a rooftop restaurant and bar atop the Customs House building and offers knockout views of MBS with edgy beats in the background and graffiti plastered all over the walls. On the menu, Japanese food, namely sushi rolls, from the classic to the kinkier remakes like Foie Gras and Scallop Sushi or Kinki Style Okonomiyaki, with a "pizza" of seafood and a range of sake, and Japanese-themed cocktails.

Kinki Restaurant + Bar, 70 Collyer Quay #02-02, Customs House, Singapore 049323
---
Spago: stunning rooftop restaurant with sky-high views
Located on level 57 of Marina Bay Sands, Spago is Chef Wolfgang Puck's second restaurant at Marina Bay Sands (his first being premium steakhouse CUT). Spago is a stunning rooftop restaurant serving Californian cuisine with Asian accents (don't miss the spicy tuna tartare cones with chilli aioli) with 360-degree views as a backdrop – so it's a popular choice for date night. There's an indoor dining room, or step outside for alfresco dinner and drinks with views of the Marina Bay Sand's infinity pool.

Spago Bar & Lounge, Level 57, Sands SkyPark Tower 2, 10 Bayfront Avenue
---
Sofra Turkish Cafe & Restaurant: Halal rooftop restaurant
Previously located in Shaw Towers, Sofra Turkish Cafe & Restaurant has moved and is now in some pretty nice digs – at the rooftop of Marina Square! This halal restaurant with a view is famous for their authentic Turkish cuisine, with kebab platters, baklavas and other Turkish staples. They offer lovely indoor and outdoor seating, where you'll get a beautiful view of the Marina Bay skyline.

Sofra Turkish Cafe & Restaurant, 6 Raffles Boulevard, #03-129A Marina Square, Singapore 039594
---
JAAN by Kirk Westway: 2-Michelin Star rooftop restaurant
Jaan by Kirk Westway is a multi-award winning 2-Michelin Star restaurant helmed by Executive Chef Kirk Westaway serving modern British cuisine. Their newly renovated interiors offer a sophisticated dining experience with exquisite culinary flavours that will keep you coming back for more. Enjoy breathtaking views from the 70th floor of Swissotel The Stamford hotel, as you indulge in Executive Chef Kirk Westaway's masterpieces.

Jaan, Level 70, Equinox Complex, Swissotel The Stamford, 2 Stamford Road, Singapore 178882
---
GEMMA: Italian rooftop restaurant
Rooftop restaurant GEMMA is a buzzing dining destination offering a contemporary Italian menu. Tuck into large-format steaks and prime meats sourced from around the world, all exclusively sourced and dry-aged. If you're after pasta there are a few starters featuring beef ravioli or orecchiette. This 68-seater restaurant on top of the National Gallery affords sweeping panoramas of Singapore's stunning skyline from the flyer across to Marina Bay Sands and the financial centre with the lush green carpet of the Padang at your feet. Definitely, one to head to for sunset drinks with a view!

GEMMA, 1 St Andrew's Road, #05-03, National Gallery, Singapore 178957
---
VUE: rooftop views of Marina Bay Sands
Vue means 'view' in French – so you'll know what to expect at this rooftop bar on top of OUE Bayfront on Collyer Quay! The view is stunning – gaze through the floor-to-ceiling windows, and enjoy the scene of the Civic District from the 19th floor of OUE Bayfront. VUE is home to Singapore's first rooftop spritz bar, so order up a Basil Spritz ($24) with dry gin, basil, and lemon as you admire the cityscape. The dining menu offers binchōtan-grilled specialities.

VUE, Level 19, OUE Bayfront, 50 Collyer Quay Singapore 049321
---
Oumi at CapitaSpring: rooftop Japanese dining
Oumi by 1-Group is on the 51st floor of CapitaSpring. Oumi serves modern Japanese 'Kappo' cuisine which takes inspiration from the best of seasonal ingredients. Sit at the counter – you'll have your back to those rooftop city views but you can watch the chefs prep the impressive nine-course omakase dining experience. Or opt for the a la carte menu or the four-course lunch set at $65 and sit admiring Singapore from a different sky-high angle. Don't forget to stop by the four story Green Oasis urban farm before a drink at 1-Arden rooftop bar – it's the perfect place to take your Instagram pictures!

Oumi, 88 Market St, #51-02, CapitaSpring 048948
---
Read more:
This post contains paid partnership content. Lead image by VUE