Hottest new restaurants and cafés that have opened over the last few years
Always on the lookout for the best new restaurants in Singapore? Us too! We are always on the hunt for a new café or restaurant to check out – here are some of the best restaurant openings from the last few years…
Read more: Newest Restaurant Openings in 2022 
Hortus
Fennel Cafe in the Flower Dome is no more – in its place is the casual restaurant café Hortus serving Mediterranean-inspired sharing plates that celebrate flavours from Greece to Turkey. At the helm is Chef-owner Michael Wilson (the man behind sister resto Marguerite – the fine dining establishment downstairs from Hortus). First off, you'll be picked up by the complimentary buggy service (for prior reservations only) and you'll get access to the Flower Dome before or after your meal! Look forward to small plates of Amberjack Crudo ($22) dressed with pomegranate and herbs, refreshingly bright Watermelon salad ($15), Coal roasted sweet potato ($15), wood-fried Fremantle octopus with green harissa sauce ($32) and garlicky chilli Venus Clams ($35). Bring a jumper – the climate-controlled Flower Dome will make you feel like you're in the Med (in the winter!)


Hortus, #01-09, Flower Dome, 18 Marina Gardens Dr Singapore 018953
Drunken Farmer
Drunken Farmer, by Spa Esprit Group, brings its natural wine and sourdough-focused menu to the Joo Chiat neighbourhood on the East Coast. By day this spot is Common Man Coffee Roasters – and by night it turns into a natural wine bar and bistro Drunken Farmer. The menu consists of family-friendly dishes like Sharing Spread Platters of pita bread with a trio of avocado cream, pumpkin hummus and seeds praline to sourdough pizzas with deliciously different toppings.


Drunken Farmer, 185 Joo Chiat Road, Tel: +65 6877 4884

Casa Restaurant by Remy Lefebvre: EDITOR'S PICK!
This elegant contemporary restaurant in Chijmes is helmed by Chef Remy Lefebvre who focuses on cooking with woodfire, using ingredients that are line-caught, responsibly sourced, and organic. Seafood (which Chef Remy ages himself) and vegetables are the stars here and the menu is largely gluten- and dairy-free. Dishes include dry-aged wagyu on the bone; a Japanese take on smoked 'gambero rosso' red prawns; and line cod served with cashew nut milk and finished with sake. For lunch and dinner, Casa offers the 4- course Discovery menu for $118; the 6- course Experience menu for $198; and the Carte Blanche with 8-courses for $258. For lunch only, the restaurant offers an executive menu, called 'Trust Me' – a 3-course at $88. Worth the splurge!


Casa Restaurant by Remy Lefebvre, 30 Victoria Street, Unit #01-20 Chijmes, Tel: (+65) 9722 8171
---
Nixta: new Mexican restaurant
Nixta is the latest concept from the Travis Masiero Restaurant Group (the same people behind Blue Label Pizza and Luke's Oyster Bar). This new Mexican restaurant has salsas made by hand in volcanic stone molcajetes – they even grind fresh masa for their signature corn tortillas. Chow down on tostadas made with tuna ($10) or sweet potato ($8), then plump for sharing platters of woodfired meats like slow roasted duck in aromatic hoja santa leaves ($48) or the Nixta Signature Spit & Herb-Roasted Chicken ($65). Do. Not. Miss. the Churros ($16)!


Nixta Mexican Grill & Bar – 116 Amoy Street, Singapore 069936
        Read more: Best New Restaurants of 2020
---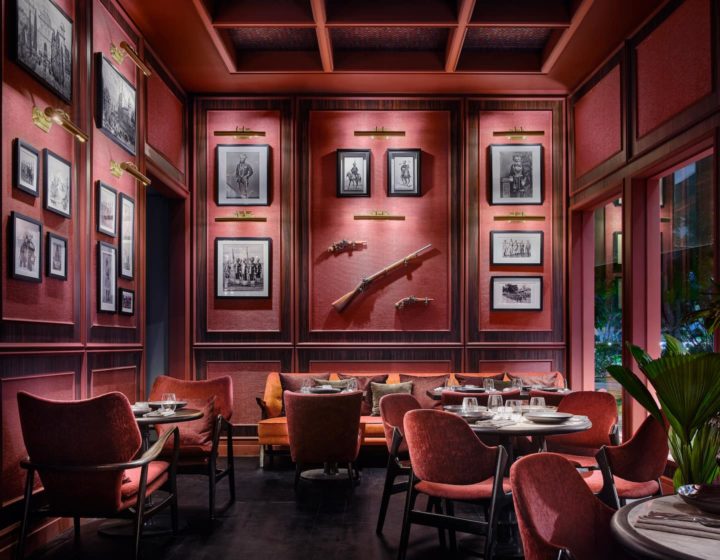 Firangi Superstar: new modern Indian: EDITOR'S PICK!
Firangi Superstar is a modern Indian restaurant by The Dandy Collection. There are four rooms: the Officer's Club, Old Railway Room, Elephant Palace and Jungle Lodge taking inspiration from Indian cities like Kashmir and Chennai with fittings and furnishings that exude a vintage film set. The food here is not Indian as you know it, but Indian through another lens – and is designed to be 'A Foreigner's Love Letter To India'.  Menu sections consist of chutneys and raitas, small and large plates, rice and bread, and desserts. Just over half the menu is vegetarian. Highlights include the intriguing 'This Is Not Aloo Gobi' ($16) featuring cauliflower served three ways, and 'Prata Waffle ???' (no that's not a typo) which is actually a fun take on the American favourite, Chicken & Waffles. Chef Thiru reinterprets this dish as Madras-style fried chicken with curry leaves and garlic, on a waffle-pressed prata served with butter chicken gravy. Don't miss the Indian inspired cocktails!


Firangi Superstar, #01-03, 20 Craig Road, Singapore 089692
---
NAE:UM: Contemporary Seoul
NAE:UM is the inaugural restaurant by Chef Louis Han (who was previously at Meta Restaurant and also the Head Chef at KIMME). NAE:UM offers contemporary Seoul cuisine with menu sets designed to be 'episodic, each showcasing a different food story or inspiration in Chef Louis's personal journey'. The five-course set ($148++) might feature Mulhwae, a cold and spicy Korean raw fish soup, gochujang-glazed Irish duck breast and steamed red snapper alongside two other courses, with two supplementary courses available for a surcharge.


NAE:UM, 161 Telok Ayer Street, Singapore 068 615, Tel: (+65) 8830 5016
---

Terra Madre
Terra Madre, organic store and restaurant opens in Dempsey! You'll find this spot tucked away at Loewen next to Swish and Invictus. A simple cafe-restaurant offering breakfast (healthy bowls and toasties) as well as lunch and dinner. If you are inspired to cook after sampling the food here don't miss the organic store next door! The lunch menu at Terra Madre offers the option to mix-and-match dishes – so choose a salad or veggie to start and then add a protein (surcharge for some). You might go for the Baked Butternut and Quinoa ($28) and add on Spiced Veg Fritters or Kurobuta Berkshire Pork Skewers (+$5) or try the spicy crunchy Asian Slaw ($25) with Gochujang Baked Salmon (+$5). Drinks-wise there are superfood smoothies, slow pressed juices, kombucha and even organic coffee from Australia.


Terra Madre, 71 Loewen Rd
---

Flow Bar
Jag, the one-Michelin-starred French restaurant has a new bar called Flow Bar sequestered away on its second-floor. Master-mixologist Ricky Paiva (the man behind the launch of successful bars like multi-award-winning Manhattan Bar) has curated a cocktail menu divided into three different sections: Living Room (reinterpretations of original classics), Garden (made with seasonal fruit and herbs) and Playground (some of Ricky Paiva's 'naughtiest creations'). We have a soft spot for the Dark & Stormie ($24) a Flor De Cana 12yo rum-based drink or try the Burnt Lemon Whisky Sour ($24). What we love about this bar is the lack of pretentiousness despite the sleek digs and having access to Michelin-starred nibbles (all made in the Jag kitchen!) Whatever you fancy drinking the bartenders will do their best to create even if it's not on the menu. Snacks-wise the Heirloom Tomato salad is divine or there's Artichoke Hummus studded with roasted hazelnuts, Charcuterie Platters and even desserts.


Flow Bar, Level 2, 76A Duxton Rd
---

Common Man Coffee Roasters Joo Chiat
Common Man Coffee Roasters Joo Chiat (or if you are into acronyms, because, SG, then CMCR JC) now brings some of our favourite coffee to Easties. What's new at this outlet is the dedicated filter coffee brewing bar where you can get your fix of CMCR's seasonal rotation of regional single-origin coffee – of particular worthy mention – the limited-release 'Cup Of Excellence' coffee, exclusive to CMCR JC. The Boledu #COE 21 Ethiopia ($9) is a deliciously fruity number – with notes of tropical and dried fruits, and a sweet, warming mulled wine-like quality. Foodwise CMCR JC offers classic all-day breakfast like the Common Man Full Breakfast ($29) with two free range organic eggs, bacon, sausage, and housemade hashbrowns and chorizo beans as well as salads like the Green Quinoa Salad ($23), burgers, sandwiches and mains like the Grilled Chilli Chicken ($28).


Common Man Coffee Roasters Joo Chiat, 185 Joo Chiat Road
---
Wild Child Pizzette: new pizzeria
From the folks behind Cicheti and Bar Cicheti comes a new pizzeria and bar concept, Wild Child Pizzette serving up Neapolitan style pizzette cooked in a woodfired oven. Pizzette means little pizzas so expect a menu dedicated to 10-inch pizzas (four slices to nibble on). That means you can order more and try lots of different toppings – of which there will be fun contemporary options – think Tuscan kale, garlic confit, lemon, fior di latte or how about fried pizza dough (!) with semi-dried san marzano and stracciatella? Plus antipasti and homemade desserts to go alongside wild wines, ancient sakes and funky craft beers.


Wild Child Pizzette, 50 Circular Road, Singapore 049405
---
Eggslut Singapore: new fast-casual restaurant
Get egg-cited for Eggslut Singapore! LA-based Eggslut brings their famed egg sandwiches to SG; the signature "Slut" dish of eggs muddled with mashed potatoes served with sliced baguette for eggy dipping; and the Eggslut Fairfax burger, of a brioche bun stuffed with scrambled eggs, cheddar cheese, caramelised onions, spicy sriracha mayonnaise.


Eggslut Singapore, #01-12, Scotts Square, 6 Scotts Road, Singapore 228209
---
Clos Pasoh: new French brasserie
Clos Pasoh is a new French brasserie with dreamy décor (heart eyes for the green and gold hues, and those rattan dining chairs by Singapore designer Ong Shunmugam). Co-owner chef Louis Pacquelin cooks up accessible brasserie dishes from duck rillettes with foie gras, and chargrilled sourdough ($18) to sharing dishes like pot eu feu (beef stew, $138 serves 2-3), and tête de veau (calf brain, served in a crispy wonton) $12. The set lunch looks a steal at $42 for 2 courses and $49 for 3 courses.


Clos Pasoh, Level 2, 48A Bukit Pasoh Road, Singapore 089859
---
Bali on the Cove: new Sentosa Cove café
Bali on the Cove is the latest addition to Sentosa Quayside Isle, bringing with it a little sip of Bali. The new space is made up of a cafe, a retail boutique selling homeware from Bali and Java, and a co-working space. The café has alfresco seating (great for families and pet owners) where you can enjoy a coffee (beans are from Common Man Coffee Roasters) and order brunch from Eggs Benedict on Sourdough with Bacon, Papaya Chia Pudding to pastries from Starter Lab.


Bali On The Cove, Sentosa Cove, Quayside Isle, #01-16, Singapore 098375
---
Coriander Leaf: new branch
Newly opened at the Singapore Polo Club, you can look forward to eating alfresco at the verandah and watch polo practice sessions on Tuesday and Thursday evenings! The menu is made up of Asian communal style sharing plates – our top picks have to be the Chicken Haleem & Naan (oh, the naan… so good!), Nonya Assam and Butter Prawns – Asian inspired cocktails as well as mocktails using non-alcoholic spirits like Melati and Lyre's. All meat is sourced from halal suppliers (no pork or pork products on the menu) and there are plenty of vegetarian and vegan options too. Coriander Leaf Singapore Polo Club is open to members of the public for dinner on Tuesdays to Fridays.


Coriander Leaf, 80 Mount Pleasant Road, Singapore, Tel: (+65) 9773 1207
---
Tapas, 24: EDITOR'S PICK!
Tapas, 24 has just opened on Rob Quay (taking over the space occupied by defunct Summerlong)! Tapas, 24 is an award-winning restaurant by Chef Carles Abellán – in fact it's one of Barcelona's hottest dining destinations! There's a fun buzzy atmosphere and tempting Sangria and Spanish cocktails (that also come in jugs!). Highlights include the "Tapas 24" Bikini Sandwich ($16) with black truffles, Ibérico ham and buffalo mozzarella; the total umami powerhouse paella de Gambas Al Ajillo ($40) and the Clams in Sherry with Artichoke, garlic and a kick of chilli ($32).


Tapas, 24, 60 Robertson Quay, #01-04, Singapore 238252
---
Blu Kouzina Siglap: new Greek restaurant in East
We may not be able to go abroad at the moment but the F&B industry is really pulling out all the stops to give us a taste of the world! Missing Greek islands and the amazing Mediterranean cuisine? Blu Kouzina just opened in Siglap to bring authentic Greek cuisine to Easties! Sporting trademark blue and white colours, this new restaurant has all the Santorini vibes. Pull up a pew and tuck into Grilled Pita ($3.90) with dips like Labna ($16.80), Hummus ($15.80), or the spicy feta Tirokafteri Dip ($17.80). We love the grilled seafood and meats here – lamb chops ($39.80) is always a winner!


Blu Kouzina Siglap, 907 East Coast Road, #01-01, Singapore, 459107, Tel: (+65) 9101 0681
---
Tigerlily Patisserie: new café in East
Tigerlily Patisserie (part of the Ebb & Flow Group) opens a physical space in Joo Chiat after the popularity of their online bake-box business. Local pastry chef Maxine Ngooi (previously the Head Pastry Chef of Michelin-starred Vianney Massot Restaurant) helms the small and popular café (expect queues at peak periods). The main draw here is the stunning cakes and entremets though they do savoury items like Tomato and Artichoke Tart ($7) and sandwiches like the Monsieur Kim ($15) grilled croque monsieur with kimchi and ham; and Salmon Tzatziki Ciabatta ($14) in housemade bread. Save lots of room for the pretty cakes – we fell in love with the Pink Guava & Pear ($10) dessert and The Beehive ($11), a Tigerlily signature of lemon, thyme and litchi honey jelly with light lemon sponge encased in yuzu mousse. Stunning!


Tigerlily Patisserie, 350 Joo Chiat Road, Singapore 427598
---
La Fez Bakery & Café: New Moroccan café
Love you some pink? Halal La Fez Bakery & Café has all the IG-feels with its Moorish architecture and pastel pink décor (a nod to the 'Rose city of Marrakech'. On the menu, Moroccan dishes from brunch items like Majorelle Shakshuka with Feta Cheese ($19.90), Baghrir Pancakes ($15.90), and Kasbah Brioche French Toast ($18.90) to lunch/dinner bites like Marrakech Dip Platters and Vegetarian Tagine cooked in traditional Moroccan earthenware.


La Fez Cafe & Bakery, #01-03A, 907 East Coast Road, Singapore 459107
---
Basque Kitchen by Aitor
Basque Kitchen by Aitor helmed by Chef-Patron Aitor Jeronimo Orive, is back after a brief hiatus! Find them at the historic Fullerton Waterboat House. Head to the pintxos bar and lounge for drinks and nibbles or head to the dining room, for a Basque gastronomic experience with a tasting menu offered exclusively for lunch and dinner (from $158++ for lunch to $248++ for dinner).


Basque Kitchen by Aitor, 3 Fullerton Rd, #02-01/02/03 The Fullerton Waterboat House, Singapore 049215
---
sen-ryo: new Japanese restaurant at ION
Japan import sen-ryo opens its first Singapore outlet in ION Orchard, using quality ingredients imported from Toyosu Fish Market and around the world. The swish sake bar greets you on entry, choose to dine here, in one of the private rooms or at the grill counter (where you can see the artisan chefs at work). Highlights on the menu include the DIY Hokkaido Uni ($58) featuring 50 grams of sweet uni (sea urchin) from Hokkaido with fresh sushi rice, ikura and sheets of roasted seaweed so you can wrap your own maki!
sen-ryo, ION Orchard, 2 Orchard Turn, #03-14, Singapore 238801

---
Mr. Holmes Bakehouse: new cruffin café
'Cruffin' creators San Francisco-based bakery Mr. Holmes Bakehouse debuts in Singapore! A 'Cruffin' for those who aren't quite sure, is a hybrid croissant with a flaky, sugar-dusted and cream-filled croissant baked in the shape of a muffin. This new 41-seater bakery-café on the ground floor of Pacific Plaza is where to head for donuts, croissants and those delicious cruffins. And we are talking flavours like Tiramisu Cream and Mini Choc chip cruffins, Bacon Jalapeno Danishes and Matcha and Lemon Meringue Pie croissants! We hear queues are epic so don't get your hopes up.


Mr. Holmes Bakehouse Singapore, 9 Scotts Rd, 01-01/02/03 Pacific Plaza, Singapore 228210
---
Permata Singapore: new Halal restaurant
The iconic yellow heritage building in the heart of Kampong Glam finally has a new restaurant within its premises! Muslim owned Permata Singapore offers over 60 elevated Nusantara-inspired dishes for both lunch and dinner. Prices are from $42++/pax for the weekday lunch menu. Good to know: there's a prayer room located on site too.


Permata Singapore, 73 Sultan Gate, Gedung Kuning, Singapore 198497, www.facebook.com/permata.restaurant
---
Tok Tok Indonesian Restaurant
Tok Tok Indonesian Restaurant has opened its doors on Joo Chiat Road. Expect classics like Ayam Bakar Betutu with chicken in Balinese spices, cooked sous vide in cassava leaves and grilled ($29.80); Beef Rendang ($11.80); Soto Ayam and other Indonesian dishes to satisfy that craving for a trip to Indonesia. End the meal on a sweet note with the unusual dish of Pisang Goreng Coklat Keju, a classic Jakarta special that sees chocolate condensed milk drizzled over fried banana fritters and topped with… shaved cheese!


Tok Tok Indonesian Restaurant, 467 Joo Chiat Road, Tel: +65 6908 3835
---
KULTO: New Spanish restaurant
Head Chef José Alonso (from Binomio), helms the kitchen of KULTO. On the menu, Spanish favourites like Jamon Ibérico Croquettes ($12), Octopus, Roasted Pork Belly with Paprika ($28) and three types of paella. We spotted a great value two or three course lunch menu where you can nibble on a choice of starters and mains plus top up $5 for dessert of KULTO cheesecake or charcoal pineapple with ice cream (includes coffee).
KULTO, 87 Amoy Street  Singapore 069906, Tel: (+65) 96205626

---
Sommer: New restaurant at Marina Bay
Sommer is a new 28-seater restaurant helmed by young star 27 year-old Chef Lewis Barker who has worked in the kitchens of Bacchanalia and Vianney Massot. The fine dining establishment serves up modern European plates that are a visual feast. Menus range from $68++ for a 3-course Discovery lunch, to $168++ for the 4-course Inspiration menu and $228++ for the 6-course Experience menu.
Sommer, #01-02, The Sail @ Marina Bay, 2 Marina Boulevard, Singapore 018987

---
Momolato Café: New café
Momolato Café is a new late-night gourmet gelateria in Kampong Glam (it closes at 2am!). Wander down Haji Lane and squeeze yourself into this little nook (18-seats so grab one quick) offering artisanal gelato flavours with no artificial flavourings or additives. The Momolato gelato range ($4.90-8) changes weekly ranging from Chocolate Arabica Coffee from Ecuador, to Roasted Sicilian Pistachio, Mao Shan Wang durian, Oolong Hojicha Tiramisu and Ondeh-Ondeh Sweet Potato Swirl plus Keto flavours.


Momolato Café, 34 Haji Lane, Singapore 189227, Tel: +65 8883 7968
---
Set of Six: new cocktail bar
Set of Six is a new bar in Duxton inspired by Joseph Conrad's novel. We are a little head over heels for the décor of pink feather lamps, turquoise velvet loungers, and lots of gold. Cocktails hover around the $25 mark. The menu features proper posh nosh rather than bar snacks – triple cooked chips with mushroom ketchup, Sea-bass Ceviche ($28) and Lobster and Fennel Ravioli ($29).


Set of Six, #01-01, 20 Craig Road, Singapore 089692
---
Carne: New burger joint
Chef Mauro Colagreco has been busy! In addition to the Mirazur pop-up, he has set up the first international outpost of Argentinian burger restaurant Carne with chef Beppe de Vito from the Il Lido Group in Singapore. Located on Amoy street, Carne dishes out free-range, grass-fed Angus beef burgers, milkshakes, thrice-cooked fries and local craft beers. Carne is all about being eco-conscious so there's lots of attention to sustainable growers, cage-free eggs, and farmers committed to responsible farming practices.


Carne, 88 Amoy Street, Singapore 069907
---
The Dempsey Project in Dempsey
Taking over from Jones the Grocer in Dempsey is The Dempsey Project (by the same owners). The menu contains old signatures and some new dishes including Sweet Potato toast with smashed avocado, feta, poached eggs, lime and chilli ($24) the Spicy Miso Beans on sourdough toast ($21) and the vegetarian Streetstyle Dahi Papdi Chaat or a Mediterranean Mezze ($26).


The Dempsey Project, 9 Dempsey Road, Singapore (247697), Tel: (+65) 6475 2005 
---
Moonbow: New restaurant in Dempsey
Moonbow is a new restaurant in Dempsey (in the old Blu Kouzina digs). This newcomer boasts stunning interiors of pink pastels and champagne hues with gold touches plus a gorgeous alfresco seating area overlooking the sports fields. Moonbow offers modern European cuisine with Asian accents. Barramundi with Fermented Red Yeast Wine ($38++), a traditional Asian dish reinvented; Black Silkie Poulet ($38++) with chargrilled black chicken, bearnaise sauce, and black garlic purée; and a personal favourite, Jerusalem Artichoke soup ($25++) served with a 64 °C sous vide egg, caviar, and sunchoke chips.


Moonbow, Block 10 Dempsey Road, #01-21, Singapore 247700, Tel: (65) 9010 2717
---
Prairie by Craftsmen: New Cafe in Cluny Court
Prairie by Craftsmen is a new cafe and alfresco restaurant at Cluny Court near Botanic Gardens. You would probably miss this new cafe if you didn't know where to look. Opened by Craftsmen Specialty Coffee, Prairie by Craftsmen is located where Bar Bar Black Sheep at Cluny Court used to be (behind Fishwives). This new cafe makes a lovely spot to enjoy breakfast before or after a walk in the Botanics nearby. Munch on Eggs & Bacon Croissants, Smashed Avo Toast, and other breakfast pastries. The lunch and dinner menu spans salads, and heartier mains like Duck Confit, Fish and Chips, Steak Sandwiches, pasta and burgers.


Prairie by Craftsmen, 501 Bukit Timah Rd, Cluny Court #01-05C, Singapore 259760
       Read more: Best New Restaurants of 2020
---
Persea: Low carb restaurant
Persea (pronounced per-say-ah), is a new restaurant in Ann Siang that focuses on low-carb meals. Think Cauli-hummus ($10), Bone Marrow ($24), Calamari with Chorizo ($24) and free range chicken with garlic yogurt and cauliflower tabouleh ($24). You won't miss out on desserts either with their Rosemary Basque Cheesecake ($16) featuring cream cheese, camembert, and blue cheese.


Persea, 23 Ann Siang Road, Singapore 069703
---
The RITUAL: New cafe
The RITUAL (by the same co-founder Cassandra Riene Tan of BOTANY) is a new cafe on Bukit Timah Rd. The menu encompasses plant-based and gluten-free options plus more standard dishes like the Ritual Big Breakfast ($25) with sourdough or croissant with eggs, and sausage, the Signature Avo Toast ($18), and Ritual Protein Bowl ($25).


The RITUAL, 383 Bukit Timah Rd, #01-09B, Singapore 259727
---
Green Common: Plant-based new café
Look out for new plant-based café Green Common launched by Green Monday, creators of OmniFoods. This place is a huge one-stop café and grocery concept store in VivoCity. Their aim is to give us plant-forward options, including a selection of Western and Asian-inspired cafe dishes made with zero meat but instead OmniMeat, Beyond Meat, Just Egg and Chick'n Nuggets. From Meat Lovers Pizza ($19++), topped with Moving Mountains and Beyond Meat Sausage with melted Daiya cheese; to hawker staples adapted to have zero meat – Hainanese Trick'en Rice ($16++), with Heura 'chicken' or Rendang Chicken Roti ($13++) – with Heura 'chicken' and potato chunks served with freshly made roti prata.


Green Common, VivoCity, 1 HarbourFront Walk, #01-169/170, Singapore 098585
---
The Brewing Ground: New Café in Joo Chiat
The Brewing Ground has set up a little "glasshouse" café filled with hanging plants, in the compound of The Yards, a space focused on arts, dance and drama. This casual café welcomes kids and pets (thanks to its alfresco area) and is open daily from 8.30am to 5pm (dinner will be launching soon). The Brewing Ground offers a European-inspired menu, featuring Homemade Granola ($12++), Avocado & Ricotta Tartine ($17++), Burrata & Tomatoes Tartine ($18++) as well as brunch from 11am – think Breakfast Burgers ($19++), and Not an Eggs Benedict ($21++).


The Brewing Ground, 406 Joo Chiat Place, The Yards, #01-24, Singapore 428084
Read more: Ultimate Guide to Dim Sum in Singapore
---
Little Farms Bistro Joo Chiat: New Café in East
Little Farms' newest and largest outlet is open on Joo Chiat Road! This will be their fifth outlet spanning 6,000 square feet and features a bistro, supermarket, butcher counter and bar. Head over to Little Farms Bistro for their famous Smashed Avocado on Toast, Buttermilk Pancakes, Tempeh Tofu Salad and Vegetarian Lasagne, as well as freshly made juices, signature smoothies and Allpress coffee. Plus there will be a new dinner menu featuring Little Farms ingredients to go with artisanal wine and classic craft cocktails.


Little Farms Bistro, 451 Joo Chiat Rd, Singapore 427664
---
Kotuwa: Sri Lankan cuisine by Chef Rishi
Fans of Chef Rishi Naleendra of Cheek Bistro and Cloudstreet can look forward to visiting his latest restaurant, which celebrates Sri Lankan cuisine with influences from South India, Malaysia, Indonesia and beyond. Kotuwa at Wanderlust Hotel serves all the Sri Lankan staples from Hoppers, crispy-edged bowl-shaped pancakes made from fermented rice flour and coconut milk, served plain ($4++) or with egg ($6++) to Kottu Roti, crisp and airy godhamba roti that is chopped and served with a choice of chicken ($22++) or baby jackfruit ($18++). Look out for black pork curry, Chicken Kottu ($22), and the Sri Lankan Crab Curry (market price) made with Sri Lankan mud crab cooked with cumin, fenugreek, coriander, cinnamon using a unique recipe passed down from Chef Rishi's mother. The cocktail programme is super fun too and showcases creative concoctions that take inspiration from Sri Lanka's famous railway trains.
Kotuwa, Wanderlust Hotel, 2 Dickson Road, Singapore 209494, www.kotuwa.com.sg
---
Miznon: Israeli restaurant by MasterChef Israel Judge
Fans of Israeli cuisine get excited because Miznon, a highly-acclaimed contemporary casual eatery from Tel Aviv, Israel has just arrived in Singapore! Renowned Israeli Chef Eyal Shani (judge on MasterChef Israel ) is behind Miznon, best known for its inventive take on Israeli street food. Pitas are the star of the show – flown in from Israel these fluffy chewy pitas are unlike anything you've ever had before and will soak up all the tahini sauce wonderfully. There are various stuffings from Ratatouille with hardboiled egg and veggies ($17) to Minute Steak pita ($19) as well as the famous Baby Cauliflower Flower ($16), Batata which is a sweet potato served with a dip and Runover Potato ($11). There's loud tunes and a fun buzzy atmosphere. You'll need a reservation.
Miznon, 01-01, 6 Stanley Street, Singapore, www.facebook.com/miznonsg
---
Catfish: Upmarket Seafood by Chef Andrew Walsh
Catfish is the latest restaurant by Chef Andrew Walsh (the Irish chef behind Cure and Butcher's Boy). Contemporary Fish Grill & Raw Bar, Catfish serves Asian fusion dishes from hearty Fish & Chips with Barramundi and Jalapeno Tartar Sauce ($32), to sophisticated snacks of CATFISH Mini Cone Selections ($28) a trio of crispy wanton skin cones filled with smoked salmon, scallop sashimi, and beef tartare. Other seafood themed posh nosh includes Sesame Prawn Toasts with Uni and Caviar ($58) and mains of Whole Sichuan BBQ Fish with Laksa (S$42). If you are there for lunch opt for the Lunch Set Menu ($45 for two courses, $55 for three courses).
Catfish, 5 Gemmill Lane, Singapore 069261, +65 9069 9207, www.catfish.sg
---
Raw Kitchen Bar: Alfresco casual restaurant
New restaurant Raw Kitchen Bar opens where Camp Kilo Charcoal Club used to be. Managed by the same team as Camp Kilo, this restaurant is an ode to the original Raw Kitchen Bar which opened its doors by Bukit Timah fire station back in 2008. Anyone remember that great spot? Now 12 years on, the Raw Kitchen Bar is back and offers some great eats in this alfresco casual space. We popped in recently and dined on the Black Mamba ($25) of prawns in black squid ink rice with kick-ass fermented chilli sambal, spicy raw Salmon Laab ($14), and bomb Brussel Sprouts with tamarind dressing and chilli (thankfully similar enough to our fave dish from Camp Kilo days). There's lots of veggies and a few vegan items on the menu (hello Vegan Potstickers $12 and Cauliflower Tacos $16) but for the meat inclined try the Balsamic Duck Leg, or the Wagyu Flatiron. Raw Kitchen Bar is open from Thursday to Sunday.
Raw Kitchen Bar, 66 Kampong Bugis, Ground Floor Patio, Singapore 338987, Whats'App: (+65) 98363234, www.rawkitchenbar.com
---
Hathaway Restaurant: New in Dempsey
Dempsey welcomes a new all-day café and restaurant Hathaway Restaurant. We have a little style crush on the warm woods and nude palette of this cute café furnished with beautiful Second Charm pieces. The brunch items stand out. Pengat Pisang French Toast topped with caramelised bananas stewed in coconut milk, with fresh berries and a fight-for-the-last-spoonful of Apom Berkuah ice cream. The Mezze Platter is an Indian take on bread and dips with sourdough naan, Baigan Bharta eggplant dip, a Tofu Makhani and Coconut Chutney. In the kitchen is Head Chef Tom (formerly of SKIRT W hotel) and his menu spans Peranakan signatures like Ah Nya's Fish Curry, an ode to Ivan the founder's grandmother, to more Western slanted dishes. We hear they had Pamelia Chia (author of Wet Market to Table) help plan the menu to use interesting Asian ingredients. This spot is worth checking out for your next brunch. They have high chairs for babies but no kids menu (as yet). Prices are still being confirmed – check back soon!
Hathaway Restaurant, 13 Dempsey Road #01-07 Singapore 249674, www.instagram.com/hathaway_sg
---
Canopy HortPark
You may know the Canopy brand from their Canopy Bishan Park outlet. This time they are bringing their all-day dining to one of our fave green parks Hort Park. Canopy Hort Park is a beaut (just check out our lead image) with wicker chairs and lots of green hanging plants in their alfresco space (which makes it great for furkids too). They are open from 8am so pop in for that coffee when you are taking the kids to explore the playgrounds or Nature Play Garden. They also do brunch, pastas, burgers, pizzas, and other mains.
Canopy HortPark, #01-01, 33 Hyderabad Road HortPark, Singapore 119578, Tel: (+65) 6556 1533, www.canopygardendining.com
---
Gemma Steakhouse: Steak with views
Gemma by Beppe De Vito is a new Italian steakhouse on top of the National Gallery reopening on 23 December. Wow guests with large-format bistecca Fiorentina to prime meats sourced from around the world. There's Te Mana Lamb Rack ($78) and A5 Miyazaki Wagyu Beef Sirloin ($118) from Japan all exclusively sourced and dry-aged for Gemma Steakhouse. The view from this rooftop restaurant features sweeping panoramas of Singapore's stunning skyline from the flyer across to MBS and the financial centre with the lush green carpet of the Padang at your feet.
Gemma Steakhouse, 1 St Andrew's Road, #05-03, National Gallery, Singapore 178957, (+65) 87870977, www.gemmasteakhouse.sg
---
1-ATICO: Rooftop dining
1-ATICO is the newest rooftop bar and restaurant to open in Singapore! This spot (by the 1-GROUP peeps) is right up there 56 storeys above ION Orchard with unrivalled views across the city. There are three concepts under one roof at 1-Atico (Spanish for "Penthouse"): FIRE, FLNT and 1-Atico Ultra-Lounge (opening in 2021). FIRE is where you'll find authentic Argentinian wood-fired Asado dining, while at FLNT, look forward to a Japanese-Peruvian sumiyaki bar experience.
1-ATICO, 2 Orchard Turn, Level 56, Singapore 238801 enquiry@1-atico.sg, www.1-atico.sg
Read more: 21 Rooftop Bars and Restaurants in Singapore with the Best Views
---
 The Whole Kitchen Café: Gluten-free café in East & CBD
The two Aussie mums behind gluten-free wholefood brand The Whole Kitchen have just launched their first bricks and mortar café! The Whole Kitchen Café is a very small humble tucked off East Coast Rd as well as a cafe with inside and outdoor seating on Robinson Road. There's something for everyone here – keto, dairy-free, vegan or low-carb plus it's halal-certified!. Think gluten-free sandwiches and cakes, fresh smoothies and oat milk lattes made with coffee beans from Allpressespresso. Signature dishes include the delicious housemade Peanut Butter, Cacao spread and Banana Toastie served with berries and the Mumbai sandwich made with gluten-free bread, cucumber, tomato, chaat masala and onions and served with a side of salad and a delicious tomato chutney.
The Whole Kitchen Café, 1 Ean Kiam Place entrance off 11 East Coast Rd, #01-16, Singapore 428722,
AND 120 Robinson Rd, 01-01,  www.thewholekitchen.com.sg
---
Menbaka Fire Ramen from Kyoto
The famed Menbaka Fire Ramen from Kyoto has opened up shop at Cathay Cineleisure. Get your cameras ready for one IG-worthy theatricially made dish! Forget wok-hei these guys (a father and son duo) literally set your ramen bowl on fire when the chef ignites the negi oil and pours it over the broth. The Shoyu Fire Ramen ($17.90), uses the same shoyu as the one in Kyoto, imported from a 220-year-old shoyu factory from Hyogo prefecture. Or go for the healthy Vegetarian Fire Ramen or deep flavoured Tonkotsu Fire Ramen. Just watch your eye brows…
Menbaka Fire Ramen, #05-03, Cathay Cineleisure Orchard, 8 Grange Road, Singapore 239695, www.facebook.com/menbakasg
---
French Fold: Galettes and crepes
French Fold occupies a fresh, modern space on Telok Ayer (think the gorgeous vibes of Merci Marcel by the same group). Their galettes (savoury French gluten-free buckwheat pancakes) are on point. We loved their galette No.6 – warm goat cheese, tomato chutney, basil, and roasted bell pepper served warm. The other more traditional galette, their No.4  is a quintessential galette served with a chiffonade of ham, organic egg sunny side up, sautéed mushrooms, and Comté cheese. Both were very good, especially paired with a lovely organic dry cider which according to Brittany tradition is served in a ceramic bowl. For dessert try the crepes with melted Valrhona chocolate (70%) served with poached pear and homemade whipped cream.
French Fold, 204 Telok Ayer St, Singapore 068640, Tel : (+65) 6970 7626, www.mercimarcelgroup.com/fold/telok-ayer-singapore
     Read more: Ultimate Guide to Dim Sum in Singapore
Lead image: Catfish