Get your fill of South Indian and North Indian food – think biryani, curries, kebabs, naans, Indian vegetarian dishes and more – at the best Indian restaurants in Singapore!
Looking for the best Indian restaurant in Singapore? Traditional Indian food is a blend of six fundamental flavours: sweet, sour, salty, bitter, pungent and astringent. Additionally, Indian food is also diverse, as the Northern and Southern regions have their own unique spin and flavour palette according to the state, ethnic group and district in India. In Singapore, you'll find an abundance of great Indian restaurants serving North Indian and South Indian food, vegetarian and non-vegetarian Indian food. As always the 'best' is subjective – you could explore Little India and follow your nose but you'll find many authentic Indian restaurants islandwide too – so here's our pick of the best Indian restaurants in Singapore offering everything from cheap and cheerful Indian food to fine dining cuisine to satisfy that curry craving!
      Read more: Kid-friendly cheat sheet to ordering Indian food for the kiddos!
---
Best Indian restaurants in Singapore:
Tiffin Room at Raffles Hotel Singapore: Fine dining North Indian food
Savour award-winning Chef de Cuisine Kuldeep Negi's newly introduced specialities in one of the oldest North Indian restaurants in Singapore, the Tiffin Room (established in 1892) within Raffles Hotel Singapore. Step inside the beautifully restored restaurant interiors and order an array of exceptional vegetarian and non-vegetarian North Indian dishes made with a blend of freshly-ground spices and the use of the tandoor, the traditional wood-fired clay oven. Named after the tiffin carriers that Indian mothers and wives would lovingly prepare for their husbands and sons to bring to work, it is only fitting that the signature dining experience here is Mera Dabba (which translates to "my box" in Hindi) showcasing comforting curries presented in exquisite custom-made copper tiffin boxes. Dishes not to be missed: the new Aloo Dal Tikki Chaat – crispy potato and yellow lentil patties, topped with mint chutney, Achari Macchi Kebab, tandoor grilled grouper, and Balti Gosht, a lamb curry. Leave room for dessert of Malpua with Rabri, a pancake topped with condensed milk and nuts as well as Kulfi Falooda (homemade Indian ice cream with vermicelli noodles, rose syrup and mixed nuts).

Tiffin Room, Raffles Hotel Singapore, Grand Lobby, 1 Beach Road, Singapore 189673, Tel: (+65) 6412 1816, www.tiffinroom.com.sg
---
Kwee Zeen: Royal Maharaja Feast
Kwee Zeen offers an extensive selection of Pan-Asian cuisine and every Sunday to Thursday from 6pm onwards, it's the North Indian food's time to shine with the Royal Maharaja Feast! Chef Prem is at the helm – a quiet and unassuming pillar of Kwee Zeen Restaurant's team for over a decade. This is one Indian feast to remember – a decadent culinary journey filled with rich textures and flavours of Indian food served on a gigantic banana leaf. From salmon tikka, to perfectly spiced tandoori chicken basted in garam masala butter, tender tandoori lamb chops served on a bed of aromatic briyani and fluffy garlic naan. Cleanse your palette with piquant and refreshing kachumbar salad and pomegranate and potato chat. End with their rendition of gulab jamun and gajar halwa in coconut crumble – painstakingly handmade by Chef Prem. This Indian feast comes with free-flowing house-made mango lassi and masala chai tea. $48 per person; $88 for 2 pax, $168 for 4 pax; 24 hour reservation required.

Kwee Zeen Restaurant, Sofitel Singapore Sentosa Resort & Spa. 2 Bukit Manis Road, Singapore 099891, Tel: (+65) 6708 8366, www.sofitel-singapore-sentosa.com/gastronomy/kwee-zeen
---
Shikar: Indian cuisine inspired by regal feasts
Shikar is a new elegant restaurant located at Maxwell Reserve Singapore offering Indian cuisine inspired by the grand old feasts of Indian Royals. "Shikar" meaning to hunt in Hindi, speaks to a time in India when huntsmen would ride out and return to the royal kitchens with fresh game that was cooked into decadent dishes for royal feasts. Today, Shikar offers a peek into the varied culinary legacies of regal India, inviting diners to feast on fire-roasted dishes and other traditional Indian cuisine reinterpreted to reflect global techniques and influences. On the menu: Tandoor Roasted Chicken with smoked tomato-saffron-cream sauce ($49), Australian Lamb Biryani ($57), Josper Grilled Wild Caught Tiger Prawns (market price), Naan with goats cheese and pickled chillies ($11) and gourmet desserts like Pistachio Rose Kulfi ($19).

Shikar, Maxwell Reserve Singapore, Autograph Collection, 2 Cook Street, Singapore 078857  www.shikar.sg
---
GupShup: Gourmet Indian tapas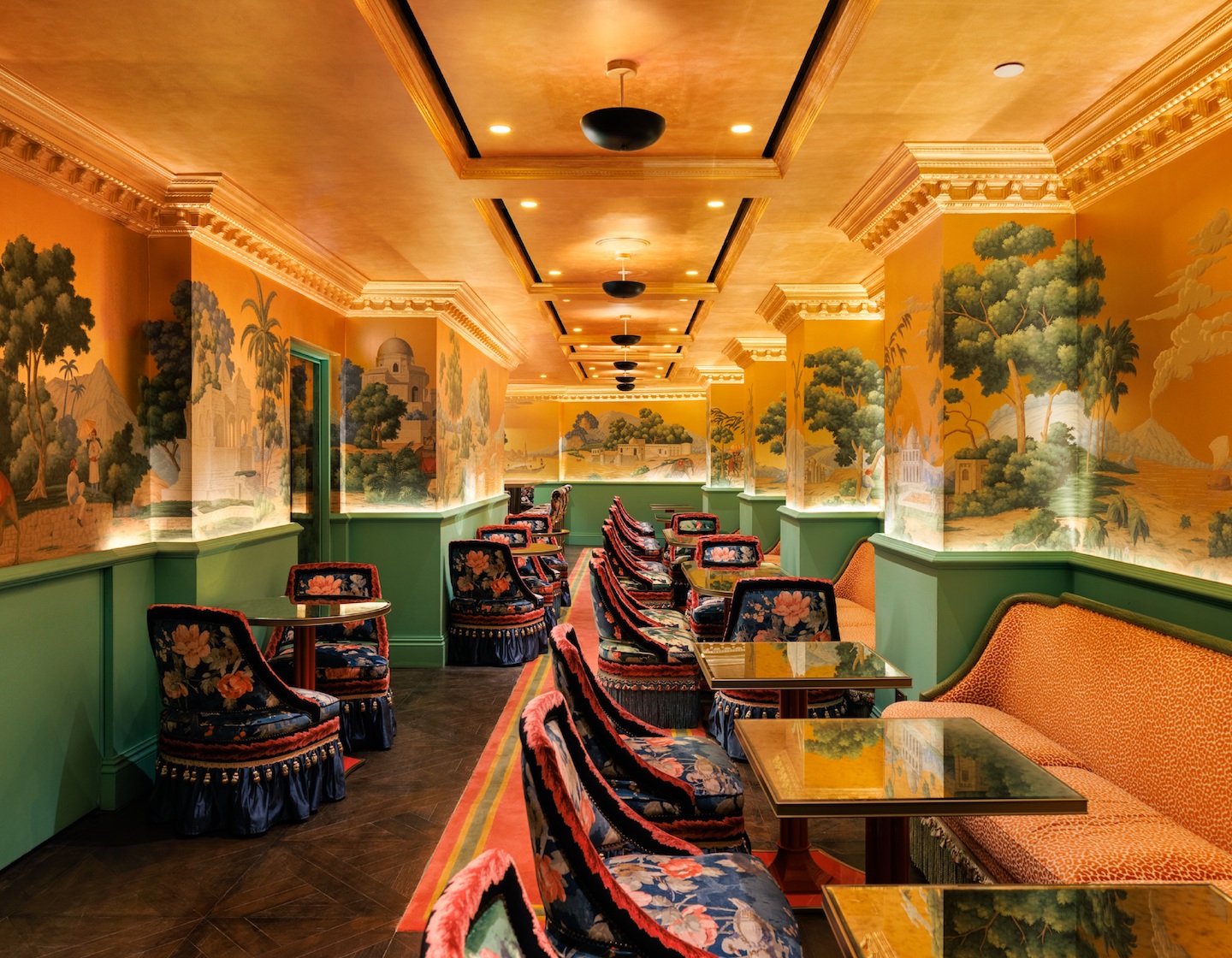 New Indian restaurant GupShup, helmed by Chef Judge of Master Chef India, Chef Surjan Singh, brings an exciting offering to the Indian dining scene with a focus on gourmet Indian tapas. Indian dishes here draw from the most popular regional Indian dining including chaat and Indin street food. Interiors are gorgeously designed with plush seating and colourful wallpaper. Order up sharing portions of Green Apple Bhel Chaat ($21) with tossed puffed rice, roasted lentils, crunchy gram-flour hay, and tangy chutney, tuck into Samosa Chaats ($23) or try the Top of the Chaats Sampler ($67) for a taste of three chaats. There's a selection of Tandoor & Grilled items from Banana Leaf Grilled Seabass to the Chargrilled Chicken spiced with cumin, garlic, and cardamom or try the meaty Lamb Kebabs. For a taste of everything plump for the Signature Board ($115) for a selection of Tandoor meats and don't miss the mouthwatering curries spanning Goat Curry, Prawn curry as well as vegan curries. End your Indian feast with the refreshing Kulfi – a dessert of frozen, pistachio cardamom-rose reduced milk.

GupShup, The Serangoon House, 301 Serangoon Road, Singapore, 218224, Tel: (+65) 6797 2850, www.gupshup.sg
---
Shahi Maharani Restaurant: North Indian restaurant
Savour the exquisite flavours of authentic North Indian food at Shahi Maharani. This fine dining Indianrestaurant serves authentic traditional Indian food passed down from the time of the Maharajas, in a welcoming ambience that showcases the rich culinary heritage of India. The elegant décor and lush interiors – think ornate doors, wooden carved furniture, and artefacts from Rajasthan, are reminiscent of the royal palaces of India. Shahi Maharani has been recognized over the years for the fine quality of its Indian food as well as its service and has won several distinguished awards. Indian food specialities include Tandoori Lamb Chops, Shahi's ever popular Chicken Makhanwala (Butter Chicken), Palak Paneer, street food items like Paani Puri & Papdi Chaat Galouti Kebab (melt-in-your-mouth lamb kebabs), and Kulfi (Indian ice cream). Don't miss the popular 1-for-1 weekday Indian buffet lunch ($68++ for two) and Sunday brunch ($48++ per person). Looking to host an Indian feast at home? Vegetarian and non-vegetarian Indian catering services (including mobile tandoors and live stations) are also available.

Shahi Maharani Restaurant, 252 North Bridge Road, Raffles City Shopping Centre, #03-21B, Singapore 179103, www.shahimaharani.com
---
ADDA: Fun modern Indian restaurant
Modern Indian restaurant ADDA has a trendy hipster feel to it as you walk past the cocktail bar into the main dining room. ADDA was a finalist of the World Gourmet Awards Best Design Award 2021 and has also been awarded a Michelin Plate 2021. This Indian restaurant is all about fun dining – that means elevated street food presented in interesting and interactive ways. The contemporary menu has been curated by Michelin Starred Chef, Manjunath Mural, and sees fun dishes like Pani Puri served on a miniature version of Indian street carts, Lamb Seekh Kebabs dangling from skewers, artful Chaat Platters plus mains like Butter Chicken Pot Pie sealed with flaky pastry and sliced open on serving for full dramatic effect. Definitely, a fun Indian restaurant to add to your list!

ADDA, 7500E Beach Road, #01-201 Diners Building, Singapore, www.thespiceadda.com
---
Anjappar Indian Restaurant: South Indian food

Anjappar is known for its Chettinad cuisine offerings. This type of South Indian food is known for its use of sun-dried meats and salted vegetables. The Indian dishes on the menu here are made using a variety of spices and freshly ground masala powders. Must-tries here include the Chettinad Chicken Masala and the Chettinad Platter.

Anjappar Indian Restaurant, multiple locations, www.anjappar.com.sg
---
Arunachala Bhavan: North & South Indian food
This Indian restaurant in Singapore is simple, but the service is friendly. Choose from the large, made-to-order menu or pick your dishes from the display showcase, and the waiters will bring them to your table. While it primarily serves South Indian food specialities, you can also opt for tandoori dishes, North Indian food must-haves and Schezwan cuisine (if you're keen on Indian-Chinese restaurants, check out other Schezwan dining options below).

Arunachala Bhavan, 40 Race Course Road, Singapore 218556, Tel: (+65) 6291 6544, www.arunachalabhavan.com
---
Copper Chimney: Halal North Indian food

For Halal North Indian food there's tandoori kebabs and tikkas to Butter Chicken. However Schezwan cuisine (yes, that is the correct spelling!) is the highlight here! It's also known as Chindian or Indian-Chinese cuisine and is a uniquely Indian approach to Sichuan cuisine. However, the flavours do not resemble traditional Sichuan food. By default, most Indian food here is served with generous amounts of gravy, although you can order them "dry" (without gravy). This Indian restaurant in Singapore offers delivery, dine-in, takeaways and catering options. Wondering what to order at Copper Chimney? Read our full review here!

Copper Chimney, multiple locations, www.copperchimney.com.sg
---
Firangi Superstar: Modern Indian restaurant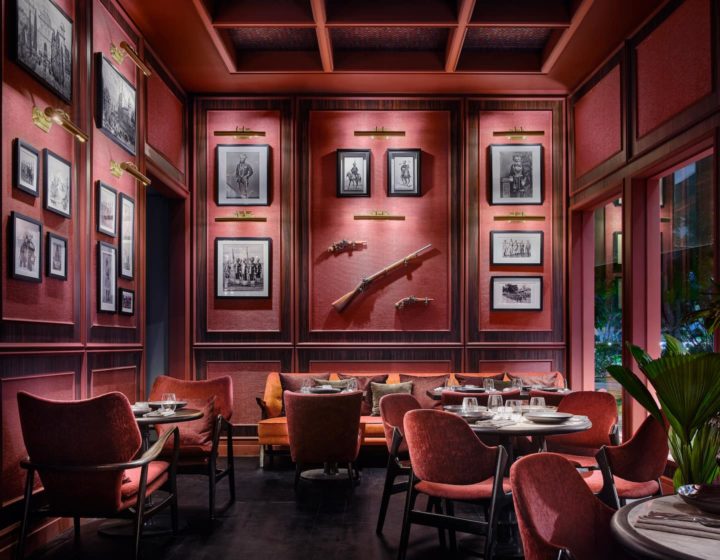 Firangi Superstar is a stunning modern Indian restaurant by The Dandy Collection. There are four rooms within Firangi Superstar: the Officer's Club, Old Railway Room, Elephant Palace and Jungle Lodge taking inspiration from Indian cities like Kashmir and Chennai with fittings and furnishings that exude a vintage film set. The Indian food here is not Indian as you know it, but Indian through another lens – and is designed to be 'A Foreigner's Love Letter To India'.  Menu sections consist of chutneys and raitas, small and large plates, rice and bread, and desserts. Just over half the menu is vegetarian. Highlights at Firangi Superstar include the intriguing 'This Is Not Aloo Gobi' featuring cauliflower served three ways, and 'Prata Waffle ???' which is a fun take on the American favourite, Chicken & Waffles. Chef Raj Kumar reinterprets this dish as Madras-style fried chicken with curry leaves and garlic, on a waffle-pressed prata served with butter chicken gravy. Don't miss the Indian-inspired cocktails – the Indian Margarita is to die for (even if it is a lot of ice cube!).


Firangi Superstar, #01-03, 20 Craig Road, Singapore 089692, www.firangisuperstar.com
---
Flying Monkey: Hip bar with Indian food
Flying Monkey sets itself apart by its hip location on Bussorah Street. On weekends, the atmosphere is lively and fun, and the Indian food is super interesting (think modern fusion flavours like Truffle Naan) – and when combined with its super interesting cocktail menu, this restaurant truly sets itself apart from the usual players. We can't get enough of the Galouti Kebabs here but also try the Kurkuri Bhindi (okra), the Mustard Ghobi (cauliflower) and the Jalebi for dessert!

Flying Monkey, 67 Bussorah Street, Singapore 199480, Tel: (+65) 8741 6158, www.flyingmonkey.sg
---
Indian Wok: I
ndian Chinese restaurant in Singapore
Chindian food dominates the menu at this unique Indian Chinese restaurant along East Coast Road. The Indian foods on the Schezwan menu include Chilli (batter-fried foods cooked with chilli peppers), Manchurian, which comes with a sweet, salty brown sauce; and Schezwan, a spicy, red sauce that is made from Indian red chillies and garlic. Some of the names of the Indian food on the menu items might make you laugh, but favourites include Sweet Corn Chicken soup, Chilli Chicken (or chilli paneer!), Vegetable Manchurian and American Chop Suey noodles.

Indian Wok, 695B East Coast Road, Singapore 459059, Tel: (+65) 6448 2003, www.indianwok.com.sg
---
Jaggi's Northern Indian Cuisine: Casual Indian food
Come for the grilled chicken and naans, stay for everything else at this affordable, casual North Indian restaurant in Singapore. All the Indian food is premade on display on the counter – just choose what you want and pay. Pair your naans and rotis with an array of North Indian vegetarian and non-vegetarian Indian food (think Khadai Paneer, Baingan Masala, Butter Chicken and Chicken Tikka Masala), before washing it all down with a cold glass of sweet or salted Lassi (yoghurt) or opt for a steaming cup of milk tea or chai.

Jaggi's Northern Indian Cuisine, 36 Race Course Rd, Singapore 218554, www.facebook.com/jaggis/
---
Kailash Parbat: North Indian restaurant specialising in chaat

There's plenty of Indian food to tuck into at this casual North Indian restaurant, but the show-stealer is Kailash Parbat's variety of chaats – one of India's most popular street foods – a type of fried, puffed dough or crispy shells stuffed with assorted ingredients. There are at least 17 types of chaats on the menu and each serving is meant to be shared. If you can't decide which ones to try, go for the Chaat Platter and pair that with an excellent cup of Bombay Cutting Chai.

Kailash Parbat, multiple locations, www.kailashparbat.com.sg
---
Komala Vilas: Vegetarian South Indian food
Vegetarian cuisine is a major aspect of South Indian food, which is generally based around rice, lentils and various stews. One of the oldest vegetarian Indian restaurants in Singapore, Komala Vilas is one of Little India's top spots for cheap and scrumptious classics. The menu is filled with dosai varieties, idli (fluffy rice cakes) and idiyappam (string hoppers) sets, vegetable briyani, as well as starters like vadai. There's also a selection of Andhra meals (another variation of South Indian food) and chappati.

Komala Vilas, 76-78 Serangoon Road, Singapore 217981, www.komalavilas.com.sg
---
Lagnaa Barefoot Dining: Enjoy Indian food sitting on the floor

There are two ways to eat at this 2019 Michelin Bib Gourmand winner: Sit (with your shoes on) at the wooden dining tables downstairs or take off your shoes and head upstairs, where you'll dine cross-legged on the floor. What makes dining here unique is that you control just how spicy you want your Indian food to be. There are several heat levels to choose from; ask your waiter for recommendations if your spice threshold isn't too high. Brave spice lovers can try the Chilli Challenge: Finish the Level 6 curry to garner an invite to Lagnaa's monthly Full Moon Party Chilli Challenge. Alternatively, go all out and finish a full portion of Level 10 curry. We've tried it and we warn you, no amount of milk will help ease the pain, but if you finish it, you'll walk away with $10,000.

Lagnaa Barefoot Dining, 6 Upper Dickson Road, Singapore 207466, Tel: (+65) 6296 1215, www.lagnaa.com
---
The Mango Tree: South Indian food

Indian coastal cuisine is one delicious South Indian food highlight to explore. It is typically made with lots of coconut and coconut oil. And while you might think it's a showcase of seafood, Indian coastal cuisine includes plenty in terms of vegetarian and meat options, too. The Mango Tree is an Indian restaurant in Singapore that excels at appams (similar to Sri Lankan hoppers), along with the Tandoori Chili Prawns, Allepey Fish Curry and Kerala Mutton. The Mango Tree also provides catering services, self pick up and home delivery islandwide.

The Mango Tree, 91 East Coast Road, Singapore 428791, Tel: (+65) 6440 1285 or (+65) 64401286, www.themangotree.com.sg
---
Mr Biryani: South Indian restaurant

Reservations are compulsory because the lines at this South Indian restaurant in Singapore often snake out beyond the block. There's a limited menu and the Indian dishes come in standard sharing sizes. You cannot customise your portion sizes, so bring a squad that has an appetite. Almost everything we've tried on the menu is delicious; our favourite is the Hyderabad Chicken Dum Briyani, served with spicy peanut curry and raita. Each dish brings the heat – everything is cooked with spices and masala powders that are directly imported from the Indian state of Andhra – so if your spice tolerance is on the low side, ask the waiter for recommendations before you place an order.

Mr Biryani, multiple locations, www.mrbiryanisg.com
---
MTR 1924: Affordable South Indian restaurant

MTR is a famous Bangalore-based South Indian restaurant chain offering a scrumptious variety of South Indian dishes such as idli (your kids can try the mini ones!) and dosas. You can also find a number of unique specialities here such as Khara Bhath, Bisibele Bhath, and the famous Filter Coffee. This super-casual eatery does not take reservations and gets very busy on weekends; waiting times can be long and the queuing system is haphazard to say the least, but know that your patience will be well rewarded.

MTR, 440 Serangoon Road, Singapore 218133, Tel: (+65) 6296 5800, www.mtrsingapore.com
---
Murugan Idli Shop: Budget South Indian restaurant
This budget South Indian restaurant in Singapore is an old-timer on Little India's dining scene and offers some of the yummiest ghee dosa, idli, uttapam and vadais in town. The coconut chutney, groundnut and tomato chutneys that accompany these dishes are finger-licking good. They don't take reservations and can have long wait times on the weekend.

Murugan Idli Shop, 76 Syed Alwi Road, Singapore 207655. Tel: (+65) 6298 0858, www.muruganidlishop.com
---
Mustard: North Indian cuisine
North Indian food reigns supreme at this cosy Indian restaurant in Singapore. Wallet-friendly Mustard offers Bengali and Punjabi food with unique dishes such as Luchi (a delicious fried bread the kids will love!), wow-factor prawn curry served in a coconut, and a number of delicious Bengali mutton and fish dishes you won't find anywhere else in Singapore. The restaurant is small and slightly cramped, but they take reservations. Islandwide delivery is also an option if you're looking to enjoy their Indian dishes at home.

Mustard, 32 Race Course Road, Singapore 218552, Tel: (+65)  6297 8422, www.mustardsingapore.com
---
Muthu's Curry: Indian food specialising in signature fish curry
A longstanding favourite in Singapore's Indian restaurant scene – and a 2019 Michelin Bib Gourmand award-winner – Muthu's Curry is known and loved for its signature fish curry. The recipe is one that has been passed down through the generations of the owners' family, and the chefs here use a secret spice mix that gives the dish its unique flavour and a fiery kick.

Muthu's Curry, Multiple locations, www.muthuscurry.com
---
Punjab Grill: Fine-dining North Indian food

Punjab Grill relives the splendour of India's Maharajas of old with its stunning modern design and appetising North Indian food. Take your tastebuds on a trip through the Punjab region with dishes from popular gourmet cities such as Rawalpindi, Amritsar, Patiala and Lahore. There are several menus to choose from, each filled with dishes like Tandoori Prawns, Palak Paneer, Butter Chicken and desserts like Kulfi and Gulab Jamun. There's a private dining area in this fine-dining Indian restaurant in Singapore, too, if you're looking to throw an intimate dinner party.

Punjab Grill, The Shoppes at Marina Bay Sands, 2 Bayfront Avenue, B1-01A, Singapore 018972, Tel: (+65) 6688 7395, www.punjabgrill.com.sg
---
Rang Mahal: fine-dining Indian restaurant
This fine-dining elegant Indian restaurant in Singapore serves up the best of North Indian food. Rang Mahal has won plenty of awards over the years and offers both vegetarian and non-vegetarian picks. Sink your teeth into meaty creations like the Dhuwandaar Lamb Chops or Nawabi Chicken or opt for lighter bites like the Chowpatty Sliders, Maharashtrian Thecha Bhindi and Rang Mahal's Signature Dhal Makni.

Rang Mahal, Pan Pacific Singapore, 7 Raffles Boulevard, Level 3, Singapore 039595, Tel: (+65) 6333 1788, www.rangmahal.com.sg
---
Revolver: Grill House with Indian Food
Moodily lit Revolver on Tras St this is considered by many one of the best Indian restaurants in Singapore. The focus is on grilling with its hand-built Tandoor, custom-built wood fired grill, and the bincho making up the heart of the restaurant. Flavour-wise you can expect modern Indian spices and flavours using international ingredients in three set menus – the 8-course Discovery menu at $149, the 9-course Experience menu ($199) and Vegetarian menus ($149++). Grab an intimate leather booth spot or sit at the counter where you can eyeball the action at the bincho grills. Highlights include Stuffed Courgette Flowers, charred, juicy Lobster with Pepper Garlic Butter, the three-day marinated charred Magra Lamb Chops, and the Smoked Aubergine atop a crusty Gruyère Kulchette (like a stuffed naan oozing morish umami gooey smokey deliciousness).

Revolver, 56 Tras St, www.revolver.com.sg
---
Sri Kumbhakarna: South Indian food / Vegetarian Thali

Andhra cuisine – native to the Indian states of Andhra Pradesh and Telangana – is one of the spiciest types of South Indian food, and the dishes at Sri Kumbhakarna do not disappoint. Tuck into Andhra flavours such as the Nattu Kodi Pulusu (country chicken curry). Vegetarians will find plenty to satisfy here, too, with popular options like the Vegetarian Thali meal set and the Gutthi Vankaya Masala (brinjal curry).

Sri Kumbhakarna, multiple locations, www.srikumbhakarna.com
---
Thevar: Modern Indian cuisine

Another Indian restaurant in Singapore that is considered by many as one of the best! Progressive cooking techniques and whimsical revamps are what define Modern Indian cuisine here. Thevar is one such on-trend restaurant serving up modern Indian flavours "by way of the Malay Peninsula," according to Penang-born chef Manogren Thevar. What that means, in essence, is that the Indian dishes on offer also include plenty of Malaysian flavours. The small plates change often, with creative concoctions such as the Irish Oyster Rassam Granita, Chettinad Duck Roti and Hibiscus Spiced Gujiya. There are plenty of Indian-inspired cocktails, too!

Thevar, 9 Keong Saik Road, Singapore 089117, Tel: (+65) 9750 8275, www.thevar.sg
---
Yantra
Yantra is a very popular pan-Indian restaurant in Singapore and they have just reopened after completing their renovations! With a brand new menu, this Indian restaurant has some really interesting dishes to try here such as Murg ka Sula , Hyderabadi Patthar Gosht, Tandoori Paneer Tikka and some delicious biryanis, but be prepared for a food coma afterwards!

Yantra, 163 Tanglin Road, #01-129/130/131, Tanglin Mall, Singapore 247933, Tel: (+65) 6836 3088, www.yantra.com.sg
---
If you're still on the hunt for more Indian food? Try these Indian restaurants in Singapore:
Anandha Bhavan Vegetarian Restaurant
Anglo Indian Cafe & Bar
Annalakshmi
The Banana Leaf Apolo
Bismillah Biryani
Chat Masala
The Curry Culture
Dabbawalla
Gayathri Restaurant
Haldhi Restaurant & Bar
Indian Express
Karu's Banana Leaf Restaurant
Khansama Tandoori Restaurant
Madras New Woodlands Restaurant
Ras The Essence of India
Riverwalk Tandoor
Sakunthala's
Samy's Curry
Tandoor
Tandoori Corner
Urban Roti
Vanabhojanam
Vatan Se
Zaffron Kitchen
Read More:
Lead image from Tiffin Room. This post contains some paid partnership content.
Other images (in order) courtesy of Kailash Parbat, Punjab Grill, Tiffin Room, Anjappar Indian Restaurant, The Mango Tree, Mr Biryani, MTR 1924, Sri Kumbhakarna, Copper Chimney, Thevar, Lagnaa Barefoot Dining