One of Singapore's most colourful neighbourhoods, Little India is the place to go for the best Indian food, street art, temples, shopping at Tekka market and Mustafa plus some of the island's best architecture
The first thing that strikes you about Little India is the palpable buzz in the air, be it day or night. It's as if the minute you enter Serangoon Road, you are transported to a different land, a uniquely vibrant and colourful neighbourhood – a definitive piece of multicultural Singapore. Little India is always great to visit during festivals such as Deepavali and Pongal (a South Indian harvest festival celebrated in mid-January). A visit in the weeks leading up to Deepavali will have you squeezing through crowds rushing to finish their festival shopping. A word of caution: Little India gets very crowded on Sundays and during the festive period, to the point where it can be overwhelming even to habitual visitors. You may need more than one visit to experience the entire neighbourhood, and luckily, there's plenty to do here all year round.
Read more: Kid-friendly Deepavali Events

Jump to:
Things to Do in Little India
Where to Shop in Little India
Where to Eat in Little India
Getting to Little India
Things to Do in Little India
Visit a temple on Serangoon Road
Little India is full of beautifully decorated Hindu temples. Make a stop at the Srinivasa Perumal Temple on Serangoon Road and the Sri Veeramakaliamman Temple, both on Serangoon Road. Visitors are welcome to enter the temples, but note that both have a prescribed conservative dressing etiquette to enter and footwear must be left outside the temples. The entire district is also home to various religious institutions with beautiful architecture, and Roots.sg has a fab walking trail you can do on your own time.

Srinivasa Perumal Temple, Serangoon Road & Sri Veeramakaliamman Temple, Serangoon Road
---
Check out exhibitions at the Indian Heritage Centre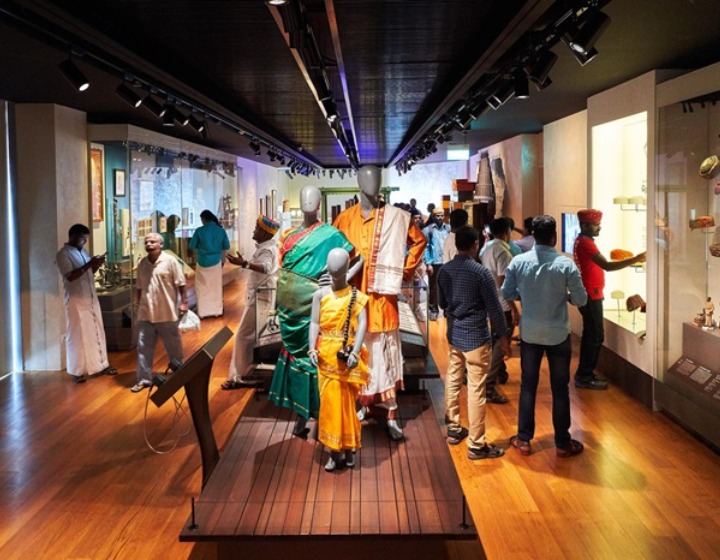 Adjacent to the Little India Arcade on Campbell Lane, amidst the colourful shop houses with tiled roofs (read: photo opportunities), stands the unexpectedly contemporary Indian Heritage Centre (IHC). Paying homage to the multifaceted history of the Indian community in Singapore, IHC is a treasure trove of artefacts, interactive exhibits and memorabilia. It is a relatively small collection, easily explored in an hour or two, but there are often kid-friendly activities, especially during Deepavali.

India Heritage Centre, 5 Campbell Lane, Singapore 209924
---
Go on a Little India street art trail
Little India's back alleys and streets are covered in striking murals, and it's best explored on a walking trail. Pack a bottle of water and walk slowly through the district to spot vibrant artwork on building walls. Street art highlights include Traditional Trades of Little India by Psyfool along Belilios Road, Didier Mathieu's Kathaka at the junction of Serangoon Road and Upper Dickson Street, Alive @ Clive by TraseOne, and – our personal favourite – Working Class Hero by Zero near the car park at Hindoo Road, which depicts Rajinikanth, a South Indian actor who's known for films that depict the power of the working class.
Read more: Kid-Friendly Walking Tour of SG's Street Art Murals
---
Snap a pic at the Former House of Tan Teng Niah
A conserved two-storey bungalow that's known for its psychedelic exteriors, the Former House of Tan Teng Niah is said to be Little India's last remaining Chinese villa. Featuring Southern Chinese and European architectural inspiration, it was constructed in the 1900s by a local businessman Mr Tan Teng Niah who owned several factories nearby. These days, it's a commercial space that's been occupied by a variety of businesses, but you can't really say you've visited Little India without picture proof of the villa.

Former House of Tan Teng Niah, 37 Kerbau Road, Singapore 219168
---
Visit Masjid Abdul Gaffoor (Abdul Gaffoor Mosque)
Another must-visit for architecture buffs, Masjid Abdul Gaffoor was originally built in 1859 for the South Indian Muslim merchants and Baweanese pioneers who resided in the Kampong Kapor area. It currently faces a row of shophouses in Little India and is regarded as one of the country's national monuments. Said to feature a mix of Southern Indian, Moghul and European architectural styles, the mosque now offers religious classes and activities for the local community.

Masjid Abdul Gaffoor, 41 Dunlop Street, Singapore 209369
---
Where to Shop in Little India
Little India's streets are lined with shops selling everything from shiny gold jewellery and glitzy Indian outfits to steel kitchenware and an awe-inspiring variety of Indian spices and groceries. Check out these easy pitstops to get your fill of, well, everything!
Mustafa Centre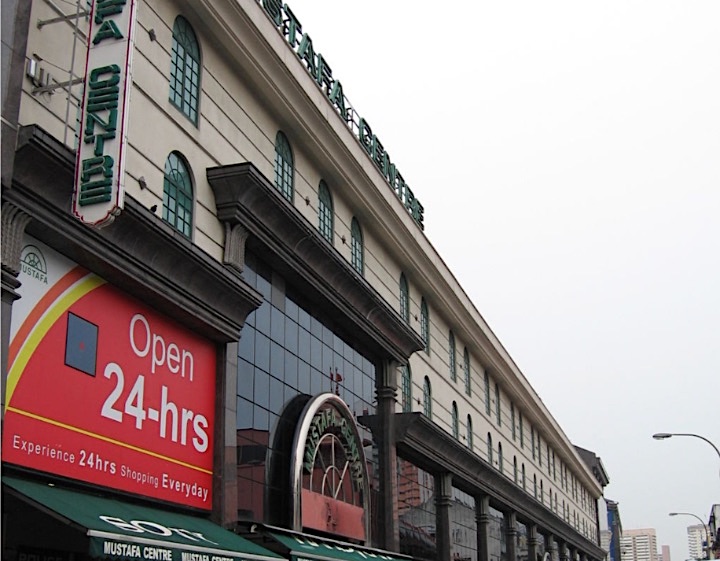 No visit to Little India in Singapore is complete without a visit to Mustafa, a department store that stocks anything and everything you could possibly need (or not need!). From what to buy, to what to eat in Little India, Mustafa is a must-visit, day or night! While it's home to well-priced electronics, a plethora of health supplements, a money changer outside the store and beauty products amongst others, the single most compelling reason to visit Mustafa is its grocery store. Here you will find everything from dates and dried fruit, to the largest variety of Bob's Red Mill organic products, the widest variety of spices, aisles of dried lentils, baking goods, dairy products, frozen food, fresh fruits and vegetables. Some of Little India's gold shops are also located in Mustafa Centre itself!
The best time to visit Mustafa is on a weekday morning or afternoon – be prepared to need a few visits before you fully comprehend the layout of this mammoth store. Evenings and weekends can get very crowded at Mustafa, making navigating the aisles a real challenge. The best part about Mustafa? It's open till 2am! While the main outlet sits along Syed Alwi Road, there's also a smaller outlet along Serangoon Road that stocks clothes, beauty and skincare products, footwear and more.

Mustafa Centre, 145 Syed Alwi Rd, Mustafa Centre, Singapore 207704
---
Jothi Store and Flower Shop
This longstanding business in Little India started off as a flower shop but now also houses prayer items – brass and silver trays, vast collections of incense, and little bronze statues along with packets of sandalwood and camphor. It is also home to practically every brand of Indian cosmetics, a wide array of natural remedies including medicinal oils such as neem, castor and eucalyptus, capsules of turmeric, amla, triphala and other ayurvedic herbs and spices. This is also a great place to buy Indian kadhais (woks) and the signature item in almost every self-respecting Indian household – a pressure cooker!

Jothi Store and Flower Shop, 1 Campbell Lane, Singapore  209882, 
---

Tekka Centre (Tekka Market)
Tekka Centre houses the largest wet market in Singapore. Head upstairs first for a vast array of Indian clothes, the perfect place for mamas to source that outfit for Racial Harmony Day or the yearly Deepavali fashion assembly at school. If you need an alteration or an additional garment, tailoring shops are conveniently interspersed throughout. Downstairs, a huge variety of the freshest fruit and vegetables, freshly grated coconut, bean curd and bean sprouts awaits you. The many fishmongers at Tekka will cater to your filetting needs, and Osman's Meat Shop is amongst the most popular stops on the island for mutton and lamb. Tekka Market is also home to a very popular hawker centre. So if you're wondering about where to eat in Little India, Tekka Market is where you can savour all sorts of fried noodles, South Indian dishes like idli, dosa/thosai and even chicken or mutton Dum Biryani. Read all about Tekka Centre here.

Tekka Centre, Bukit Timah Road, Buffalo Road & Serangoon Road (right at the entrance to Little India)
---
Little India Arcade
Across the road from Tekka Centre is the Little India Arcade, a maze of storefronts set in a 1920s shophouse building. Serving as a mini shopping mall in Little India,  you'll find shops selling Indian souvenirs and imitation jewellery, bangle stalls, henna artists and traditional Indian sweets. Little India Arcade is especially abuzz before Pongal and Deepavali; it transforms into a kaleidoscopic bazaar, music blaring and shops overflowing with all kinds of knick-knacks and delicacies. We always stop by Moghul Sweet Shop, a little stall at the Arcade entrance that's renowned for its mithai (Indian desserts) – our personal favourites include the boondhi laddoo, palgova and coconut candy.

Little India Arcade, 48 Serangoon Road, Singapore 217959
---
Serangoon Road, Little India
If you're looking for gold jewellery shops in Little India, then this street is the place to be. Serangoon Road is lined with a number of jewellery stores, which stock a spectacular variety of 18k and 22k gold earrings, necklaces, bracelets and rings. You'll find plenty of traditional Indian designs, but many of the stores also carry modern Indian jewellery. One must-visit, top-dollar jewellery store in Little India is Joyalukkas Jewellery. A very well-reputed jewellery store chain from Kerala, it specialises in all things trendy and gold, modelled by some of Bollywood's leading female celebs.

Joyalukkas Jewellery, 134 Serangoon Rd, Singapore 218038
---
Buffalo Road, Little India
This bustling street in Little India lies opposite Tekka Centre, and is lined with stores selling Indian vegetables such as bhindi (okra), methi (fenugreek leaves), yams, green beans, and gourds of every ilk, many of which wouldn't be found in your regular supermarkets. You can also expect a wide range of beans, lentils, rice, spices, pickles and pretty much any ingredient that would feature in an Indian recipe.
---
Tekka Place
In addition to fashion stores, dining spots and even an Indian massage place, you'll find plenty of everything at Tekka Place. The crowd-favourite Don Don Donki supermarket is also open here, perfect for getting your Japanese snack craving fulfilled. This shopping mall in Little India also occasionally holds indoor events that are not only a must-go, but serve as the perfect way to escape the tropical heat!

Tekka Place, 2 Serangoon Road, Little India, Singapore 218227
---
City Square Mall
This eco-friendly shopping mall in Little India has all the stores you'd expect to see in an SG mall – think brands like Decathlon, Starbucks, Challenger, McDonald's and more. And if mall playgrounds are your thing, City Square Mall has three FREE playgrounds to choose from. There's a cool inclusive playground with a climbing net, swinging bridge, inclusive swings and a wheelchair-accessible merry-go-round. Alternatively, head to the indoor playground on Level B1 or the eco-playground on Level 1.

City Square Mall, 180 Kitchener Road, #03-18, Singapore 208539
---
Where to Eat in Little India
Little India has an abundance of North and South Indian food with vegetarian, non-vegetarian and even Jain food. There's a restaurant tucked away on almost every street corner, but the ones below are, once again, our personal favourites; most are kid-friendly too! Want more Indian food options? We've shortlisted plenty of Indian restaurants here.

Azmi Restaurant
Think Chapatis and Azmi Restaurant comes to mind. Serving up their crowd-favourite Chapati daily, Azmi Restaurant, or known more affectionately by the locals as "Norris Road Chapati", sells its top selling flatbread at just $1! Best paired with its delicious beef keema, ordering just one or two pieces of Chapati here is never enough!

Azmi Restaurant, 168 Serangoon Road, Singapore 218051
---
Mr Biryani

Reservations are compulsory because the lines at this Little India Restaurant often snake out beyond the block. The dishes come in standard sharing sizes and popular highlights include the Hyderabad Chicken Dum Briyani, Bhindi Palli Fry and a range of naans. Is your spice tolerance on the low side? Ask the waiter for recommendations before ordering.

Mr Biryani, 32 Norris Road, Little India, Singapore 208274
---
Khansama Tandoori Restaurant
Well known for its delicious North Indian food, Khansama is a favourite amongst the expat Indian crowd and is easily one of the best restaurants in Little India, which can make this restaurant quite busy, especially in the evenings. But fret not, they have a second outlet in Science Park, and they do home delivery, so you can taste their succulent kebabs in the comfort of your home.

Khansama Tandoori Restaurant, 166 Serangoon Road, Singapore 218050
---
Kailash Parbat
This Little India restaurant chain is best known for its chaat (Indian street snacks). There are at least 17 types of chaats on the menu and each serving is meant to be shared. If you can't decide which ones to try, go for the Chaat Platter and pair that with an excellent cup of Bombay Cutting Chai.

Kailash Parbat, 93 Syed Alwi Road, Singapore 207669
---
Jaggi's
This Indian food institution in Little India, Singapore has its draw of regulars who swear by the home-style Punjabi food on offer here. Go for the chicken tikkas, mutton curry, Punjabi kadhi (yoghurt curry with lentil dumplings ) dhal and kulchas (stuffed bread).

Jaggi's Northern Indian Cuisine, 36 Race Course Road, Singapore 218554

---
Banana Leaf Apolo
This Little India restaurant is a great place for Singapore's famous fish head curry (pictured above). Served on a banana leaf, it's accompanied by rice and a wide array of curries and condiments. Also popular are Chicken Dum Biryani, Masala Chicken and Mutton Mysore. With two locations in Little India,  it's a good spot to sample some authentic Indian fare.

Banana Leaf Apolo, 48 Serangoon Road, Little India Arcade #01-32, Singapore 217959
---
Getting to Little India
A good place to start your visit to Little India is the beginning of Serangoon Road, and you can get here by:
MRT: Get off at Little India MRT station and walk towards Serangoon Road. Alternatively, start at the other end by alighting at Farrer Park MRT station.
Car: There are parking lots available right below Tekka Market and inside Mustafa Centre and Tekka Place. Alternatively, try your luck with street parking near Hindoo Road or along Norris Road, Race Course Road, Chander Road and Syed Alwi Road. There is street parking along most of the smaller lanes within Little India too.
Taxi/Ride-sharing: There's a taxi stand along Race Course Road and another along Hastings Road. You can alight there and walk towards Serangoon Road.
---
Planning a visit to Little India? Download Roots.sg's informative Little India trail booklet and then check out all our favourite Little India places listed!
Explore Singapore with our other kid-friendly guides!