Let's go on an art treasure hunt! Here's our most comprehensive list of recommended street art murals by neighbourhood!
Singapore is a unique blend of different cultures and ethnicities, from its early beginnings to where it is today. They say art imitates life, so what better place to witness a reflection of Singapore's melting pot than on its streets and little lanes? Yup, we're talking about the street art and murals that paint nostalgic images of yesteryear, pay homage to working class heroes, and bring to life a quiet corner with bright, colourful artwork. Singapore's street art scene has exploded in recent times and there is so much to explore!
But where do you find these murals? How do you begin? Don't worry! Whether you're a tourist in Singapore looking for a dose of street culture, a local looking for a fun family-friendly activity, or a selfie fiend looking for cool Instagrammable locations, we've got you covered, mama.
Kampong Glam (approx. 1 km walk)
Kampong Glam  (also known as the Arab Quarter) is teeming with funky artwork at every corner. Start your walk at the famous Haji Lane, a local shopping haven. Lined with boutiques selling trendy clothes, specialty items, and souvenirs, Haji Lane also boasts eye-popping street art. Stroll along the entire length of this short lane and be sure to click a few pictures of the street art found near restaurants such as The Singapura Club and Juice Clinic.
At the junction of Haji Lane and Beach Road is a restaurant called Piedra Negra, which is a veritable burst of colors. Do check out the interesting art along the exterior of this restaurant, too.
Read more: Cool Dad Hangouts (and lots of street art) in Kampong Glam
Next, make your way three streets down to Sultan Gate. At 29 Sultan Gate is a mural titled "Coffee Story" by artist Yip Yew Chong. The mural was commissioned by A.R.C., a coffeeshop which no longer exists there. However, the mural itself is a timeless depiction of the old-school ways by which kopi used to be (and still is) made and enjoyed with the local breakfast of kaya toast.
Walk further down to the Aliwal Arts Centre and take a peek behind the building. The back of the building wall features an ever-changing rotation of graffiti art.
At the junction of Beach Road and Jalan Sultan is a painting of a little boy swinging on a tyre hanging from a tree as two chickens look on. While it's not clear who the artist is, it's a quaint image depicting children's play during the old "kampong" days.
Walk down Jalan Sultan and towards the Vintage Cameras Museum and Click Art Museum (8C-8D Jalan Kledek). As you walk in that direction, you'll pass a few more walls of visual interest. Don't miss the images of children peeking from a window, two children pushing trolleys towards each other, or the face of a little girl on the side of a building.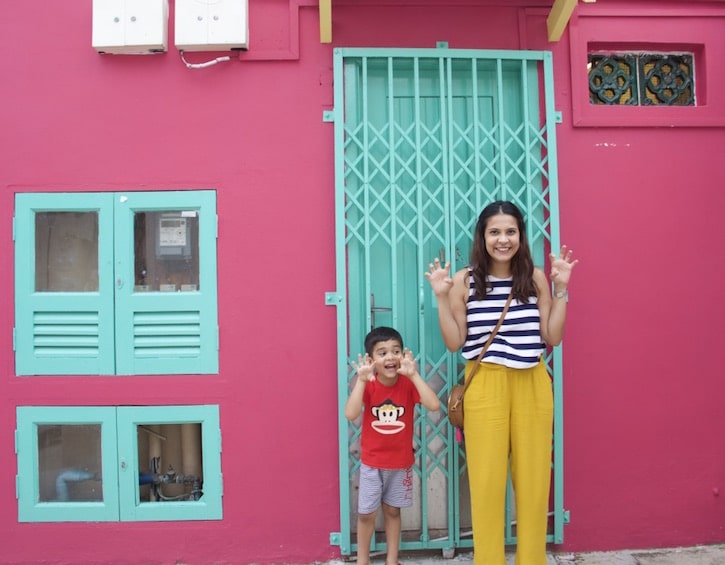 Fancy a picture in front of a bubblegum pink wall? If your answer is a resounding yes, skip on over to the rear-facing side of iconic Masjid Sultan. It's hard to miss the bright pink building next to it or the passers-by taking turns with clicking their photos against the wall.
Tiong Bahru (approx. 900 meter walk)
Much has been written about Tiong Bahru (check out Sassy Mama's Ultimate Guide to Tiong Bahru here!). The once historical estate is now a hipster haven and features various murals created by local artists. Yip Yew Chong's work depicts idyllic times from the artist's childhood days in the neighborhood. These murals are utterly charming in their depiction of how things used to be in the olden days — street vendors selling laksa,  a small "mom and pop" shop selling daily provisions, and an old-fashioned living room with rattan chairs and a small television box set (a map of Yip Yew Chong's Tiong Bahru murals can be found here).
Another artist, Ernest Goh, has also made his mark in the neighborhood with his works of "Tiong Bahru Animals" featuring goldfish, guppies and roosters and "Year of the Goat", reminding us of local pets that were once common in this neighborhood. Turn this walk into a counting game with the kids to see how many animal murals they can spot!
To give you a clue on where to find these "pet animals", start off at the Tiong Bahru Post Office (28 Tiong Bahru Road) to see the Goldfish mural. Then make your way towards Tiong Bahru Market to spot the goat family of murals (outside the market's car park exit, at the foot of the staircase inside the market, and along Lim Liak Street). The mural of the guppies is along 66 Eng Watt Road, while at least one of the rooster artworks can be found outside the Tiong Bahru Community Center (67 Eu Chin Street).
Somerset Skate Park (1 Somerset Road, outside Somerset MRT Station)
Visit this public skatepark for a dose of rad graffiti art which keeps changing every few months. Here, you can always find some skateboarders doing their awesome stunts! If you're looking to take some instagrammable photos of yourself against the graffiti backdrop, here's a tip: Go in the daytime when it's less crowded.
Tanjong Pagar (approx. 150 meter walk)
Looking for something different to do with your little ones? Why not visit the Everton murals located in the Tanjong Pagar district? They were painted by (you guessed it!) Yip Yew Chong, who wanted to depict scenes from his childhood days. Although his murals portray simple scenes from everyday life, they evoke a sense of nostalgia about the kampong, small community feel of Singapore from decades ago. There are three sets of his paintings on Everton Road and Spottiswoode Park, titled "Amah", "Provision Shop", and "Barber" (you can find a map of the Everton murals here).`
Why not take your kids along and ask them questions about what they see in the paintings? When I took my son here, he had a great time making up stories about what he saw painted on the walls. It's open air, it's simple fun, it's free!
Joo Chiat
We love this cheeky mural (fittingly located across from a playground) that was painted by infamous Penang street artist Ernest Zacharevic, whom the BBC calls "Malaysia's answer to Banksy". Kids will also love the playground and cute little green space with shaded benches and exercise equipment. You'll find them at Joo Chiat Terrace Park at the corner of Joo Chiat Terrace and Everitt Road.
Chinatown (approx. 1.7 km walk)
We recommend starting off your Chinatown street art tour on Keong Saik Road (you might want to grab a quick snack from this foodie street before your long-ish walk!). Right next to Loloku Restaurant on Keong Saik Road is a playful backdrop that will catch your eye. Commissioned by The Working Capitol, the artists behind Ripple Root painted a wall of colorful floral motifs, squiggly lines, and whimsical shapes.
Keeping in theme with light-hearted art, make a quick stop at Crucycle (68 Duxton Road). Don't worry, we're not suggesting that you step inside the gym for a workout! Rather, it's to take a photo by the colorful dots painted on the side of the Crucycle building.
Gradually make your way towards Thian Hock Keng Temple (158 Telok Ayer Street). Here, we transition to artwork that is a bit more heavy. Along the 44-meter rear wall of the temple is an impressive work of art by Yip Yew Chong illustrating the hopes and struggles of the early Chinese immigrants as they left their homes in search of a better life in Singapore. The mural has been made behind one of Singapore's oldest and most important Hokkien temples. What makes this wall art stand out is its augmented reality feature! Technology comes together with art to elevate a heritage site into a cool experience for visitors. Download the app LocoMole to view additional descriptions and images in 3D!
Time to switch gears from storytelling street art to abstract art. Along Gemmill Lane (a short walk from Telok Ayer MRT station) is a wall displaying mesmerizing patterns and designs in black and white. Perfect for those #OOTD shots!
Little India (approx. 1.3 km walk)
We couldn't leave out a walking trail through Little India! Against the backdrop of its bustling streets and rows upon rows of restaurants and shops, art comes alive in this ethnic enclave.
Let's begin our trip outside the Little India MRT station. Near Tekka Market on Kerbau Road is a whimsical painting of cows by Eunice Lim. Hey kids, can you count how many cows you see?
Walk further down one street on Race Course Road and you'll see a wall painting by Jaxton Su JingXiang that illustrates a piece of this area's history. A horse is depicted galloping through a market, a throwback to this area's former history as a racecourse site.  Just further down the same alley is a wall come alive with white jasmine flowers with a construction worker depicted sitting on the side. An interesting and beautiful tribute to the migrant workers by artist Nadiah Goff.
A short hop over and you'll find the unmistakeable, candy-colored House of Tan Teng Niah (37 Kerbau Road). This Instagram-worthy building may not be a mural but it's definitely a beautiful piece of art as a building. Since it's in the neighborhood, we couldn't go without mentioning it!
Just a two-minute walk from the House of Tan Teng Niah is a mural titled "Traditional Trades of Little India" by Psyfool (8 Belilios Lane). The mural reflects back on the traditional trades of the merchants and traders who settled in Little India when they first came to Singapore. Here, you'll find images of dhobis (washermen), astrologers, milkmen, etc going about their daily work.
The Indian classical dance form is a vivid and powerful form of artful storytelling. Don't miss the mural "Kathaka" by Didier Matheu (86 Serangoon Road), which depicts these dancers in motion with their intricate costumes and dramatic makeup.
On Dunlop Street and Clive Street nearby are two murals of Indian women brought to life – one a dancer against a vibrant backdrop of colors (Alive @ Clive by Traseone on 104 Dunlop Street) and another of a women in traditional saree attire with a piercing gaze (I am Still Here by Dyn on 5 Clive Street).
Lastly, if you follow the Indian movie industry at all, you would know what this street art is about. "Working Class Hero" by Zero (11 Hindoo Road) pays homage to the Indian actor Rajnikanth who had his humble beginnings as a bus conductor before turning into a veritable superstar. Known for delivering action-packed movies for his loyal fan base, Rajnikanth is ingrained in Indian popular entertainment. Appropriately so, this mural is part of the face of Little India.
Read more: Ultimate Guide to Little India for Restaurants, Shopping and More