Here are some of the hottest new cafés and new restaurant openings in Singapore in September 2021…
New cafés and restaurants are popping up all over town (while others like one-Michelin Star Australian Cheek Bistro, and Jamie's Italian at Forum have closed). Had your fill of high tea, dim sum restaurants, steamboat, and Korean BBQ, and looking to dine somewhere new? Keep your finger on the pulse of the latest new cafés and hottest new restaurants so you can book that meal out on the town! Here's our list of new cafés and recent restaurant openings in Singapore.
New Restaurants & Cafés to check out…
Claudine Restaurant: Soon-to-open resto by Odette Chef
Julien Royer (Chef-Owner of 3 Michelin-starred Odette) together with The Lo & Behold Group will be opening a new concept in Dempsey – Claudine Restaurant, in the super location of defunct The White Rabbit. We don't know much about what this new restaurant will entail except that it will offer a relaxed style of dining with à la carte French cuisine. It's set to open in the third quarter of 2021 – hang tight and we will update you when we hear more!


Claudine Restaurant, 39C Harding Rd, Dempsey
---
Luke's Lobster Great World (opening soon)
Luke's Lobster opens its biggest Singapore outpost yet at Great World on 7 September. This news has us extra excited because of the new collab 'Luke Goes Local' with homegrown chefs from Thevar, Birds of a Feather and Fatfuku! New rolls on the menu include Luke's x Thevar Curry Aioli Lobster Roll that encapsulates Chef Thevar's modern perspective of traditional Indian flavours; Luke's x Birds of a Feather Sichuan Aioli Lobster Roll for a Mala-infused roll plus for dessert, Birthday Donut by Mr Holmes Bakehouse!

 Luke's Lobster, Great World, #01-152, opposite PS. Cafe
---
Proper Slice: New York-style pizza joint
The peeps behind Lucali BYGB have launched Proper Slice, a new pizza joint off Gemmill Lane. Proper Slice is fashioned after New York City's old-school neighbourhood pizzerias and is dedicated to creating a "proper slice" of pizza to grab-and-go. Devour your slice curbside (there's no dine-in option here), or have it delivered to your door. Look out for thin oversized pizza slices with moreish tomato sauce and toppings like pepperoni, spinach and ricotta, and sausage. Proper Slice will also serve meatballs, garlic knots, and the occasional "pie-in-a-cup.


Proper Slice, 110 Amoy Street, #01-02
---
Softhaus: Janice Wong's new ice cream café
Everyone loves ice cream, judging by the excitement for Museum of Ice Cream's opening! There's another place to grab a scoop of the cold stuff with the opening of dessert queen, Janice Wong's ice cream spot Softhaus in Great World. There are 16 ice cream flavours from Avocado Banana to Coconut Lime and Pear Thyme Sorbet. Personalise your ice cream with toppings such as freshly baked macarons, strawberry popping boba and cotton candy. Enjoy it in a waffle cone or cup, or between rainbow-coloured bread (pictured in the lead image)! Softhaus has something for everyone (including vegans) with options of plant-based milk as well as sugar substitutes in its offerings.


Softhaus, Great World, 1 Kim Seng Promenade, #B1-K135, 237994
---
Wild Child Pizzette: new pizzeria
From the folks behind Cicheti and Bar Cicheti comes a new pizzeria and bar concept, Wild Child Pizzette serving up Neapolitan style pizzette cooked in a woodfired oven. Pizzette means little pizzas so expect a menu dedicated to 10-inch pizzas (four slices to nibble on). That means you can order more and try lots of different toppings – of which there will be fun contemporary options – think Tuscan kale, garlic confit, lemon, fior di latte or how about fried pizza dough (!) with semi-dried san marzano and stracciatella? Plus antipasti and homemade desserts to go alongside wild wines, ancient sakes and funky craft beers.


Wild Child Pizzette, 50 Circular Road, Singapore 049405
---
Mrs Pho House: new hotpot restaurant
Mrs Pho, one of our fave Vietnamese casual restaurants, takes on Singapore's hotpot culture with Mrs Pho House, a soon-to-open hotpot and barbecue concept with Vietnamese flavours. This new restaurant at Takashimaya Shopping Centre makes for a fun post-shopping lunch with the kids. Look forward to four specialty broths: Collagen Pepper Pork, Vietnamese Perilla Mutton, Herbal Chicken and Mushroom, and Crab Bisque, the latter a must-try broth made in house using the recipe by the Vietnamese chef's mother (it's the same one she uses for her famed Crab Noodles Soup street stall in Saigon)! Alongside your Vietnamese hotpot, enjoy a variety of grilled meats, seafood and vegetables. We are fans of the salads here so try the new Pomelo Salad, or the Mixed Wrap Platter and Five Spice Young Jackfruit Nuggets!
Good to know: their Beach Rd Mrs Pho has closed and has moved to 73 Bussorah Street down the road.


Mrs Pho House, 391 Orchard Road, #B2-36A, Takashimaya Shopping Centre
---

Casa Restaurant by Remy Lefebvre: EDITOR'S PICK!
This elegant contemporary restaurant in Chijmes is helmed by Chef Remy Lefebvre who focuses on cooking with woodfire, using ingredients that are line-caught, responsibly sourced, and organic. Seafood (which Chef Remy ages himself) and vegetables are the stars here and the menu is largely gluten- and dairy-free. Dishes include dry-aged wagyu on the bone; a Japanese take on smoked 'gambero rosso' red prawns; and line cod served with cashew nut milk and finished with sake. For lunch and dinner, Casa offers the 4- course Discovery menu for $118; the 6- course Experience menu for $198; and the Carte Blanche with 8-courses for $258. For lunch only, the restaurant offers an executive menu, called 'Trust Me' – a 3-course at $88. Worth the splurge!


Casa Restaurant by Remy Lefebvre, 30 Victoria Street, Unit #01-20 Chijmes, Tel: (+65) 9722 8171
---
Carrotsticks & Cravings: new café outlet on Stanley Street
If you are craving some avocado on toast goodness or authentic Melbourne Coffee, you'll be stoked to know that Aussie healthy café Carrotsticks & Cravings by Terri-Anne (and the peeps behind Miznon next door) have opened a third outlet on Stanley Street. Expect relaxed coastal-inspired interiors as you enjoy your lunchtime healthy treat or weekend brunch!


Carrotsticks & Cravings, 5 Stanley St, #01-01, Singapore 068724
---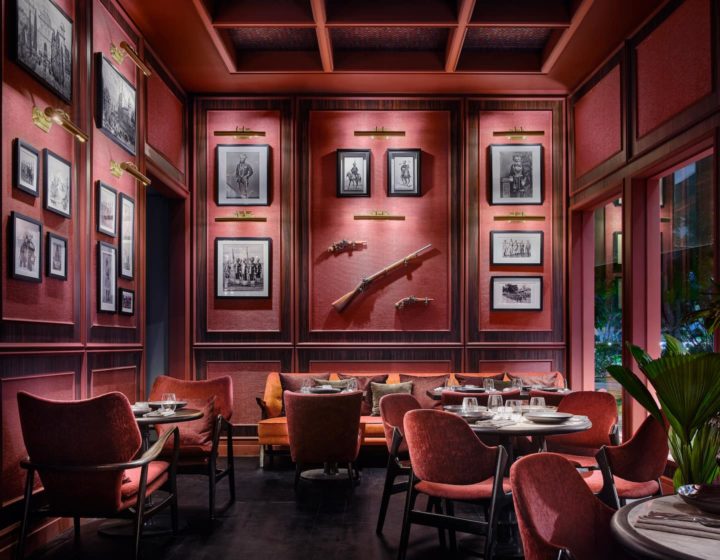 Firangi Superstar: new modern Indian: EDITOR'S PICK!
Firangi Superstar is a modern Indian restaurant by The Dandy Collection. There are four rooms: the Officer's Club, Old Railway Room, Elephant Palace and Jungle Lodge taking inspiration from Indian cities like Kashmir and Chennai with fittings and furnishings that exude a vintage film set. The food here is not Indian as you know it, but Indian through another lens – and is designed to be 'A Foreigner's Love Letter To India'.  Menu sections consist of chutneys and raitas, small and large plates, rice and bread, and desserts. Just over half the menu is vegetarian. Highlights include the intriguing 'This Is Not Aloo Gobi' ($16) featuring cauliflower served three ways, and 'Prata Waffle ???' (no that's not a typo) which is actually a fun take on the American favourite, Chicken & Waffles. Chef Thiru reinterprets this dish as Madras-style fried chicken with curry leaves and garlic, on a waffle-pressed prata served with butter chicken gravy. Don't miss the Indian inspired cocktails!


Firangi Superstar, #01-03, 20 Craig Road, Singapore 089692
---
NAE:UM: Contemporary Seoul
NAE:UM is the inaugural restaurant by Chef Louis Han (who was previously at Meta Restaurant and also the Head Chef at KIMME). NAE:UM offers contemporary Seoul cuisine with menu sets designed to be 'episodic, each showcasing a different food story or inspiration in Chef Louis's personal journey'. The five-course set ($148++) might feature Mulhwae, a cold and spicy Korean raw fish soup, gochujang-glazed Irish duck breast and steamed red snapper alongside two other courses, with two supplementary courses available for a surcharge.


NAE:UM, 161 Telok Ayer Street, Singapore 068 615, Tel: (+65) 8830 5016
---
Eggslut Singapore: new fast-casual restaurant
Get egg-cited for Eggslut Singapore! LA-based Eggslut is opening here bringing with them their famed egg sandwiches; the signature "Slut" dish of eggs muddled with mashed potatoes served with sliced baguette for eggy dipping; and the Eggslut Fairfax burger, of a brioche bun stuffed with scrambled eggs, cheddar cheese, caramelised onions, spicy sriracha mayonnaise. The Singapore Eggslut concept will be Eggslut's first foray into Southeast Asia and brings their total to fifteen Eggslut restaurants around the world. Eggslut Singapore will be located at Scotts Square (opening soon).


Eggslut Singapore, #01-12, Scotts Square, 6 Scotts Road, Singapore 228209
---

New Shake Shack Gardens by the Bay
We love a trip to Gardens by the Bay and there's now a new restaurant for a post-park meal with the opening of Shake Shack Gardens by the Bay (hello crinkle fries, burgers and shakes)! The seventh Singapore Shake Shack features murals by local artist Soph O and a verdant visual experience with blooming florals and foliage curated by the horticulturists behind Gardens by the Bay.


Shake Shack Gardens by the Bay, 18 Marina Gardens Drive #03-02/03, Singapore 018953
---
New cafés and new restaurants: past editions…
Clos Pasoh: new French brasserie
Clos Pasoh is a new French brasserie with dreamy décor (heart eyes for the green and gold hues, and those rattan dining chairs by Singapore designer Ong Shunmugam). Co-owner chef Louis Pacquelin cooks up accessible brasserie dishes from duck rillettes with foie gras, and chargrilled sourdough ($18) to sharing dishes like pot eu feu (beef stew, $138 serves 2-3), and tête de veau (calf brain, served in a crispy wonton) $12. The set lunch looks a steal at $42 for 2 courses and $49 for 3 courses.


Clos Pasoh, Level 2, 48A Bukit Pasoh Road, Singapore 089859
---
Bali on the Cove: new Sentosa Cove café
Bali on the Cove is the latest addition to Sentosa Quayside Isle, bringing with it a little sip of Bali. The new space is made up of a cafe, a retail boutique selling homeware from Bali and Java, and a co-working space. The café has alfresco seating (great for families and pet owners) where you can enjoy a coffee (beans are from Common Man Coffee Roasters) and order brunch from Eggs Benedict on Sourdough with Bacon ($25), to Big Bali and Sambal of eggs, sausage, bacon, mushroom, kale and sourdough ($27). Lighter dishes range from Papaya Chia Pudding ($20) to pastries from Starter Lab or gluten-free cakes by The Whole Kitchen. While they are big on brunch and lunch, come evening Bali on the Cove only does drinks and a sharing Vegetarian Tapas Platter ($49) of tapenade, coriander hummus, beetroot yogurt, feta guacamole, and sourdough bread thins.


Bali On The Cove, Sentosa Cove, Quayside Isle, #01-16, Singapore 098375
---
Coriander Leaf: new branch
Newly opened at the Singapore Polo Club, you can look forward to eating alfresco at the verandah and watch polo practice sessions on Tuesday and Thursday evenings! The menu is made up of Asian communal style sharing plates – our top picks have to be the Chicken Haleem & Naan (oh, the naan… so good!), Nonya Assam and Butter Prawns – Asian inspired cocktails as well as mocktails using non-alcoholic spirits like Melati and Lyre's. All meat is sourced from halal suppliers (no pork or pork products on the menu) and there are plenty of vegetarian and vegan options too. Coriander Leaf Singapore Polo Club is open to members of the public for dinner on Tuesdays to Fridays.


Coriander Leaf, 80 Mount Pleasant Road, Singapore, Tel: (+65) 9773 1207
---
Tapas, 24: EDITOR'S PICK!
Tapas, 24 has just opened on Rob Quay (taking over the space occupied by defunct Summerlong)! Tapas, 24 is an award-winning restaurant by Chef Carles Abellán – in fact it's one of Barcelona's hottest dining destinations! There's a fun buzzy atmosphere and tempting Sangria and Spanish cocktails (that also come in jugs!). Highlights include the "Tapas 24" Bikini Sandwich ($16) with black truffles, Ibérico ham and buffalo mozzarella; the total umami powerhouse paella de Gambas Al Ajillo ($40) and the Clams in Sherry with Artichoke, garlic and a kick of chilli ($32).


Tapas, 24, 60 Robertson Quay, #01-04, Singapore 238252
---
Blu Kouzina Siglap: new Greek restaurant in East
We may not be able to go abroad at the moment but the F&B industry is really pulling out all the stops to give us a taste of the world! Missing Greek islands and the amazing Mediterranean cuisine? Blu Kouzina just opened in Siglap to bring authentic Greek cuisine to Easties! Sporting trademark blue and white colours, this new restaurant has all the Santorini vibes. Pull up a pew and tuck into Grilled Pita ($3.90) with dips like Labna ($16.80), Hummus ($15.80), or the spicy feta Tirokafteri Dip ($17.80). We love the grilled seafood and meats here – lamb chops ($39.80) is always a winner!


Blu Kouzina Siglap, 907 East Coast Road, #01-01, Singapore, 459107, Tel: (+65) 9101 0681
---
Tigerlily Patisserie: new café in East
Tigerlily Patisserie (part of the Ebb & Flow Group) opens a physical space in Joo Chiat after the popularity of their online bake-box business. Local pastry chef Maxine Ngooi (previously the Head Pastry Chef of Michelin-starred Vianney Massot Restaurant) helms the small and popular café (expect queues at peak periods). The main draw here is the stunning cakes and entremets though they do savoury items like Tomato and Artichoke Tart ($7) and sandwiches like the Monsieur Kim ($15) grilled croque monsieur with kimchi and ham; and Salmon Tzatziki Ciabatta ($14) in housemade bread. Save lots of room for the pretty cakes – we fell in love with the Pink Guava & Pear ($10) dessert and The Beehive ($11), a Tigerlily signature of lemon, thyme and litchi honey jelly with light lemon sponge encased in yuzu mousse. Stunning!


Tigerlily Patisserie, 350 Joo Chiat Road, Singapore 427598
---
Yen Social: New Yakinuku
Yakiniku fans, there's a new spot to get grilled beef! Yen Social (by the same peeps behind Yen Yakiniku) offers different cuts of dry-aged beef (chosen for their texture, flavour and marbling) that you can grill at your table. Other highlights of the menu include whisky dry-aged wagyu ribeye ($58), the ox tongue ($1 per gram) and wagyu cubes plus lots of veggie sides from kimchi to edamame. Going with a gang? Pre-order a Butcher's Platter (order two days in advance) from $109 for 2 to 3 persons, to $208 for groups of 5.


Yen Social, #01-25/26, Duo Galleria, 7 Fraser Street, Singapore 189356
---
La Fez Bakery & Café: New Moroccan café
Love you some pink? Halal La Fez Bakery & Café has all the IG-feels with its Moorish architecture and pastel pink décor (a nod to the 'Rose city of Marrakech'. On the menu, Moroccan dishes from brunch items like Majorelle Shakshuka with Feta Cheese ($19.90), Baghrir Pancakes ($15.90), and Kasbah Brioche French Toast ($18.90) to lunch/dinner bites like Marrakech Dip Platters and Vegetarian Tagine cooked in traditional Moroccan earthenware.


La Fez Cafe & Bakery, #01-03A, 907 East Coast Road, Singapore 459107
---
Basque Kitchen by Aitor
Basque Kitchen by Aitor helmed by Chef-Patron Aitor Jeronimo Orive, is back after a brief hiatus! Find them at the historic Fullerton Waterboat House. Head to the pintxos bar and lounge for drinks and nibbles or head to the dining room, for a Basque gastronomic experience with a tasting menu offered exclusively for lunch and dinner (from $158++ for lunch to $248++ for dinner).


Basque Kitchen by Aitor, 3 Fullerton Rd, #02-01/02/03 The Fullerton Waterboat House, Singapore 049215
---
sen-ryo: new Japanese restaurant at ION
Japan import sen-ryo opens its first Singapore outlet in ION Orchard, using quality ingredients imported from Toyosu Fish Market and around the world. The swish sake bar greets you on entry, choose to dine here, in one of the private rooms or at the grill counter (where you can see the artisan chefs at work). Highlights on the menu include the DIY Hokkaido Uni ($58) featuring 50 grams of sweet uni (sea urchin) from Hokkaido with fresh sushi rice, ikura and sheets of roasted seaweed so you can wrap your own maki!
sen-ryo, ION Orchard, 2 Orchard Turn, #03-14, Singapore 238801

---
Mr. Holmes Bakehouse: new cruffin café
'Cruffin' creators San Francisco-based bakery Mr. Holmes Bakehouse debuts in Singapore! A 'Cruffin' for those who aren't quite sure, is a hybrid croissant with a flaky, sugar-dusted and cream-filled croissant baked in the shape of a muffin. This new 41-seater bakery-café on the ground floor of Pacific Plaza is where to head for donuts, croissants and those delicious cruffins. And we are talking flavours like Tiramisu Cream and Mini Choc chip cruffins, Bacon Jalapeno Danishes and Matcha and Lemon Meringue Pie croissants! We hear queues are epic so don't get your hopes up.


Mr. Holmes Bakehouse Singapore, 9 Scotts Rd, 01-01/02/03 Pacific Plaza, Singapore 228210
---
Permata Singapore: new Halal restaurant
The iconic yellow heritage building in the heart of Kampong Glam finally has a new restaurant within its premises! Muslim owned Permata Singapore offers over 60 elevated Nusantara-inspired dishes for both lunch and dinner. Prices are from $42++/pax for the weekday lunch menu. Good to know: there's a prayer room located on site too.


Permata Singapore, 73 Sultan Gate, Gedung Kuning, Singapore 198497, www.facebook.com/permata.restaurant
---
Tok Tok Indonesian Restaurant
Tok Tok Indonesian Restaurant has opened its doors on Joo Chiat Road. Expect classics like Ayam Bakar Betutu with chicken in Balinese spices, cooked sous vide in cassava leaves and grilled ($29.80); Beef Rendang ($11.80); Soto Ayam and other Indonesian dishes to satisfy that craving for a trip to Indonesia. End the meal on a sweet note with the unusual dish of Pisang Goreng Coklat Keju, a classic Jakarta special that sees chocolate condensed milk drizzled over fried banana fritters and topped with… shaved cheese!


Tok Tok Indonesian Restaurant, 467 Joo Chiat Road, Tel: +65 6908 3835
---
KULTO: New Spanish restaurant
Head Chef José Alonso (from Binomio), helms the kitchen of KULTO. On the menu, Spanish favourites like Jamon Ibérico Croquettes ($12), Octopus, Roasted Pork Belly with Paprika ($28) and three types of paella. We spotted a great value two or three course lunch menu where you can nibble on a choice of starters and mains plus top up $5 for dessert of KULTO cheesecake or charcoal pineapple with ice cream (includes coffee).
KULTO, 87 Amoy Street  Singapore 069906, Tel: (+65) 96205626

---
Sommer: New restaurant at Marina Bay
Sommer is a new 28-seater restaurant helmed by young star 27 year-old Chef Lewis Barker who has worked in the kitchens of Bacchanalia and Vianney Massot. The fine dining establishment serves up modern European plates that are a visual feast. Menus range from $68++ for a 3-course Discovery lunch, to $168++ for the 4-course Inspiration menu and $228++ for the 6-course Experience menu.
Sommer, #01-02, The Sail @ Marina Bay, 2 Marina Boulevard, Singapore 018987

---
Momolato Café: New café
Momolato Café is a new late-night gourmet gelateria in Kampong Glam (it closes at 2am!). Wander down Haji Lane and squeeze yourself into this little nook (18-seats so grab one quick) offering artisanal gelato flavours with no artificial flavourings or additives. The Momolato gelato range ($4.90-8) changes weekly ranging from Chocolate Arabica Coffee from Ecuador, to Roasted Sicilian Pistachio, Mao Shan Wang durian, Oolong Hojicha Tiramisu and Ondeh-Ondeh Sweet Potato Swirl plus Keto flavours.


Momolato Café, 34 Haji Lane, Singapore 189227, Tel: +65 8883 7968
---
Set of Six: new cocktail bar
Set of Six is a new bar in Duxton inspired by Joseph Conrad's novel. We are a little head over heels for the décor of pink feather lamps, turquoise velvet loungers, and lots of gold. Cocktails hover around the $25 mark. The menu features proper posh nosh rather than bar snacks – triple cooked chips with mushroom ketchup, Sea-bass Ceviche ($28) and Lobster and Fennel Ravioli ($29).


Set of Six, #01-01, 20 Craig Road, Singapore 089692
---
Nixta: new Mexican restaurant
Nixta is the latest concept from the Travis Masiero Restaurant Group (the same people behind Blue Label Pizza and Luke's Oyster Bar). This new Mexican restaurant has salsas made by hand in volcanic stone molcajetes – they even grind fresh masa for their signature corn tortillas. Chow down on tostadas made with tuna ($10) or sweet potato ($8), then plump for sharing platters of woodfired meats like slow roasted duck in aromatic hoja santa leaves ($48) or the Nixta Signature Spit & Herb-Roasted Chicken ($65). Do. Not. Miss. the Churros ($16)!


Nixta Mexican Grill & Bar – 116 Amoy Street, Singapore 069936
        Read more: Best New Restaurants of 2020
---
Drunken Farmer: natural wine bar and bistro
Drunken Farmer is the nomadic natural wine bar by Spa Esprit Group that's finally found a forever home at Common Man Stan on Stanley Street. We love the idea of a split personality venue – by day café and by night the shutters come down, the neon lights go up and it's time for the Drunken Farmer to takeover! Much of the cuisine by Chef Paul Albert involves fermenting and nearly everything is made from scratch! Highlights include Sourdough Karaage ($20) fried chicken in a batter of sourdough discard and TBB Beerguette Beer – a crispy, tangy delicious and rather genius dish, and the Sourdough Margherita Pizza ($20) with tomato sauce and Stracciatella made fresh daily using locally sourced cow's milk.


Drunken Farmer, 11 Stanley Street, Singapore 068730
---
Three Michelin-starred Mirazur Pop-up
Three Michelin-starred restaurant Mirazur has a three month pop-up in the Mandala Club (formerly known as Straits Clan). The French restaurant is helmed by Argentinian chef Mauro Colegreco, and is currently ranked first in The World's 50 Best Restaurants list. Mirazur has closed its home property in France and the entire culinary team will be based in Singapore for the three-month residency (with Chef- Mauro Colagreco in Singapore for the initial stages of the event). Mirazur in Singapore will serve up a six-course lunch ($388) or a nine-course dinner ($488), and there are still some spots left if you are looking to book.
Mirazur, Mandala Club, 31 Bukit Pasoh Road, Singapore 089845

---
Carne: New burger joint
Chef Mauro Colagreco has been busy! In addition to the Mirazur pop-up, he has set up the first international outpost of Argentinian burger restaurant Carne with chef Beppe de Vito from the Il Lido Group in Singapore. Located on Amoy street, Carne dishes out free-range, grass-fed Angus beef burgers, milkshakes, thrice-cooked fries and local craft beers. Carne is all about being eco-conscious so there's lots of attention to sustainable growers, cage-free eggs, and farmers committed to responsible farming practices.


Carne, 88 Amoy Street, Singapore 069907
---
Tiong Bahru Bakery Foothills: New TBB Café
Tiong Bahru Bakery has opened another outlet! Its seventh outlet is in the grounds of Fort Canning Park so if you need that caffeine fix (or let's face it, a hit of their Kouign Amanns), now you know where to head before taking the kids to Jubilee playground nearby.


Tiong Bahru Bakery Foothills, #01-05, Fort Canning Park, 70 River Valley Road, Singapore 179037
---
The Dempsey Project: New café in Dempsey
Taking over from Jones the Grocer in Dempsey is The Dempsey Project (by the same owners). The menu contains old signatures and some new dishes including Sweet Potato toast with smashed avocado, feta, poached eggs, lime and chilli ($24) the Spicy Miso Beans on sourdough toast ($21) and the vegetarian Streetstyle Dahi Papdi Chaat or a Mediterranean Mezze ($26).


The Dempsey Project, 9 Dempsey Road, Singapore (247697), Tel: (+65) 6475 2005 
---
Moonbow: New restaurant in Dempsey
Moonbow is a new restaurant in Dempsey (in the old Blu Kouzina digs). This newcomer boasts stunning interiors of pink pastels and champagne hues with gold touches plus a gorgeous alfresco seating area overlooking the sports fields. Moonbow offers modern European cuisine with Asian accents. Barramundi with Fermented Red Yeast Wine ($38++), a traditional Asian dish reinvented; Black Silkie Poulet ($38++) with chargrilled black chicken, bearnaise sauce, and black garlic purée; and a personal favourite, Jerusalem Artichoke soup ($25++) served with a 64 °C sous vide egg, caviar, and sunchoke chips.


Moonbow, Block 10 Dempsey Road, #01-21, Singapore 247700, Tel: (65) 9010 2717
---
Prairie by Craftsmen: New Cafe in Cluny Court
Prairie by Craftsmen is a new cafe and alfresco restaurant at Cluny Court near Botanic Gardens. You would probably miss this new cafe if you didn't know where to look. Opened by Craftsmen Specialty Coffee, Prairie by Craftsmen is located where Bar Bar Black Sheep at Cluny Court used to be (behind Fishwives). This new cafe makes a lovely spot to enjoy breakfast before or after a walk in the Botanics nearby. Munch on Eggs & Bacon Croissants, Smashed Avo Toast, and other breakfast pastries. The lunch and dinner menu spans salads, and heartier mains like Duck Confit, Fish and Chips, Steak Sandwiches, pasta and burgers.


Prairie by Craftsmen, 501 Bukit Timah Rd, Cluny Court #01-05C, Singapore 259760
       Read more: Best New Restaurants of 2020
---
Persea: Low carb restaurant
Persea (pronounced per-say-ah), is a new restaurant in Ann Siang that focuses on low-carb meals. Think Cauli-hummus ($10), Bone Marrow ($24), Calamari with Chorizo ($24) and free range chicken with garlic yogurt and cauliflower tabouleh ($24). You won't miss out on desserts either with their Rosemary Basque Cheesecake ($16) featuring cream cheese, camembert, and blue cheese.


Persea, 23 Ann Siang Road, Singapore 069703
---
The RITUAL: New cafe
The RITUAL (by the same co-founder Cassandra Riene Tan of BOTANY) is a new cafe on Bukit Timah Rd. The menu encompasses plant-based and gluten-free options plus more standard dishes like the Ritual Big Breakfast ($25) with sourdough or croissant with eggs, and sausage, the Signature Avo Toast ($18), and Ritual Protein Bowl ($25).


The RITUAL, 383 Bukit Timah Rd, #01-09B, Singapore 259727
---
Green Common: Plant-based new café
Look out for new plant-based café Green Common launched by Green Monday, creators of OmniFoods. This place is a huge one-stop café and grocery concept store in VivoCity. Their aim is to give us plant-forward options, including a selection of Western and Asian-inspired cafe dishes made with zero meat but instead OmniMeat, Beyond Meat, Just Egg and Chick'n Nuggets. From Meat Lovers Pizza ($19++), topped with Moving Mountains and Beyond Meat Sausage with melted Daiya cheese; to hawker staples adapted to have zero meat – Hainanese Trick'en Rice ($16++), with Heura 'chicken' or Rendang Chicken Roti ($13++) – with Heura 'chicken' and potato chunks served with freshly made roti prata.


Green Common, VivoCity, 1 HarbourFront Walk, #01-169/170, Singapore 098585
---
Yum Sing! New Restaurant in Clarke Quay
Yum Sing! is one of the newest restaurants to hit Clarke Quay, brought to us by the peeps behind Putien. Yum Sing! is an ode to Singapore with local faves from bak kut teh, ($10) to char kway teow ($10), chilli crab ($78) and Hainanese chicken rice ($10) – all offered in a modern setting with graffiti art on the walls and repurposed advertisement boards on the ceilings.


Yum Sing, #01-06/07, 3B River Valley Road, Clarke Quay, Singapore 17902
     Read more: Family Guide to Clarke Quay
---
The Brewing Ground: New Café in Joo Chiat
The Brewing Ground has set up a little "glasshouse" café filled with hanging plants, in the compound of The Yards, a space focused on arts, dance and drama. This casual café welcomes kids and pets (thanks to its alfresco area) and is open daily from 8.30am to 5pm (dinner will be launching soon). The Brewing Ground offers a European-inspired menu, featuring Homemade Granola ($12++), Avocado & Ricotta Tartine ($17++), Burrata & Tomatoes Tartine ($18++) as well as brunch from 11am – think Breakfast Burgers ($19++), and Not an Eggs Benedict ($21++).


The Brewing Ground, 406 Joo Chiat Place, The Yards, #01-24, Singapore 428084
Read more: Ultimate Guide to Dim Sum in Singapore
---
Little Farms Bistro Joo Chiat: New Café in East
Little Farms' newest and largest outlet is open on Joo Chiat Road! This will be their fifth outlet spanning 6,000 square feet and features a bistro, supermarket, butcher counter and bar. Head over to Little Farms Bistro for their famous Smashed Avocado on Toast, Buttermilk Pancakes, Tempeh Tofu Salad and Vegetarian Lasagne, as well as freshly made juices, signature smoothies and Allpress coffee. Plus there will be a new dinner menu featuring Little Farms ingredients to go with artisanal wine and classic craft cocktails.


Little Farms Bistro, 451 Joo Chiat Rd, Singapore 427664
 More New Restaurants :
Lead image Softhaus by Janice Wong