Visiting these public swimming pools in Singapore with waterslides, water jets and lazy rivers is the best way to beat the heat and keep kiddos happy. Plus these swimming pools all have really affordable entry!
We love a free activity to keep the kids busy on the weekends and in the sticky heat, swimming and water play at a free water park are some of our favourites! We've rounded up the best public swimming pools in Singapore – all at affordable prices – some from as little as $0.80! We've chosen the pools with all bells and whistles – think waterslides, tsunami pools and lazy rivers for extra fun! Some swimming pools in Singapore have slides with a minimum height requirement, others are all indoors so you don't need to check the weather forecast before heading out, and they all have lifeguards on hand (though parents should always keep your eyes on your kiddos, even if the jacuzzi has your name on it!).
NB. Some of these pools may still be closed due to Covid-19. Refer to the ActiveSG Facilities Closure page for the latest updates.
Read more: Learn How to Swim: Swim Schools in Singapore
Click to jump to…
Public Swimming Pools in the East
Public Swimming Pools in the North
Public Swimming Pools in the North-East
Public Swimming Pools in the West

Public Swimming Pools in the East

Tampines Swimming Complex at Our Tampines Hub
Our Tampines Hub is Singapore's first-ever integrated community and lifestyle hub offering everything from sports facilities to a regional library and an all-inclusive Kids' Playground on Level 2. The rooftop pools at Tampines Swimming Complex (on level 6 of Our Tampines Hub) sport views of the city that set this spot apart from many of the others, in our humble opinions! There are six swimming pools to choose from, a Jacuzzi and a cute garden-themed kids wading pool (0.3 metres deep) with water fountains, water play tables, water spray guns and a mini waterfall. If mama or dad want to train for the triathlon while the kids are being supervised by their other halves at the pool – there's a 50-metre eight-lane training pool!
Swimming pool rates: Adults from $1.50, Kids from 80 cents.
Status: Lap pools, wading pool and kids' pool are open!
Swimming pool Opening hours: Thursday, Saturday, Sunday: 8am – 9:30pm | Monday, Wednesday. Friday: 6:30am – 9:30pm | Tuesday (except Public Holidays: 8am – 9:30pm): 2:30pm – 9:30pm

Our Tampines Hub, Level 6, 1 Tampines Walk, Singapore 528523, Tel: (+65) 63853718,www.myactivesg.com/Facilities/tampines-swimming-complex

---
Pasir Ris Swimming Complex
This complex has a toddler pool, a wading pool, another pool for learners, two waterslides for thrill seekers, a water playground for kids to splash around in, and a competition pool for those wanting to make the swim team while mum and dad relax in the Jacuzzi. Pasir Ris is one of the newest additions to the Singapore swimming pool scene and they have some green credentials to boast, too – there's a rainwater harvesting system to water surrounding greenery and the vertical garden which makes a lovely change for the cement walls that are common at swimming complexes.
Swimming pool rates: Adults from $1.50, Kids from 80cents.
Status: Only competition and training pools are open.
Swimming pool Opening hours: Daily, 8am – 9:30pm (closed on Wednesdays except public holidays)

Pasir Ris Swimming Complex, 120 Pasir Ris Central, Singapore 519640, Tel: (+65)  6583 5523, www.myactivesg.com/Facilities/pasir-ris-swimming-complex
Read more: Best Free Water play (plus other free Mall playgrounds)
---
Public Swimming Pools in the North
Woodlands Swimming Complex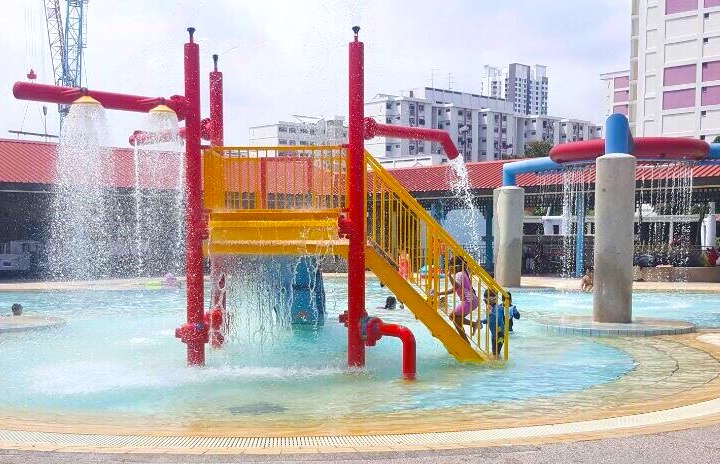 Woodlands Swimming Complex has a simple slide structure for kiddos and lap pools for more professional young swimmers and adults. This swimming pool in Singapore is conveniently located near Causeway Point, so you can just pop over to the mall for some chow afterwards (or stay in the premises and enjoy food at the on-site cafe, Citrus by the Pool!).
Swimming pool rates: Adults from $1.50, Kids from 80 cents (Foreigners from $2)
Status: All pools are open, including the kids' pool and slide!
Swimming pool opening hours: Friday to Wednesday: 8am to 9:30pm |Thursday: 2.30pm to 9.30pm

Woodlands Swimming Complex, 3 Woodlands Street 13, Singapore 738600, www.myactivesg.com/facilities/woodlands-swimming-complex

---
Swimming Pool at SAFRA Yishun
SAFRA Yishun has an inviting pool with a fun pirate-themed slide for kids. We love the F&B options there too, like Springleaf Prata Place, Eatzi Steakhouse & Bistro and more. Guests would need to be signed in by a SAFRA member.
Swimming pool rates: From $1.15/child and $2.20/adult. SAFRA members enter free!
Status: All pools are open, including the kids' pool!
Swimming pool opening hours: Mon 11am – 9:30pm | Tues – Friday: 7am – 9:30pm | Saturday, Sunday, PH: 8am – 9:30pm

SAFRA Yishun, 60 Yishun Avenue 4 Singapore 769027, www.safra.sg/clubs/yishun

---
Public Swimming Pools in the North-east
Sengkang Swimming Complex
Waterslide fans, this one's for you! Sengkang Swimming Complex has something for everyone from little kids to the young at heart so it's no wonder this is one of the most popular swimming pools in Singapore on a hot weekend. Teens will love the variety of slides on offer –  there are 8 colourful slides to choose from. Some wind around and around, others offer a stomach churning free-fall experience. There's a minimum height requirement of 1.20m but little ones will love the splash-and-slide area complete with water soakers. There's a Jacuzzi, an indoor sheltered pool and competition pool for training on site too.
Swimming pool rates Adults from $1.50, Kids from 80cents (Foreigners from $2)
Status: All pools are open, including the fun/wading pool and baby slides!
Swimming pool opening hours: Tuesday to Sunday, including Public Holidays: 8am to 9:30pm

Sengkang Swimming Complex, 57 Anchorvale Road, Singapore 544964, www.myactivesg.com/Facilities/sengkang-swimming-complex

---
Splash @ Kidz Amaze, SAFRA Punggol
This water fantasy land has got to be one of Singapore's hidden gems! It's the Ferarri of swimming complexes (and thus costs more than the others) but it's more like a water theme park so we think it's worth the splurge. Spanning 23,000 square feet, the water playground has eight play decks, an 'Enchanted Deep Sea' themed playground with interactive water fun, sprays, buckets and slides for kids of all ages. Plus there are five slides to keep the thrill seekers squealing with excitement. As this swimming pool is fully indoors this one is great for when it's actually not swim weather outside! The water temperature is regulated so little ones won't get a cold fright when the water bucket tips.
Swimming pool rates: From $16 for kids (from $8 kids members), from $5 accompanying adults, (from $2 accompanying adult member)
Status: Open!
Swimming pool opening hours: Monday to Friday: 1pm – 7pm | Saturday, Sunday & School Holidays: 10am – 7pm

Splash @ Kidz Amaze, SAFRA Punggol, 9 Sentul Crescent, Punggol, Singapore 828654, Tel: (+65) 6585 8710, www.safra.sg
Read more: Dry Drowning: How to Watch Out For Signs and Prevent Secondary Drowning
---
Public Swimming Pools in the West
Choa Chu Kang Swimming Complex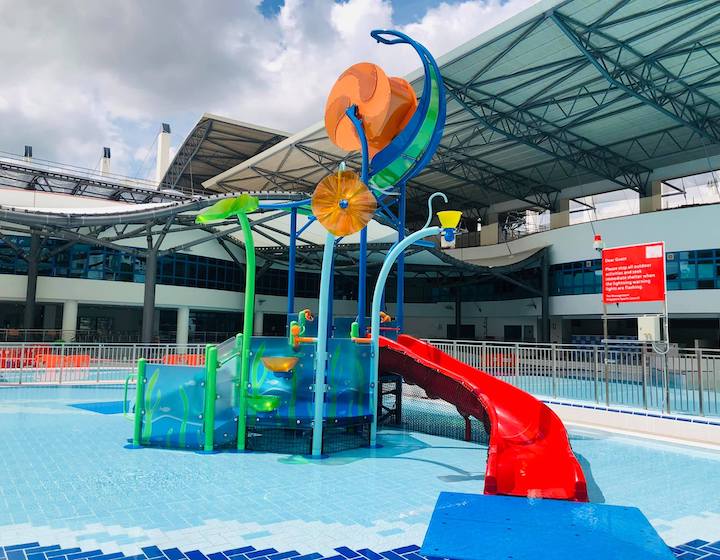 Choa Chu Kang Swimming Complex is a good choice for younger kids. If you have big kids or mums and dads looking for some more thrilling action – make a beeline for the new, broader slide! Unfortunately the long, winding three-storey tunnel slide is no longer there after a major renovation.
Swimming pool rates: Adults from $1.50, Kids from 80cents (Foreigners from $2)
Status: Open!
Swimming pool opening hours: Tuesday to Sunday: 8am – 9:30pm

Choa Chu Kang Swimming Complex, 1 Choa Chu Kang Street 53, Singapore 689236, Tel: (+65)  6767 8606, www.myactivesg.com/Facilities/choa-chu-kang-swimming-complex

---
Jurong East Swimming Complex
This is one of the biggest and best swimming complexes in Singapore: three spiral waterslides promise lots of fun (height requirement above 1.2m), plus there's a lazy river for kids to take a trip in a tube, water playgrounds with mushroom fountains, a tsunami wave pool complete with cooling water sprays to keep the parents chilled and a competition pool too.
Swimming pool rates: Adults from $1.30, Kids from 60 cents.
Status: The kiddie pool and the lap pool opens on 17 September 2022 (Kids water play area and lazy river is still under maintenance)
Swimming pool opening hours: Tuesday, Thursday, Saturday: 6:30am – 9:30pm; Wednesday, Friday, Sunday: 8am – 9:30pm

Jurong East Swimming Complex, 21 Jurong East Street 31, Singapore 609517; Tel: (+65) 65635052, www.myactivesg.com/Facilities/jurong-east-swimming-complex
---
Jurong West Swimming Complex
This swimming pool in Singapore is the little sis to Jurong East but while smaller, there's still plenty to keep the family busy on a hot afternoon. There's a kids' pool with play structures and an adrenaline-fuelled, three-storey long winding blue waterslide, a lazy river, plus a jacuzzi and two 50-metre pools (one indoors) for serious swimmers to do laps.
Swimming pool rates: Adults from $1.50, Kids from 80cents (Foreigners from $2)
Status: Lazy River and Big Slide are closed until further notice. The kids' Fun Pool and adult jacuzzi are open!
Swimming pool opening hours:  Thurs, Sat, Sun: 8am – 9:30pm | Mon, Weds. Friday: 6:30am – 9:30pm |Tues (except Public Holidays: 8am – 9:30pm): 2:30pm – 9:30pm

Jurong West Swimming Complex, 20 Jurong West Street 93, Singapore 648965, www.myactivesg.com/Facilities/jurong-west-swimming-complex

Read More: Real Life Lifesaver Mum Silvia Hajas
---
Senja-Cashew Swimming Complex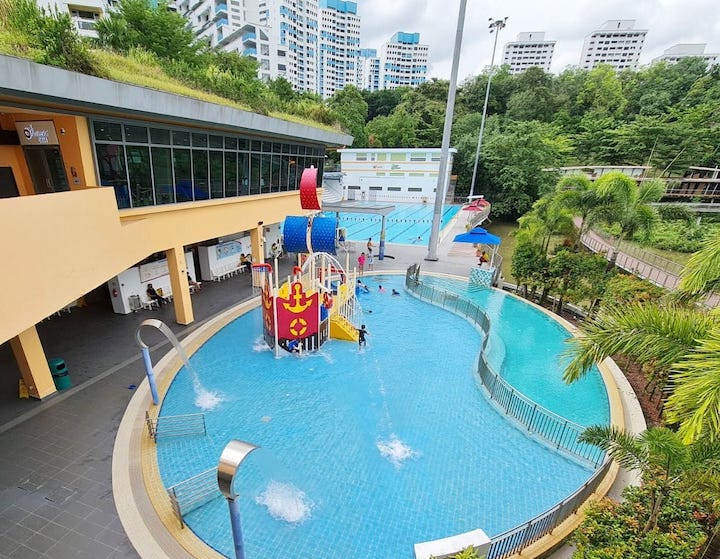 With a modest pirate-themed water playground but lots of wading and swimming space, the Senja-Cashew Swimming Complex is becoming an increasingly popular swimming spot for families in the west!
Swimming pool rates: Adults from $1.50, Kids from 80cents (Foreigners from $2)
Status: Open!
Swimming pool opening hours: Monday, Friday, Sunday: 8am – 9:30pm | Tuesday, Thursday, Saturday: 6:30am – 9:30pm | Wednesday (except Public Holidays: 8am – 9:30pm): 2:30pm – 9:30pm

Senja-Cashew Swimming Complex, 101 Bukit Panjang Road, Singapore 679910, www.myactivesg.com/Facilities/senjacashew-swimming-complex
---