Whether you are heading to Sentosa or East Coast, check out our guide to the best kid-friendly beach clubs in Singapore
Spending a day at a beach club in Singapore can almost make you feel like you're on an island holiday! We bring you our favourite, must-visit beach clubs in Singapore from kid-friendly beach clubs with pools on Sentosa to some fab spots on the East Coast. From when to visit, through to what to order, we've got everything covered for the perfect family day spent at a beach club by the sea building sandcastles and doing water sports.
Read More: Best beaches in Singapore
Jump to your beach club in Singapore of choice…

Aloha on East Coast
Coastes in Sentosa
FOC Sentosa in Sentosa
Ohana Beach House East Coast
Ola Beach Club in Sentosa
Rumours Beach Club in Sentosa
Sandbank East Coast beach
Tanjong Beach Club
Trapizza in Sentosa
Best Beach Clubs in Singapore for Families
1. Coastes: Kid-friendly Beach Club in Sentosa
One of our favourite beach clubs is laid-back Coastes in Sentosa. It's all about rustic charm here, and of course, its prime position on the white sands of Siloso Beach. If you've had a hectic week, then this beach shack vibe is the perfect tonic (and we can recommend a gin too). We love how close Coastes is to the shoreline. You can finish your leisurely brunch whilst keeping an eye on sandcastle construction. The only worry you'll have is picking what to order off the extensive menu (we can recommend the pancakes to save you the stress)! Not sure about leaving Fido at home all day? This beach club really does cater for all the family with dogs welcome too.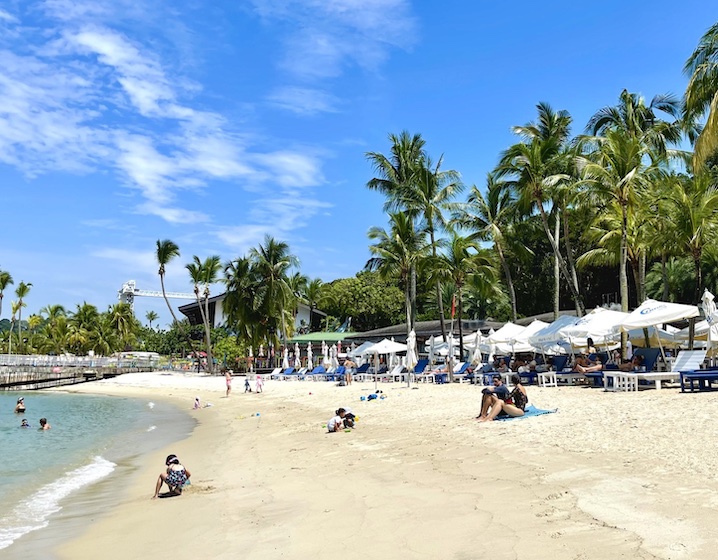 Sunbed cost: Unlike other beach clubs, sunbeds at Coastes do not have a minimum spend but they are still a very reasonable $22 each. This also includes two free iced teas!
Beach club opening times and getting there: Open daily 9am – 10pm. Coastes is conveniently located a short walk away from the Sentosa Express Beach Station and the Bus Terminal. There's also parking close by at Sentosa Beach car park.


Coastes, 50 Siloso Beach Walk, #01-05 Sentosa, Singapore 099000, www.coastes.com
Read More: Guide to Coney Island Singapore
---
2. FOC Sentosa: Hip Beach Club, Palawan Beach, Sentosa
FOC Sentosa is at the eastern edge of Palawan Beach in Sentosa and boasts a pool as well as daybeds on the sand and a restaurant. The Mediterranean mood encompasses all aspects of this beach club from the colourful beach house design, through to the incredible food. With Michelin Star chef credentials, you're in for a treat when it comes to the menu. The tapas are a must with servings of kid-approved Iberico Ham Croquettes and FOC Patatas Bravas. Be sure to save yourself for the mouth-watering Paella; it's as authentic as it gets! Post siesta, hit the pool, or if you need more entertainment for the kids, then visit the nearby inflatable park HydroDash. Dogs are also welcome to join in the fun at FOC Sentosa! This beach club gets a bit lively in the evenings with the drinking crowd, so we'd head early with the family.
Sunbed cost: For beach cub daybeds (which can fit up to 8!) it's free during the week but on Fridays, weekends, PH and eve of PH there's a minimum spend of $300++ for 3 hour slots/$900 for beach club daybeds for the whole day. Beach picnic tables and pool deck tables are also available with minimum spend.
Beach club opening times and getting there: FOC Sentosa is open Wednesday, Thursday & Sunday: 11:30-22:30; Friday, Saturday, Ph & Ph Eve: 11:30-23; Closed on Mondays & Tuesdays. The beach tram stops right outside (Stop: The Singapore Last Station). If you're driving, then Palawan Beach Carpark is within easy walking distance.


FOC Sentosa, 110 Tanjong Beach Walk, Sentosa, Singapore 098943, www.focsentosa.com
---
3. Ola Beach Club, Siloso Beach, Sentosa
Aloha Mama! Hawaiian-themed Ola beach club situated in Sentosa, is sure to be a hit with the family as the only beach club to boast an array of water sports from kayaking to paddleboarding. There's a pool to cool off in and you can sit at the beach club restaurant and order food while kids play on the glorious stretch of Siloso sand. Tuck into the delicious Hawaiian fare from Poke bowls to the naughtier Loco Moco burger topped with a delicious panko poached egg. The kids won't go hungry with a dedicated menu of firm favourites, pasta and pizza, as well as Huli Huli Hawaiian chicken.
Sunbed cost: A minimum spend on food and beverages to use the sunbeds applies. $30/adult for dining tables, daybeds and the lawn area and on Fri – Sun & PH it's $50/adult for dining tables and daybeds, $400/table for the lawn area and $600/table for the cabana.
Beach club opening time and getting there: Ola Beach Club is open during the week (10am – 9pm Monday – Thursday and 10am – 10pm on Friday) and at weekends from 9am – 9pm. Ola Beach Club is a short walk from Beach Station if you're travelling by Sentosa Express. You can also catch the 123 and alight at Beach Station bus terminal. Travelling by car? The nearest parking is at Beach Station.


Ola Beach Club, 46 Siloso Beach Walk, Sentosa Island, Singapore 099005, www.olabeachclub.com
---
4. Rumours Beach Club, Siloso Beach, Sentosa
Had your heart set on an island abroad for the next holiday? Never fear, Rumours Beach Club offers a little slice of Balinese beach club bliss in Singapore. This beach club is a great option for the family with its dedicated cabana area complete with kids' pool. It doesn't end there though; Rumours Beach Club has three pools to choose from! We love the main pool for that Bali inspired beach view (omitting the tankers of course) and great people-watching. Food-wise, Rumours Beach Club offers a wide selection of Indonesian options to keep the Balinese dream alive. Opt for something off the Jimbaran Bali BBQ and a side of satay which will feed all the family. There's also pizza and pasta options, plus kid pleasers such as nachos and hot dogs. Oh yes, and as with most Sentosa beach clubs, dogs are welcome too.
Sunbed cost: There are lots of different day bed and cabana options and a minimum spend applies (as a rough guide $100 per half day on weekdays or $250 per half day weekend).
Beach club opening times and getting there: Rumours Beach Club is open daily from 11am – 9pm (and 10am-10pm on weekends). It's a short walk from Beach Station or catch the tram to Siloso Beach Resort.


Rumours Beach Club, 40 Siloso Beach Walk, Sentosa, Singapore 098996, www.rumours.com.sg
---
5. Tanjong Beach Club, Tanjong Beach, Sentosa
Tanjong is one of our favourite beaches in Singapore, so it's no surprise Tanjong Beach Club makes our list of top beach clubs. This beach club scores highly in the style stakes, with an infinity pool overlooking palm-lined shores and a beach perfect for sandcastles. With its ranking on the "World's Best Beach Clubs", this place is extremely popular. You definitely need to book! Opting for a weekend with kids in tow? Book your beds for the morning session (9am-2pm); the afternoons can get a bit more party-party. Time your visit to sample the amazing brunch. Smashed Avo on Toast and French Toast Fingers off the dedicated kids' menu are favourite choices.
Sunbed cost: There's a minimum spend of $100 for day beds here in the week (half day) and $200/$400 at weekends for morning/afternoon sessions.
Beach club opening times and getting there: Opening hours are 10am – 8pm in the week, and 10am – 9pm on weekends and public holidays. Tanjong Beach is the last stop on the beach tram, 6 stops from Beach Station. If you're coming with kids, a cab might be easier.


Tanjong Beach Club, 120 Tanjong Beach Walk, Sentosa, Singapore 098942, www.tanjongbeachclub.com
---
6. Trapizza, Beach Restaurant on Sentosa
Another sunny day in Singapore, another Siloso Beach view! Although not officially a beach club per se, we're including it on the list as it ticks all the boxes and then some. Trapizza is located at the far end of Siloso beach and is part of the super-duper kid-friendly Shangri La Rasa Sentosa Beach Resort. Pizza is the order of the day here, and it's so good! Add into the mix sea views and beachfront dining, and it's a date. Kids will also be singing its praises with a dedicated kids' menu. It's not just the food though, with Siloso beach close by there's sandcastle building galore on the doorstep. One final ace up its sleeve is that Trapizza is a stone's throw from the amazing playground Nestopia. Meaning you can enjoy a leisurely drink knowing the kids are having the best time, good luck getting them to leave!
Sunbed cost: No sunbeds here, but lots of beachfront seating with sea views aplenty!
Beach club opening times and getting there: 12pm – 9pm Monday – Thursday and 11am – 10pm Friday – Sunday.  It's the last stop on the beach tram (Siloso Point), or travel in style and take the Cable Car over from HarbourFront.


Trapizza, 10 Siloso Beach Walk, Sentosa, Singapore 098995,
---
7. Aloha: East Coast Beach Club with Water Sports
East Coasters this one's for you! Ok, so not technically a beach club but this family-friendly beach spot comprises Aloha Beach Bar for food and drinks and Aloha Sea Sports Centre where you can try activities like sailing, windsurfing and stand-up paddling, making this spot an all-around great place to chill out on the weekend. After playing on the beach in front of Aloha or doing some water sports tuck into Momolato ice cream or some tasty pizza. A fun breezy beach spot to hang out at.
Beach club opening times and getting there: The water sports centre opens weekdays 10am – 6pm and weekends/Public Holidays 9am – 6pm while the beach cafe is closed Mondays and open Tuesday – Thursday 1pm – 9pm; Friday/Eve of Public Holidays 12pm – 10pm; Weekends/Public Holidays 9am – 10pm. If you are driving park at Area E Carpark E2 beside Lagoon Hawker Centre.

Aloha Beach Bar, 1212 East Coast Parkway, Singapore 449886
---
8. Ohana Beach House: East Coast Pasir Ris
Another sneak entry Ohana Beach House is more of a seaside bar with watersports experiences offered by Adventure Paddlers. Take the family to enjoy paddleboarding or kayaking on East Coast then have some casual bites at the Beach House afterwards.
Opening times and getting there: Mon-Fridays 3pm-10.30pm, Saturday -Sunday 10am-10.30pm. Park at Carpark A, a 2 mins walk from the beach to the right. Or take bus 354 from Pasir Ris MRT (7 minutes) or it's a 9 minute walk from the MRT.

Ohana Beach House, 131 Pasir Ris Rd, Singapore, 519148
---
9. KOKOMO Beach Club
KOKOMO Beach Club is run by Outdoor Adventures so there are plenty of water activities to be had! This seaside beach club at Pasir Ris Park offers watersports like SUPing, kayaking, and Dragon Boating as well as kayak fishing. It's more of a water sports centre though as there's no cafe on site for food.  


KOKOMO Beach Club, 131 Pasir Ris Road, Pasir Ris Beach Park, Singapore 519148, www.kokomo-beachclub.com
With these beach clubs in Singapore you might just feel like you've been transported to a beach holiday if only for a day!
Read more: Staycations Deals in Sentosa and around SG
Read more:
Lead image sourced via Ola Beach Club. First written in 2021 by Kate Noble and updated in 2022