We check out all the best places for food at Jewel Changi Airport! From the tastiest restaurants at Jewel with Taiwanese, Thai and Peranakan food to conveyor sushi, cafes and dessert shops – consider this the best of the Jewel food directory!
Where can you find the best food at Jewel? Ever since Jewel Changi Airport opened in 2019, it's been buzzing with activity – and for good reason – Jewel is home to a host of great shopping, fun attractions (like Canopy Park's slides and bouncy nets) and of course, food. While there are over 100 F&B options on offer, we shortlisted our top faves, including the first Singapore locations for some pretty popular global chains. Did you know many of these Jewel food spots are open 24 hours?! Plus there are always new restaurants at Jewel Changi Airport which keeps things fresh. Be sure to check out Sourbombe, run by Genevieve Lee, the runner-up of the first season of MasterChef Singapore and Fong Sheng Hao if you're craving some delicious Taiwanese food.
→ Keep scrolling to check out where to head for food at Jewel!
---
A&W (MUIS Halal-certified food at Jewel)
Ever since it ceased operations in Singapore back in 2003, A&W lovers here have been patiently waiting for a comeback – and what a comeback it's been! Everyone's trying to get their hands on the iconic A&W Root Beer (freshly made in-store daily, just like it was 100 years ago!), which is served in their signature ice-cold frosty mug. You can also sink your teeth into international favourites like the Mozza® Burger, Coney Dogs, Curly Fries, Waffle Ice Cream, Cream Cheese Burgers and Golden Aroma Chicken. A&W Jewel is MUIS Halal-certified.
Where: #B2-209 (open 24 hours!), Jewel Changi Airport
---
Burger & Lobster
Burger & Lobster is known for their signature lobster ($65), prime beef burger ($25) and star of the show, the lobster Original Roll ($40). There's also exclusive food at Jewel's Burger & Lobster – the Sambal Glazed Lobster ($65), a mildly spicy fusion of dried shrimp, chilli and Asian spices. Live lobsters are flown in from Nova Scotia, Canada while the beef is from cattle ranchers in Nebraska, U.S.A.
Where: #05-203, Jewel Changi Airport
---
Sushiro Jewel Changi Airport: Japanese food at Jewel
Looking for sushi, sashimi and Japanese food at Jewel? Sushiro Jewel Changi Airport offers affordable sushi served on a fun conveyor belt. At Sushiro Jewel Changi Airport, fans can look forward to over 100 varieties of quality sushi and other Japanese dishes, along with limited-time specials and Jewel-exclusive items.
Where: B2-227/228, Jewel Changi Airport
---
Violet Oon: Peranakan food at Jewel
We are HUGE fans of the doyenne of Singapore Peranakan cuisine, Violet Oon, and so we love that VO, the restaurant group's largest outlet to date (at 3,800 square feet) is at Jewel. Look forward to Nyonya classics like DIY Popiah platters and BBW delights from the live charcoal grill station. Need to grab some Singapore souvenirs? There's also a retail section packed with beautifully packaged foodie gifts!
Where: #01-205/206, Jewel Changi Airport
---
JUMBO Seafood at Jewel
JUMBO Seafood began in the East Coast Seafood Centre and has now blossomed into a multi-branch restaurant known for serving up some of the freshest and most delicious seafood. If you're looking to dig into their Chilli Crab, Signature Black Pepper Crab, or other seafood, head to their Jewel outlet today. You won't be disappointed with this fab Jewel dining spot!
Where: #03-202/203/204, Jewel Changi Airport
---
PAUL Bakery & Restaurant (NEW at Jewel)
Newly opened in Jewel, PAUL Bakery & Restaurant is the 8th outlet in Singapore serving up mouth-watering French cuisine and classic sweet treats like macarons. Feast on Lobster Laksa Pasta – an exclusive food item to this Jewel cafe– or pick up a dozen mini macarons to gift!
Where: #B1-225, Jewel Changi Airport
---
Sourbombe (NEW at Jewel!)
Sourbombe began when the runner-up of MasterChef Singapore 2018 wanted to create a modern, non-greasy version of doughnuts. The genius combo of sourdough and Italian Bomboloni creates a light and fluffy Sourbombe that releases imaginative flavours and textures. If you're looking for a sweet treat, this is foodie spot at Jewel is for you. And by the way, they even offer delivery if you want it sent to your doorstep!
Where: #02-237, Jewel Changi Airport
---
Fong Sheng Hao (NEW to Jewel!)
For those who love Taiwanese food, pop by Fong Sheng Hao for a comforting bowl of Lu Rou Fan or Taiwanese toast. What began as a street food stall in the popular Shilin Night Market in Taipei has now become a go-to place for Taiwanese food in Singapore. At this Jewel restaurant enjoy crispy Charcoal Grilled Toasts with Pork, Egg and Cheese, Condensed Milk and more!
Where: #B2-232, Jewel Changi Airport
---
Tai Er: Sichuan food at Jewel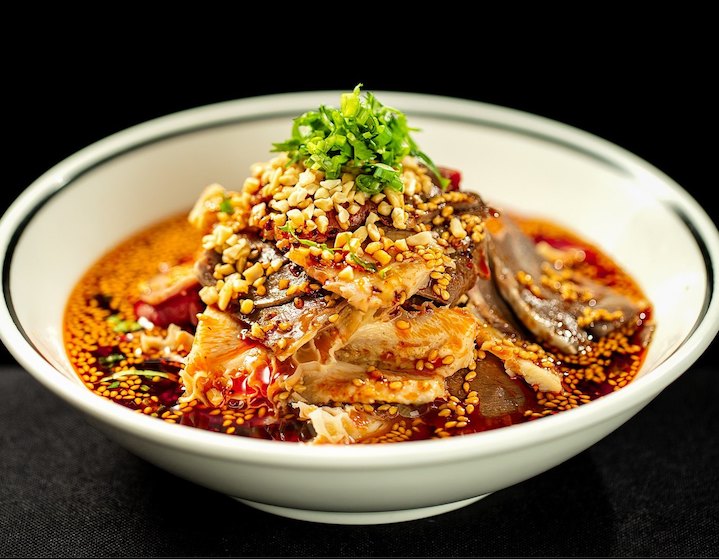 For all "ma la" lovers, this one is for you! Known for their super spicy and authentic Sichuan cuisine, Tai Er serves a range of Sichuan dishes like Spicy Sauerkraut Fish or Spicy Chicken with Chilli Pepper. This popular restaurant takes walk-ins, but you may have to wait awhile. So if you're craving spicy food at Jewel, it's best to make your Tai Er Jewel reservation in advance to make sure you get a seat!
Where: #03-208, Jewel Changi Airport
---
Sanook Kitchen: Thai food at Jewel
Gotta love a comforting plate of Phad Thai! Sanook Kitchen serves authentic Thai cuisine, so you can get your fill of green curry, tom yum soup, and other Thai food at Jewel at a budget-friendly price. So why not pop by Sanook at Jewel to satisfy your Thai food craving?
Where: #03-223/224, Jewel Changi Airport
---
Pita Tree Kebabs: casual Mediterranean food at Jewel
Are you craving Mediterranean food? Think freshly prepared kebabs, mezze, rice bowls, salads and more! Pita Tree Kebabs has everything you need to satisfy your craving. Sink your teeth into a juicy Chicken Pita Pocket or dig into a Falafel salad. Stop by their kiosk at Jewel to indulge in authentic Mediterranean food.
Where: #B2 – 256, Jewel Changi Airport
---
Shake Shack: fine casual food at Jewel
This isn't news of course, but we couldn't pass up a mention of everyone's fave Shake Shack! Serving up signature items including the ShackBurger, Shack-cago Dog, classic crinkle-cut fries, craft beer, wine and frozen custard ice-cream, this NYC Fine Casual (not fast food) Jewel outlet is looking real swanky, complete with alfresco dining so you can enjoy your burger amongst the foliage.
Where: #02-256, Jewel Changi Airport
---
Shang Social
Shang Social by the Shangri-La Group, boasts three different spaces offering Cantonese, Huaiyang, and Sichuan cuisine. Look out for the Signature Pan Fried Bun with Pork ($5.80 each), Spicy Sichuan Chicken (pictured above), and the Red Garoupa fillet Soup with Pickled Peppers and Chinese Cabbage.
Where: #01-219 to 222, Jewel Changi Airport
---
Luke's Lobster
They may have just recently opened in Orchard (at the ground floor of Isetan Scotts to be exact!) but Luke's Lobster already has plans to open their second branch at Jewel! Get ready to sink your teeth into delectable lobster, crab and shrimp rolls filled with sustainably sourced wild-caught seafood hailing from the USA and Canada.
Where: #01-K209 (next to Arabica), Jewel Changi Airport
---
Elfuego by Collins
This fine dining concept by local food chain COLLINS offers European halal cuisine in a beautiful restaurant setting that's perfect for celebrating a special occasion. Plus, its location in Jewel makes for a romantic post-dinner stroll around the vortex waterfall!
Where: #02-216, Jewel Changi Airport
---
Earle Swensen's
Earle Swensen's is a popular family-friendly restaurant that serves classic Western dishes like burgers, pasta and fries. They even have a wide range of ice-cream flavours for your little ones (and their grown-ups!) to enjoy a sweet treat.
Where: #03-219, Jewel Changi Airport
---
Devil Chicken
Well-known across the globe, Taiwan is a haven for creative and delicious street food! The fried chicken cutlet is arguably the king of Taiwanese street food, so newly-opened Devil Chicken has decided to stand out from the crowd with fried cutlets made of extraordinary thick chicken breast meat, with a thin yet amazingly crispy outer layer to complement its succulent meat.
Where: #B2-258, Jewel Changi Airport
---
Japanese Soba Noodles Tsuta: Michelin-starred ramen at Jewel
Japanese Soba Noodles Tsuta is the world's first Michelin-starred ramen joint. Founded by Chef Onishi Yuki, the name "Tsuta" is birthed from his conviction that ramen is a noodle dish that Japan can showcase to the world. Its signature dish continues to be the Shoyu Soba – ramen in soy-based broth and topped with truffle puree.
Where: #02-242, Jewel Changi Airport
---
Lavender Bakery Jewel outlet
Lavender Bakery is one of the must-visits when in Johor Bahru, so we're super excited to know their artisanal bakes and pastries are now available here! Using Japanese and French pastry making techniques, the bakery creates premium quality desserts and baked goods.
Where: #B2-253/254, Jewel Changi Airport
---
Yun Nans
Yun Nans is the largest casual dining restaurant chain from Yunnan, China, specialising in – you guessed it! – Yunnan cuisine. The Jewel Changi Airport outlet is its first overseas outpost since opening over 150 outlets in China! Using the freshest ingredients from the highlands of the Yunnan Province, Yun Nans offers specialities such as steamed pot chicken soup, braised wild porcini mushrooms, Yunnan rice noodles and handmade rose pastries.
Where: #02-217, Jewel Changi Airport
---
rrool
rrooll is the first to offer a swirl of both sweet and savory flavours rolled up in their signature soft and fluffy dough! Their roolls are free of preservatives and artificial flavours, using only the freshest ingredients paired with precise techniques to bring out the best combination of flavours, texture and aroma. Combining the freshest grade A cinnamon powder topped with our signature cream cheese frosting, their classic cinnamon roll will leave you craving for more. Other flavours include Japanese curry, Hawaiian and Cocoa Orange.
Where: #B2-266, Jewel Changi Airport
---
Halal Food at Jewel
If you're looking for Halal food at Jewel, pop by any of these outlets to fill hungry tummies:
A&W
Auntie Anne's
Burger King
Dunkin' Donuts
Earle Swensen's
Elfuego by Collin's
Food Republic
Jinja Chicken
KFC
Mamma Mia Trattoria E Caffe
Monster Planet
Old Chang Kee
Saap Saap Thai
Sankranti
Sanook Kitchen
So Pho
Subway
Rrooll
For more Foodie Finds, check out: 
Our Favorite French Bakeries in Singapore: Where to Find the Best Baguettes, Croissants, Pastries and More
New Restaurants in Singapore this February: Foodie News Flash
Lead image from SourbombeBakery via Instagram