Make a den, play in a stream and run wild at the new Playgarden at HortPark
The brand new Nature Playgarden at HortPark is part of NParks' Biophilic Playgarden Plan to encourage kids (and their parents!) to reconnect with nature — something that team Sassy Mama is all for! While we love taking the kids to play on swings and slides in the best playgrounds in Singapore, there is something to be said about giving kids unstructured play and letting their imagination run wild (and getting their hands dirty) amongst nature. You'll find the new HortPark Nature Playgarden just past the Edible Garden and playground (off to the right). There are nine different play features built with natural materials and children are encouraged to use their imagination to have fun.
Nature Playgarden at HortPark
The "playgarden" definitely has more of a natural, rugged feel: the terrain is uneven, a mixture of hilly areas, sand, log paths and wood chip designed especially to develop a sense of adventure and discovery. Two wooden open-sided teepees beckon from the sandpit for kids to play in. Grab a tool (if there are any left — when we went they had all been swiped off the "Tool Board" already) and let your imagination run wild creating your own teepee extensions or sandcastles.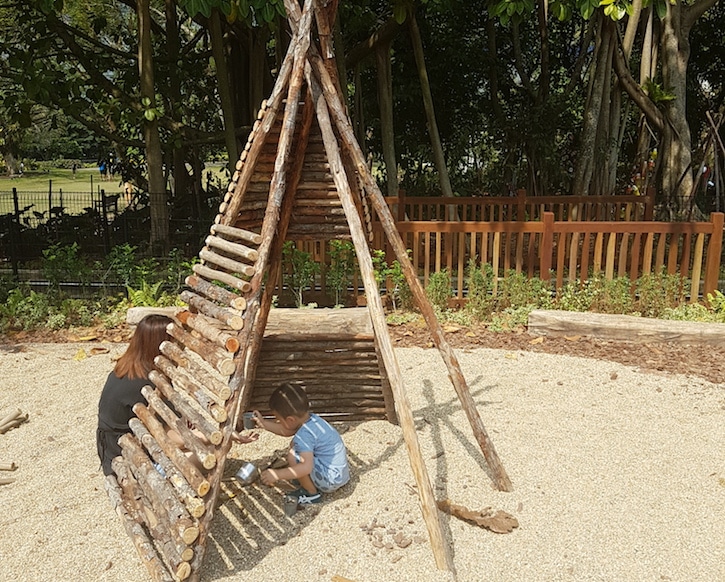 Up on a little hill, bamboo poles of different sizes hang just begging to be moved to create different musical notes while hollow wheels nearby filled with seeds from the Saga Tree and Rattleweed make different sounds when turned.
In the 'Magical Woods' there are bamboo bushes to make a den out of, and little structures to hide in. Interesting plants have been planted all over; my son spotted a Cocoa Tree to his great delight.
Carved logs channel a small stream on one side – your little ones can run their fingers through the cool water and explore what materials float and sink. Three taps are on hand for bucket filling, drinking or general mess making. The other naturally designed features include The Kitchen, The Secret Den and Treasure Trail.
Read more: Weekend Planner: Fun Things to Do With The Kids in Singapore
This playgarden has been designed to let young kids (the sign says 3-6yrs old) run around free without too many rules stopping their imagination from curtailing the fun of free play. Make a den, use sticks to build extensions on to that tepee, splash water from the taps and streams. It's a great concept and it will probably get better when the trees grow to provide some shade, as currently the playgarden is very exposed with nothing to protect little kids from the baking hot sun which may limit the time spent here.
We'd suggest coming early (the park opens at 6am) before it gets hit by the full heat of the sun (by 10:30am it was too hot to enjoy). Wear hats and bring water bottles (you can refill them at the park). There's plenty to do at this lovely green park so afterwards you can explore the edible garden, or seek out the small slides at the playground nearby, and if you time it right there may even be a gardening event to pick up your own herbs to plant at home.
Nature Playgarden at HortPark, 33 Hyderabad Road (off Alexandra Road), Singapore 119578, www.nparks.gov.sg