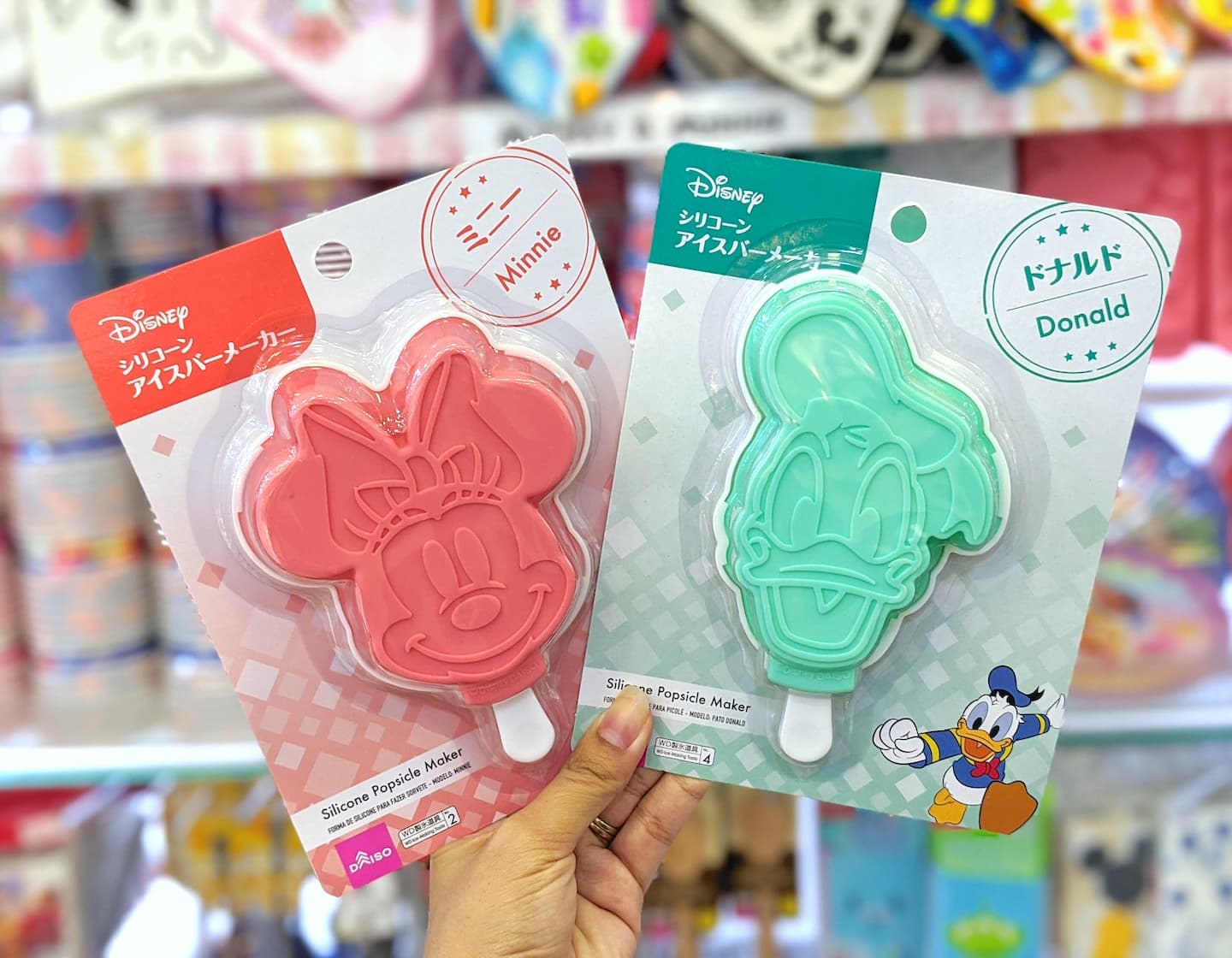 From slime, to Disney-themed party supplies, chic home decor, makeup, arts & crafts and Japanese snacks… Check out what else you can find at a Daiso near you – $2 only until 1 May 2022!
It's no secret that Daiso Singapore is amazing and has everything you need (or don't) under one roof. With over 25 Daiso outlets islandwide and a new online Daiso store offering about 400 of their best products available for delivery, there are more options now than ever to buy your favourite $2 goods!
FYI: Daiso Price Increase
Have you heard? Daiso is set to increase their prices from 1 May 2022. Each item will be priced inclusive of GST moving forward. Last chance to get your favourite Daiso finds for $2!
Daiso Singapore's product categories include:
Cleaning Supplies
Daily Necessities
Electronics
Food
Gift Wrapping
Interior
Kitchen Tools
Laundry Supplies
Makeup & Personal Care
Pets & Gardening
Seasonal Products
Stationery
Storage
Tableware
…and more!
I recently hit up my nearby Daiso in Sembawang Shopping Centre and found toys, supplies and home decor items you might actually find useful. Keep scrolling for more, and read till the end for the full list of Daiso locations in Singapore !
3D Puzzles
This would be great for keeping the kids occupied on a rainy weekend indoors! Daiso Singapore has a few of these 3D puzzles to choose from and they all seem to be space themed. It actually looks pretty cool once assembled.
Slime
I admit, one would argue the usefulness of $2 slime, but seeing as how you could be spending more on 'quality' slime from a toy store only for it to collect all sorts of gross little particles from the floor and eventually become unusable… I'd say go for the Daiso version! Do note however that we can't guarantee that these are non-toxic.
           Read more: How to Make Slime in Singapore for under $20
Disney-themed Baking & Party Supplies
Disney Character Silicone Moulds
How cute are these moulds?! They're labelled as chocolate moulds, but being made of silicone, I'm sure these are versatile enough to be used for ice or cupcakes.
             Read more: Where to Buy Kitchenware in Singapore
Disney-themed Party Supplies
If you're planning a Disney-themed party, we found a whole section of Disney merchandise in Daiso! From paper cups to paper plates, popsicle moulds, table mats, tea towels and more.
Party Supplies & Favours
Foil Balloons & Goodie Bags
Speaking of party supplies, Daiso Singapore has a section of foil balloons, stickers, stationery, goodie bags and more for all your party needs.
             Read more: Ultimate Guide to Kids Party Planning in Singapore
Reusable Cups & Other Party Favours
These reusable cups are great as affordable party favours.
Beauty Products
Daiso's beauty aisle is stocked with every makeup product possible – eyeshadow, blush, lipstick, fake eyelashes, disposable sponges, serums, face wash… the list goes on! While you may want to exercise caution before excitedly buying a $2 serum, I do highly recommend the brush cleansers. They're great for cleaning your makeup brushes (and you should be doing that regularly if you don't already) and are effective for the price!
Home Decor & Organisation
Photo Frames
We all know how hard it is to get inexpensive, non-IKEA photo frames! So chancing upon these $2 frames in various sizes was a nice surprise. Available in multiple different colours, designs and photo orientations too!
Tableware
Daiso Singapore has a decent range of pottery, including ceramic plates, bowls, mugs, small dishes and more – some in really cute prints and designs. I also spotted some woven seagrass coasters which are really trendy for their resort home feel.
Hangers & Storage Boxes
If you're Marie Kondo-ing your wardrobe and realised you want to take it to the next level with uniform hangers, Daiso's hanger section has you covered. Super affordable at $2 for a bunch, and in multiple different materials ranging from plastic to metal and wood. There's also a dedicated section for storage boxes in Daiso, and in that same area you'll find some cool home decor items that would be perfect for kids' rooms.
Pots & Vases
Is it just me or has Covid-19 got us all becoming plant mamas?! I got so excited when I found their gardening section, complete with cute little pots and vases for your plants and flowers! They even have some in larger sizes which could be great for planting veggies or shrubs in your garden.
Yarn & Knitting/Sewing Supplies

You can also find a variety of yarns and threads in Daiso if you've gotten into knitting or embroidery! Those packs of multicoloured threads look particularly useful to have around the house, in case one of your kids has torn a seam or if the loops in your reusable masks have come undone (speaking from experience…).
Japanese Snacks
Relive your Japan holidays and try some of the Japanese snacks you'll probably find near checkout! My must-tries: the caramel corn chips and limited edition Hello Panda biscuits. They do green soba noodles and all manner of sauces too.
            Read more: The Best Dessert in Your Neighbourhood
Cleaning Supplies
Daiso's section of cleaning supplies is huuuge. I haven't tried any of the liquid cleaners or dishwashing soaps myself, but there are plenty of multi-packs of sponges, wipes and floor cleaning wipes that would be great to stock up on.
            Read more: 8 Tips for Spring Cleaning in Singapore
Our Top Tips for Shopping at Daiso Singapore
If you're running errands and the kids are getting restless, you can use Daiso as a reward for good behaviour if the mall you're in has one. If there's no fighting or complaining after visiting store after store, surprise the kids with $2 each (maybe $4 if you're feeling extra generous) to choose whatever they want from Daiso at the end!
The Arts & Crafts section is worth a special mention – there are great felt fabrics, colour pencils, paints and sketch pads with papers of varying thickness, colourful cards for home projects, stickers and more.
Many of the arts & crafts items and toys (like magic tricks and pranks) are great for Christmas stocking stuffers (or party favours) if you have small kids!
In the days of travel, it was always helpful to stop by Daiso before a long flight and pick up some surprise toys for small kids to keep them busy on the flight!
We hope this helps. Happy shopping, mamas!
Daiso Singapore outlets
DAISO 100 AM Mall, 100 Tras Street #04-16, Singapore 079027
Opening hours: 10am – 10pm
DAISO Bugis Junction, 200 Victoria St #03-01/27/28, Singapore 188021
Opening hours: 10am – 10pm
DAISO and THREEPPY Canberra Plaza, 133 Canberra View #B1-01/02, Singapore 750133
Opening hours: 10am – 10pm
DAISO and THREEPPY Chinatown Point, 133 New Bridge Road, #B2-01, Singapore 059413
Opening hours: 10am – 10pm
DAISO City Square Mall, 180 Kitchener Road #04-05/10, Singapore 208539
Opening hours: 10am – 10pm
DAISO and THREEPPY Downtown East, 1 Pasir Ris Cl #01-02, Singapore 519599
Opening hours: 10am – 10pm
DAISO East Point Mall, 3 Simei Street 6 #B1-14, Singapore 528833
Opening hours: 10am – 10pm
DAISO IMM, 2 Jurong East Street 21 #03-50, Singapore 609601
Opening hours: 10am – 10pm
DAISO ION Orchard, 2 Orchard Turn #B4-47, Singapore 238801
Opening hours: 10am – 10pm
DAISO and THREEPPY JCUBE, 2 Jurong East Central 1, #02-26, Singapore 609731
Opening hours: 10am – 10pm
DAISO Kallang Wave Mall, 1 Stadium Place #02-11, Singapore 397628
Opening hours: 10am – 10pm
DAISO and THREEPPY Marina Square, 6 Raffles Boulevard #03-111/116, Singapore 039594
Opening hours: 10am – 10pm
DAISO Parkway Parade, 80 Marine Parade Road, #03-26B Singapore 449269
Opening hours: 10am – 10pm
DAISO Plaza Singapura, 68 Orchard Road #05-01/02/03, Singapore 238839
Opening hours: 10am – 10pm
DAISO Sembawang Shopping Centre, 604 Sembawang Road #01-18, Singapore 758459
Opening hours: 10am – 10pm
DAISO Singpost Centre, 10 Eunos Road 8 #B1-119/120/124, Singapore 408600
Opening hours: 10am – 10pm
DAISO Square 2 (Novena), 10 Sinaran Drive #02-10/18, 25/27, Singapore 307506
Opening hours: 10am – 10pm
DAISO Tampines 1, 10 Tampines Central 1 #03-17, Singapore 529536
Opening hours: 10am – 10pm
DAISO Thomson Plaza, 301 Upper Thomson Rd #01 85-86, Singapore 574408
Opening hours: 10am – 10pm
DAISO Tiong Bahru Plaza, 302 Tiong Bahru Rd #02-117, Singapore 168732
Opening hours: 10am – 10pm
DAISO VivoCity, 1 Harbour Front Walk #02-41/42, Singapore 098585
Opening hours: 10am – 10pm
DAISO Water Way Point, 83 Punggol Central #B1-09, Singapore 828761
Opening hours: 10am – 10pm
DAISO West Coast Plaza, 154 West Coast Rd, #B1-33 to 45, Singapore 127371
Opening hours: 10am – 10pm
Shop Daiso online: daisosingapore.myshopify.com
View this post on Instagram
All images courtesy of the author