From slime to party supplies, chic home decor, makeup, arts & crafts and Japanese snacks, here are the best things to buy at Japanese discount store Daiso from $2.16
It's no secret that Daiso Singapore is amazing and has everything you need (or don't) under one roof. With over 25 Daiso outlets islandwide and a Daiso Singapore online store offering about 400 of their best products available for delivery, there are more options now than ever to buy your favourite Japanese goods!
New Daiso Singapore Prices: From $2.16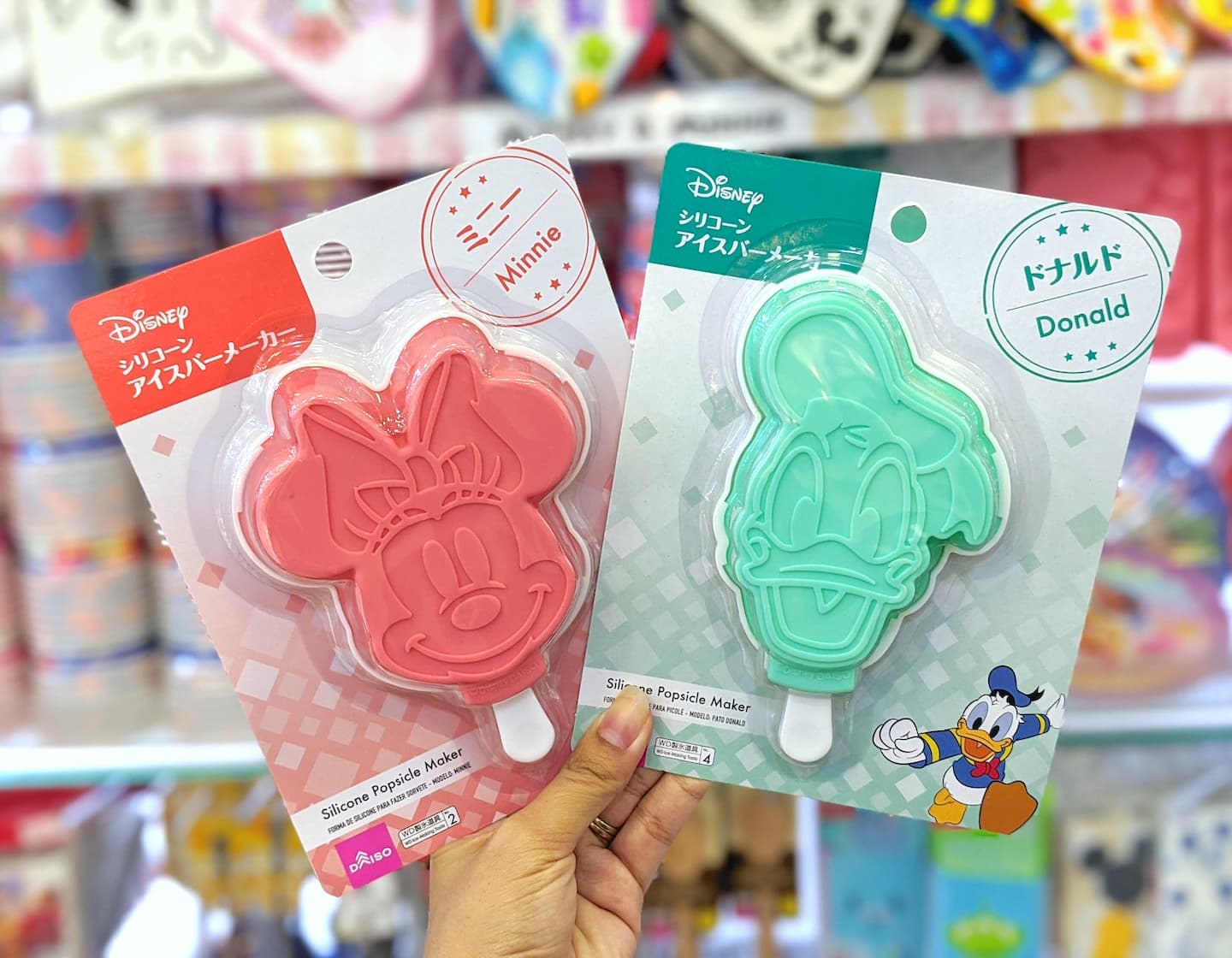 Has it been a while since you hit up a Daiso store? Don't be shocked to find out it's no longer "Always $2!" Daiso has increased their prices as of 1 May 2022 with a new pricing system, in light of rising GST costs in Singapore. Daiso products are now sold at a range of $2.16 to $25.70 at any of the Daiso locations in Singapore. Here I list out some Daiso toys, supplies and home decor items you might actually find useful.
Click to jump to…
Kids' Toys: 3D Puzzles, Dolls, Slime & More
Foil Balloons & Goodie Bags
Reusable Cups & Other Party Favours
Festive Decorations
Beauty Products
Photo Frames
Tableware
Sushi-making Tools
Hangers & Storage Boxes
Pots & Vases
Yarn, Knitting, Sewing & Craft Supplies
Stationery
Arts & Crafts
Japanese Snacks
Cleaning Supplies
Our Top Tips for Shopping at Daiso
All Daiso Singapore Outlets
Best Kid-friendly Daiso Buys
Small Toys: From $2.16
We love Daiso's kids' toys for keeping the kids occupied on rainy weekends, long plane rides or road trips! Our top picks include the 3D puzzles (space-themed and dinosaur-themed ones available), small figurine assembly kits, dolls, petit blocks (mini 'lego' sets) and even slime! I admit, one would argue the usefulness of cheap slime, but seeing as how you could be spending more on 'quality' slime from a toy store only for it to collect all sorts of gross little particles from the floor and eventually become unusable… I'd say go for the Daiso version! Do note however that we can't guarantee that these are non-toxic.
           Read more: How to Make Slime in Singapore for under $20
---
Foil Balloons & Goodie Bags: From $2.16
Daiso Singapore has a section of party supplies comprising everything from foil balloons to stickers, stationery, goodie bags and more for all your party needs!
             Read more: Ultimate Guide to Kids Party Planning in Singapore
---
Reusable Cups & Other Party Favours: From $216
These reusable cups at Daiso are great as affordable party favours.
             Read more: Where to Buy Kitchenware in Singapore
---
Festive Decorations: From $2.16
During festive periods, you can always count on Daiso to have the best affordable decorations for parties. For Halloween decor they stock up on spiders, jack-o-lantern buckets, lamps, ornaments, streamers and even costume accessories like witches hats and more! For Christmas decorations you can find lots of tinsel, baubles, accessories for tree-decorating, mini Christmas trees and more.
---
Beauty Products: From $2.16
Daiso's beauty aisle is stocked with every makeup product possible – eyeshadow, blush, lipstick, fake eyelashes, disposable sponges, serums, face wash… the list goes on! While you may want to exercise caution before excitedly buying a $2.16 serum, I do highly recommend the brush cleansers. They're great for cleaning your makeup brushes (and you should be doing that regularly if you don't already) and are effective for the price!
---
Photo Frames: $2.16 – $4.10
We all know how hard it is to get inexpensive, non-IKEA photo frames! So chancing upon these $2.16 frames in various sizes was a nice surprise. Available in multiple different colours, designs and photo orientations too!
---
Tableware: From $2.16
Daiso Singapore has a decent range of pottery, including ceramic plates, bowls, mugs, small dishes and more – some in really cute prints and designs. I also spotted some woven seagrass coasters which are really trendy for that resort home feel.
   Read More: 7 Best Housewarming Gifts
---
Sushi-making Tools: $2.16
With Daiso being a Japanese store you can trust them to stock useful sushi-making tools! You can find sushi rolling mats, sushi moulds and even special sushi cutlery. This Nigiri Sushi Mold is great for making round sushi balls – you can even let the kids try this! Just put a small amount of sushi rice in each compartment and shake till each one becomes a ball.
     Read more: Best Sushi Restaurants in Singapore for Affordable Japanese Cuisine
---
Hangers & Storage Boxes: $2.16 – $4.10
If you're Marie Kondo-ing your wardrobe and realised you want to take it to the next level with uniform hangers, Daiso's hanger section has you covered. Super affordable for a bunch, and in multiple different materials ranging from plastic to metal and wood. There's also a dedicated section of storage boxes in Daiso, and in that same area you'll find organisers and other cool home decor items that would be perfect for kids' rooms.
---
Pots & Vases: $2.10 – $4.10
If you are a plant parent, check out Daiso's gardening section. Complete with cute little pots and vases for your plants and flowers! They even have some in larger sizes which could be great for planting veggies or shrubs if you have a garden.
---
Yarn & Knitting/Sewing Supplies: $2.16

You can also find a variety of yarns and threads in Daiso if you've gotten into knitting or embroidery. Those packs of multicoloured threads look particularly useful to have around the house.
---
Stationery: $2.16 – $4.10
Whether you're looking for pens, paper, crafting tools, wrapping paper or greeting cards, Daiso's stationery section is worth checking out. They also have lots of cute themed stationery like sushi erasers!
     Read more: Stationery Shops in Singapore for Cute Notebooks, Journals, Planners and Pens 
---
Arts & Crafts: $2.16
The Arts & Crafts section is worth a special mention – there are great felt fabrics, colour pencils, paints and sketch pads with papers of varying thickness, colourful cards for home projects, stickers and more.
---
Japanese Snacks: $2.16
Relive your Japan holidays and try some of the Japanese snacks you'll probably find near checkout! My must-tries: the caramel corn chips and limited edition Hello Panda biscuits. They do green soba noodles and all manner of sauces too.
            Read more: The Best Dessert in Your Neighbourhood
---
Cleaning Supplies: $2.16
Daiso's section of cleaning supplies is huuuge. I haven't tried any of the liquid cleaners or dishwashing soaps myself, but there are plenty of multi-packs of sponges, wipes and floor cleaning wipes that would be great to stock up on. I've also heard great things about Daiso's washing machine cleaner!
            Read more: 8 Tips for Spring Cleaning in Singapore

Our Top Tips for Shopping at Daiso Singapore
If you're running errands and the kids are getting restless, you can use Daiso as a reward for good behaviour if the mall you're in has one. If there's no fighting or complaining after visiting store after store, surprise the kids with $2.50 each (maybe $5 if you're feeling extra generous) to choose whatever they want from Daiso at the end!
Many of the arts & crafts items and toys (like magic tricks and pranks) are great for Christmas stocking stuffers (or party favours) if you have small kids!
If you're travelling, it's always helpful to stop by Daiso before a long flight and pick up some surprise toys for small kids to keep them busy on the flight!
We hope this helps. Happy shopping, mamas!
All Daiso Singapore outlets
The biggest Daiso in Singapore:
DAISO, Standard Products and THREEPPY Jurong Point, 1 Jurong West Central 2, #03-37, Jurong Point, JP1, Singapore 648886
Opening hours: 10am – 10pm
DAISO 100 AM Mall, 100 Tras Street #04-16, Singapore 079027
Opening hours: 10am – 10pm
DAISO 712 Ang Mo Kio, 712 Ang Mo Kio Avenue 6 , #04-4056, Singapore 560712
Opening hours: 10am – 10pm
DAISO Alexandra Retail Centre, 460 Alexandra Road, #01-23/24, Singapore 119963
Opening hours: 10am – 10pm
DAISO Bugis Junction, 200 Victoria St #03-01/27/28, Singapore 188021
Opening hours: 10am – 10pm
DAISO and THREEPPY Canberra Plaza, 133 Canberra View #B1-01/02, Singapore 750133
Opening hours: 10am – 10pm
DAISO Capitol Singapore, 13 Stamford Rd, B1-22/27, Singapore 178905
Opening hours: 10am – 10pm
DAISO Changi City Point and THREEPPY, 5 Changi Business Park Central 1, #B1-01/02/03, Singapore 486023
Opening hours: 10am – 10pm
DAISO and THREEPPY Chinatown Point, 133 New Bridge Road, #B2-01, Singapore 059413
Opening hours: 10am – 10pm
DAISO City Square Mall, 180 Kitchener Road #04-05/10, Singapore 208539
Opening hours: 10am – 10pm
DAISO and THREEPPY Clarke Quay Central, 6 Eu Tong Sen Street, #02-31 to 43, Singapore 059817
Opening hours: 10am – 10pm
DAISO and THREEPPY Downtown East, 1 Pasir Ris Cl #01-02, Singapore 519599
Opening hours: 10am – 10pm
DAISO East Point Mall, 3 Simei Street 6 #B1-14, Singapore 528833
Opening hours: 10am – 10pm
DAISO Hougang RiverCourt, 377 Hougang Street 32, #02-11 to 14, Singapore 530377
Opening hours: 10am – 10pm
DAISO IMM, 2 Jurong East Street 21 #03-50, Singapore 609601
Opening hours: 10am – 10pm
DAISO ION Orchard, 2 Orchard Turn #B4-47, Singapore 238801
Opening hours: 10am – 10pm
DAISO and THREEPPY JCUBE, 2 Jurong East Central 1, #02-26, Singapore 609731
Opening hours: 10am – 10pm
DAISO Kallang Wave Mall, 1 Stadium Place #02-11, Singapore 397628
Opening hours: 10am – 10pm
DAISO and THREEPPY Kinex Mall, 11 Tanjong Katong Road, #01-01 to 12/58, Singapore 437157
Opening hours: 10am – 10pm
DAISO and THREEPPY Marina Square, 6 Raffles Boulevard #03-111/116, Singapore 039594
Opening hours: 10am – 10pm
DAISO NEX, 23 Serangoon Central, #04-63 NEX, Singapore 556083
Opening hours: 10am – 10pm
DAISO Northshore Plaza 2, 418 Northshore Drive, #01-13/14, Singapore 820418
Opening hours: 10am – 10pm
DAISO Parkway Parade, 80 Marine Parade Road, #03-26B Singapore 449269
Opening hours: 10am – 10pm
DAISO Plaza Singapura, 68 Orchard Road #05-01/02/03, Singapore 238839
Opening hours: 10am – 10pm
DAISO Sembawang Shopping Centre, 604 Sembawang Road #01-18, Singapore 758459
Opening hours: 10am – 10pm
DAISO Singpost Centre, 10 Eunos Road 8 #B1-119/120/124, Singapore 408600
Opening hours: 10am – 10pm
DAISO Square 2 (Novena), 10 Sinaran Drive #02-10/18, 25/27, Singapore 307506
Opening hours: 10am – 10pm
DAISO Tampines 1, 10 Tampines Central 1 #03-17, Singapore 529536
Opening hours: 10am – 10pm
DAISO Thomson Plaza, 301 Upper Thomson Rd #01 85-86, Singapore 574408
Opening hours: 10am – 10pm
DAISO Tiong Bahru Plaza, 302 Tiong Bahru Rd #02-117, Singapore 168732
Opening hours: 10am – 10pm
DAISO VivoCity, 1 Harbour Front Walk #02-41/42, Singapore 098585
Opening hours: 10am – 10pm
DAISO Waterway Point, 83 Punggol Central #B1-09, Singapore 828761
Opening hours: 10am – 10pm
DAISO West Coast Plaza, 154 West Coast Rd, #B1-33 to 45, Singapore 127371
Opening hours: 10am – 10pm
Shop Daiso online: daisosingapore.myshopify.com
Lead image credit: Daiso. All other images courtesy of the author and Daiso Singapore