If you'll soon be leaving Singapore, make sure you check off everything on this bucket list!
Make sure you check off all these must-dos before you leave Singapore! One of the things we love most about Singapore is that it's always changing. Whether you've lived here for a few months or a decade, we've rounded up 23 essential Singapore experiences. Keep scrolling for our top must-dos before you leave!
1. Drinks atop Marina Bay Sands
Where better to take in the city's singular skyline than from under a canopy of stars at the rooftop CÉ LA VI Skybar at MBS? Enjoy signature cocktails or your favourite tipple to complement those glitzy breath-taking 360-degree city views.
2. The Singapore Flyer
Standing proud at 165m, Singapore Flyer is the largest observation wheel outside the USA (it's even 30m taller than the London Eye). As the wheel turns, enjoy a visual 360° feast of iconic and historical landmarks and views including the Marina Bay, Singapore River, Raffles Place, Merlion Park, Empress Place and the Padang.
3. Pulau Ubin
A bum boat ride ($2.50 only!) is all it takes to be transported back in time to 1960s Singapore, as you visit the rustic Pulau Ubin – home to Singapore's last villages or kampongs. What to do when you get there? Check out our Sassy Mama Field Trip Guide to Pulau Ubin for all the deets, mama!
4. Drink local Kopi in a bag
It's true. Singapore's best caffeine hits can be yours for as little as $0.80, and you don't need fancy cups or cafés for it either. Head to any food court or kopitiam and get your java (or teh) fix from a ready-to-go, strung up, lightweight, spill-proof plastic bag. Sorry guys, but this is the one time where Starbucks just won't do!
5. Eat at a Hawker Centre
Yes, Singapore is home to Michelin-starred chefs, but you haven't experienced anything if you haven't been to famous hawker centres like East Coast Lagoon, Newton Food Centre or La Pau Sat. What to order? Peep our favourite hawker dishes, from prata to popiah and char kway teow to chicken rice!
6. Try durian
You can't leave Singapore without trying durian! If buying from a fruit stand seems intimidating, consider meeting up with some Singaporean friends who love durian (yup, not all of us do!) and leave it to them to buy the best ones. Or try ordering a durian delivery – there are tons of options online now!
7. Stroll down Orchard Road
What began as an ordinary country road in the early 1830s has today become Singapore's claim to fame. Whether you come to this world famous great street for shopping, seeing the gorgeous Christmas decorations or for just walking down the 2.2km boulevard, Orchard Road is your address for endless dining, shopping and entertainment options. For those who say shopping is the national pastime, Orchard Road is the cathedral.
8. Spend a day outdoors in Sentosa
The perfect weekend staycation spot, Sentosa offers tons of things to do from the rides at Universal Studios, to the magnificent S.E.A Aquarium, historical Fort Siloso or just hanging out by the beach. Check out our fave kid-friendly restaurants on Sentosa if you plan on spending the day here.
9. Fine dining restaurants
Singapore is one place that doesn't take its food lightly. Take your pick of top celebrity chef restaurants in town. Check out our list of all the latest restaurant openings here!
10. Go for a walk around the Botanic Gardens
The Singapore Botanic Gardens is one of our favourite parks in the world and it's a UNESCO World Heritage Site too! Bring the kids here for a stunning walk amongst giant trees and tropical plants, past the swan lake – there's so much to explore! Reward the kids with a play at one of the amazing free kids' playgrounds here – there's the latest playground COMO Adventure Grove with its huge slide and climbing structure and giant durian to clamber over at Gallop Extension or the children's garden Jacob Ballas with a flying fox, treehouse and slides.

11. Animal adventures
Animal lovers, this is for you! We're talking about the Singapore Zoo, Jurong Bird Park, River Wonders Night Safari, wetland reserves, monkey walks and more! Click here for The Sassy Mama Guide to the best animal adventures in Singapore.
12, Culture up at the Museums
With such a rich history, Singapore boasts a long list of museums: Asian Civilisations Museum, National Museum of Singapore, National Gallery, and a soon-to-open full-fledged Children's Museum, ArtScience Museum, Mint Museum of Toys, the Museum of Natural History.
13. Soak up the vibe in Chinatown
Comprising five of Singapore's main districts, colourful and vibrant Chinatown is a must-do on the bucket list. Whether you're buying authentic Chinese artefacts, looking for delish roast pork goodies, unwinding over drinks or exploring the rich culture.
14. Take a Trishaw ride
Chances are you've seen colourful trishaws with blaring music and dazzling lights around the city by now! It sure beats exploring Singapore atop an open-air bus, or from the confines of a taxi cab. Click here for more information on tour routes and timings.
15. Cruise down the River on a Bumboat Ride
And while we're still exploring the island open-air stye, spare a couple of hours for leisurely cruising along the Singapore River on a bumboat. The cruise starts from Clarke Quay and goes right up to the Merlion at Marina Bay before heading back home again.
16. Little India & Mustafa Centre
Little India is full of vibrant colours, smells, organised chaos and delish street food! And no one escapes the lure of Mustafa Centre, easily reputed as Singapore's most famous 24-hour budget shopping venue and our fave Aladdin's treasure trove of bargains!
17. Shop Arab Street and Kampong Glam
Don't be fooled by the name! It's not just one street, but a melange of roads that make up the historic Muslim quarter of Singapore. Kampong Glam, affectionately known as Arab Street, is where Singapore's Arab traders settled in the founding days of the colony, with a history over 200 years old (be sure to seek out the fascinating old Muslim and Malay cemeteries, practically hidden in plain sight on Victoria Street). Today you can find lots of tasty Middle Eastern food, along with hipster shopping central on Haji Lane and the fabulous Malay Heritage Centre museum.
18. Eat a Local breakfast
Swap cereal and a smoothie for local brekky faves like roti prata, kaya toast and soft boiled eggs, nasi lemak, carrot cake, chee cheong fun, appam and chwee kueh. Where to get your hands on the best plates? Check out our ultimate guide to local breakfast in Singapore.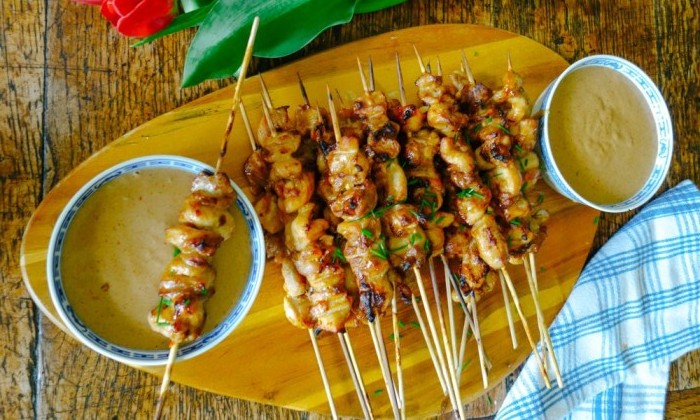 19. Do an East Coast food crawl
Eat like a local and head to these legendary stalls and restaurants clustered around Katong. Check out Katong Laksa, Seafood Lagoon Chilli Crab, Chin Mee Chin Confection and Kway Guan Huat Popiah to start. Click here for our guide to East Coast for even more food and shopping finds, mama!
20. Sunday Brunch (preferably outside)
Whether you want an extravagant boozy Sunday Brunch buffet with free-flow Champagne or to indulge in something simpler, but just as visually stunning check out our guide to the best family-friendly weekend brunches in town. We sometimes take for granted the ability to eat outside year-round in Singapore, but if you're moving back to the US or Europe right about now, chances are you'll want to savour the tropical climate (and the kiddos' ability to run around outside) while you can, mama!
21. Shop at a neighbourhood wet market
Grocery shopping at a supermarket will never be the same again. Our wet markets are a must-see destination for the freshest produce, as well as a cultural experience (click here for our top 10 stalls at Tekka Market!). Make sure you get there early, as most stalls close by noon.
22. Sip on a Singapore Cocktail
There's the classic Singapore Sling at The Raffles of course, or you could go for something more exotic. Try the Kaya Toast Cocktail (made with Mount Gay rum, Earl Grey tea, fresh lemon juice, honey and kaya) at Bitters & Love, or the Peranakan (Jackfruit rum, laksa leaves, goat's milk, candlenut and gulu melaka) at Native Bar. And if you don't want to head out, you can always get your cocktails delivered!
23. Visit Gardens by The Bay
Gardens by The Bay and its beautiful domes are unique to Singapore – where else can you marvel at stunning tropical foliage while seeking respite from the heat with aircon? Tickets are affordably priced so you can choose to visit the Flower Dome (with its gorgeous seasonal flower presentations such as tulips, orchids and cherry blossoms) or the Cloud Forest (a misty, 7-storey plant wonderland with a 35-metre tall waterfall that will greet you at the entrance), or both!
So there you have it, mama! Our top picks for eating, shopping, and sightseeing across the fabulous little island one last time. Enjoy, and let us know what we missed!