If you want your child to experience hands-on learning, develop gross and fine motor skills, boost their confidence and benefit from the great outdoors – check out these outdoor learning concepts and forest school programmes in Singapore!
In a time when kids are obsessed with digital devices and screen time, wouldn't it be great to get them outside so they can connect with nature? Enter forest schools in Singapore, a movement that has come to the red dot with more schools (as well as= after-school programmes/enrichment centres) offering forest school programmes. These offer kiddos a chance to go climbing, tumbling and trekking in the wild, learn 'survival skills' and do woodwork; an outdoor-style learning concept that is holistic and learner-led with loads of benefits for your child's physical and mental wellbeing.
Read more: Preschools with outdoor spaces in Singapore
Jump to:
What is a forest school?
What is an FSA-recognised Forest School Provider?
Outdoor Play & Forest School programmes in Singapore
What is a forest school?
Forest Schools can be defined as nature-based communities where trained forest school practitioners nurture child-led exploration and discovery. Teachers prioritise children's wellbeing, and recognise that every child's social, emotional and physical needs can lead them in providing the best guidance in nature. The aim is to create child-led experiences to mentor holistic growth and nurture kids into becoming confident, risk-taking individuals who value and care for the environment. The Forest School Association (the professional body and UK-wide voice for forest schools) defines Forest Schools as any setting, from nursery, to school or organisation (including sole-trading freelancers), but the key is having at least one Level 3 trained FS practitioner on staff.
The history of forest schools goes way back to the early 19th Century in Scandinavia. The open-air culture (a Nordic concept often referred to as 'friluftsliv') has always been seen as a way of life in Scandinavia and even influences early years education methods. Eventually, the pedagogical practice was established in countries like Denmark, Sweden, Finland and Norway, before becoming more popular in the UK by the 1990s.
---
What is an FSA-recognised Forest School Provider?
Forest School Association has a list of FSA-recognised providers that undergo a regular evaluation process to ensure that they meet the minimum benchmarks of a quality Forest School. One of the main requirements of an FSA recognised Forest School of any nursery, school or organisation is to have at least one Level 3 trained Forest School practitioner on staff, so always ask to be sure. Other FSA-recognised requirements include rigorous safety policies, risk assessments, and first aid training among many other criteria – find out more here.
---
Outdoor play & forest school programmes in Singapore

Forest school programmes within preschools or international schools offer plenty of outdoor play and forest exploration; some are weekly drop-off forest school enrichment programmes. If you want to get your kids into nature, why not consider one of these outdoor play programmes or forest schools in Singapore?
Tanglin Trust School: Forest school programme
Tanglin Trust School offers a forest school programme that employs an outdoor-based learning model for children aged 3 and up that's led by three qualified Level 3 teachers and facilitators. Children between ages 3 and 7 get between 60 and 90 minutes worth of outdoor learning per week during term time. Tanglin's forest school programme connects with Tanglin's Curiosity approach – children are encouraged to use authentic materials, appreciate the natural environment and use learning spaces as the "third teacher". Additionally, Tanglin's forest school programme is specially developed to enhance your child's academic learning and stimulate their physical development, all while complementing Tanglin's after-school, co-curricular forest adventure programme, where children experience outdoor learning within the lush greenery at Wessex Estate.


Tanglin Trust School, 95 Portsdown Road, Singapore 139299, Tel: (+65) 6778 0771, www.tts.edu.sg
---
Dulwich College (Singapore): Forest school programme
This forest school programme in Singapore was introduced to Dulwich by Alex Hall-Gray, a Nursery teacher specialising in Early Years teaching – the programme is also accredited by the UK's Forest School Learning Initiative. Dulwich College Kindergarten School (DUCKS) students aren't taught in the traditional sense; all learning is student-led and retrospectively planned, and teachers teach them how to assess, mitigate and embrace risk, empowering their facilitation of real-world learning through meaningful, purposeful and personal experiences, all while keeping themselves safe. The forest school initiative is part of Dulwich's wider outdoor programme developed for students. Aside from building collaborative fun and teamwork, it is also about progressively developing core skills such as environmental literacy, sound judgement and independence, the ability to correlate issues from multiple perspectives, and the appetite to face challenges head-on. In planning for the forest school programme, Dulwich ensures that the curriculum is embedded within the activities and targets key learning objectives that increase in complexity and demand as students progress from one year level to the next.


Dulwich College (Singapore), 71 Bukit Batok West Avenue 8, Singapore 658966, Tel: (+65) 6890 1003, singapore.dulwich.org
---
Canadian International School (CIS): Outdoor discovery centre
Outdoor learning and being able to apply concepts and knowledge in a real-world environment is an integral aspect of learning at the Canadian International School (CIS). CIS's outdoor discovery centres provide kindergarten and early primary students the opportunity to explore and experiment outdoors in a natural environment. Through expertly guided, purposeful play, children learn math concepts in the mud kitchen, examine habitats in an eco-pond, or develop motor skills riding on bike tracks. The Lakeside campus' new 2,600-square-metre outdoor discovery centre will open with its new junior wing in January 2023 offering lots of amazing outdoor learning opportunities. Other experiential learning opportunities include CIS' open minds programme where students can spend up to four days investigating topics or conducting research in real-world settings such as the Botanic Gardens and Sungei Buloh.


Canadian International School,
Lakeside Campus: 7 Jurong West Street 41 Singapore 649414, Tel: (+65) 6467 1732
Tanjong Katong Campus: 371 Tanjong Katong Road Singapore 437128, Tel: (+65) 6345 1573
www.cis.edu.sg/learning/outdoor-learning

---
EtonHouse International School Thomson: Forest School programme
A Reggio-inspired IB PYP international school for children aged 18 months to 11 years, EtonHouse International School Thomson has just launched a forest school programme in Singapore with a Level 3 Forest Schools Leader accredited by Openawards. The campus has a natural forest school space on its compound for forest school sessions that will continuously be developed with the learners. Its in-house certified forest school leaders will run rotational six-week forest school courses for all learners, providing a high teacher-student ratio so learners can engage confidently and positively. Students will enjoy multi-sensory experiences that encourage awareness, connection and respect for nature. The programme seeks to nurture children to become confident, resilient problem-solving and creative individuals who can make a difference in the world. They will also develop their physical, social and emotional well-being, and gain lifelong skills to empower their journey through life. Alongside EtonHouse's forest school programme, children make the most of the school's incredible outdoor learning environment through outdoor inquiry and scientific learning. EtonHouse's Broadrick campus is also piloting its forest school programme with a small group of students.

Sign up for EtonHouse Thomson and Sentosa's free Playmania event and Open House on 29 October 2022 to learn more! Register before 7 November 2022 to enjoy 50% off the registration or enrolment fee.

EtonHouse International School Thomson, 8 Thomson Lane, Singapore 29774, Tel: (+65) 6252 3322, www.etonhouse.edu.sg/school/thomson

---
The Grange Institution: Forest School-inspired initiative

Introduced in 2020, the award-winning Green Granger initiative is part of The Grange Institution's efforts to champion education for sustainable development. Catering to children aged 3 to 12, guided by the school's Cre8tors-in-Action educational philosophy, The Grange's forest school programme ties with the Singapore Green Plan 2030, and aims to create awareness about sustainability and global issues among students. This multi-prong forest school initiative integrates green areas such as eco-garden, planting strip and urban farming opportunities into outdoor play areas. The green areas feature more than 100 varieties of plants, vegetables and fruits, alongside a specially curated "food forest". This mimics the structure of a natural forest to support science lessons about plants and fauna in the tropical region, allowing students to experience nature first-hand. Not only do students harvest their own organic veggies and fruits to share with the school community, but The Grange has also embarked on a phased design and development of its 1.5-acre backfield into a 'Learning Forest' that will eventually include structures such as learning pods and rope bridges. Want to learn more about its long-term forest school programme? Click here to book a school tour!


The Grange Institution, 449 Yio Chu Kang Road, Singapore 805946, Tel: (+65) 6817 3630, www.thegrange.edu.sg
---
Explorers @ ForestPlay
ForestPlay offers a weekly drop-off forest school programme for children aged 4 to 7, children. Lessons are facilitated by the programme's Nature Rangers to use natural elements as learning opportunities. Not only will kids be one with nature, but they'll also develop their communication, physical, social, emotional and gross motor skills, and knowledge of the world around them. True to the forest school approach, little ones will get to learn how to tie ropes, forage, climb trees and play collaboratively with their peers.


ForestPlay, 112 Tanjong Beach Walk, Singapore 098945, Tel: (+65) 8482 8960, www.forestplay.com.sg
---
Forest Adventure Club

Forest Adventure Club is a Forest School led by a fully qualified forest school coach who is passionate about the forest school ethos. Children will learn how to identify plants, animals, and insects and role-model different activities such as putting up a rope swing, tying knots, den building, putting up shelters, whittling, nature art and bushcraft. Forest Adventure Club also runs school holiday camps.


Forest Adventure Club, Tel: (+65) 9645 2870, www.forestadventureclub.com
---
Forest School Singapore (FSS)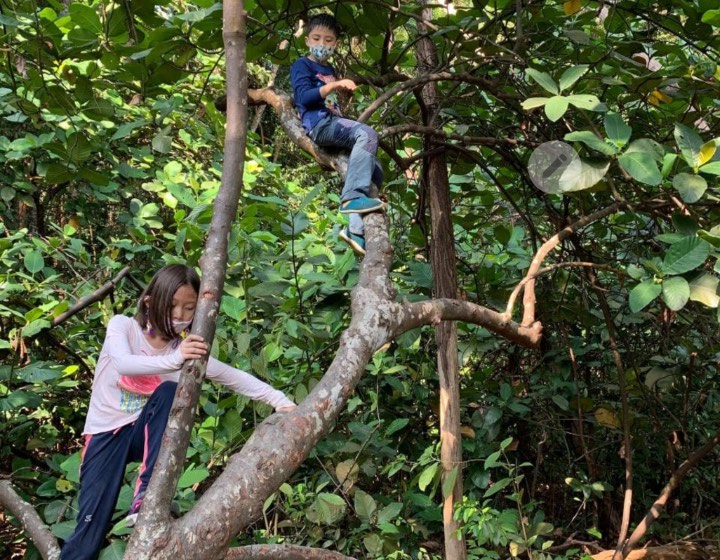 One of the first forest schools in Singapore, there is minimal structure and sessions are almost fully child-led. Forest School Singapore conducts its fun outdoor programmes at the Bukit Timah Forest Basin campus. There are also family programmes where parents can join in, just in case your little one is not ready to try out a forest school programme on their own.


Forest School Singapore, www. forestschoolsingapore.com
---
Nature Explorers School
The forest school programme here adopts a holistic teaching approach, imparting knowledge of flora, fauna, survival skills, the science of how things work, plus the history and geography of the land to children. Safety assessments are completed before each lesson so risks are minimised. The coaches are also first aid-certified and must comply with stringent health and safety guidelines such as medical, equipment and incident procedures.


Nature Explorers School, Tel: (+65) 9847 1674, www.natureexplorersschool.com
---
Nurtured Nest
This Reggio-inspired preschool offers a forest school curriculum that encourages sustainability and plenty of outdoor play. Students use lots of natural materials in their projects and indoor space and fulfil the forest school part of the curriculum with weekly forest visits with certified Level 3 forest school leaders. This forest preschool's topics of enquiry centre around sustainable practices and caring for the planet. There's also the welcoming nature-rich environment, with its Natural Playscapes that encourage biodiversity – the latter includes an eco-pond, sand pit, outdoor atelier, gravel pit and butterfly trail as well as logs and rocks for children to climb.


Nurtured Nest, 644 Dunearn Road, Singapore 289627, Tel: (+65) 8779 7533, www.nurtured-nest.com
---
Outdoor School Singapore
Outdoor School Singapore (OSS) is known for hosting day adventures and camps for children 4 to 9 years old in various schools, allowing them to discover the red dot's nature parks and reserves. In turn, kids develop their ecological awareness, empathy and intelligence, in order to become risk-takers and responsible, resilient citizens. OSS works with schools, parents and organisations to provide a multi-sensory experience outside of the classroom, surrounded by nature. Through activities, children hone important survival skills, learn about Singapore's vibrant flora and fauna (and the importance of environmental conservation), and get active with experiences like supervised climbing activities and building their own shelter.


Outdoor School Singapore, 229 Mountbatten Road, #01-14, Mountbatten Square, Singapore 398007, Tel: (+65) 6346 3227, outdoorschool.sg
---
Primus Schoolhouse Phoenix Park
At this forest school in Singapore, children can become adventure-seeking individuals, equipped with a wealth of knowledge at an early age so they can learn to be self-confident and resourceful. They learn necessary survival skills to create and build, to get creative as they play in the mud and sand, and finally, to rely on the power of teamwork. Safety is a top priority, and its certified forest school teachers are equipped to guide children's exploration. Its immersive outdoor learning and exploration incorporate a variety of multi-sensory activities to actively engage preschoolers, including cooking, outdoor exploration and problem solving, building structures, making tools and observing wildlife.


Primus Schoolhouse Phoenix Park, 310 Tanglin Road, Phoenix Park, Singapore 247975, Tel: (+65) 6235 5310, forestpreschool.primus.edu.sg
---
Roots and Boots
This urban forest school runs drop-off programmes for 3 to 8-year-olds to teach children through outdoor learning activities. The forest school programme here emphasises life skills and experiential learning, designed with each child's holistic development. Every two-hour session features exploratory activities within the natural environment, and children enjoy meaningful interactions that encourage self-discovery and character development with their peers and the forest school guides. Roots and Boots also run holiday programmes and workshops.


Roots and Boots, www.rootsandboots.sg
---
Shaws Preschool
You can rest assured that Shaws Preschool prioritises outdoor play and nature for kids aged 18 months to 6 years – after all, there's tons of outdoor space at all five of their centres, with butterfly gardens and even vegetable patches! The Shaws Preschool Lorong Chuan Campus has a pool so kids can get water confidence lessons while Shaws Little League Coaches come to the schools twice a week to teach children age-appropriate sports. Children who take part in the full and extended day programmes get to take part in the ShawsPlay Club, with activities ranging from Little Chefs, Art and Specialized sports.


Shaws Preschool, multiple locations, www.shaws.com.sg
---
Wildlings
Wildlings has a morning forest school programme for pre-schoolers, as well as after-school and weekend sessions for older kids. Get ready for lots of fun building dens and getting muddy at Wildlings' exclusive one-acre nature space in Dempsey (amongst the lush jungle forests), designed specifically to deliver the highest quality forest school experiences for your children. The space has open areas for sporty activities and games, a jungle zone, a den building and tools area, a mud kitchen, a fire pit, gardens full of insects and edibles, water play areas, gravel and a sandpit, swings and play towers, wagons, and craft areas including mud paints. Wildlings offers forest preschool programmes, adult-accompanied forest school playgroups, a forest school club for older kids, Wild cooking classes, and outdoorsy birthday parties!


Wildlings, 27A Loewen Road, Dempsey, 248839, Tel: (+65) 8875 5919 (WhatsApp), www.wildlings.sg
---
Scroll below to find more educational reads!