Looking for some present shopping inspo to find the perfect toy? Check out our 2023 Christmas gifts for kids of all ages!
It's time to start thinking about Christmas gifts for the kids! Santa may be checking his lists but what about you, mums and dads? If your kids have been (mostly) good (be sure they fill out this handy FREE downloadable Dear Santa letter template here!), then you will want to get them something extra nice this Christmas! Whether you're shopping for little or big kids, check out our guide to all the best Christmas gifts for kids below!
Read more: Christmas Gift Ideas for Women and Men
Guide to Christmas gifts for kids of all ages:
1. Sensory Toys & Uniquely Korean Gifts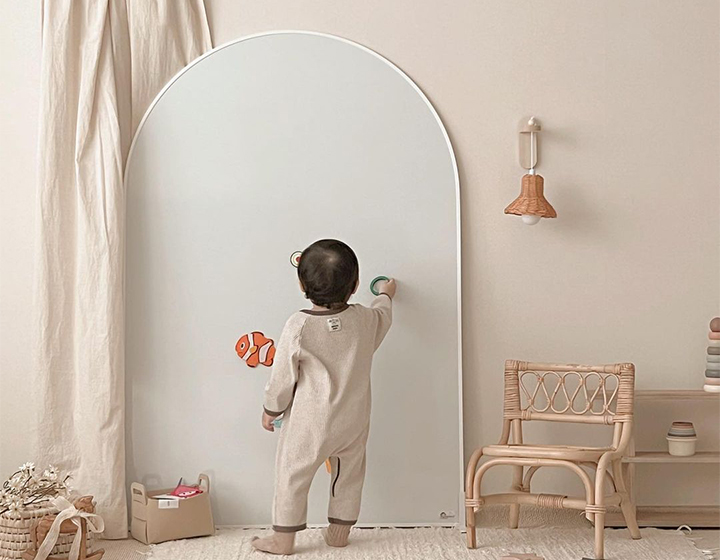 Great for bubs to older kids
All things Korean are having a bit of a moment so if you are hot on this trend, check out much-raved about ToppingsKids, a brand owned by a fellow mama that offers a diverse range of practical and premium parenting essentials from Korea and around the world. Whether you're looking for toys that encourage creative sensory play from brands like TOKI Sand or Kefii, super cute kids' tableware or for little artists a large whiteboard to unleash their creativity on, you'll find it and more at ToppingsKids! As well as the best things from Korea, they also stock internationally well-loved brands such as Playmobil and Connetix tiles so you can do all your Christmas shopping for kids in one spot!

Exclusively for SassyMama readers, use SASSY5 to enjoy 5% off from now till 31st December and get $10 off with a minimum spend of $150 from 1 January 2024 to 31st October 2024 with SASSY10.
---
2. Famous Amos Cookie Gifts
Great for kids of all ages (grown-ups too!)
How gorgeous are these Famous Amos cookie gifting tins? Famous Amos' cookies are legendary and make a fun gift for kids of friends or perhaps nephews and nieces who you don't know what to gift! Who doesn't love crunchy cookies studded with chocolate? These famous cookies are packaged in delightful Christmas tins and boxes (from $8.90) that are sure to be a hit with kids of all ages (and adults too)! Find them at all Famous Amos outlets or online.
---
3. Bike or Balance Bike
Balance bikes from 2 years, bikes from 4 years old
Getting kids active is something we really believe in over at Sassy Mama, so we are all for kids' toys that get them playing outdoors while getting some exercise! If your tot is just starting out, consider a balance bike (for kids aged 18 months to 4 years) like this super cute pink one from Little Shop ($159) or check out Decathlon for simpler models. Older kids can start on a bike with training wheels or jump right onto a big bike. Here's where to buy bikes in Singapore.
---
4.  Swatch Flik Flak Watch
Great for kids aged 6+ 
Remember 'old fashioned' watches? You know, ones that don't tell you to stand up, measure your oxygen levels and talk to you? Apparently, they're having a bit of a comeback with the youth. Analogue wristwatches like the Swatch Flik Flak (from $115) are super cute and colourful (there are a bunch of different themes to choose from) and get kids interested in telling the time.
---
5. Stomp Rocket
Great for kids aged 4+
These kid-powered Stomp rockets (from $24) can soar up to 200ft in the air! Kids don't even realise they're learning about trajectory, force and motion, while getting some exercise in! Stomp Rocket has different kits including the original one stomp rocket (great as a starter kit or if you only have one child!) and even a glow-in-the-dark Stomp Rocket. But this Dueling Stomp Rocket is great for siblings or to have a rocket stomping competition with parents!
---
6. Slime-Making Kit
Great for kids 6 years+
It's pretty simple to whip up your own slime (use this handy slime recipe which costs under $20), but if you want to have a nicely packaged gift to give the kids for Christmas, a slime kit is where it's at. There are plenty of different-themed slime kits to choose from depending on how many accessories or extras you want. Just be wary of the mess this Christmas gift entails!
---
7. Kids' Walkie Talkie
Great for kids aged 5 years+
"See you in 5 minutes, over and out!" Whether your kid loves playing spy games with a friend or has a neighbour who lives close by, they will love communicating with each other with walkie-talkies. There are lots of different brands at different price points on the market – some last longer than others, so check online reviews. We've had a good experience with Topsung M880 walkie-talkies.
---
8. Fort Building Kits
Great for kids aged 5 years+
Build a fort without messing up all the blankets and sofa cushions in the house? Yes, please! Crazy Forts uses rods and connectors, which let families build more intricate forts and dens. There are different Crazy Forts including one version that glows in the dark! Other brands include Obuby Kids Fort Building Kit Construction STEM Toys and National Geographic Fort Kits.
---
9. Rollerskates or rollerblades
Great for kids aged 6 years+
Get the kids some retro rollerskates or modern rollerblades. Decathlon sells some really affordable inline skates (from $30) with adjustable boots and straps that will grow with your child – bargain! Don't forget the knee pads, ankle guards and elbow pads, plus a helmet too!
---
10. Magnatile Gift Set
Great for kids aged: 2-6 years old
Kids – and parents – LOVE Magnatiles! These colourful translucent magnetic tiles develop math, science, building and spatial skills. Younger kids will enjoy building with them on a flat surface, while older kids can build in 3D. They're great for solo or multi-child play. If you already have a set you can consider another set in different shapes or colours for a present this year. You can never have too many of these amazing building tiles, and they make a great Christmas gift for younger kids of all ages!
---
11. Dig for Gems: Activity Kit
Great for kids aged 6 years +
This kit combines the fun of chiselling away to reveal a treasure and the excitement of owning real gems! This Mega Dig Kit includes everything kids need to be treasure hunters including a chisel, a brush, and a magnifying glass to inspect the amazing gems they are going to find from amethyst to tiger's eye, quartz, and obsidian. There's also a Fossil Kit which includes 15 real fossils to unearth – a great educational kids' gift for Christmas!
---
12. Board game presents for kids of all ages
Great for kids: depends on each game
The great thing about gifting kids board games for Christmas is that most of the time, the whole family can enjoy playing them together. We love some screen-free bonding time, and some of our fave family board games include Catan, Monopoly, Cranium, Ticket to Ride, and Scrabble. Find these on Amazon.sg or your fave local toy shop. Looking for more ideas? Head over to our family board game roundup – handily broken down into age-appropriate board games.
---
13. Lite Brite Magic Screen

Great for kids aged 4 years+
Lite Brite toys have been around since many of us adults were young, but we love them for the nostalgia and the creativity they inspire in kids! Kids create art using coloured pegs using the picture templates provided or they can go freestyle and imagine their own masterpiece! Once the creation is complete, light it up using one of the four different light effects. The Lite Brite runs on batteries and is compact, making it a great Christmas gift and travel toy too.

Read More: Best local toy shops
---
14. Multiracial Dolls
Great for kids 2 years +
Looking for a doll that reflects your family's ethnicity? The most common dolls at the toy store are Caucasian, so we round up some great toys – from action figures to games to multiracial and anatomically correct dolls (like the cute doll pictured above from Educational Insights on Amazon.sg), so you can choose a toy to gift that will help diversify your child's playroom. Read more here.
---
15. Card Games for Kids

Great for kids 6 years +
Looking for a stocking stuffer-style gift? We love Singapore-themed card games like The Singaporean Dream, Hawker Wars and Chope! The Card Game – all the perfect size to stuff into that Christmas stocking.
---
16. PlayStation or Nintendo Switch (or a new game)
Great for kids 8 years+
If you have an older kid, chances are that a PlayStation (PS5 or Ps4) or Nintendo Switch (Switch OLED and Nintendo Switch Lite) is on their Christmas wish list! This is a pricey one, so start saving up now! Some of our favourite Nintendo Switch games include Super Mario Odyssey, Mario Kart 8, Super Mario 3D World and Super Smash Bros Ultimate, plus Luigi's Mansion 3. For PlayStation, it's Just Dance 2021, Spyro Reignited Trilogy, Minecraft Starter Collection, and Sonic Mania Plus.
---
17. Children's Books
Great for kids of all ages
Books are always an excellent present, as they are generally enjoyed long after the Christmas tree is packed away. For little bubs, start with soft material books (pictured) then move on to classic board books like Where is the Green Sheep? and It's Time For Bed. For picture books, we love Beatrice Alemagna's books – The Marvellous Fluffy, Squishy Itty Bitty and On a Magical Do-Nothing Day. If your kiddo is starting on chapter books, the Rabbit and Bear series is lovely, or try Fuzzy Mud by Louis Sachar. For more confident readers, check out the Percy Jackson & The Olympians series, Alex Rider series, Harry Potter (of course!), plus anything by Roald Dahl and David Walliams. Buy books in stores like Woods in the Books, Books Ahoy in Forum the Shopping Mall, Kinokinuya, and Popular or order online from Amazon.sg.
---
18. Experience Gifts or Coupons
Great for kids 4 years+
Research has proven that giving experiences leads to more lasting happiness and satisfaction. So how about gifting quality time together with your kids? Download our FREE Kids Reward Coupons for a fun (and FREE) Christmas gift that we know your kiddos will love!
Other experience ideas include a Friends of the Zoo membership, so kids can go to the zoo to see their favourite animals whenever they want, passes for rock climbing or any other experience! Check out our 101 Things to Do in SG for inspiration here.
---
Read more:
Christmas Gift Guide for Mamas
Christmas Gift Guide for Dads
This post contains some paid partnership content and affiliate links.