Looking to book a family-friendly cheap chalet in Singapore? Check out these chalets and bungalows in Singapore where you can get your gang together and enjoy the pool, BBQ pits and more!
All of us need a break from the daily grind once in a while, and booking a stay at a chalet in Singapore is a great way to unwind with the family. While hotel staycations are fab for some indulgence and glamping at the beach or camping in Pulau Ubin is great for a rustic adventure, chalets offer something unique — they often have large dining rooms or communal areas with a BBQ pit so they are great for large gatherings and make a super birthday party venue! Booking a chalet in Singapore gives you a lot more freedom not to mention space for a much cheaper price — we found one family chalet that sleeps five for as little as $155 a night (that's just $31 per person!). Here's our pick of the top family-friendly chalets in Singapore that have something for everyone!
12 Chalets in Singapore For Families & Large Groups 
1. Aranda Country Club: Pasir Ris chalet with BBQ & karaoke
The Aranda Country Club chalet is nestled in Pasir Ris with a variety of family-friendly facilities that provide an indulgent family staycation. From an aqua fitness workout to a BBQ and karaoke sessions, your family will never run out of things to do at this chalet in Singapore.
Younger kids can let loose in the kid's playroom equipped with slides, a pretend play kitchen, and many toys that will keep them entertained, while parents can unwind in the Momley Loft with a self-care session to recharge for the next toddler tantrum. Executive suites at this chalet include a living room, dining area, a pantry with a refrigerator, and two bedrooms with two bathrooms.
Singapore chalet prices: from $420++ for the public.

Aranda Country Club, 60 Pasir Ris Drive 3, Singapore 519497, Tel: (+65) 6584 6811, www.arandaclub.org.sg
---
2. The Chevrons: chalet with family-friendly activities
While most chalets in Singapore sit on the east coast, The Chevrons is a chalet nestled in the heart of Jurong East. This chalet could be one of the cheapest chalets in Singapore. For active kids, this chalet features the biggest bouldering gym in Singapore. Boulder+ is open to kids above 7 with any level of fitness. While the kids sweat it out at rock climbing, you can unwind by the pool, challenge your partner to a game of darts or pool, or melt into the massage chairs to de-stress!
The double-storey chalets sleep up to four people and come with a private BBQ pit so you can cook alfresco while the kids play. If you want to unwind in a more luxurious space, the double-storey bungalows sleep up to five people with a private BBQ pit and a spacious dining room for an evening of board games and family dinners! This cheap Singapore chalet is just $155 per night and sleeps up to 5 pax (meaning it's just $31 per person)!
Singapore chalet prices: from $155 (members) and $270 (public) per night for double-storey chalets; $255 (members) and $370 per night for double-storey bungalows.

The Chevrons, 48 Boon Lay Way, Singapore 609961, Tel: (+65) 6668 8888, www.chevrons.org.sg
---
3. Civil Service Club @ Changi I: chalet for large groups + BBQ
Are you looking for a more spacious chalet in Singapore to include your extended family? CSC @ Changi features two-bedroom family chalet suites that can sleep up to eight people. Your kids will love the swimming pool that is equipped with water play features and an awesome pirate ship-themed playground (at CSC I), while the parents can relax by the infinity pool with a breathtaking view of the sea.
If your kids are old enough to participate in a family cookout, then you can make use of the BBQ pits! Enjoy a game or two of bowling or head over to the tennis court for a sweat sesh. The chalets and facilities at CSC @ Changi have something for the whole family, regardless of age and interests!
Singapore chalet prices: from $288.17 per night for the public (Family Suite Plus).

Civil Service Club @ Changi, 2 Netheravon Road, Singapore 508503, Tel: (+65) 6709 4709, www.cscchangi.sg
---
4. Civil Service Club @ Changi II: seafront chalet + BBQ pit
If you're planning a getaway with extended family, then this is the chalet for you! CSC @ Changi II (formerly Aloha Changi) has huge chalets, cottages and bungalows – some chalets can sleep up to eight people or host a party of 50 during the day. Each chalet comes with sheltered BBQ pits so you can enjoy BBQ chicken wings and the kids can roast marshmallows. These chalets also have a dining area and a fully equipped kitchen.
Whether you're hosting a big birthday celebration or just want to plan a getaway with your family, Civil Service Club @ Changi II has rooms of every size. And if you want to wake up to the sound of waves crashing on the shore, book the Changi Seafront chalets. Each unit has four bedrooms, a living room, dining area, fully equipped kitchen and sheltered BBQ pits.
Singapore chalet prices: from $277.20 for members and $399.17 for public (Fairy Point Bungalow, 3 bedrooms)

Civil Service Club @ Changi II, 30 Netheravon Road, Singapore 508522, Tel: (+65) 6545 2343, www.cscchangi.sg
---
5. Civil Service Club @ Loyang (CSC Loyang): chalet + kids' pool
For an adventure staycation with sea, sand, and water sports, check out CSC Loyang Point chalets with its two-bedroom terraces and four-bedroom bungalows that overlook the Pasir Ris beach (kids will go wild for the bunk beds!). Your family can kick back and relax by the swimming pool, get a tan on the beach, or head over to E!Hub at Downtown East for an evening of shopping.
The key feature of these chalets in Pasir Ris is the swimming pool with a built-in water play as well as the children's playroom! CSC @ Loyang Point is one of the most family-friendly chalets in Singapore and we love how it's so close to the beach! And for those with furbabies, you can now book one of the four pet-friendly chalets and bungalows so you can bring your dog along.
Singapore chalet prices: two-bedroom Garden Terraces from $410.05 per night (for public); four-bedroom Sea View Terraces from $683.42 (for public).

Civil Service Club @Loyang Point, 159W Jalan Loyang Besar, Singapore 507020, Tel: (+65) 65819033, www.cscloyang.sg
---
6. D'Resort: Pasir Ris chalet at Downtown East + BBQ pit
D'Resort is more of a resort than a chalet as many of its rooms are standalone (some with a king-sized bed and bunk beds). But D'Resort is still popular amongst those searching for East Coast chalets in Singapore because their double-storey family bungalow has a kitchenette, living room, and private BBQ pit. Located in Downtown East, D'Resort is a chalet that features spacious family-friendly newly renovated rooms that sleep up to four people for $178 per night. Wild Wild Wet Waterpark is within walking distance from the chalets and kids will have a blast on the different water slides.
For indoor entertainment, you can head over to the rollerskating rink Hi Roller, watch the latest blockbuster at Cathay Cineplex, get active with the rock climbing wall, or sing your heart out at HaveFun Karaoke! The chalets are also five minutes from Pasir Ris Park, which is equipped with BBQ pits for your next seaside meal.
Singapore chalet prices: from $238 per night for up to four pax.

D'Resort, Downtown East,  1 Pasir Ris Close, Singapore 519599, Tel: (+65) 6582 3322, www.dresort.com.sg
---
7. Kranji Sanctuary Resort: kampung chalet + BBQ pit
Looking for a getaway from the city? Kranji Sanctuary Resort is a beautiful kampung-style chalet, where you will be surrounded by lush greenery. This chalet has a BBQ pit and the BBQ rental package comes with charcoal and other equipment. For a large family, the Family Room chalet is a spacious villa with two queen-sized beds and a balcony with tables and chairs, so you can soak in the serenity.
For a unique experience, you can spend the day at Bollywood Farms, Singapore's largest planet-friendly farm, explore Sungei Buloh Wetland Reserve and Kranji Marshes. If you have young kids, plan a trip to Hay Diaries Goat Farm, where kids will get to feed goats and learn about sustainable farming practices.
Singapore chalet prices: from $240 for 2 standard rooms or $280 for a family room.

 Kranji Sanctuary Resort, 10 Neo Tiew Lane 2, Singapore 718813, Tel: (+65) 6898 9228, kranjisanctuaryresort.com
---
8. Heritage Chalet: cheap East Coast chalet in Singapore
This lesser-known East Coast chalet in Singapore sits right on the coast and offers seaside views, fresh air and lush greenery – a perfect getaway from the hustle and bustle of the city! The two-storey chalet in Pasir Ris is fully equipped with everything you'll need for a fun family stay. The chalets have a BBQ pit, a kitchen, living room and a private car porch.
There are four spacious bedrooms, so each chalet can accommodate up to 12 guests, which makes this a great choice for large gatherings with friends or family. Kids can burn off energy at the vintage playground, while grown-ups can go prawning, fishing, or test their aim in archery. Relax with a yoga session or try a boxing class at the fitness studio. Heritage Chalet even offers glamping with beautiful dome tents, if you're looking for something different!  This chalet is one of the cheapest chalets in Singapore at $370.37 per night fitting up to 10 people that's just $37.04 per person!
Singapore chalet prices: from $370.37 per night (chalet for up to 10 pax).

Heritage Chalet, 125a Pasir Ris Road, Singapore 519121, Tel: (+65) 9040 1817, www.heritagechalets.com
---
9. HomeTeam NS Bukit Batok: family chalet in the West
Calling all Westies! If you're looking for a chalet near you, West Villa at HomeTeamNS Bukit Batok is a family-friendly chalet with BBQ pits and outdoor picnic opportunities. While each chalet here can only sleep one family of four – you can have guests over if you are hosting a party in the daytime. The maximum capacity at one time per chalet is 30 pax.
The Superior Villa is the smallest chalet with four or five single beds, perfect for a family of four. You can rent a Mahjong set with tables and chairs or game consoles (for Premier Deluxe chalets only) and plan a fun family game night.
Singapore chalet prices: from $188.75 per night (off-peak) for members; $296.74 per night (off-peak) for guests

 West Villa at HomeTeamNS Bukit Batok, 2 Bukit Batok West Avenue 7, Singapore 659003, Tel: (+65) 6705 9475, www.hometeamns.sg/villas-bukit-batok
---
10. HomeTeamNS East Villa Bedok Reservoir: chalet + BBQ
East Villa at HomeTeamNS Bedok Reservoir is a beautiful family-friendly chalet in Singapore offering waterfront views. Each chalet comes with an induction hob, cooking pots and a private BBQ countertop with an electric grill to cook up a delicious meal, while the living room has a smart TV and a game console for family fun.
East Villa chalets also offers Mahjong Sets for rental, as well as board games and card games. Families can also relax in the pool and parents can head to the Fitness Workz Garage for a workout. Choose from four chalet villas and bungalows to find the one that suits your family.
Singapore chalet prices: from $403.74 per night for HomeTeamNS members; $585.42 per night for guests

 East Villa at Bedok Reservoir, 900 Bedok North Road, Singapore 479994, Tel: (+65) 6708 6699, www.hometeamns.sg/bedokreservoir/eastvilla
---
11. National Service Resort & Country Club (NSRCC): family chalet
For the golf-loving family, the chalets at NSRCC provide the perfect getaway with bungalows that sit beside the 18-hole championship golf course. These chalets are perfect for bigger families because they feature twin-sharing two-bedroom chalets equipped with a private BBQ pit as well as fully fitted kitchens. You'll be able to enjoy the sea breeze while breakfasting on the verandah – we love that these chalets also have views of Changi Beach.
Your chalet rental comes with two free bowling games per person and you'll have full access to the swimming pool, fitness centre, and wide range of courts (tennis, squash, and basketball). These spacious chalets have access to a fun family zone that houses arcade game machines, an open kids' play area, and game rooms to keep your children entertained for hours!
Singapore chalet prices: from $228.86 per night for citizens and from $250.56 with effect from 1 January 2024

National Service Resort & Country Club, 10 Changi Coast Walk, Singapore 499739, Tel: (+65) 6542 8288, www.nsrcc.com.sg
---
12. Temasek Club: cosy chalet with bathtub
While it's not open to the public, we just had to mention these cosy Temasek Club chalets that sit in the middle of lush greenery. Temasek Club is a members club for SAF officers, Senior Military Experts, NS Key/R(NS) Appointment Holders and retired SAF officers. If you are a member, here's your sign to book a staycation!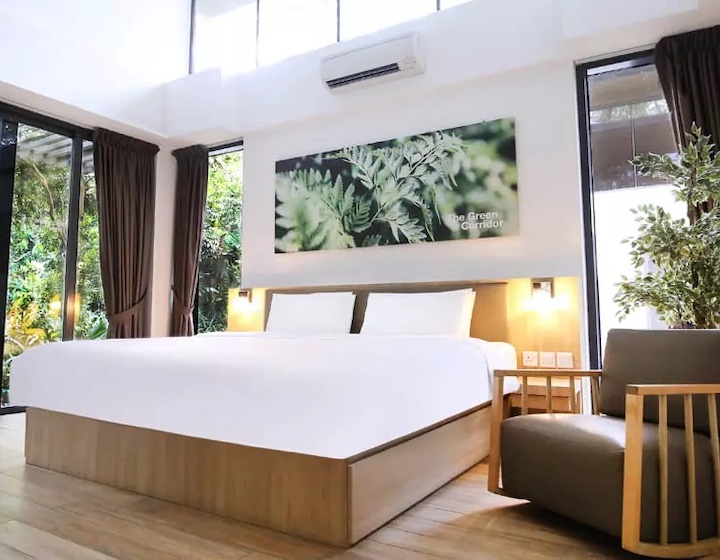 Just look at this beautiful, spacious chalet room and the rainforest that surrounds it! It certainly looks like a perfect getaway from city lights and the crowd and we love that each chalet comes with a bathtub (something you don't often get in more rustic chalets). And of course, the swimming pool, fitness centre, adventure park, karaoke rooms and more make this a perfect family chalet stay!
Singapore chalet prices: from $108++ (for up to four people) and 188++ (for up to five people).

Temasek Club, 131 Rifle Range Road, Singapore 588406, Tel: (+65) 6801 4242, www.temasekclub.org.sg
---
13. Tiny Away Escape @ Lazarus Island
Perhaps the newest chalet off the coast of Singapore, Tiny Away Escape @ Lazarus Island gives you a break from the hustle and bustle of the city. There are only five eco-friendly air-conditioned tiny houses with tinted full length glass panels, curtains for privacy, a toilet and fully functional hot bath. Unlike the other chalets in this roundup which are good for big groups, each tiny house here sleeps a maximum of 2 adults and 2 kids. You'll get a well-stocked mini bar and use of the microwave. This makes for a perfect respite after a fun day out exploring Lazarus Island, braving the sea with thrilling water sports like stand-up paddling or kayaking. And if you want to get real fancy, rent a yacht to explore the open sea while you're there.
Singapore chalet prices: from $284 per night for up to 4 pax.

 Tiny Away Escape @ Lazarus Island, 11A Pulau Seringat, Singapore 099556, Tel: (+65) 6525 5282, escapeatlazarus.com
---
So, what are you waiting for? Book your next holiday at one of these chalets in Singapore today!
For more kid-friendly hotels, check out:
Featured Image Credit: D'Resort (top left), The Chevrons (top right), East Villa (bottom left), Kranji Sanctuary Resort (bottom right)