Prep early for back-to-school! Here's where to buy must-have school supplies like pencil cases, name tags, lunchboxes and school bags for kids in Singapore
Getting ready to buy school supplies and school bags for kids in Singapore? Look no further! If you are starting to prep your child for the start of school and are stocking up on school supplies and stationery essentials, we've shortlisted our favourite places to get everything from name tags to school bags in Singapore. Here's where to find black leather school shoes (for international schools), white school shoes (for local schools), water bottles, lunch boxes, ergonomic school bags and more. We round up everything your child needs to get ready for the coming school term!
Read more: Best stationery shops in Singapore
Back to School Guide
Jump to:
– Backpacks & School Bags in Singapore
– School Shoes
– Water Bottles for School
– Name Labels for School Bags and School Supplies
– Lunchboxes for School
Where to Buy Backpacks & School Bags for Kids in Singapore
If you've got preschoolers heading off to nursery or "big school" for the first time, purchasing their first school bag is a big deal. For some schools, a school-issued school bag is a requirement but if your child can choose their own school bag, this can really add to the excitement of a new school.
          Read more: Pro tips on helping your kids keep track of their school stuff
Amazon.sg
Amazon.sg stocks lots of school bag options from find iconic Fjallraven Kanken bags made with durable Vinylon F fabric, which repels sweat, great for style-conscious teens to kids' backpacks that would make a perfect school bag including Deuter, IMPACT, Thule, Marvel Avengers backpacks and much more.

Amazon.sg, www.amazon.sg
---
Dr. Kong
Dr. Kong is most known for its special insoles and footwear to help with common foot problems. But…it also has a wide range of spine pressure free school bags. The back side of the school bag is heavily padded for extra comfort and has an internal centre gravity plate to even out the weight of the school bag and reduce the chance of hunchback in kids. There are four different sizes of school bags, so you can choose the one that best suits your child based on their height. They even have cute toddler school bags for the little ones!

Dr. Kong Singapore, multiple locations in Singapore, Eunos, Yishun, Changi, www.drkong.com.sg
---
Ergokid
Looking for a school bag that's sustainable and great for your child's posture? Ergokid school bags are a total win. The school bag backpacks are designed to distribute weight evenly, which helps minimise the strain on your kiddo's back. Better still, these school bags are made from 100% PET recycled fabrics.

Ergokid, 501 Orchard Road, Wheelock Place, #03-07A, Singapore 238880, www.ergokid.com
---
Ergoworks
Getting a school bag that will help preserve your child's posture is key! That's why Ergoworks creates stylish, long-lasting school bags that can make sure your child can comfortably carry everything they will need for the day. Not only are they ergonomic, but the school bags at Ergoworks are lightweight with many compartments to help your child stay organised.

Ergoworks, 6 Marina Square, #03-140/141, Singapore 039594, ergoworks.com.sg
---
Kid2Youth
Kid2Youth only carries ergonomic products including study desks, chairs, and of course, school bags! Choose from three Kid2Youth, ErgoBag and Materns' ergonomic but colourful school bags that will let your child show off their personality. These school bags are built to last!

Kid2Youth, 11 Woodlands Close, #10-22, Singapore & 71 Ubi Road 1, Oxley BizHub, #06-36, Singapore kid2youth.com.sg
---
Next
Next has a range of school bags – some better suited to smaller kids with themes of Spider Man and Princesses. We spotted many Minecraft school bags and more demure school bags in tan or leather for older kids and teens. Next offers delivery to Singapore.

Next, www.next.sg
---
Skip Hop
Little ones will adore these super-cute school bags, each in colourful animal patterns (there's even a cool dragon design backpack!) and other vibrant colours so your little one will be pleased as punch with their school bag.

Skip Hop, www.skiphop.com
---
Popular
For a slightly more budget-friendly option, head down to your closest Popular store or check out their ergonomic school bags online. With a range of five colours to choose from, these POP KIDS Basic Ergonomic School Backpacks have an S-shape ergonomic shoulder strap to reduce the stress of the weight on your kid's shoulders. The school bags also have padded sides and lumbar support panels for greater carrying comfort. Some Popular stores even carry other brands of school bags for a variety of choices.

Popular, multiple locations in Singapore including Bras Basah, Woodlands, Bedok popularonline.com.sg
---
Pottery Barn Kids
This store has an impressive range of ergonomic kids' backpacks and school bags available in four different sizes (including backpacks with wheels), with just about every print imaginable. School bags are also monogrammable and many of the prints even glow in the dark (a huge selling point with many six-year-olds). Each school bag line also features coordinating water bottles, pencil cases, and lunch bags, and they ship to Singapore!

Pottery Barn Kids, www.potterybarnkids.com
---
Pupsik Studio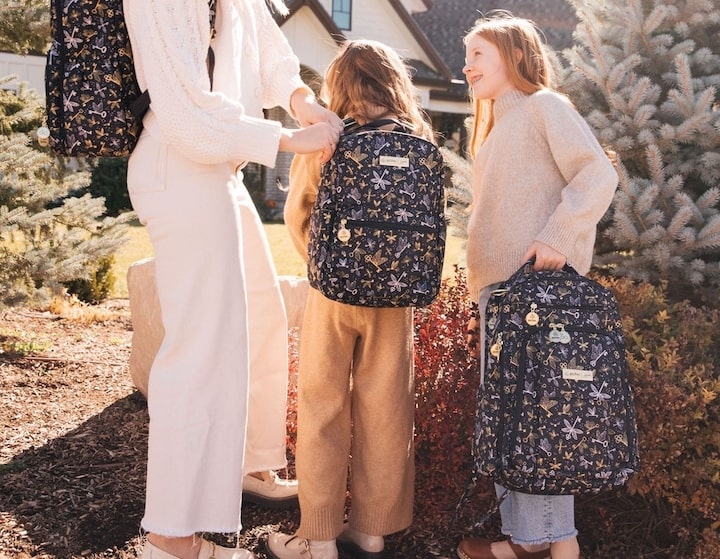 Pupsik Studio's the site to visit if you want to spend an entire day browsing through pretty backpacks for school. The school bags come in so many colours, sizes, brands and types to choose from you'll be spoilt for choice for your child's next school bag!

Pupsik Studio, www.pupsikstudio.com
---
Trio Kids
We love the variety of colours and designs for these ergonomic school bags! From pink school bags with unicorns to navy blue school bags with out-of-this-world planets, there are plenty of cute designs that your kiddos will love. Best of all, each school bag also has a matching pencil case and lunch bag to complete the look.

Trio Kids, 37 Jalan Pemimpin, Mapex Building, #03-10, Singapore 577177, triokids.com.sg
---
Where to Buy School Shoes
Singapore schools require all white school shoes and most international schools require black leather school shoes. So if your child needs cool new kicks, whatever the colour, click here for our full list of where to buy Black and White School Shoes in Singapore!
---
Water Bottles for School
No matter what age your child is, nursery to high school, everyone needs a water bottle in hot Singapore; just be sure to look out for BPA- and Phthalate-free bottles for your child's safety. And make sure your child's school bag is big enough to hold that water bottle!
Decathlon Singapore
The water bottles here are durable and inexpensive, which means you won't have to worry about the heartache that comes from wear and tear.

Decathlon Singapore, multiple locations in Singapore including Kallang, Orchard, Novena www.decathlon.sg
---
Pupsik Studio
There's a wide selection at great prices, including the ever-popular Skip Hop Zoo line, which comes in a variety of fun colours and sizes.

Pupsik Studio, www.pupsikstudio.com
---
S'well
One of our current faves for older kids, S'well bottles can keep beverages cold for a full 24 hours (or hot for 12). They're also condensation-free, and are made from premium grade, BPA-free stainless steel.

S'well, available on Amazon
---
Tangs Singapore
Whether you want a Hydro Flask for the kiddo or a hardy water bottle that's inspired by The Little Prince, odds are you'll find it here.

Tangs Singapore, 310 Orchard Road & 1 Harbourfront Walk, #01-187 & #02-189, Singapore www.tangs.com
---
Velocity @ Novena Square
Hit up one of the many outdoors-themed stores that sit in this sporty mall. You'll find plenty to please, whether your child is an athlete or bookworm.

Velocity @ Novena Square, 238 Thomson Road, Singapore 307683, www.velocitynovena.com
---
Name Labels for School Bags and School Supplies

Of course, once you've purchased your school bag and supplies the next job is labelling everything (otherwise the mama chats on WhatsApp will be forever filled with: Have you seen Tim's water bottle? Lulu lost her lunch box!). Fortunately, there are so many kid-friendly personalised name labels on the market these days. Consider picking up personalised, waterproof, stick-on or iron-on name labels from online stores such as Bright Star Kids, Muakids, Qoo100 (super cheap!), Sticker Kid, StickerPrint.sg, Stuck On You or Tiny Me. Just remember to order well in advance, as a number of these places are outside Singapore and shipping can take a while.
---
Pencil Cases and Writing Supplies
If there's anything that can get kiddos excited for the start of a new school year, it's fun, colourful school supplies. Here's where to go for pencil cases, writing instruments and more.
Typo
Love bright and colourful pencil cases? Typo is the place to go! Known for cute stationery and notebooks, Typo always has a range of pencil cases to choose from so your kids can carry their school supplies in style.

Typo, multiple locations in Singapore including Dhoby Ghaut, Jurong East, Bedok and more
---
Evergreen Stationery
This unassuming store doesn't look much but don't be fooled. There's enough school supplies here to stock an entire household and makes for a pleasing find if you prefer practicality over aesthetics.

Evergreen Stationery, multiple locations in Singapore including Marine Parade, Great World www.evergreen.com.sg
---
Smiggle
Smiggle is where all the cool kids go for school supplies in Singapore. They also stock colourful school bags in some stores. This Aussie retailer is known for its colourful, trendy pencil cases and school supplies, so your child will start school on a bright note!

Smiggle, multiple locations in Singapore including HarbourFront, Orchard, Jurong East, www.smiggle.sg
---
CityLuxe
Stock up on affordable school supplies and writing instruments here. Think ballpoint pens, mechanical pencils, gel and brush pens, markers, felt tip pens, multi-function pens and much more.

CityLuxe, 12 Little Road, #05-02 Singapore 536986, Tel: (+65) 8218 3768, www.cityluxe.sg
---
Giant
Giant is a great place to shop, especially if you're restocking school supplies for more than one kid. There are a variety of options, so each child will leave this mega supermarket happy with their gear.

Giant, multiple locations in Singapore including Hougang, Tampines, Ang Mo Kio, Paya Lebar, www.giant.sg
---
Popular Singapore
This popular local bookstore is swimming in school supplies of every kind. There's a large section dedicated just to pencil cases, stationery and all other school supplies. Prices are inexpensive, and members are entitled to good discounts.

Popular Singapore, multiple locations in Singapore including Bras Basah, Toa Payoh, Bedok, www.popular.com.sg
---
Muji
If you're looking for minimalistic pencil cases, pop by Muji! They sell semi-transparent polypropylene pencil cases and nylon mesh pencil cases, so you can easily find everything you need. A simple horizontal pencil case only costs $2.90 and gives your child the option to unleash creativity to decorate it!

Muji, multiple locations in Singapore including Orchard, HarbourFront, Tampines and more, www.muji.com/sg
---
KOKUYO
Similar to Muji, Kokuyo is a Japanese brand with simple pencil cases for kids who don't want anything too colourful and have just enough space for essential school supplies. You can order them on Amazon.sg, Lazada or their official online store.

KOKUYO, www.kokuyostore.com
---
Art Supplies
If you are looking for notepads, journals, and other stationery for school check out our guide to stationery shops in Singapore.
Art Friend
This store is our go-to when it comes to art supplies like paint, coloured pencils and big sketch pads. There's always something new to be found on the store's shelves if you look hard enough.

Art Friend, multiple locations in Singapore including Orchard, Clementi, www.artfriendonline.com
---
Krafers' Paradise
Serious art students will love the selection of paints, canvasses, sculpting tools and tools at this cool store. The store's interiors are rather Insta-worthy, too!

Krafers' Paradise, 180 Kitchener Road, City Square Mall, #04-19/20/21 Singapore 208539, Tel: (+65) 6884 9986, www.krafersparadise.sg
---
Spotlight
Another mecca for all things crafty (including paints and party gear), Spotlight has everything you could possibly want when you're on the hunt for useful art supplies.

Spotlight Singapore, multiple locations in Singapore including Dhoby Ghaut, Orchard, Jurong East and Tampines, www.spotlightstores.com/sg
---
Where to Buy Lunchboxes for School
While breakfast is the most important meal of the day, it's also super important to fuel up your child at lunch so their concentration and energy levels don't go downhill in the afternoon. Pack up a delicious lunch or snacks with a proper lunch box from one of these top stores (and again make sure your choice will fit into that school bag!).
YumBox

There is something Instagarammably cute about fitting the whole lunch in a bento compartmentalised box, and YumBox does not disappoint. There are multiple colours to pick from, and the pre-portioned food trays within each box, which allow for fab portion control and food variety, can be easily removed and cleaned.

YumBox, www.yumboxlunch.com
---
LunchBots
These stainless steel containers make it easy for you to pack food in a single container or use it to pack multiple mini containers, especially if some dishes are to be kept warm in a Thermos and others like yogurt need packing with an ice pack.

LunchBots, www.lunchbots.com
---
Mothercare
There are various lunch boxes, food storage containers and bento boxes to choose from, whether you want something that's insulated, collapsible or just plain cute.

Mothercare, multiple locations in Singapore including Sengkang, Marine Parade, Jewel www.mothercare.com.sg
---
Motherswork
Sturdy lunch boxes aside, Motherswork also has incredibly cute lunch bags so your child can carry their snacks and meals to school in complete style.

Motherswork, multiple locations in Singapore including Tanglin Mall, Great World, East Coast, www.motherswork.com.sg
---
Mustafa Centre
This sprawling shopping is the perfect place to get every imaginable school supply. Take the day to browse through its extensive shelves, filled to the brim with containers of every size. If you need a little help navigating this bustling shopping centre, then check out our store guide here!

Mustafa Centre, 145 Syed Alwi Road, Singapore 207704, www.mustafa.com.sg
---
Lunchbox Recipes
There are only so many sandwich variations you can make before your kid (and you!) get stuck in a rut. That's why you should download Sassy Mama's hugely popular, FREE lunchbox recipe downloadable guide here! There are three weeks' worth of lunchbox recipes for you with dishes that are big on fresh, colourful vegetables and protein – they are all nut-free, too, as per most schools' requirements.
---
Read more:
Lead image from Pexels
Other images from Pexels and Unsplash, Native, Queensway Shopping Centre, Ten Feet Tall, Skip Hop, Pottery Barn Kids, Bright Star Kids, Amazon.sg & YumBox.