What's cooking mama? Get inspired by the delicious recipes in these local cookbooks
We can never have enough cookbooks, right, foodies? We especially love flicking through local cookbooks that are made in Singapore or S.E. Asia, or that focus on recipes from the region. Great inspo for that time old question "What's for dinner mama?" and they make super leaving presents or mementos of Singapore.
Read on for some of our top picks, but do so on an empty stomach at your own peril…
The Red Dot Melting Pot
The Red Dot Melting Pot is a testament to the diverse culture and food in our little red dot. This stunning hardcover hefty book was put together by the International Cooking Club Singapore – a non-profit organization made up of hundreds of international women who live in Singapore – all with one thing in common: the love of good food. This book showcases 223 recipes spanning 75 countries from 11 regions across the world — a true international melting pot of cuisines! We love how each recipe shows a picture of the ingredients and there's a handy colour-coded index so it's easy to find vegetarian, vegan and gluten-free dishes.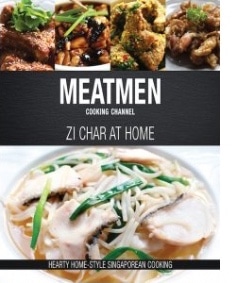 Meatmen Series
Learn to cook local delights at home with minimum effort with the help of the Meatmen Series. There are three different Meatmen titles to choose from, featuring Popular Hawker Foods (and how to prepare these favourite hawker dishes), Zi Char Dishes (Zi char is a Hokkien term, literally translated "cook fry"- dishes like one-dish rice or noodle meals), and the Meatmen's Personal Favourites which include recipes of different cultures within Singapore from Chinese, to Malay, Indian, Eurasian and Peranakan (Nyonya) cuisines. Some of our faves: Chinese braised duck, flavourful Malay nasi kerabu (mixed rice salad), and Indian tandoori chicken.

Sassy Mama readers can get 20% off from now till 2 July 2018, exclusively on GoGuru.com.sg. While stocks last, T&Cs apply. Use promo code: SASSY20
The Best of Chef Wan: A Taste of Malaysia
One of Asia's most notable chefs, Chef Wan presents over 60 of his favourite Asian recipes in The Best of Chef Wan Volume 1.  Malaysian dishes range from hearty meat and poultry dishes like Tok Wan Beef Rendang, to lighter fish and seafood dishes of Nyonya squid sambal, and refreshing salads like Prawn and Mango Salad too – with a illustrative photograph of every recipe.
Mozaic: French Cuisine, Balinese Flavours
Chris Salans, Chef-owner of restaurant Mozaic in Ubud, Bali, showcases 40 recipes, all of which are inspired by Indonesian ingredients using modern French techniques of cooking and presentation. Recipes are rather on the complex side but this coffee table style book goes into great detail of Indonesian ingredients making this a lovely book to keep as a memento of Asia even if you do not find it accessible to use as an everyday cookbook.
The Pleasures of Eating Well
The Pleasures of Eating Well is a stunning hefty cookbook by the COMO Shambala team, showcasing over 140 nutritional and holistic recipes designed to be delicious but also promote the Como Shambhala healthy living philosophy that Christina Ong, one of the world's most successful Singaporean entrepreneurs, has pioneered. Dishes range from Western-influenced to more Asian dishes while ingredients are mostly local to S.E Asia – from Shredded Chicken with Snake Bean Salad with Tamarind Lemongrass Dressing to Young Coconut Jelly with Mangosteen Soup.
Singapore Hawker Classics Unveiled: Decoding 25 Favourite Dishes
This hardback book was produced as a celebration of Singapore's renowned culinary heritage. Singapore Hawker Classics Unveiled: Decoding 25 Favourite Dishes uncovers everything you ever wanted to know about 25 classic Singapore hawker favourites – from each dish's heritage, to its aroma, taste, texture, and nutritional value, plus step-by-step instructions and photographs to enable the home cook to recreate each dish.
Sweet Mandarin Cookbook
Helen and Lisa Tse impart their knowledge, favourite recipes and cooking tips for original family recipes that have been handed down through the generations in their cookbook Sweet Mandarin. There's useful basic advice on Chinese cookery, including a what equipment to invest in (definitely a wok) and a list of Chinese store cupboard ingredients outlining which sauces are gluten free and have MSG. The Salmon with Sweet Soy recipe is a family crowd pleaser and there are traditional recipes as well as more modern dishes too: Sweet Mandarin Barbecue Ribs and a stellar recipe for Beijing Jiaozi Pork Dumplings that kids love.
Plusixfive: A Singaporean Supper Club Cookbook
We love the story behind this one: a homesick Singaporean in London started trying to re-create his favourite hawker dishes in his tiny one-bedroom flat using whatever ingredients he could source. Eventually, his monthly supper clubs became all the rage among British chefs, food critics and TV stars. Drawing its name from Singapore's international calling code, Plusixfive won "Best Chef Cookbook" at the 2014 Gourmand World Cookbook Awards. This is the perfect going away present for friends leaving Singapore, as it's all about capturing the spirit of Singaporean food even if you can't get your hands on all the wondrous ingredients.
The Raffles Hotel Cookbook
If $2 hawker food is on one side of the "quintessentially Singaporean" food and beverage coin, the swish Raffles Hotel is on the other. We don't doubt you'll be able to find a killer Singapore Sling recipe, along with perennial favourites from The Tiffin Room, Long Bar Steakhouse, and Ah Teng's Bakery.
Gordon's Great Escape Southeast Asia
Gordon's Great Escape Southeast Asia is one of our fave books on the region thanks to the stunning images (many of which are about Chef Gordon Ramsay's travels around Asia) and the interesting dishes that span Thailand, Cambodia, Malaysia and Vietnam. This book is jam-packed with inspiration with 100 new recipes from the simple- Roasted Coconut and Chilli Cashews that are great with a gin and tonic to the more complex curries. Ramsay's recipe for Vietnamese chocolate pots is a winner of a dessert for dinner parties with ingredients that are easily accessible in Singapore.
Artichoke: Recipes & Stories from Singapore's Most Rebellious Kitchen
Artichoke might focus more on Middle Eastern – rather than Singaporean – cuisine, but its owner and head chef Bjorn Shen is one of the most inventive cooks in Singapore, leading the locavore movement with a garden that supplies the restaurant and expanding into two equally playful culinary endeavours, Thai spot Bird Bird and the ice cream stand Neh Neh Pop. Artichoke is where it all began, though, and this cookbook is every bit as much a memoir of one of Singapore's true rockstar chefs as it is a collection of delicious recipes (who doesn't love the Lambgasm?).
Modern Nonya
Author Sylvia Tan has written a number of cookbooks about Singaporean heritage food and also shares lots of tips and recipes at her "Mad About Food" page, but we're partial to this beautiful book that focuses on Singapore's fascinating (and super pretty!) Peranakan culture. Incorporating Malay, Chinese and even European recipes and ingredients, Peranakan cooking can seem intimidatingly daunting, but the book aims to simplify classic dishes where it can. Much care is also dedicated toward getting Peranakan cooking's essential pastes down, for these are the true foundation of its unique flavour.
The Little Singapore Cookbook
The Little Singapore Cookbook is a sweet little paperback book filled with tried and tested Singapore signature recipes from renowned food writer, Wendy Hutton. There's Singapore Chicken Rice of course, and the secret to making Chilli Crab as well as famous spicy noodle soup, Laksa Lemak.
Cooking With Indian SpiceBox
Cooking With Indian SpiceBox by  Namita Mehra is all about making Indian cooking fun and easy with 30 easy-to-follow recipes that cover basic Indian favourites like Butter Chicken and Pappadums. This kit goes beyond just a cookbook, though — it also comes with 9 colourful organic spices packaged in its own beautifully designed spice tin so that you can make the recipes with ease. Namita has also dedicated a portion of the proceeds from every product to support feeding a hot, nutritious meal to 10 impoverished children in India. Reason enough to buy this cookbook-spice kit in our book!
Three Dishes One Soup: Inside the Singapore Kitchen  
Three Dishes One Soup by local author Lace Zhang depicts Singaporean dishes as cooked by the author's grandmother and auntie. Chinese families will often serve several side dishes alongside a bowl of rice and steaming hot side soup. These step-by-step recipes with photographs, take the reader into a Singaporean home kitchen and show you how to recreate such a meal. Recipes span Fish Ball Noodle Soup, Fried Rice with Chinese Sausage to the stunning dish of Steamed Garlic Prawns – homely recipes and impressive dinner party dishes alike.
A Helping Hand: Delicious Recipes in English & Tagalog
A Helping Hand: Delicious Recipes in English & Tagalog is the second edition of the cookbook for easy Western and Asian dishes, by Rowena "Frog" Michaels. Each recipe in the cookbook is written in English and then translated into Filipino (Tagalog) so that domestic helpers from the Philippines have a handy resource for cooking. With over 80 tried and tested recipes from breakfast of Homemade Granola to dinner party dishes of Roast Pork Belly and Triple Layer Victoria Sponge, this book ensures nothing is lost in translation when delegating cooking recipes that may be familiar to you but not to your helper.
Asia Light: Healthy & Fresh South-East Asian Recipes
Sassy Mama contributor Ghillie James reinvents Asian recipes without the excessive sugar, salt, unhealthy oils and fatty cuts of meat that some of the original recipes call for, in her cookbook Asia Light. Recipes are fresh and light, from Vietnamese Spring Rolls, to a healthier version of Beef Rendang, plus modern recipes like Steam Baked Salmon and Vegetable Parcels with Asian Dressing.
Lead image courtesy of Meatmen