Celebrating a baby's first month or 100 days and need a gift? Here are our top picks for the cutest 100 days gifts to mark this big milestone!
The 100-day celebration is traditional in Chinese culture, and is also practiced by some other Asian countries as well while some cultures celebrate the first month of a baby's life. Traditional celebrations usually include symbolic gifts, gold jewellery and ang baos being handed down from older family members and close friends, as well as prayers for the new baby and their family. The proud parents would also distribute red eggs (symbols of fertility) and pickled ginger to guests.
One month parties and 100-day celebrations are still common now because it marks the end of the most vulnerable period for new babies and mamas – often to celebrate the end of confinement! 100 days gifts are a great way to show a new mama friend you're proud of them for an amazing first few months with bub. Here are some ideas before you attend your next 100 days party!
Kaiby Box
Not quite sure what to get for your mama friend's precious bub? Kaiby Box provides a box full of curated baby toys for newborns and toddlers to help you take the guesswork out of gifting! They also do personalised baby toys, such as Wooden Name Blocks and custom baby name embroidery on their Comfy Mini Bears. There's also the option to choose various add-ons such as bird's nest, chicken essence, baby rompers. nursing covers and even a bouquet of flowers – so there's a treat for mama too! Orders will be delivered within two working days, with same-day delivery also available islandwide. Express international deliveries available too.
www.kaibybox.com
---
MOMO + BUBS
The Newborn Essentials Gift Set from MOMO + BUBS (with optional name embroidery for bibs) is a lovely and practical one month or 100 day gift for new bubs. In each set you'll find 2 swaddles, 2 bandana bibs and 1 kimono-style onesie – all made with GOTS-certified organic muslin that's also ethically produced under Fair Trade certified conditions. Plus, $10 from the sale of each gift set is donated to Singapore Children's Society in support of the meaningful work they do for children and families in need, making this an extra special gift. Besides gift sets, you'll also find beautiful, premium quality nursery essentials from this mama-owned brand. All their products are designed with great attention to detail for babies to enjoy, while making life simpler for parents. Everything is machine washable because MOMO + BUBS knows parents of little ones don't have time to hand wash delicate items! Plus we love that they use minimal or reusable packaging to reduce waste as much as possible.
www.momoandbubs.com
---
MyBabyGift
MyBabyGift is a luxurious baby gift boutique that offers free personalisation with the option for same-day delivery! To make the 100 day celebration choose from blankets, towels, pillows and bibs (or get them all in a specially curated Baby Shower Hamper) and you can even tap on add-ons like Jellycat toys, Sophie the Giraffe teethers or champagne to say congrats to the new parents! Make sure to check out their personalised milestone blankets, available in 2 different prints. They're made of the softest and most cuddly Minky blankets that little ones will treasure for years.
www.mybabygift.com.sg
---
Other personalised baby gifts
For the own month gift, you can also find personalised baby gifts from Pickadillybaby and Raph & Remy, which are both Sassy Mama faves! For even more gifting ideas for the 100-day celebration, scroll through our Guide to Newborn Baby Gifts.
---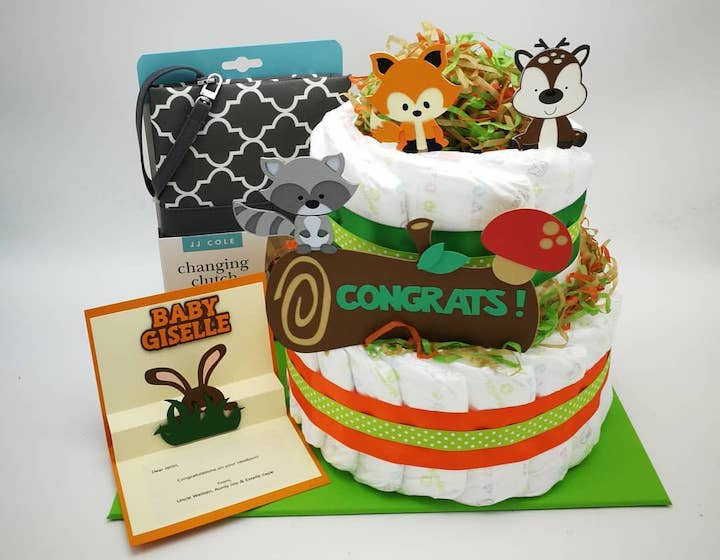 Diaper Cake
Diaper cakes are popular gifts for newborns and 100 days celebrations and it's not hard to see why – they're so useful! New parents go through so many diapers in the early days so it's helpful to gift the young family with one of the most essential baby items in the form of an elaborate diaper cake. Diapercakes.sg and The Diaper Cake Company are just some of the few that are often recommended.
---
Baby Cake Smash/1-year Photoshoot
Plan ahead and gift a fun photoshoot for the little one's next milestone! We've got a fab list of Family Photographers in Singapore who all do baby milestone photoshoots and may oblige to a 'cake smash' session.
---

Feeding Tools & Gadgets
At 100 days old (just over three months) mama probably won't be thinking about the transition to solids just yet, but she'll thank you for thinking ahead and getting some gadgets that will make baby meal times easier! Check out our list of Baby Porridge Recipe Ideas, which includes a section on the best baby food tools and gadgets that are so worth the investment.
---

Lactation Goodies for Mama
While everyone else will probably have a gift for bub, congratulate your mama friend on a job well done in the fourth trimester with some yummy lactation goodies! While they're best for breastfeeding mothers, just about anyone can enjoy the delicious treats you'll find in our Guide to Lactation Bakes and Goodies!
---
Lead image by
MOMO + BUBS
This post contains some paid partnership content.