Here are our top picks for the cutest baby 100 days celebration gifts or one-month gifts to mark a baby's big milestone!
Been invited to a baby's 100 days celebration and looking for a gift? Or maybe you are planning your own baby's 100 days celebration or one-month party? Here we discuss everything to know about a baby's 100 days celebration including gifts, customs and food!
What is a baby's 100 days celebration?
A baby's 100 days celebration is traditional in Chinese culture and is also practised by some other Asian countries as well while some cultures celebrate the first month of a baby's life. A baby's 100 days celebration marks the end of the most vulnerable period for new babies and mums or, in some cases, an end to confinement!
Baby's 100 days celebration
The full-month celebration or one-month celebration marks baby's first full month and many celebrate this milestone. But for those who choose to wait another few months to reach the 100-day mark, you'll get a little more time to get settled with your new baby (and plan for the celebration!) For the ultimate baby 100-day celebration you'll need to organise a party venue, catering, and sometimes even goodie bags!
Any rules around baby's 100 days celebration gifts?
Traditional baby 100 days celebration gifts usually include symbolic gifts, gold jewellery and ang baos from older family members and close friends, as well as prayers for the new baby and their family. The proud parents would distribute red eggs (symbols of fertility and of life's changing process). Their circular shape symbolizes happy and harmonious life while in Chinese custom red signifies good luck, fortune, and happiness.
Baby 100 days celebration gifts are a great way to show a mama friend you're proud of them for an amazing first few months with bub. When you give your gifts, always hand the present with both your hands which shows respect – the same goes for accepting a gift. Baby 100 days celebration gifts may be slightly different to the traditional newborn baby gifts so to help you out, here are some baby 100 days celebration gift ideas before you attend your next baby 100-day party!
Baby 100 Days Celebration Gifts
Gold Jewellery: Baby 100 Days Celebration Gift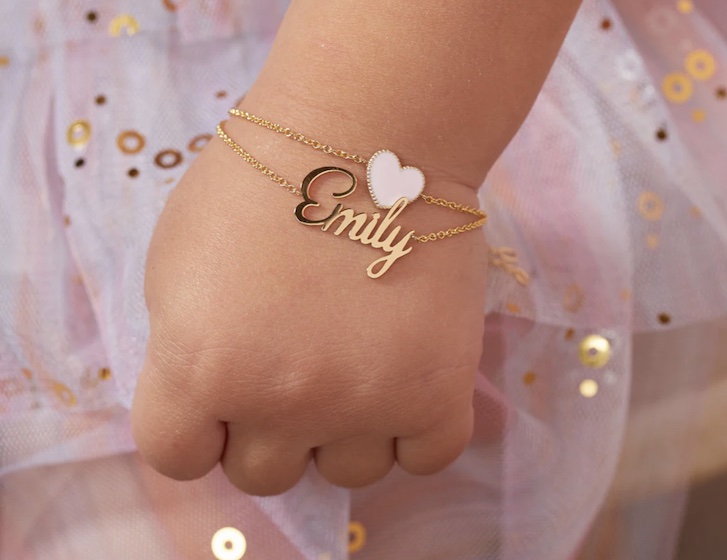 A very traditional baby 100 days celebration gift is gold jewellery. Gifting a gold bracelet, pendant or necklace is a solid choice for a traditional gift for most 1-month-old children or 100-day celebrations. Gold jewellery of any type is a lucky sign of wealth in Chinese culture. We also love the idea of gifting mama the present instead of the baby – so you could turn the 100-day baby gift into a mama gift instead and give a gorgeous gold necklace or bracelet to mum! Local brands include Lee Hwa and Soo Kee or there's Linjer for its minimalist clean designs. For modern affordable jewellery brands click here.
---
Traditional Baby 100 Days Celebration Gift: ang baos
One of the most traditional baby 100-day celebration gifts has to be ang baos – which is money placed in a Chinese red envelope. The amount given should end with an even number while favouring the auspicious number eight. Giving new parents an ang bao with $88 or an amount with "88" in it signifies wishing double fortune and blessings. Follow these ang bao rules if you choose this as a baby 100 days celebration gift!
---
Luxury Bamboo Essentials: Useful Baby 100 Days Gift
Looking for a luxurious 100 days gift that is sure to impress mama? House of Holly features a unique collection of sustainable premium bamboo essentials that cater to newborn babies, through to older kids. We have heart eyes for their pretty prints in pale blues and soft pinks – the prints come to life as they are digitally hand drawn. Bestselling items that would be perfect as a 100 days gift or one-month baby gift include the premium baby gift sets, with the signature Toile de Jouy prints that are classy, timeless, and elegant. Check out the newly launched Toile De Jouy Savannah collection of blankets, bibs, and crib sheets, available online and in departmental stores – they're all about comfort and luxury all in one!

Get 10% off storewide with a minimum $50 spend with code "sassyholly10". Not to be used in conjunction with other coupons or promotions. Limited to 1 per user.
Buy these 100-day baby gifts and essentials online from House of Holly or at Takashimaya, Isetan Scott's or Isetan Nex.
www.houseofholly.com.sg
---
Baby 100 Days Celebration Gift: Diaper Cake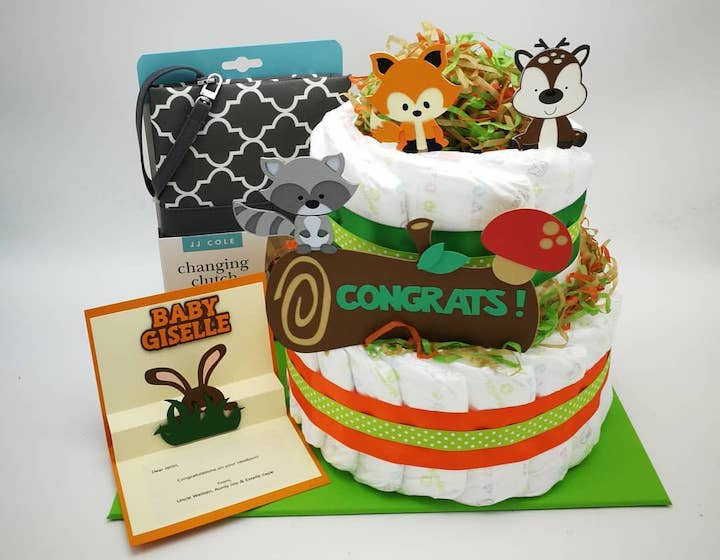 Diaper cakes are popular gifts for newborns and 100 days celebrations and it's not hard to see why – they're so useful! New parents go through so many diapers in the early days so it's helpful to gift the young family with one of the most essential baby items in the form of an elaborate diaper cake. Diapercakes.sg and The Diaper Cake Company are just some that are often recommended.
---
Personalised Baby 100 Days Celebration Gifts
For the one-month baby gift or 100 days baby gift, you can also find personalised items from Pickadillybaby, MyBabyGift, Label of Love Studio and Raph & Remy. Make up your own curated gift box or baby gift hamper filled with cute items like booties, outfits and snuggly toys and choose to have some of the items personalised with baby's name.
---
Baby 100 Days Gift: Organic Bamboo Sleep Sacks & Suits
A 100 days gift for baby that's useful for every day? Yes please! These Tiny Things stocks the highest quality sustainable organic bamboo products that are thoughtfully designed to wrap your precious little ones in buttery soft goodness from the newborn stage and continue to provide the utmost comfort as kids grow. How cute are the best-selling sleep sacks (pictured)? These Tiny Things' sleepsacks, sleepsuits and toddler pyjamas are made from premium organic bamboo that is naturally thermo-regulating, antibacterial and hypoallergenic, as well as being durable and highly beneficial for soothing sensitive skin conditions like eczema. You'll find baby gifts here from $20-$50 – make your own gift box for that 100 days celebration gift or opt for a curated gift set ranging from $95-$175.

Get 15% off with minimum spend of $50 with promo code TTTSASSY15! Limit to one use per customer and valid till 31 May 2023. First time customers only. 
---
Baby 100 Days Celebration Cake Smash & Photoshoot
Plan ahead and gift a fun photoshoot for the little one's next milestone! We've got a fab list of Family Photographers in Singapore who all do baby milestone photoshoots which is perfect for gifting a new family with. Some photographers may oblige with a 'cake smash' session for double the fun too. Make your own baby 100 days celebration cake or order one from one of these birthday cake specialists!
---
Practical Baby 100 Days Celebration Gifts
At 100 days old (just over three months) mama probably won't be thinking about the transition to solids just yet, but she'll thank you for thinking ahead and getting some baby-led weaning and feeding gadgets that will make baby meal times easier!
---
For even more gifting ideas for baby's 100 days celebration, scroll through our Guide to Newborn Baby Gifts.
Read More:
Lead image by House of Holly. This post contains some paid partnership content.