Post Category - Family Life
Family Life

Post Category - Parenting
Parenting
"Can I watch some TV?"
Why yes, with these educational kids' TV shows they can!
What are your kids watching on TV? While we are all about limiting screen time in our kiddos, there are times when a TV show or two has its benefits (Sunday morning lie-in hello!). We've found some great educational kids' TV shows available here in Singapore that are fun to watch and have an educational element thrown in, too.
Here's our list of the best educational TV shows for pre-schoolers through tweens (and some pitched so that siblings of different ages can watch together, too!). With the recent scare of sinister content being spliced into well-known children's videos on YouTube we've chosen to only include shows available on local TV stations, Amazon Prime and Netflix (which also has great parental controls to curtail children's exposure to dangerous content.*)
   Read more: Best Educational Apps for Kids of All Ages: Preschoolers and Older Kids
Preschoolers (2-4 years old)
Little Kids (5-7 years old)
Big Kids (8-9 years old)
Tweens to Teens (10 – 13+)
Preschoolers (2-4 years old)

Word Party
Age: 2 yrs +
Available on: Netflix
Word Party from Jim Henson's Creature Shop uses puppeteers to perform digitally animated characters in real time resulting in more lifelike animation. Cute diaper-wearing baby animals teach vocabulary through engaging songs and colourful scenes.
Educational elements: Vocabulary building and positive emotional messages like friendship and caring. Baby panda doesn't speak in properly grammatically correct sentence however – some say this is so younger kids can relate to him.
Octonauts
Age: 3 yrs old +
Available on: Netflix
Educational elements: If there's a way to grab kids attention and get them to care about the ocean, and sea life – then this is it! Your kids will learn lots of fun facts about the stunning and diverse marine life through the adventures of the Octonauts. This is a great show for little kids and older siblings – there's no violence but instead lots of adventure, teamwork and facts!
Daniel Tiger's Neighborhood
Age: 2 yrs old +
Available on: Amazon Prime Video (may require a VPN), iTunes
Daniel Tiger's Neighborhood is produced by The Fred Rogers Company and is a very sweet programme that teaches young kids about emotions.
Educational elements: Through stories based around Daniel Tiger, the series gently explores situations young kids may have found themselves in – feeling jealous or scared and together they explore their emotions and ways to deal with them positively. Catchy songs highlight each episode's core message, making it easy for kids (and parents) to remember.
      Read more: A Love Letter to Daniel Tiger (the Toddler Whisperer)
The Stinky & Dirty Show
Age: 2yrs +
Available on: Amazon Prime Video
The Stinky & Dirty Show is every vehicle-loving kids' dream show. The series sees two best buddies, a garbage truck and a backhoe, solve problems together in a light-hearted way.
Educational elements: The characters' can-do attitude is a great example for perseverance and confidence, plus there is lots of info for kids on problem-solving and working together as a team.
   Read more: Best Educational Apps for Kids of All Ages: Preschoolers and Older Kids
Super Monsters
Age: 3yrs +
Available on: Netflix
Super Monsters is an animated series following the adventures of friendly monsters at preschool. Drac, Cleo, Lobo, Katya, Zoe and Frankie are students with dual identities: humans by day and magical monsters (not the scary kind) by night. When one of them gets into a fix, a lesson is learnt so they can correct their behaviours and learn from the experience.
Educational elements: Nurturing social relationship through sharing, communicating feelings and respecting others.
Ask the StoryBots
Age: 4yrs+ (but the educational element will appeal to older kids, too – hence it's great for siblings of different ages).
Available on: Netflix
Storybots mixes animation, video and songs to make a charming show which follows a group of "storybots" who need to find the answer to a "big question" asked by a kid ("Where does night come from?" or "How do airplanes fly?", for example). The storybots take you on an adventure to find the answer, which is explained a few different times to help younger kids. It's a great show to watch if you have two kids one younger (who will be engaged by the music and fast-paced animation) and even older kids 7+ will learn something. Parents will also chuckle at some of the jokes – watch out for the hilarious Die Hard reference in "Where Does Rain Come From?" – and recognizable guest stars.
Educational elements: Science, math, geography, physics and more.
Llama Llama
Age: 3 yrs +
Available on: Netflix
Based on the award-winning book series by author and illustrator Anna Dewdney, Llama Llama is an animated show highlighting positive messages about strength of character. The lead parent, unlike most nuclear family setups on TV, depicts a single mother who draws on "the village" of grandparents, friends, teachers, and neighbours to help teach life's key lessons.
Educational elements: Positive qualities like kindness, empathy, and respect.
Read more: Why 'Llama Llama' is my 4-year-old's new favourite show
The Magic School Bus Rides Again
Age: 4 yrs old +
Available on: Netflix
Educational elements: The Magic School Bus Rides Again is a revamped animated version of the '90s series The Magic School Bus, based on the book series. Each episode tackles a scientific topic (like gravity or cloud formations) which is taught in a fun way alongside the class who go on magical field trips lead by Ms Frizzle. A great series for siblings to watch together – older kids will get the scientific concepts while younger kids will just enjoy the fun the kids have in each episode.
Beat Bugs
Age: 3yrs +
Available on:Netflix
If mama and dad are Beatles fans, you're going to have to get the kids on to Beat Bugs! This animated series follows a bunch of best friends, with Beatles songs performed by current artists woven throughout.
Educational elements: An introduction to Beatles music, plus positive messages of helping each other.
Read more: 'Beat Bugs': How to Make Your Kids Beatles Fans in One Easy Step
Tumble Leaf
Age: 4 yrs old +
Available on: Amazon Prime Video
Tumble Leaf follows the visually stunning blue fox, Fig, and his little friend, Stick, as they make exciting discoveries that teach science concepts and solutions to problems to little ones. The format is only 15 minutes long so it's perfect for little ones with shorter attention spans.
Educational elements: Every episode introduces a simple scientific concept in a way that small kids can understand plus there's problem-solving and creative thinking to inspire pre-schoolers.
Little Kids (5-7 years old)
Wild Kratts
Age: 5yrs+
Available on: Netflix
Educational elements include: Wild Kratts gets kids excited about nature and the environment through its clever animation series. The show is lead by the Wild Kratt brothers (based on real-life zoologists Chris and Martin Kratt) who teach kids about animal behaviour, habitats, and adaptation. Kids will get to grips with lots of facts about wild animals including predator-prey relationships, told through a different adventure for each episode with lots of humour thrown in.
Our Planet
Age: 6yrs+
Available on: Netflix
Educational elements include: Our Planet is a beautiful documentary series similar Planet Earth (listed below), except it has an urgent calling for young (and old) viewers to think about the ways that humans are endangering nature and marine life. The show looks at the survival of different species so sensitive viewers should know that there are scenes of predators' hunting prey.
   Read more: Best Educational Apps for Kids of All Ages: Preschoolers and Older Kids
Odd Squad
Age: 5yrs +
Available on: Netflix
In this fast-paced show acted by kids, Olive and Otto, are the two main agents from the Odd Squad, who are dispatched to investigate odd problems. Their boss, by the way, is another strong female character (high five!). A math concept is embedded in each of their cases, and Olive and Otto must solve the problem-solve to rescue the situation.
Educational elements include: Math skills are practised here in a fun engaging way: addition, subtraction, fact families and recognising patterns.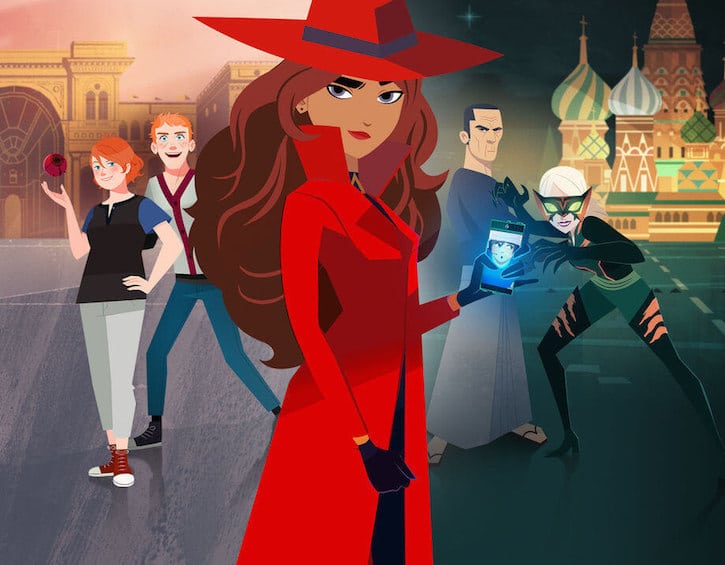 Carmen Sandiego
Age: 6yrs +
Available on: Netflix
Carmen Sandiego is a remake of the popular 1990's show. Carmen is an infamous' thief, but more in the Robin Hood vein (returning cultural or historical items to their rightful owners). She's badass and a strong, empowering female role model (there's not enough of them around), so this show is great for boys and girls alike.
Educational elements: Geographical, historical, scientific and cultural information as well as strategic thinking in Carmen's mission of good over evil. We liked all the different accents in here, too – from Australian to posh British to American.
The Who Was? Show
Age: 7rs+
Available on: Netflix
The Who Was? Show is a comedy series with teen leads that brings history alive by focusing on the subjects of the popular Who Was? books. There's a lot of humour to get kids interested in the past (expect rapping and some fart jokes), but this show makes an often dry subject very kid-friendly.
Educational elements: Historical facts and an introduction to important figures.
Horrible Histories
Age: 6yrs +
Available on: Netflix
Horrible Histories is based on a Scholastic book series of the same name. This award-winning British uses slapstick humour to explore history lessons. Each episode intros a different time in history – from Ancient Rome to Tudor England – and to bring the stories to life all the craziest, most bizarre facts (as well as key historical information) are thrown in, making this a highly watchable show for parents and kids alike.
Educational elements: Historical events (including some battles).
The Blue Planet
Age: 7 yrs
Available on: Netflix
The Blue Planet is a much-watched BBC series for the next generation. It's stunningly shot and provides a wonderful look at the wonders of nature. As it's a nature programme there are scenes of hunting and animals killing others so although those younger than the recommended age may be keen to view it's worth bearing this in mind for sensitive kids.
Educational elements: Fascinating look at nature, wildlife and broader environmental issues.
Big Kids (8-9 years old)
Bill Nye Saves the World
Age: 9yrs+
Available on: Netflix (you may need to change your country region to access'
Educational elements include: Bill Nye, is a science guy who brings experts and famous guests to his lab for a fun-filled talk show exploring scientific issues including climate change, video games, and space travel. The original show which ran from 1993-1998 was Bill Nye the Science Guy.
Mythbusters Junior
Age: 8yrs+
Available on: SingTel TV Channel 202 on Mondays at 9:55pm and Discovery Channel (SingTel TV Ch 202) on Saturdays at 2:55pm
This 10-episode series sees the co-host of Mythbusters, Adam Savage, mentoring six kids in the fields of engineering, welding, astrophysics and design. Every week Adam and the kids get into teams to test the science behind claims such as "a slinky toy hovers when dropped from a height" and "spider webs are as strong as steel".
Educational elements include: Information on engineering, welding, astrophysics and design plus the show highlights the importance of teamwork and lateral thinking.
Tweens to Teens (10 – 13+)
Explained
Age:12 yrs
Available on: Netflix (certain episodes only) you may need to change 'country region' to access other episodes
Educational elements include: Explained does what it says on the tin. It explains various topics, in neat 20 minutes episdosdes, from the water crisis to the rise of cryptocurrency, in an accessible way. Parents take note that you may need to check what your kids are watching as some of the topics may not be suitable for younger viewers (one topic is all about weed, another about monogomy and as such certain episodes are not available in certain regions). Great discussions will ensure!
A Series of Unfortunate Events (Season 1)
Age: 10-12yrs +
Available on: Netflix
Based on the internationally best-selling series of books by Lemony Snicket (aka Daniel Handler), A Series of Unfortunate Events recounts the tragic tale of the Baudelaire orphans – Violet, Klaus, and Sunny – whose evil uncle Count Olaf is greedy to get his hands on their inheritance. This is quite a dark show (Season 2 is much darker than Season 1), so we'd advise parents to watch yourself first.
Educational elements: Trust your instincts, even as children, along with the value of friendship and kinship.
Tales By Light
Age: 10yrs+
Available on: Netflix
Renowned photographers explore far-flung locales, from a fire rite in the Himalayas to watching brown bears in the rivers of Alaska. The footage is a visual treat and is bound to give watchers itchy feet to see the world.
Educational elements: Geographical and cultural insights.
The Mars Generation
Age: 10yrs
Available on: Netflix
The Mars Generation is a Netflix Original documentary that looks at mankind's future journey to Mars, as told through the eyes of the teens who will be the first ever to set foot on the Red Planet, as well as the leading experts currently pushing the boundaries of technology and innovation in space exploration. The film follows a group of trainees, ages 15-18, at the U.S. Space & Rocket Centre as they prepare to become the engineers, astrophysicists and astronauts of tomorrow.
Educational elements: Get an inside look into the architecture of the modern space race. There's also insight into the historical, philosophical, and technological implications of becoming a multi-planetary species.
Have we missed your kid's favourite educational show available here in Singapore? Let us know at [email protected]
* How to child-proof your kids Netflix shows: Parents can apply parental controls to the Kids profile, which includes implementing a filter for shows with adult content. There is also a Parental Control PIN to limit access (with adjustable maturity levels) – you can only watch the content once the correct PIN is entered. Or you can download shows to watch offline.
Read more:
55 Shows for Mamas to Watch, Stream or Download
The Best Netflix Shows for Family Bonding