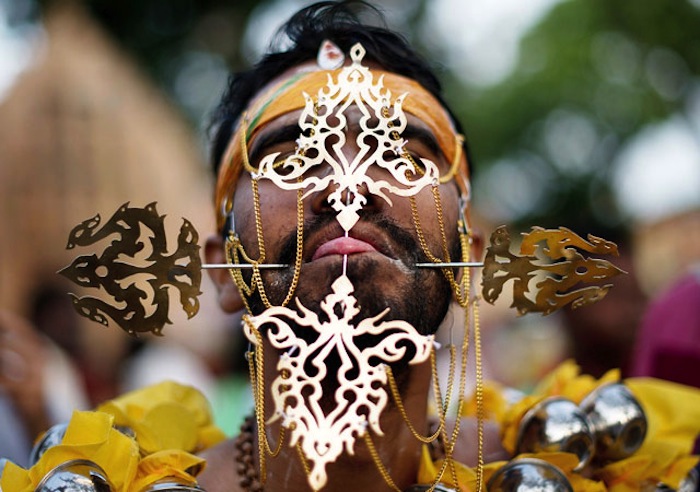 Thaipusam this year is on Sunday 5 February 2023. In Singapore, the Hindu festival Thaipusam will be celebrated once again with a foot procession, kavadis, and music along a route from Sri Srinivasa Perumal Temple to the Sri Thendayuthapani Temple
Sunday, 5 February 2023 marks the start of the Hindu festival of Thaipusam in 2023. Thaipusam, the Hindu thanksgiving festival is celebrated on the full moon day in the Tamil month of Thai. Thaipusam in 2021 and 2022 was celebrated without the traditional foot procession due to safe distancing measures but the good news is that the foot procession, kavadis and music are back for the Thaipusam festival in 2023!
What is Thaipusam?
Thaipusam is a sacred Tamil thanksgiving festival involving asceticism and control over one's senses. According to Tamil folklore, Thaipusam and the foot procession are celebrated in honour of Lord Murugan (also known as Lord Subrahmanya), who represents virtue, youth and power, and is the destroyer of evil.
When is Thaipusam celebrated?
Thaipusam or Thaipoosam is a festival celebrated by the Hindu Tamil community on the full moon in the Tamil month of Thai around January/February.
The Thaipusam procession is expected to start from Sri Srinivasa Perumal Temple on Saturday 4 February 2023 from 11:30pm and proceed along a 4km route to the Sri Thendayuthapani Temple at Tank Road where doors will open at 12.01am on Sunday, 5 February 2023. Hindu devotees are expected to complete their walk and vows by 11pm on Thaipusam day, Sunday, 5 February 2023.
Is Thaipusam a public holiday in Singapore?
Thaipusam is a national holiday in many countries but it is no longer a public holiday in Singapore.
Where to see Thaipusam in Singapore: Serangoon Road to Tank Road
Thaipusam in Singapore usually attracts thousands of Hindu devotees who fulfil their vows over a 4km walk from the Sri Srinivasa Perumal Temple at Serangoon Road to the Sri Thendayuthapani Temple at Tank Road carrying either a paal kudam (milk pot) or kavadi (wooden or metal structure with milk offerings). In keeping with an old tradition that was revived in 2016, musicians line the procession route, a wonderful addition to the already festive atmosphere.
If you wish to catch a glimpse of this amazing festival you can try station yourself along this 4km route or head to Little India (along Serangoon Road) on Sunday 5 February as early in the morning as possible.
How is Thaipusam celebrated?
The arrival of devotees habitually starts very early with prayers, and around midnight, the first group of devotees carrying pots of milk and kavadis (semi-circular metal structures decorated with peacock feathers, flowers and palm leaves), leave for the journey from Sri Srinivasa Perumal Temple back to Sri Thendayuthapani Temple.
The word kavadi translates to "sacrifice at every step", while the milk offering symbolises the cleansing of the mind and soul; devotees who pierce their tongues or carry a spiked kavadi are believed to only be able to undertake this sacred task without feeling any pain when they have freed their body and mind from material and physical wants.
In fact, in order to carry a kavadi, a devotee has to prepare himself spiritually and live a life of abstinence (including a strict vegetarian diet) for at least a month. While it is quite an amazing sight to watch devotees carrying kavadis, this is a sacred religious act, so visitors are requested to be respectful and not distract the focus of the devotees.
Another highlight of Thaipusam is usually the beautiful live Indian music, set up along the 4km route (covering Hastings Road, Short Street and Dhoby Ghaut Green). Devotees believe music is useful in reducing pain and enhancing their spiritual focus throughout their journey. Bhajan (devotional hymns) singers may accompany kavadis throughout the route, and musicians are usually allowed one traditional percussion instrument and one handheld instrument.
Info for devotees: Offerings can be your own or prepared by the Tank Road temple
Devotees can now choose to prepare their own offerings of paal kudam (book here $15) or pick up offerings ($20 book here) prepared by the Tank Road temple (during the pandemic devotees were only allowed to pick up those prepared by the Tank Road temple). Hindu devotees who are planning to carry a paal kavadi will have to purchase tickets at either Sri Srinivasa Perumal Temple or Sri Thendayuthapani Temple. Tickets for the chariot and spike kavadis for devotees will be sold only at the Serangoon Road temple.
Head shaving is one of the important Thaipusam rituals and a symbol of purification. Devotees often shave their heads as an offering to Lord Murugan, and take a ritual bath before proceeding to the temple. Head shaving is often pre-booked at the temple.
---
Please do note that if you are heading down to check out this amazing Thaipusam spiritual festival please do observe and take photos from a distance and with respect for the devotees.
For more up-to-date info on Thaipusam 2023 in Singapore visit the Sri Thendayuthapani Temple website or visit its Facebook page
Lead image #1, and #2 by William Cho, Wikimedia Commons,3# Flickr; image #4 (right) by William Cho, Wikimedia Commons; Image #5 (left) and image #6 by Kristin Bemowski.