Have you gotten your baju raya for Hari Raya 2023? Here are our top kids' baju kurung picks, plus matching sets for mamas and dads!
Hari Raya 2023 is coming, so bring on the family gatherings, feasting, kuih munching, bazaars, and of course – the gorgeous outfits! Below are some local and regional brands with fabulous Hari Raya fashion collections with kids' baju kurung and beautiful matching baju raya for parents.
Quick explainer: all about the baju kurung
The baju kurung is a traditional Malay dress worn by both men and women. Generally, men wear the baju melayu, which is a form of baju kurung consisting of a shirt top with pants while women's baju kurung are traditionally paired with a sarong. Baju kurung outfits meant for formal occasions are made from silk or brocade, while generally everyday wear baju kurung are made from cotton and other modern fabrics like polyester and rayon. During Hari Raya Puasa (which falls on 22 April 2023 this year), Malay families wear the baju kurung when visiting their relatives and friends. Baju raya is a term that refers to all the traditional clothes worn during Hari Raya.
Keep scrolling to check out our list of baju kurung brands for the whole family!
Read more:
Ramadan: How To Explain It To Your Kids
Ramadan Dining: Best Hotel Buffets & Restaurants for Iftar
Parenting Advice: Survival Tips for Family Celebrations & Witty Comebacks to Busybody Relatives
Best shops to buy baju raya 2023 in Singapore:
Adrianna Yariqa
Matching Baju Kurung for the Whole Family
We always love the joyful prints from Adrianna Yariqa! Plus, they've designed their collection with breathable fabrics that are comfortable for the whole fam. Matching baju raya sets made easy for mamas, dads and kids with sizes from 1 to 11.


 www.adriannayariqa.com
---
Anaabu
Matching Baju Kurung for the Whole Family
This Malaysian brand is known for their unisex styles for the cool edgy set, so it's no surprise that their kids' collection for Hari Raya is made up of relaxed silhouettes to accommodate active kids. With sizes available for kids 6 months old t0 12 years old, you'll be able to find something to match all the kiddos – along with outfits for you and the hubs too! Shipping to Singapore is just RM30.


anaabu.co
---
KHATAM
Matching Baju Kurung for the Whole Family
If you're looking for something minimal, simple and comfortable to last all day in, we love Malaysian brand KHATAM's baju raya sets for the family. Their Patawali series features a breathable rayon blend fabric, and is available in a whopping 32 colours for ladies, men, boys and girls! Prices are really easy on the pocket at RM189 (approx. S$60) for ladies' baju kurung, RM179 (S$57) for men's baju melayu and from RM99 (S$31) for kids! Ships to Singapore.


khatam.com.my
---
POKOKS
Matching Baju Kurung for the Whole Family (even babies!)
Good luck taking your pick from POKOKS' collections, because we're not kidding when we say you'll be spoiled for choice! They're one of the few brands that offer baju kurung sizes for kids as young as 3 months old, so if you're on the hunt for comfortable baju raya for your babies, you'll find it here. Shipping to Singapore is free for purchases RM400 and above.


pokoks.com
---
Simply Rays
Matching Baju Kurung for the Whole Family
Staying comfy while looking dressed up is easy with Simply Rays's family sets. They have a variety of styles, from florals to batik-inspired prints and even solid-coloured versions in multiple shades.


 simplyrays.com
---
Maqayla
Matching Baju Kurung for the Whole Family
Maqayla offers lovely, simple baju kurung sets for women, men, girls and boys. A burst of florals in every shape and colour are available on skirts, scarves and baju kurungs for you and your mini-me, along with solid-colour kids' kurung for boys and plaid designs for dads.


www.maqayla.store
---
Elda & Thea Kids
Matching Baju Kurung for Mamas & Kids
Local ladies' fashion brand Elda and kids' label Thea Kids always have great baju raya options for Hari Raya. With one- and two-piece sets made of linen in lovely muted shades and wearable prints, we can totally imagine them being worn as separates for casual family outings after Hari Raya too! The relaxed fit is also forgiving on mamas of all body types. Kids' sizes start from 12 months to 5 years.


Shop ladies: eldastore.com and Shop kids': theakids.co
---
KENIT Kid
Matching Baju Kurung for the Whole Family (even babies!)
Malaysian brand KENIT Kid is one of the few brands that offers baju kurung for babies! We love their prints and matching baju raya sets for the whole family. Ships to Singapore.


kenitkid.com
---
Lubna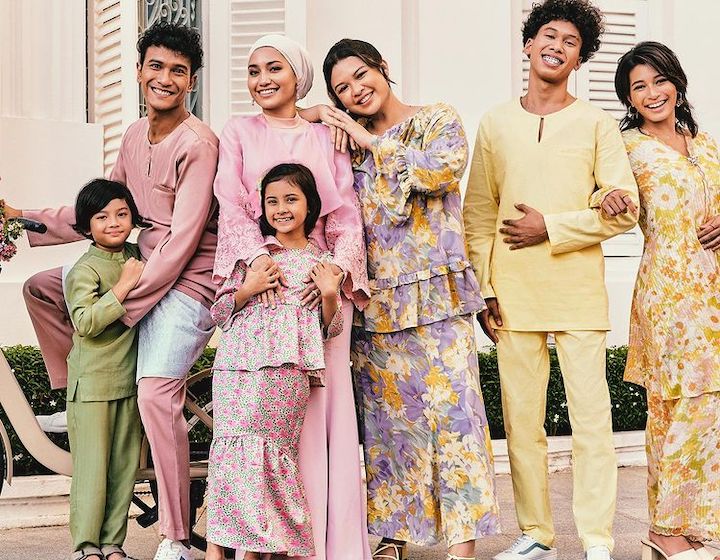 Matching Baju Kurung for Mamas & Kids
You'll be spoiled for choice with Lubna's Hari Raya collection, comprising everything from traditional 'kampung' style baju kurungs to more modern silhouettes with fun prints and details, like fluttery sleeves and statement peter pan collars. You can find matching sets for boys and girls too, in breathable fabrics so they can go a whole day of Hari Raya visiting comfortably! We also love the inclusive sizing options, which makes them one of the few regional brands offering plus size baju raya.


Lubna and Lubna Kids are available on Zalora
---
Petit Moi
Matching Baju Kurung for Mamas & Girls
Petit Moi, hailing from Malaysia, has a cult following thanks to their dreamy and elegant 'cottage core' aesthetic. Think lace trimmings, embroidery, cute florals and relaxed silhouettes! We can't resist the beautiful styles for girls – perfect for your most girly girls.


petitmoi-shop.com
---
PickADillyBaby
Modern Baju Kurung for Girls
Started by a stylish grandmama, PickADillyBaby is a humble local label that stocks beautiful flouncy tops, dresses and sets. Previously based only on Instagram, they've now launched their online store for easier shopping. The colours and bold prints are fun and wearable, and can go beyond just special occasions like Hari Raya. Wear them as separates with sweat pants or jeans and your little one's good for the weekend.


 pickadillybaby.com
---
Maison Q
Reversible Baju Kurung for Boys & Girls
Maison Q knows just how to do kids' formalwear – all comfort with just enough glam. Made for kiddos 1 to 7 years old, all the pieces can be worn as full looks or mixed and matched with existing pieces in your littlie's wardrobe. They also do great reversible pieces. We love all the playful prints and pastel shades!


 www.maison-q.com
---
Katt & Co.
Modern Dresses & Baju Kurung for Mamas
Katt Ibrahim of Katt & Co. has a knack for creating baju kurungs that are bold yet wearable. The latest collection sees lots of original prints in flowy designs, along with simpler styles that you can personalise to your liking! Make sure to check out their new store along Haji Lane, where you can try all their available styles before you make your purchase.


Katt & Co., 82 Haji Lane, Level 2 Singapore 189272
Listen to our Sassy Mama Unfiltered podcast with Katt & Co. founder, Katt Ibrahim!
---
Baju by Oniatta
Baju Kurung & Kebaya for Mamas
This homegrown brand by batik connoisseur and advocate Oniatta Effendi offers stunning designs, whether you're looking for kebayas, dresses or outerwear which will serve you well after Hari Raya! We love seeing how Oniatta styles her pieces in her day-to-day style posts on Instagram, so if you'd like some inspo make sure to check her out!


 Baju by Oniatta is available at Galeri Tokokita, 757A North Bridge Road Singapore 198725
---
Thawb
Matching Baju Melayu for Dads & Boys
If a laid-back style is what your husband and kids are after, local label Thawb offers matching baju melayu sets for the boys of the family in lovely pastel shades and cool darker hues with relaxed silhouettes. All the fabrics look super comfy, great for active tots!


THAWB, 50 Joo Chiat Road Level 2, Singapore 427372
---
Jakel
Matching Baju Melayu for Dads & Boys
Jakel is a mega fabric store in Malaysia that also offers baju melayu for men and boys. The best thing about their men's baju kurung sets is that they all come with crystal buttons and a matching samping (the songket cloth that's often worn with men's baju kurung) so you don't have to go hunting for extra accessories! They're available in a few styles and a rainbow of colours so the hubby and boys can match. Shipping to Singapore is just RM35.


Shop men here and shop kids' here!
---
Ozel
Matching Baju Kurung for Mamas & Dads
Classic batik with a modern twist! This local brand does a variety of men's and women's clothing and accessories using batik – tops, bottoms, bags, and even shoes. Their matching family sets are great for mamas and dads.


 Ozel, Golden Landmark Shopping Centre, 390 Victoria Street, #03-20, Singapore 188061
You might be interested in:
Lead image by POKOKS