Bazaars are back in Singapore in 2023 – here are some Ramadan bazaars and pasar malams you can head to for your foodie and Raya shopping fix
Time to soak up all the Ramadan festivities because bazaars are back, baby! This year there are a few key Ramadan bazaars you should check out, from the iconic Geylang Serai Ramadan Bazaar to the popular Raya Pop-up by Laloolalang in Kampong Glam and a number of Ramadan bazaars in the heartlands! Keep reading for the bazaars you shouldn't miss this Ramadan 2023, so you can get all your favourite foods and fashion finds!
       Read More: Guide to Ramadan Buffets for Iftar & Hari Raya Goodies
Ramadan Bazaars in Singapore:
Kampong Gelam Ramadan Bazaar
The Kampong Gelam Ramadan Bazaar returns with over 80 food stalls and 20 retail booths operating daily throughout the fasting month! We checked this Ramadan Bazaar out and are happy to report there's so much tasty food to choose from, whether it's Ramly burgers you're after or more niche eats like Philly Cheesesteaks from Meatmymeat or halal Korean street food from Bang Bang by Zeekri! There's also ample seating throughout the bazaar and even an air-conditioned area. Look out for weekend night lights at the mosque and aerial lightshows on the mosque facade, weekend performances and talks, plus a Mass Iftar happening on 1 April with a Pay-it-Forward option for those who wish to share their meal.
When: 15 March to 16 April 2023, 12pm to 11pm
Where: Along Baghdad Street, Kandahar Street and right outside Sultan Gate
www.instagram.com/visitkamponggelam
---
Geylang Serai Ramadan Bazaar
The Geylang Serai Ramadan Bazaar is back this year as the longest-running edition ever – 36 days in total! The Ramadan bazaar will host over 700 stalls stretching from Geylang Serai Market to the area beside Tanjong Katong Complex, including Wisma Geylang Serai. The Ramadan bazaar stalls will be offering a mix of festive food, clothes and other Raya goodies. Head there in the evenings to enjoy the Hari Raya Light Up along Changi Road, Geylang Road and Sims Avenue.
When: 17 March to 21 April 2o23, 10am – midnight
Where: Wisma Geylang Serai, 1 Engku Aman Turn, Singapore 408528
www.facebook.com/WismaGeylangSerai
---
Sembawang West Bazaar Ramadan
Happening right opposite Admiralty MRT station and stretching long two streets is the Sembawang West Bazaar Ramadan – marking the comeback of neighbourhood pasar malams (night markets) since the pandemic! There's even a mini carnival here, so look out for fun kid-friendly rides and carnival games.
When: 20 March – 10 April 2023
Where: Opposite Admiralty MRT station, in front of Block 792 Woodlands Avenue 6
---
Woodlands Bazar Raya Utara
The Woodlands Ramadan bazaar is always one of the biggest bazaars in Singapore during Ramadan, and we're so glad it's back! This edition of Bazar Raya Utara (Malay for 'North Raya Bazaar') sees more spacious walkways, an abundance of tables and chairs for casual dining, and of course lots of great eats and Raya shopping. We're partial to the traditional Ramly burgers for its nostalgia (be warned of the long queues and waiting times though) but you'll also find other delicious street food options such as otah-otah from Ikan 1986, halal Taiwanese street food, Thai delights (Mango Sticky Rice to go, anyone?) and more! There's also a carnival here
When: 22 March 2023 – 19 April 2023
Where: Next to Woodlands MRT and Causeway Point
---
Commonwealth Avenue Pasar Malam
This month-long Ramadan bazaar will feature all the classic Singaporean street food like takoyaki, Ramly burgers, otah-otah, kebabs and drinks galore! Expect a mix of halal stalls and non-halal stalls here.
When: 22 March – 23 April 2023
Where: Commonwealth Avenue
---
Jurong Central Ramadan Bazaar
Westies can enjoy delicious bazaar eats in Jurong West thanks to the Jurong Central Ramadan Bazaar! Special mentions here include Nasi Ambeng (huge sharing platters of rice and dishes for communal feasts with the family), Roti Boyan (Boyanese bread that's stuffed with mashed potatoes and deep fried best enjoyed with sambal), Air Jagung (corn milk), an abundance of kuih, ayam percik and other yummy street food options. The best part about this Ramadan bazaar is all the vendors are halal-certified or muslim-owned!
When: 23 March – 19 April 2023
Where: 497 Jurong West St 41, Singapore 640497
---
Hillion Mall Food Fair
Located just outside Hillion Mall in Bukit Panjang, the Hillion Mall Food Fair will be happening in the last two weeks of Ramadan. Past events saw the typical Singaporean pasar malam food available, and we think there will be more halal vendors than ever this time around!
When: 7-23 April 2023
Where: Hillion Mall, 17 Petir Road, Singapore 678278
---
Pasar Malam @ Clementi
Happening in the last three weeks of Ramadan, this neighbourhood pasar malam in Clementi will offer classic Singaporean street food as well – check it out for yourself when it opens, especially if you live in the west!
When: 31 March – 20 April 2023
Where: 449 Clementi Ave 3, Singapore 120449
---
Me-you Market
Started by mamas for mamas and their families, Me-you Market is a curated flea market that works with regional brands to offer modest-friendly clothes for women and occasionally kids' brands too. For this upcoming Ramadan edition, they're preparing the sprawling Dhoby Ghaut Green field behind Visual Arts Centre for an iftar picnic so visitors can sit down to break their fast while shopping! Expect beautiful fashion, some food and lots of space for kids to run around.
When: 31 March – 2 April 2023
Where: Visual Arts Centre, 10 Penang Road, Dhoby Ghaut Green, Singapore 238469
www.instagram.com/me.youmarket
---
Eid Souk by Mashal Abaya
Want to get your Hari Raya shopping done? Local brand Mashal Abaya is hosting Eid Souk, where you'll find a collection of modestwear brands all under one roof for one weekend only! Brands include Lady N Jewellery, Lavlin Co, Drop Fragrances and more.
When: 6-9 April 2023
Where: Visual Arts Centre, 10 Penang Road, Dhoby Ghaut Green, Singapore 238469
www.instagram.com/eidsoukbymashal
---
LalooLalang Raya Pop-Up Bazaar in Kampong Glam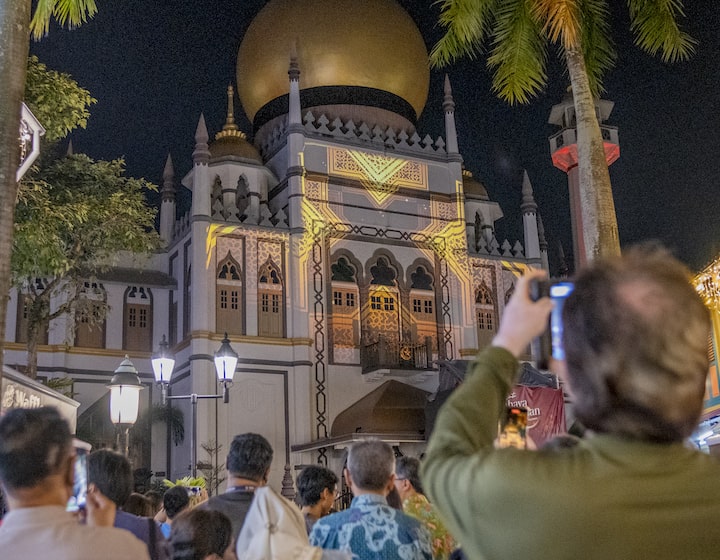 Head to Laloolalang's Raya Pop-up bazaar located within the iconic Kampong Glam precinct. This curated bazaar will be showcasing some 50 vendors, ranging from food to fashion (great for some baju kurung shopping!). Browsing through the bazaar in Kampong Glam is always fun thanks to the abundance of halal eats in the area, whether you decide to order takeaway or dine in for iftar!
When: 7 – 9 April 2023, 2pm – 10pm
Where: Aliwal Arts Centre, 28 Aliwal Street, Singapore 199918
www.laloolalang.sg
---
Twilight Flea & Feast Ramadan Bazaar
Twilight Flea & Feast is one of the best Ramadan bazaars to get your street food fix. There's usually lots of halal and Muslim-owned vendors and inclusive brands offering clothes, accessories and even kids' toys. Keep a lookout for kid-friendly activities like face painting!
When: 13 – 16 April 2023
Where: Downtown East, 1 Pasir Ris Close, Singapore Singapore 519599
www.instagram.com/twilightfeast
---
Past Ramadan Bazaars
Raya Souk at Crane Arab Street
Crane Arab Street holds its annual Raya Souk in the cool shophouse along Arab Street where they highlight small home-based businesses! Here you'll find home bakers offering cakes, cookies, pastries, breads and more, plus a number of stylish fashion, accessory and home decor brands – including Elda and Thea Kids (both in our Guide to Matching Hari Raya Outfits!), Rawbought, Liyela Home and more.
www.wearecrane.com/stories/happenings-posts/come-to-the-souk-raya-with-a-difference
---
Balik Kampung at Sing See Soon
Ramadan and Raya shopping, plus plants?! What's not to like? The Balik Kampung Ramadan pop-up at Sing See Soon Floral & Landscape plant nursery features a refreshed line-up of vendors each week! You can also do a spot of plant shopping of course with the affordable array of house plants and garden plants available.
www.instagram.com/bigboyevents.sg
---
Bazar Untuk Rakyat @ Woodlands
Get your bazaar food fix in the north with vendors like Ramly Burger Selera Ramadhan, Kamariah Laksa Cap, Home Of Seafood, Pak Din Ayam Bakar, Satay Sg and more!
www.facebook.com/MegaXpressInternational
Lead image courtesy of Visit Kampong Gelam