This month's That Mama is fashion maven, PR powerhouse, and business incubator Tjin Lee
It's no secret that we at Sassy Mama HQ are big fans of Singaporean mama Tjin Lee. As the fabulous founder of Mercury Marketing & Communications, she's responsible for launching the Audi Fashion Festival Singapore. Most recently she helped establish CRIB, a social enterprise that encourages women – especially mothers – to become successful entrepreneurs. In her spare time she's founded numerous other businesses and is the doting mama to 23-month-old Tyler (aka Bubu), whose adventures she expertly documents on Instagram. She'll be the first to tell you it takes a village if you want to try to 'have it all', but we find her perspective and wisdom invaluable, all the same…
Can you tell us a little about yourself, your career and your family?
I have been an entrepreneur for 15 years, a wife for seven years and a mother for two years.  I started my first business, Mercury Marketing & Communications, when I was 28, bright-eyed and bushy-tailed and thinking I could take on the world! Boy, did the world teach me some lessons!
Entrepreneurship is incredibly challenging, and for years it dominated my life and I struggled as I was trying to run the business without the all-round skills needed for a successful business. I was terrible at maths, finances, business planning, logistics, and outsourced too many things, which led to very high overheads and no cost controls.  I learned many painful lessons, but in 2009 I met the right partners to take my businesses forward. Things then progressed in quantum leaps once I had the right team and network of support behind me.
I realised it was better to have partners, and to be a smaller part of something very big, than a big part of something small.  Today, I have founded or co-founded nine companies, am a wife and mother to 2-year-old Tyler, and have one more baby boy on the way!
Can you talk us through how your career differed pre- and post-baby?
When I was struggling to stabilise my business, I couldn't even think of starting a family. By the time I had Tyler in 2013, the foundations for the businesses to grow and to run independently were already in place. I am proud to share that I was there for, and captured, all of my son's first year milestones – his first crawl, his first word, his first step. I was able to take flexible hours and work around my baby's schedule.
I know this is a privilege, and it is what motivated me together with three other women and mothers to start CRIB, to share the discovery – and privilege – that entrepreneurship can empower. In the past, women were full-time working mums or full-time stay-at-home mums, and there was no in-between. I met so many mothers and women after having my baby that inspired me, women who had resources, time, education, experience, and were full-time stay-at-home mums looking for something more to do, or simply to contribute to the household income.
It was primarily for this group of women, that I wanted an organisation like CRIB to exist.  So I could connect them with businesses looking for co-founders that could offer flexible hours and meaningful business partnerships. Post-baby, I've started three new businesses, and CRIB is one of them!
How did you get back into the swing of things after having your son?
I never stopped! Being a business owner did give me the flexibility though to ease in by working two days a week, followed by flexible hours. While I work every day now, either meetings or at my desk, I also do have flexible hours that allow me to start the morning early by taking him to the park , or take a couple hours off in the late afternoon for a tram ride at the zoo or a splash session in the water park.
How do you maintain an identity separate from your child?
We made the decision for Tyler to be raised very independently, with many primary caregivers – including family members and helpers.  He has his own identity, as he is practically raised by the village!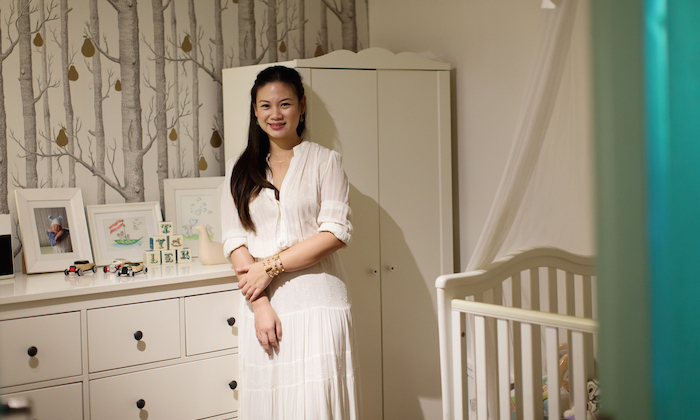 How has having a child changed the way you define work?
I don't think it has changed the way I define work, but I create pockets of time for him, that are just for him, where we do fun things together and go to special places. Weekends are all about Tyler; our entire weekends are planned around him.
How do you save time? What are your organisational tricks and tips?
I set aside time every day to clear all the emails in the office. I don't do this at home or on my mobile so I can stay organised  With so many projects and leads flying around, it would be impossible to try to manage everything on the go.
I wish I had more time for…
Spontaneous travel! Travel and reading are my two greatest loves, before baby. Of course, having the baby has changed the way I do both forever!
I always feel saner after….
Coffee!
What part of Singapore do you live in? What do you like about it?
Central Singapore near the CBD. I love that we are walking distance to many hipster cafes in the neighbourhood and to great local food, five minutes' drive to the CBD so I have a very short work commute, and five minutes to Sentosa where there are beaches and we take him once a week to ride the cable car.
Favourite kid-friendly activity in Singapore?
Tyler loves the cable car. It's a great, alternative way to get into Sentosa, where we can go to a seaside café for brunch or take a ride on the beach tram, which he loves.
Favourite kid-friendly restaurant in Singapore?
Relish: Great burgers, natural sunlight, and space for baby to roam around both in the restaurant and in the surrounding area.
Favourite family-friendly holiday spot in Asia?
Hoi An, Vietnam. Great beaches, a lovely heritage town to explore, and my favourite hotel, The Nam Hai, is there. It's only a 2-hour, direct flight from Singapore, and is an underrated destination that is also incredibly family-friendly.
Do you have any tips for keeping the romance alive in your relationship?
Make time for each other, don't forget to talk, and talk about things other than the kids or family!
Favourite date night restaurants?
We love exploring and discovering new places together.  Our most recent discovery is Sorrel, a unique bistronomy concept restaurant helmed by a team of young and talented chefs. We also love dining at Cook & Brew at the Westin for the stunning city view, and recently also discovered 1925 Microbrewery, which has an awesome Crispy Egg Aglio Olio and seaweed fries.
Do you have any tips for aspiring "mamapreneurs" and other working mamas in Singapore?
Know your own strengths and skills.  Find the right partners, who complement you.  Passion and hard work alone aren't necessarily all you need to run a successful long-term business!
What's the best piece of advice you've received as a parent?
If you are going to be a happy mama, you need to get enough rest. Don't be afraid to accept help. Don't try to be a hero and do everything yourself and run yourself into exhaustion, because what baby needs most is a happy mama, not a frazzled, frustrated one.
As a mama I wish I were better at…
Putting him to sleep! He only wants to play when I am in the room, and ends up running from one side of the cot to the other like a crazy monkey. Mama fail.
What's your favourite family ritual?
Weekend mornings, when my hubby and I take Tyler to the garden or some place special just the three of us.
I wake up in the middle of the night thinking about….
Business ideas and strategies!
My favourite moment of the day is…
Watching Tyler run around on his fat little legs in the park, garden or playground in the mornings. Or when he sits in my lap to read a book in the evenings.
Give us your essential new mama advice that might never occur to other women?
Women can be extremely judgmental of each other when it comes to motherhood – whether you have a natural birth or C-section, whether you breastfeeding or formula feeding, what kind of baby carriers you use, and on and on.
It surprised me how judged I felt in so many facets of motherhood.  I want to tell new mamas to just do what's best for you and your baby. What others may think or say, don't let that affect you, because what's best for you, what works for you, is what is best for you and your baby.  Don't let the judgments of others pressure you or make you unhappy.  Enjoy new motherhood your way!
Thanks Tjin! And huge thanks to Gunilla of Sugarlight Photography for the gorgeous snaps!