Treat the kids to a refreshing play at the newly reopened water play at Jurong Lake Gardens. Don't miss the therapeutic garden and playground with a slide, swings and climbing fun!
Jurong Lake Gardens is a great park to head to with the kids (we also like Gardens By the Bay and Singapore Botanic Gardens for some outdoor play)! Situated in the heartlands around the beautiful lake (where you may spot otters), this huge park in Jurong encourages families to explore nature (something we at Sassy Mama are 100% for!).  Jurong Lake Gardens is centred upon the concept of "Biophilia", our innate emotional connection with nature (much like the Nature Playgarden at Hortpark).
Kids will love the newly reopened water play Clusia Cove plus the playground called Forest Ramble (huge slides, rope courses, see saws and swings), which encourages kids to imitate animal movements like scurrying, slithering and climbing! Clusia Cove had been closed for a while but it opened again in late Jan 2022 so head here for splashing in tidal pools plus check out the newish inclusive Therapeutic Garden created for children and adults with special needs.
NB Clusia Cove and Forest Ramble are closed on Mondays for maintenance except for Public Holidays while the rest of Jurong Lake Gardens is open.
Here are the highlights of Jurong Lake Gardens park!
1. Clusia Cove: Kids' Water play
Clusia Cove is where you'll want to head when it gets too hot for the kiddos after they've worked up a sweat from navigating the Forest Ramble (below). There's a café onsite, called Fusion Spoon for casual Western and Asian dining. The water playground experience of Clusia Cove is cleverly designed with tidal patterns, surface ripples and directional currents that mimic water movement of coastal shores. Kids can wade in and control the water flow using the sluice gates, muck about in the cool pools and follow the channels that lead to rock pools. There's also a closed-loop water recycling system that treats water naturally without chemicals.
NB: Closed on Mondays.
---
2. Free Kids playground Forest Ramble
With structures to climb on, swing from, and slide down – there's so much for kids of all ages at this free playground within Jurong Lake Gardens. Officially it's for kids ages 5- 12 years, but younger kids will have fun at the playground and there's a water and sand play park as well as a cafe. There are 13 different adventure play areas to explore at Forest Ramble, which is the main play area for kids. Everything here is nature-inspired based on the actions and motions of the animals that inhabit the freshwater swamp.
NB: Closed on Mondays.
Read more: Wild Animals in Singapore? Where to See Crocodiles, Dolphins, Otters and more!
3. Trampolines, Rope Courses and Adventure Bridges
Jump on wooden trampolines balancing precariously on springboards, wobble on log seesaws, and make your way through rope obstacle courses in the Squirrel Play area. There are Adventure Bridges to navigate, and an Otter Play zone with a scramble of logs for kids to balance on and test their motor skills.
Read more: Games to Get Kids Moving and Nurture Fine Motor Skills Through Play
Look out for the Frog Play area where kids can hop from one green "lily pad" (small trampolines set in the ground) to another, like a frog.
The Monkey Play zone features ropes to climb on while the Ant play zone sees bright blue blocks to get building with.
Heron Play is where you can make like a heron and swoop across the skies using one of the two gliders within Forest Ramble.
The Birdwing Play area is all about swing time! There are nine swings in different designs – from bucket swings to hammock swings.
At Crab Play area get ready to scurry into tunnels, a wooden maze and hideouts where kids can pop their heads out of little transparent bubble windows much like a crab pops out of the sand.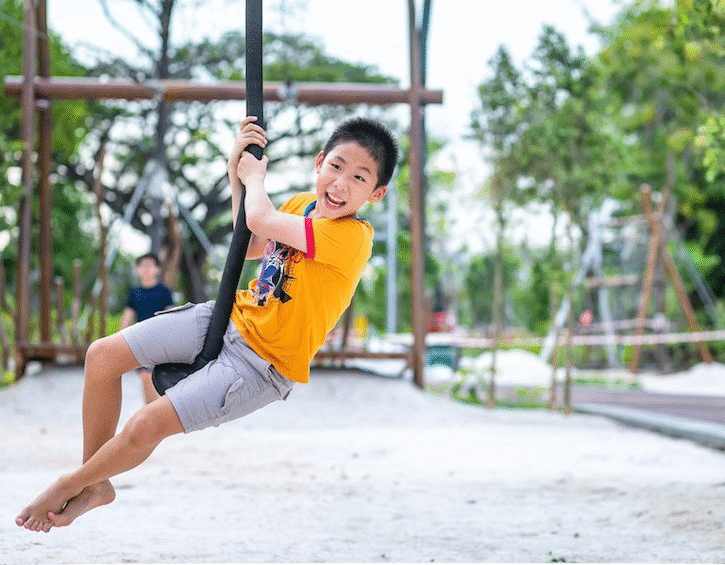 Snake Play is where kids can imagine being a Paradise Tree Snake and slither down the fantastically long winding slides that resemble a snake coiling around a tree. Make sure you dress the kids in leggings or long shorts as the slides are all metal (and go early before they heat up too much from the sun!).
Forest Ramble has elements of inclusive play built into it as well to enable children of all abilities to play together in nature. These inclusive play elements include a swing, merry-go-round, and musical play panels which are wheelchair-accessible.
---
4. Therapeutic Garden at Jurong Lake Gardens
The Therapeutic Garden @ Jurong Lake Gardens is a relatively new addition to Jurong Lake Gardens! It's the seventh and largest therapeutic garden in a growing network of therapeutic gardens created by NParks, and is the first with dedicated sections for children with special needs, catering to those with conditions such as mild autism and ADHD. There's also a new butterfly maze adjoining the children's section of the therapeutic garden. The Therapeutic Garden is wheelchair-friendly and allows visitors to wander purposefully while interacting with nature.

There are several play elements, including musical play equipment such as xylophone and percussion drums as well as a set of double swings. Scented plants, such as Butterfly Ginger and various Gardenia species and cultivars, have been planted along the pathway. There's also a crawling trellis that is wheelchair-friendly, breakout corners for children to rest, as well as a labyrinth with pathways that glow in the dark and floor imprints of the animals and insects found in Jurong Lake Gardens.
5. Other notable areas of Jurong Lake Gardens:
Grassland: Birdspotters look out for the many rivers and streams where birds may be seen as well as the picturesque Grasslands area — 3.5-hectares dominated by tall grasses with bird hides located within. Can you spot any Grey Herons or Oriental Pied Hornbills?
Gardening allotments: There are 300 gardening plots, Singapore's largest allotment garden space where members of the community can grow fruits and veggies.
Water sports: The PAssion WaVe@ Jurong Lake Garden is where dragon boating, kayaking, pedal-boating take place.
ActiveSG Park: There's even a lap and training pool and a 24-hour gym, plus an outdoor fitness area where outdoor yoga sessions will take place.
Dog Run: Let your furkids roam free and make new doggy pals with play mounds for dogs to explore.
---
Want to get a good peek at where to head before you go? Check out NParks interactive map.
Open: Jurong Lake Gardens is free to enter. It's open 24 hours daily. However Forest Ramble and Clusia Cove are closed on Mondays.
Opening hours are Tuesday to Sunday, 8am to 10pm.

Jurong Lake Gardens, Yuan Ching Road, Singapore, www.nparks.gov.sg/juronglakegardens
Read more:
The Best Outdoor Playgrounds in Singapore
Our Favourite Parks and Outdoor Spaces in Singapore
First published in 2020 and updated in 2022 Image credit: NParks