As much as we love a good goss session at the salon or a total bliss-out at the spa, the reality of kids can make the logistics for pampering all-too-difficult. Our time is precious, am I right mamas?! Lucky for you, we've tapped our most trusted (and in-the-know) style sources to find out the best at-home beauty services available in Singapore. Tame your tresses with stylists who contribute to Harper's Bazaar and Elle. Prep for a weekend away with a 15-minute spray tan or full Brazilian wax. Or put your best face forward with a luxe in-home microdermabrasion treatment. It's all here, mamas (or there, or wherever you need it to be!).
Facials: Paula Stewart Microdermabrasion
Aussie Paula Stewart has been beautifying faces in Singapore since she arrived on our sunny shores 13 years ago. She'll bring her microdermabrasion machine to you, suctioning out blackheads and oil before blasting skin with fine crystals to slough off dead cells and leave your face feeling soft, smooth and super-clean. Microdermabrasion is non-invasive – no need to hide from the public due to red blotchiness, mamas! – and is suitable for all skin types. It's particularly beneficial for combating sun damage and pigmentation — ideal for our equatorial clime!
Tel: (+65) 9781 2936
[email protected]com
Cost is $80 for a 60-minute treatment; other treatments and products are also available. 
Services available Monday to Tuesday from 1am – 8:30pm; Wednesday and Friday from 10pm – 5pm; Saturday by appointment. 
Hair & Makeup: Andrea Claire
With 23 years' experience, Canadian Andrea Claire has traveled the world styling celebrities for both advertising and high-fashion editorial campaigns, including work for cosmetics giants like L'Oréal Paris, Revlon and Lancôme. Her work has appeared in publications like Elle, Harper's Bazaar, Nylon and Women's Weekly, and she even guest-starred on "Asia's Next Top Model" giving hair and makeup tips and tricks to the contestants. A working mum herself, Andrea appreciates demanding schedules and knows how to get you gorgeous, mamas!
[email protected]
Prices start from $350 for full hair and makeup package suitable for special events.
Hair & Makeup: Emma Haddock
Beginning in her native London with a prestigious internship at legendary salon Toni & Guy, Emma Haddock has spent more than two decades taming tresses for high-profile clients like the BBC and London Fashion Week. She's done heaps of television work in Australia, and her looks have appeared in the likes of InStyle, Marie Claire, Cleo, New Idea and many others.
Tel: (+65) 9143 7132
[email protected]
Prices range from $60 for a blow dry to $300 for full-head foils. Cut and blow dry is $110.
Massage: Sole Service
Founded in 2012 with a mission to provide "effortless escapism", Sole Service operates 12 hours a day (2pm to 2am!), seven days a week – so you can always find the time for a little pampering, mama! Therapists arrive fully kitted out with towels, essential oils, and individualised creams – all you need to do is lie down and relax. Services range from $85 for some simple foot reflexology to $185 for 120 minutes of your desired foot+back+body combo; book multiple sessions to save 10% off regular rates. Specially-trained therapists also offer Prenatal massage for mamas-to-be.
Treatments available Monday to Sunday; 2pm to 2am.
Tel: (+65) 6221 7002, SMS: 9635 6271
[email protected]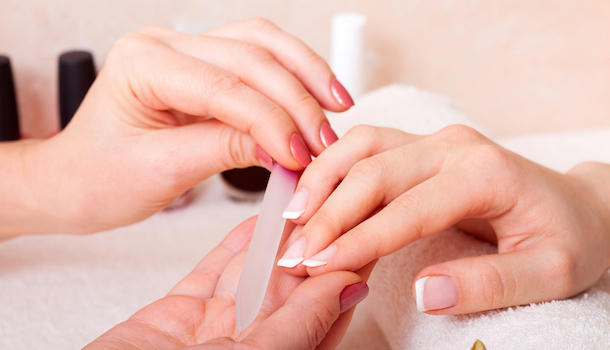 Nails: Yani Nails
Formerly the go-to gal at a posh Holland Village spa, Yani has now struck out on her own, with her handiwork appearing in a clutch of top magazines and advertising campaigns. Renowned for her attention to detail, razor-sharp skills and stylish flair, Yani offers in-home services on everything from express manicures to elaborate gel designs.
Tel: (+65) 8284 8690.
Prices start from $80 for a classic manicure and pedicure. French tips at an additional $7, nail art starts from $6 per nail. She also does gel and acrylic nail extensions.
Spray Tan: Tan @ Home
Get a golden glow while avoiding that searing equatorial sun, mamas! Tan @ Home's UK-trained and accredited technician will zoom to anywhere on the island and get you bronzed in 15 minutes flat with her handy-dandy pop-up tent and premium, chemical-free tanning products. Booking by SMS or through their website is too easy, and they're available seven days a week!
Click here to make an online booking.
[email protected] or book by SMS at (+65) 9146 5980 specifying name, preferred appointment date and time, and your location.
Services are available 7 days a week from 8am to 9pm, but after-hours bookings can also be arranged.
Prices start from $65 for an at-home tan, with an additional $10 surcharge for Sentosa, hotels, and Districts 21-28.
We know your time is precious mamas, but take it from us, these ladies will have you looking and feeling so great you'll be looking for new excuses to leave the house!
Top image sourced via Pinterest