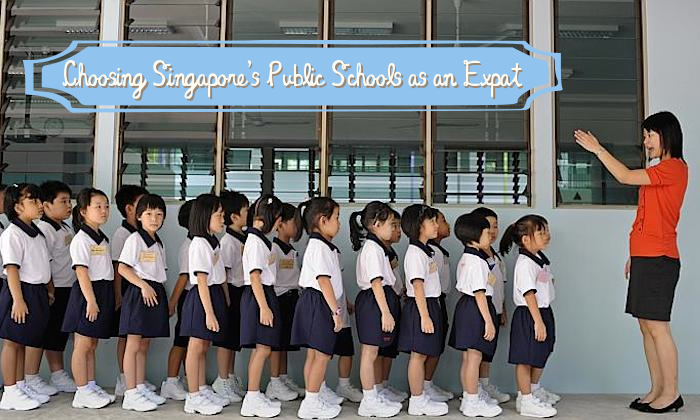 Singapore's public schools are among the best in the world when it comes to testing and academic results, but in some ways take a decidedly non-Western approach. Here's why this expat family made their choice.
We hear from lots of mamas with questions about how to choose the right preschool for their little ones. Today, American mama Crystal shares her story about taking the next step to primary school – and how she decided going the local route was the best choice for her family. Next week she'll share her thoughts on navigating the unfamiliar P1 Registration process.
My journey into Singaporean education began, as so many wonderful things do, with vicious morning sickness. Pregnant with my second daughter, I was spending most of each day prone on my bathroom floor waiting to/having just revisited everything I'd ingested for the last six months. The idea of sending Elanor to school – any school – became irresistible.
When I was a teacher in Boston (USA), Singapore was constantly held up as the pinnacle of academic excellence. It was also portrayed as a soulless factory of identical children in a large classroom with seats in rows. It was a country where children were not allowed to be children because after school they went to tuition. But they achieved, and we should strive to follow. We teachers left every one of these "motivational" speeches feeling sorry for those poor Singaporean children.
In 2010 we moved to Singapore with an 18-month-old daughter. School seemed ages away, so we did a cursory evaluation of our options.  Singapore's schools were dismissed out of hand because of the stereotypes I'd been fed. As a public school educator, I was uncomfortable with the idea (and cost) of sending my kids to private school. Home-schooling seemed like the logical solution. After all, how long could we possibly be here? One year? Two?
As Woody Allen said, "If you want to make God laugh, tell him about your plans."  The school we chose for Nursery 1 in April 2011 was near our home and had a curriculum of which I approved. Though it catered primarily to Singaporeans, the classrooms were full of joy, colour, and loving teachers. The school had a diverse student body. The parents were not tyrannical automatons! I felt comfortable sending my daughter there so I could throw up in peace, with no real plans beyond surviving my pregnancy.
In January 2012 I had an 11-week-old baby, and Elanor loved her school, so I decided to keep her there for Nursery 2. I grew close with several other mothers as well as teachers at her school. They invited us to their weddings and into their homes. The passage of time – and these new friendships – changed Singapore from somewhere we lived temporarily to our home.
Kindergarten 1 arrived in January 2013, and we no longer were thinking about when we'd be repatriating. It was time to face reality and think seriously about primary school. The stereotypes that I'd been inculcated with had fallen by the wayside, replaced by the far more complex reality. Perhaps the most telling example of this mental shift away from thinking of Singapore as temporary is that we chose to send 18-month-old Rhiannon to a school with a stronger Mandarin curriculum than Elanor's. We were thinking about our daughters' long-term academic needs.
It was around this time Elanor began describing herself as "half American, half Indian, and half Singaporean". This was a small victory as prior to that she insisted that she was 100% Singaporean, despite the opinion of the United States Government. Her speaking voice carries a distinctly Singaporean lilt, and Singlish peppers her speech. With few exceptions, her friends are local. The only home she remembers is Singapore.
Reality: private school was no less private, and no less expensive. Would Elanor feel comfortable in that environment? Probably not. What about homeschooling? Having my children home all day with no respite was far scarier than leaping into the unknown and trying public school.
Our fears about sending Ellie to public school in Singapore had little to do with the misconceptions we'd arrived with in 2010. Local schools look familiar on the surface—the canteen (cafeteria) is deafening with the sound of children during their lunch/recess time, the school wishes that kids would leave their phones at home, and Frozen school supplies are all the rage. I'm sure there are other things, but Disney owns my soul and my Visa card.
However, we lacked the experience of attending school in Singapore. I felt a sudden surge of empathy for the recently immigrated parents I'd dealt with as a teacher. I'd not been intentionally rude or unkind to them, but I hadn't thought to explain traditions like a Valentine's Day Party, either.
There is no such thing as a perfect school system. Not in Singapore. Not in Finland either, that other bastion of educational perfection. Most definitely not in the United States. It was necessary to get over ourselves and deal with the culture shock — because the two of us would be the only two people experiencing it. The paperwork for Permanent Residency (PR) was submitted, the Mandarin tutor hired, and we readied ourselves for the perplexing process of Primary 1 registration…