Here are some bunny-approved ideas to recycle paper bags into cute Easter gift bags for the kiddos!
Easter is a wonderful time to gather all our loved ones over a meal. As we prepare to celebrate Easter this weekend, I am inspired by the on-going 'reuse, reduce, recycle' campaign. I have always loved making things with recyclable materials such as turning fabric scraps into tiny clothing for Barbie dolls and sewing leftover felts and trimmings to make a giant cityscape. It gives me great satisfaction to design and make creative things with my hands. Now as a mama of two young children, I am able to share these special craft moments with them.
To start, use what you have in your kitchen, mama. Put a crisp linen tablecloth and cute and colourful dinnerware on your feasting table. Tie in the details by creating these really cute bunny gift bags to fill them with chocolate eggs and candies for your little guests! You can finish these simple ideas with the help of your little assistants in no time!
Bunny Gift Bags

Using a ruler and a pencil, draw a rectangle on the paper bag before cutting it out. Cut a similar size with an additional 1.5cm allowance from a plastic sheet. Glue the edges of the hole on the inside of the paper bag. Stick the plastic inside the paper bag.
Stick two wiggle eyes and three strips of Kraft paper as the whiskers before sticking a pink pom pom on top as the nose.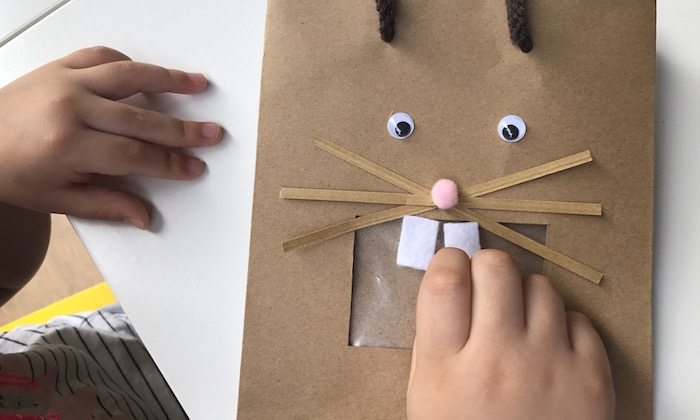 Next, cut two small rectangles from white felt and stick on the front of the plastic as bunny teeth. Then I fashion the pipe cleaners into a pair of bunny ears and tape them behind the paper bag.
Option two: I cut out the yellow 'M' from a fast food restaurant paper lunch bag and turn it into a pair of bunny ears for another empty paper bag and draw two tiny black dots as eyes and small 'w' as mouth using a black marker. Stick a pink pom pom as the nose. Another way is to use white and pink felts to make bunny ears.
Bunny Gift Tags

A simple way to decorate your gift tags is to cut out a simple shape of a bunny or bunny profile from a piece of black felt. Glue the bunny on the tag. Lastly, stick a white pom pom as the tail.
Bunny On The Pot
Draw the outline of a bunny on a terracotta pot using a pencil. You can draw some patterned eggs and mini carrots too. Use a paint brush to fill in the bunny outline with beautiful pastel-coloured paints such as Ballerina (soft pink), Banana Split (pale yellow) and Heavenly Blue (light blue), all environmentally friendly and safe to use (on almost any surface mama!) from Frenchic. This simple bunny silhouette will help to create the Easter mood at the table.

I hope you are inspired to reuse and recycle some of the things you have at home and make a conscious decision in reducing waste, mama. All the better to make our planet a fun and sustainable place to live in. Happy Easter!
Lead image sourced via
Pinterest
. All other images courtesy of the author.