Post Category - Family Life
Family Life
One of the best parts of Chinese New Year is its many customs and traditions; here's what you need to know to make sure you're onside, mama!
Loving all the colour and buzz of Chinese New Year in Singapore but still trying to get to grips with all the preparations? Our handy tips below will ensure you are the perfect guest when you visit this CNY and more importantly, will entice some of that prosperity and good luck into your household!
Read more: Ultimate Guide to CNY 2019 Dining: Reunion Dinners, Yu Sheng and More
Pay attention to colour
Seeing red, red, red?  That's because the Chinese believe red is the colour of happiness and has the power to prevent any bad luck from invading your home in the New Year. From clothes, accessories, and household decorations, to banners protecting entrances to homes, shops and offices, red is de rigueur during CNY. If you are visiting Chinese friends, you don't have to be in top-to-toe red, just add pops of colour with a red handbag or red shoes. There are plenty of sweet options for the kiddos in shopping malls from Tangs to Takashimaya.  Even IKEA has gotten in on the act, with a selection of chic red placemats, framed calligraphy pictures and red crockery.
Orange is another lucky colour, being close to the colour of gold and because the word 'orange' also sounds like the Chinese word for 'wealth' (homophones figure significantly in the Chinese language.) Households will order Mandarin oranges by the boxful to exchange this symbol of prosperity when visiting family and friends. However, this year, due to less than ideal weather, Mandarin oranges are predicted to be in short supply, so do stock up whenever you see them in the supermarkets. If you have a friendly vendor in your wet market, place an order with them as you'll be assured of superior  quality Mandarins, albeit at premium prices.
Read More: The Best CNY Fashions for the Whole Fam in the Year of the Pig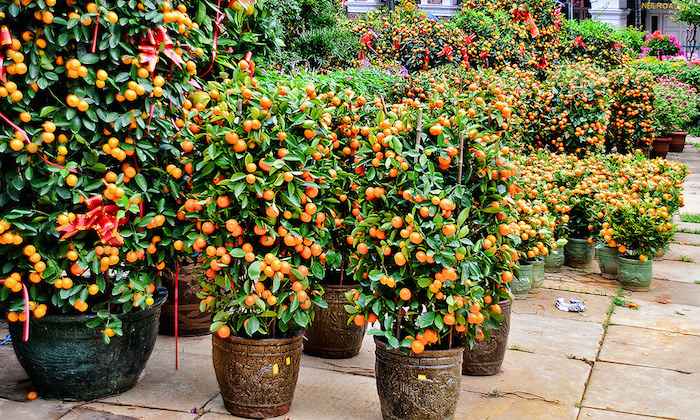 Plants heavy with mandarin oranges or kumquats are considered very auspicious and you'll be spoilt for choice at the many garden centres dotted around the island. My go-to place are the nurseries along Thomson Road, where staff helpfully arrange delivery dates and times, as well as share their tried-and-tested tips on how to ensure your plants continue to look healthy and bountiful throughout the Festival. Do note that the fruit is generally not meant to be eaten so keep a watchful eye on little hands tempted by all that luscious fruit.
Black and white are taboo at this time as the Chinese associate these colours with death and mourning. Don't be surprised if your friends don't seem to be particularly happy to see you if you visit them wearing your LBD. Likewise, even the sweetest bouquets of white flowers will not be much appreciated. Yellow is considered an auspicious colour for flowers. The blousy yellow chrysanthemums in bloom now at garden centres are considered very lucky for they foretell a life of comfort and happiness. Blush pink cherry and plum blossoms are also a favourite as they typically blossom in spring, a season regarded the world over as one of growth and optimism.
The 'rules' of gift giving  
The gift of choice is the red packet, or ang pow (Mandarin: hong bao), which symbolises the exchange of good luck and happiness. These are traditionally given to children and to unmarried people, although in Singapore, people will also give ang pow to service providers whom they frequent throughout the year, such as hair salons and manicure bars. Your relationship with the recipient will determine the amount in each ang pow. You can easily purchase red packets in the many shops lining Pagoda, Sago and Temple Streets in Chinatown, but these days almost every bank, store and hotel will distribute complimentary red packets to their customers. Some are very pretty and artistic so long as you don't mind the obvious branding and logo placements on them.
Traditionally, dollar notes placed in red packets have to be crisp and new – old, dirty and torn notes are to be avoided at all costs. In the weeks preceding CNY, it is not uncommon to see queue lines at banks snaking around the block as people brave the scorching heat for their new notes. A few years ago, many banks announced they would provide 'good-as-new' dollar bills, feeling the strain of trying to satiate the demand for crisp new notes. While this was initially sniffed at by purists, good-as-new notes are becoming more acceptable now.
This year, DBS and UOB have announced another welcome game-changer! You can now order your new and 'good-as-new' notes online, specify your preferred denominations, collection dates, and pick-up point!
UOB customers can reserve the notes – which come in two packages – using their personal Internet banking account, and collect them from selected outlets from January 30 onwards.
It is considered lucky to give in multiples of 2, with amounts ending in 8 being a lucky amount, as the sound of the number 8 in Chinese also sounds like "luck". Avoid the number 4 at all costs as it sounds like "death" in Chinese.
If giving cash to you seems quite impersonal and you decide on choosing a gift instead, do keep in mind these pointers. Avoid anything time-related, such as clocks and watches, no matter how cool or chic the designs may be. The Chinese pronunciation of 'clock' is the same with that of 'end', thereby relating to a person's death. Sharp objects like knives, swords, and scissors should also be avoided, as they suggest a severing of a relationship – most decidedly not what you intended at all!

Now, armed with this knowledge, all that remains is for you to wish your family and friends 'Gong Xi Fa Cai' or 'Sin Nyen Kuai Le' (Mandarin), and enjoy this happy time of feasting, celebrating, and looking ahead to a new year filled with good luck, good health, and good times!

This article was first published on 18 January 2017
Lead image sourced via TechNode. Red lantern image sourced via CityDiscovery. Mandarin orange tree at home image sourced via eBay. Mandarin orange trees sale image sourced via Flickr. Kids' ang bao image sourced via SingSaver. New dollar notes image sourced via Entree Kibbles.