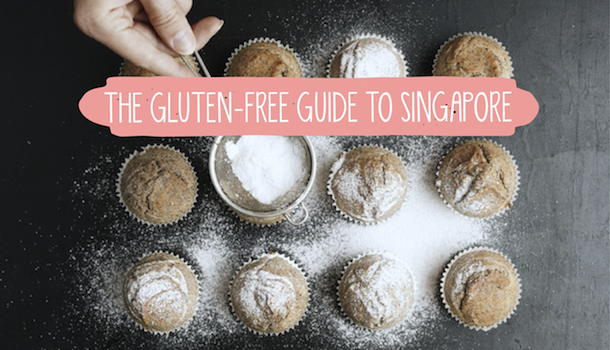 Your Ultimate Gluten-Free Food Guide in Singapore!
From eating out to buying groceries, raising kids with gluten intolerances and other food allergies can be a tricky one on our tropical island. With a small number of dining and shopping options available for those with dietary restrictions, we've looked far and wide, and even chatted with mamas-in-the-know to bring you our Guide to Eating Gluten-Free in Singapore!
Already on the Menu
Remember to always double check with every restaurant regarding their gluten-free dishes, especially in regards to issues like ingredient preparation and cross-contamination with other non gluten-free items.
While this sweet little bakery may not be a dedicated gluten-free kitchen, they do some sell a small range of freshly made gluten-free cakes. With a rustic homemade feel, their flourless chocolate cake, lemon polenta cake or zucchini and coconut cake are perfect for guilt-free school lunches. Note: these guys have recently moved out of their Robertson Quay location and are currently hunting for new digs on the East Coast — stay tuned.
These nifty bakers claim to have the best gluten-free bread in Singapore (we hear it may actually be true too!) and bake their allergy-friendly loaves fresh on Tuesdays, Fridays and Saturdays. You can still pick up gluten-free bread on the other days but it's sold frozen. Best to call ahead and pre-order to avoid any disappointment.
77 Hillcrest Road, Greenwood, Singapore 288951
Tel: (+65) 6469 8834
This well-loved Australian pizza franchise has gluten-free pizza bases available for their allergy-prone diners – all you need to do is ask! Not all pizza toppings and sauces are gluten-free though so it's best to chat with the staff prior to ordering.
Holland Village Outlet
34B Lorong Mambong, Singapore 277691
Tel: (+65) 6467 2224
Thomson Outlet
215R Upper Thomson Road, Singapore 574349
Tel: (+65) 6456 1555
Serangoon Outlet
1 Maju Avenue, My Village @ Serangoon Garden #B1-23/24, Singapore 556679
Tel: (+65) 6636 7666
If you've got a rugrat with a birthday coming up, try Delcie's for your gluten-free customizable birthday cake. Awarded the Health Promotion Board's Healthier Choice Bakery Certification, these guys whip up some seriously luscious organic, egg-free, dairy-free, vegan and allergy-friendly baked goods. Coeliacs will love their gluten-free Black Forest or Mud Fudge cakes – delicious!
34 Whampoa West #01-83, Singapore 330034. Next to boon keng mrt exit B
Tel: (+65) 9789 2309
Singapore's first purely gluten-free kitchen, Jonathan's artisan bakery uses only rice and bean flours in all of their muffins, cakes and cookies to ensure all their goods are gluten-free (and delicious!). They're also preparing a new weekend-only breakfast menu so stay tuned to their website for further details (we adore that on weekends they open at 9am — we're looking at you early risers!).
17 Dalhousie Lane, Singapore 209685
Tel: (+65) 6291 3396
Open daily from 12-9pm, closed Wednesdays
With outlets dotted around the island, The Soup Spoon prides itself on serving wholesome, natural and fresh foods. Whilst not everything is gluten-free they do clearly state which of their soups, stews and salads are gluten-free, egg-free, dairy-free or vegetarian.
Various locations throughout Singapore
Grocery Shopping
If your kids are super sensitive to toxins in their environment, then it's worth checking out Allerganics for their range of vegan and gluten-free baby, body, hair and skin care products. You can order online or make an appointment to view their range in person.
A whole range of healthy foods and snacks are on offer at their two stores, catering to healthy eaters and those with food intolerances. A haven for people who need to go gluten-free, you'll find all your gluten-free flours, cake mixes, biscuits and cereals (and much more!) here.
#02-35 Tanglin Mall, 163 Tanglin Road, Singapore
Tel: (+65) 6738 1121
Founded by two frustrated parents who'd started importing specialty products from Australia to help their dairy-, nut-, soy- and gluten-intolerant son, Ryan's stocks 99% gluten-free products, along with organic, free-range, antibiotic-free beef, chicken and pork. They've got heaps of great GF baking products, sauces and snacks, along with a burgeoning stock of fresh organic produce. A great (if slightly pricy) one-stop shop.
29 Binjai Park, Singapore 589831
Tel: (+65) 6463 3933
A convenient pit-stop location to pick up some gluten-free goodies for your pantry, their stores are packed with pastas, cereals, snack bars, flours, condiments, and even chocolate and biscuits that are all gluten-free and perfect for those with strict dietary restrictions. Eye wateringly high prices will ensure your wallet gets a good walloping though. If you don't have time between play dates and school runs you can also order online for quick delivery.
21 Orchard Boulevard, #01-21/23 & 27 Park House, Singapore 248645
Tel: (+65) 6304 1336
http://www.supernature.com.sg
This distributor of natural, eco-friendly and organic food products also stocks a small range of gluten-free and dairy-free snacks in their online store. It's worth trawling through their listings to find gems like gluten-free sprouted rice flakes and gluten-free baby brown rice cereal.
http://www.unitednature.com.sg
This new shop on the East Coast is filled to the brim with gluten-free delights (think stocks, sauces and cereals – and even gluten-free lasagne sheets!). In addition to their range of diet conscious goodies, they also stock a fab range of fresh sashimi grade seafood.
462 Joo Chit Road, Singapore 427674
Tel: (+65) 6345 1538
Major Supermarkets
Popular supermarkets like FairPrice, Cold Storage, Market Place and Isetan all carry their own range of gluten-free goodies. Most have these products hiding in their health food sections, while Market Place has been known to have their gluten-free stuff tucked away on the shelves with their regular counterparts. A number of Cold Storage locations have recently launched a Wellness4Life section, with a wide variety of Allergy Aware, Gluten Free, Organic and Low Glycemic products (their Great World City location has the most extensive selection!). Swissbake at Paragon is also often rumoured to stock gluten-free bread too, but you'll want to call ahead mama to make sure it's actually in stock!
All you have to do is ask
A little note mama: to date, there is no gluten-free certification board in Singapore, so it's best to proceed with caution when ordering in restaurants. Food allergies are not well understood in Singapore and problem ingredients can often be lurking in unexpected places (wheat in soy sauce for example!). Unfortunately there are no completely gluten-free restaurants in the little red dot either (Jonathan's the bakery is the only exception) so do keep this in mind when ordering meals from the menu. Ask loads of questions to decide what works best for you and your family.
Tucked away in ION Orchard, Charlie and Co do gluten-free burger buns – if you ask! You'll want to double check that all the other ingredients in their burgers are gluten-free before ordering.
Family eatery, Chilis and popular café, Cedele, both have gluten-free options available, you just need to ask to see the gluten-free menu before ordering.
Sassy Mama fave, Rabbit Carrot Gun has been known to adapt some of the items from the menu into gluten-free dishes. It's best to ring ahead first to be completely sure the chef can accommodate before arriving.
The super popular Caffé Beviamo usually offers a small selection of gluten-free pasta and muesli. Best to give them a buzz before you go to be sure of availability.
The Club at Marina Bay Sands also gets the double thumbs up from mamas in the know; their breakfast spread usually includes gluten-free cereal and bread and getting other food allergy safe meals prepped is as simple as asking the chef to do so!
Popular vegan burger joint, Veganburg's burger patties are gluten-free (yay!) – their bread buns however are not wheat-free so ditch the bun and eat the burger instead.
If the munchkins love pancakes but wheat is a bother, head to Entrenous for one of their buckwheat galettes (we know a galette isn't technically a pancake but it's the closest you'll get to a gluten-free pancake in Singapore unfortunately!).

Prego at the Swissotel is another possible choice for a gluten-free meal (we hear their Christmas lunch is fab!) as the chef is often on hand to help navigate the buffet spread. As always, it's best to call ahead to give them the heads up!
Photo courtesy of Two Intolerant Cooks
Need more help?
The Sneezy Wheezy website is a handy resource for parents with kids with food allergies. Full of handy tips and tricks for families, expect to get advice about everything from where to buy an epipen in Singapore to where to get your nut-free Halloween candy.
The Gluten Free Singapore Facebook page is also another helpful resource for those who need to eat wheat-free. The super friendly administrator offers helpful suggestions for how to go gluten-free in the city and is always about to help with any questions that crop up.

Got an iPhone? You'll want to download the "GF Restaurant Card" app. It's packed full of notes in various languages that explains what coeliac is (and why avoiding gluten is so important), so if you ever find yourself stuck in a situation where a language barrier is proving tricky, you can just whip out the app and away you go.
Expat Kitchen hosts regular "gluten-free baking" courses presented by Two Intolerant Cooks that'll teach you how to make your own gluten-free flour blends to use when baking crackers, bread and even donuts (yes please!). Their next classes are on the 7th and 29th of October so sign up quick! Don't miss their gluten-free festive baking course on November 11th and 25th either to learn how to bake gluten-free festive treats.
And lastly, the Gluten Free Traveller has a fantastic page on eating gluten-free in Singapore and is well worth a browse if your kids (or you) are new to the food allergies scene.